Vegan and vegetarian restaurants do exist in Hawaiʻi. And — no surprise — they offer deliciously inventive non-meat options. We've pulled together a list of the top vegan restaurants on Oʻahu.
But wait, there's more. We're here to help demystify some of the unusual words you might see on menus like furikake, laulau and lilikoi. And possibly most importantly of all, provide the fun facts on the origins of local dishes. 
If you're happy with your meal, tag us @HawaiiIslander on Instagram to share the love.
Vegan Food near Honolulu / Waikiki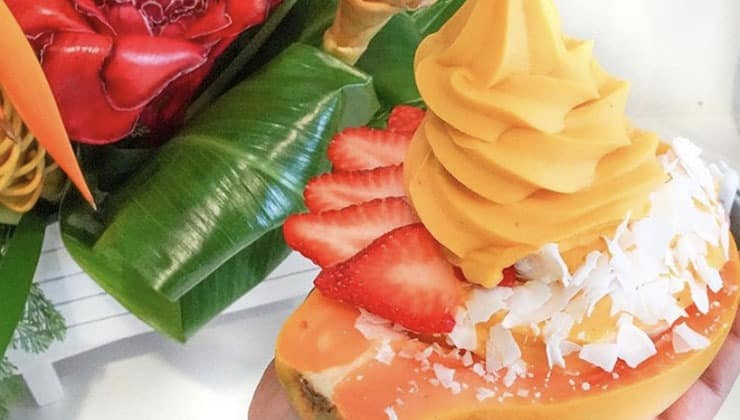 Banana-based, dairy-free ice cream makes a deliciously guilt-free dessert, with varieties including açai, greens and chocolate macadamia nut. We recommend the banana with sliced pineapple, papaya, puffed quinoa, shaved coconut and honey — it's like the tropics in a cup. Stop by the beach shack location after soaking up the sun on Waikiki Beach. Open every day 8:30am to 8pm. banan.co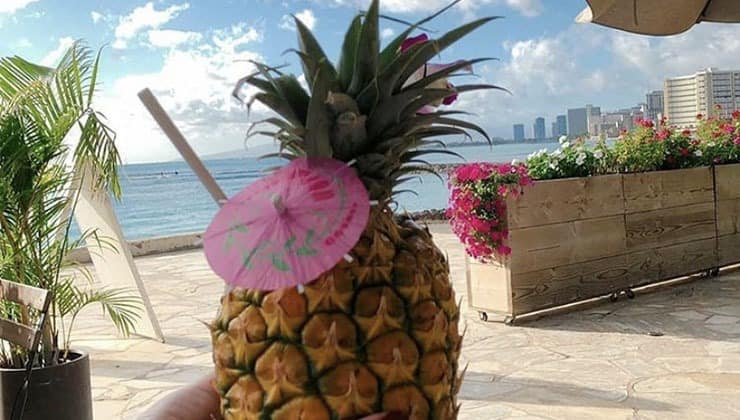 Located at Queen's Surf Beach on the Diamond Head side of Waikiki, this family-owned and -operated cafe may appear to be a snack bar but don't be fooled. Their vegan menu is plentiful, with vegan versions of loco moco, burger, poke, spring rolls and more! And the view can't be beat. Open daily 8am to 9pm. barefootbeachcafe.com
Located in the cute little neighborhood of Kaimuki, the ladies of Juicy Brew offer special vegan meals you can take to go. The selection varies from bentos to bowls to sandwiches to wraps, plus made-to-order specials and sweet treats! It's creative, tasty and good for you too! Open Tuesday through Friday 11am to 6pm, Saturday and Sunday 9am to 3pm. Closed Monday. Order online, swing by and pick it up! juicybrew.menu
Leahi Health Bar specializes in housemade kombucha, delicious smoothies and kale avocado tacos. The selection of tasty plant-based combos is long, so choose wisely! They have more than one location, so it's easy to grab a healthy and delicious bite no matter where on the town side of Oahu you may be. Open 8am to 5pm. leahihealth.com
This is one of two Honolulu locations of the national vegan casual-food chain (with another in the downtown Fort Street Mall), but all 38 sites have different menus. The King Street branch, inland of the Ala Moana Shopping Center, offers vegan spins on Vietnamese pho, Chinese kung pao dishes, and even the American ham and cheese sandwich, i.e. vegan ham with cashew pate. Open Monday to Saturday. Lunch is 10:30am to 2pm, dinner 5pm to 9pm. Closed Sunday. lovinghut.us
These guys aren't joking around when it comes to ramen. New to the Kaimuki neighborhood but coming in hot and spicy, if you want it that way. They have 14 different vegan ramen options. Open daily for lunch 11am to 2pm and dinner 5pm to 9pm. noodsramenbar808.com
The Other Side Diner is a hip space filled with loud music, cool art and interesting people. You wouldn't know it from the outside, but these guys offer several vegan dishes, for brunch, lunch and dinner. Open Tuesday through Thursday 11am to 12am, Friday and Saturday 11am to 2am and Sunday 11am to 11pm. theothersidehi.com
The all-vegan menu at this modern-hippie, counter-service cafe has an international flair. It roams from Asian items like barbecue tempeh, veggie bibimbap and tofu poke to a Moroccan stew with spiced chickpeas and a burrito with black bean and quinoa. Open Monday 10 am to 3pm and Tuesday through Saturday 10am to 8pm. Closed Sunday. peacecafehawaii.com
This fully plant-based restaurant is pretty new to the Honolulu dining scene and was received with raving reviews and long wait times, so be sure to make reservations! These guys are serving culinary gold so tasty that you'll have a hard time believing that there's no fish or meat in your meal. It's just exquisitely executed Japanese culinary techniques that transform these plants into some sort of culinary art. Open Tuesday through Saturday 4:30pm to 10pm. Closed Sunday and Monday. tanevegan.com
Vegan Food on Oahu's North Shore
Looking for a super satisfying vegetarian restaurant? The menu is strictly vegetarian with many vegan and gluten free options. At both their Haleiwa and Kailua locations breakfast is served all day; they have an extensive smoothie, juice and acai bowl menu. For lunch goers there are hearty salads and some creative vegetarian takes on burgers, burritos, tacos, and sandwiches. Believe us, even the most enthusiastic carnivore will be satisfied. Open daily 9am to 3pm. thebeetboxcafe.com