The physical surroundings of Outrigger Kona Resort & Spa, south of Kailua-Kona on Hawaii Island, are undeniably spectacular. The green slopes of Hualalai, famed for coffee farms, rise in the distance while the sparkling blue waters of Keauhou Bay lap against dark lava rocks. Sunset brings a nightly fiery show before lights along the shoreline draw graceful black-and-white manta rays to somersault slowly as they feast on plankton.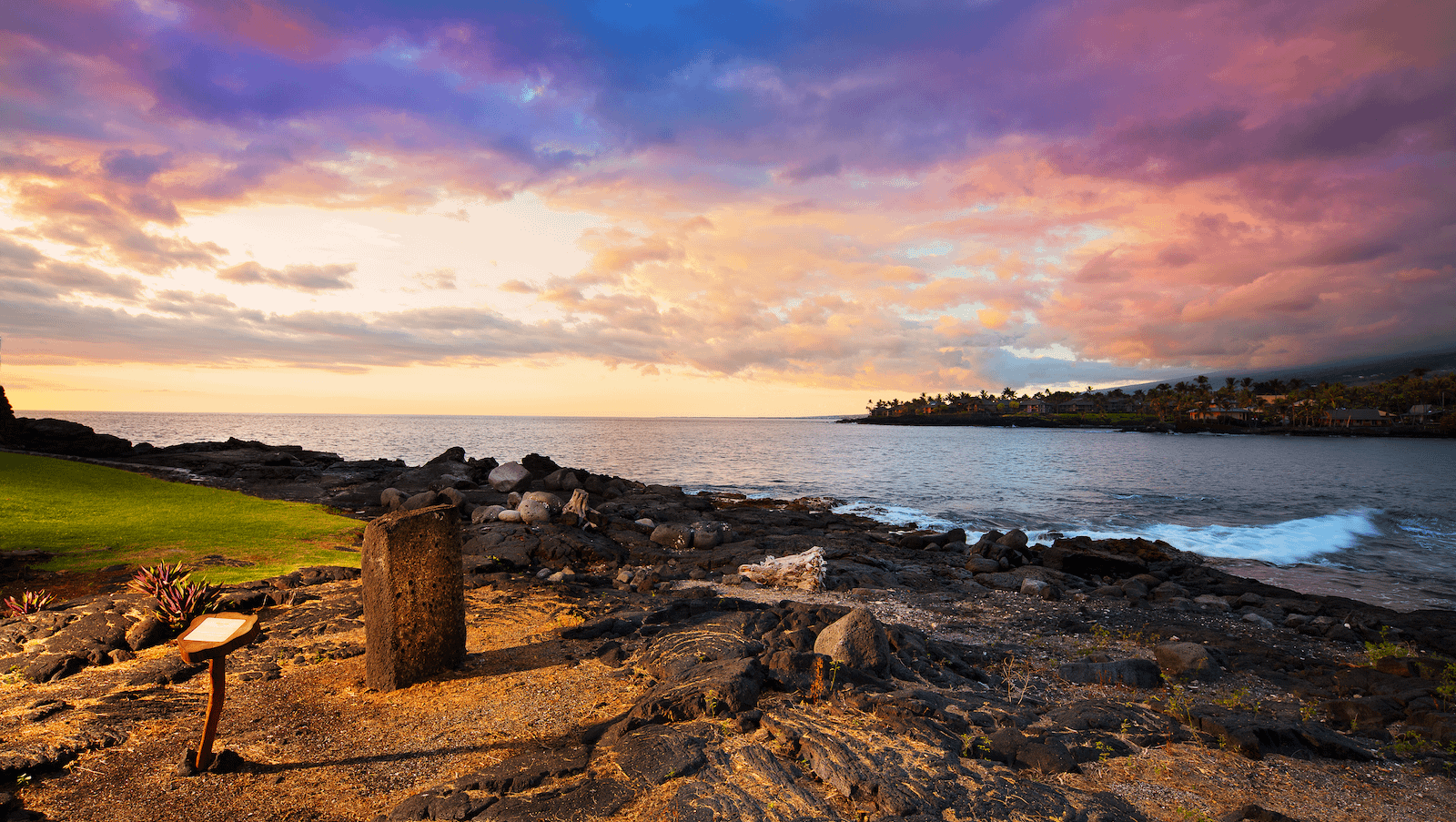 But there's another reason Native Hawaiians consider this area a wahi pana, a place of special significance: Royalty, chiefs and warriors all made their mark here. Outrigger offers a free guided cultural walking tour along the shoreline three times a week that shares some of the rich history of Keauhou, the name of ahupua'a (mountain-to-sea district), including ancient structures found on the 22-acre resort.
Photos courtesy of: Outrigger Kona Resort & Spa
You can also do a self-guided tour with the help of historical markers. In Keauhou Bay, where snorkel and dive tours and kayakers depart for Kealakekua Bay, you'll see a sign sheltered by a fern-lined, lava rock cliff that marks the birthplace of King Kamehameha III, the second son of King Kamehameha I and Queen Keōpūolani, in 1814. He appeared to be stillborn, but revived after being bathed in a freshwater spring at the edge of the bay. Originally named Kauikeaouli, he grew up to be Hawaii's longest-reigning monarch, establishing a constitutional government, land ownership and widespread literacy before his death in 1854.
Photos courtesy of: Outrigger Kona Resort & Spa
A monarch from a later dynasty, King Kalākaua, enjoyed surfing just to the north in He'eia Bay,  a feat commemorated in the song "He'eia" (a modern recording by Hapa is a staple of island radio.) The pocket bay with a shoreline of  smooth black pebbles is also the end of a former 1-mile slide, or hōlua, which competitors would race down on specially built wooden sleds. King Kamehameha III was an avid racer on this course,  traces of which can be seen across from a golf clubhouse uphill. The 200-foot-water slide at the oceanfront lagoon pool of the Outrigger Kona Resort & Spa is a playful reminder of this daring Hawaiian sport.  
To the south of Keauhou Bay, at the end of Ali'i Drive, you can visit the massive Lekeleke Burial Grounds and Kuamo'o Battlefield. Amid stark lava rocks lie the graves of some 300 warriors who died in the 1819  battle between the forces of young King Kamehameha II, who under the influence of Queen Regent Ka'ahumanu ended the kapu belief system, and his cousin, Kekuaokalani, who wanted to maintain the old ways.