WARNING: READ INSTRUCTIONS BEFORE ASSEMBLING. No doubt, you've probably often seen that advice. In the same vein, it's best to learn about the Filoli Estate and Gardens before visiting them. 
If you remember the 1980's TV sensation Dynasty, you'll enjoy experiencing Filoli as that's where the opening panoramas were filmed. In that successful series the imposing brick structure was known as the Carrington Estate.
The estate is a 54,250-square-foot Georgian-revival country house some 25 miles south of San Francisco in the eastern foothills of California Coastal Range. It has 56 rooms, 17 fireplaces, 16 baths and 24 bedrooms — 10 for family and friends, 14 for staff members. The home was designed by the noted architect Willis Polk and cost $425,000 to complete, about $16 million in today's dollars.
Featured Photo: Courtesy of Laurent Le Gourrierec via Wikimedia Commons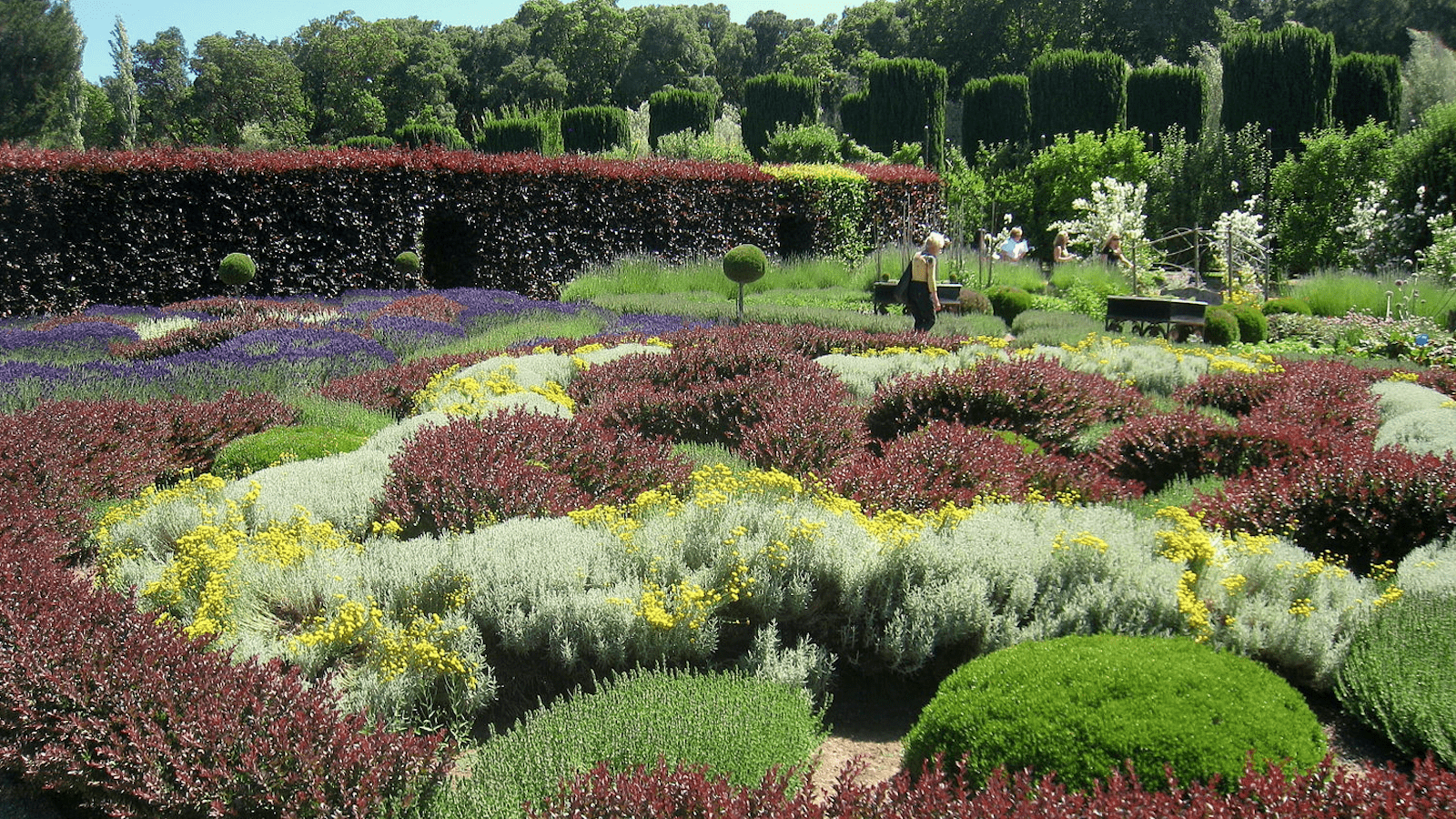 The gardens cover 16 of the property's 654 acres. While touring the gardens you'll encounter an inviting carriage house, a spacious swimming pool and more camellias, rhododendrons and live coastal oaks than most will see in a lifetime. 
William Bourn II and his wife Agnes developed Filoli in the years 1915 to 1917. As a young man, Bourn had studied at Cambridge where was enthralled with the architecture of England's country estates. Then — after making a fortune by owning one of the largest gold mines in California; forming a company that supplied water to San Francisco; and being a founder of what eventually became Pacific Gas & Electric — William Bourn believed it was time to devote the "afterglow" of his life to developing Filoli, where he hoped to "grow young." 
At the time of this vision, Bourn was 55 and living with his family in San Francisco's Pacific Heights. Although that home survived the San Francisco Fire and Earthquake, another motivator to the building Filoli was unease caused by that 1906 catastrophe. Unfortunately, it was only after taking occupancy that the Bourns learned the San Andreas Fault cut directly across their prized property.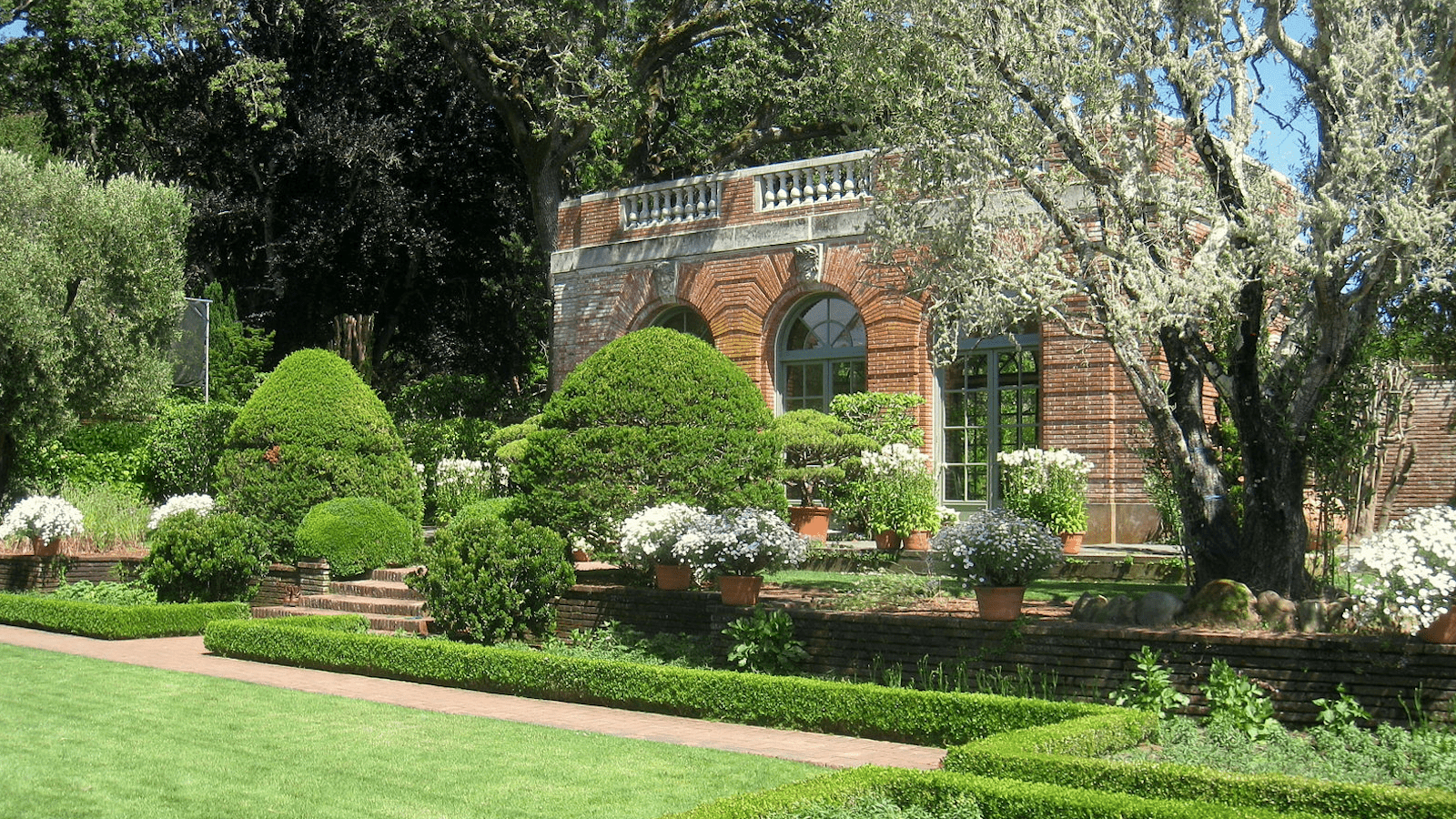 In 1921, in another unfortunate twist of fate, William Bourn suffered a severe and incapacitating stroke and 15 years later he died at age 79. Also in 1936 — after years of being wholeheartedly being involved with Filoli's extensive gardens — Agnes Bourn passed away; she was 75. 
In addition to the astonishing structure and gardens, the Bourns were also responsible for the enigmatic name Filoli. It is not an Italian name nor that of an exotic flower. Rather it is an acronym for William Bourn's lifetime mantra: FIght for a just cause; LOve your fellow man; and LIve a good life. 
In 1937, with the Bourn's gone, Filoli was purchased fully furnished by William P. and Lurline Matson Roth. The Roths were residents of Woodside and among the very few who could afford such an acquisition during the waning years of the Great Depression. Mrs. Roth was heiress to the Matson Navigation Company fortune and her husband had risen to be president of the firm. At the time of their purchase, the Roths had a 21-year-old son and identical twin teenage daughters.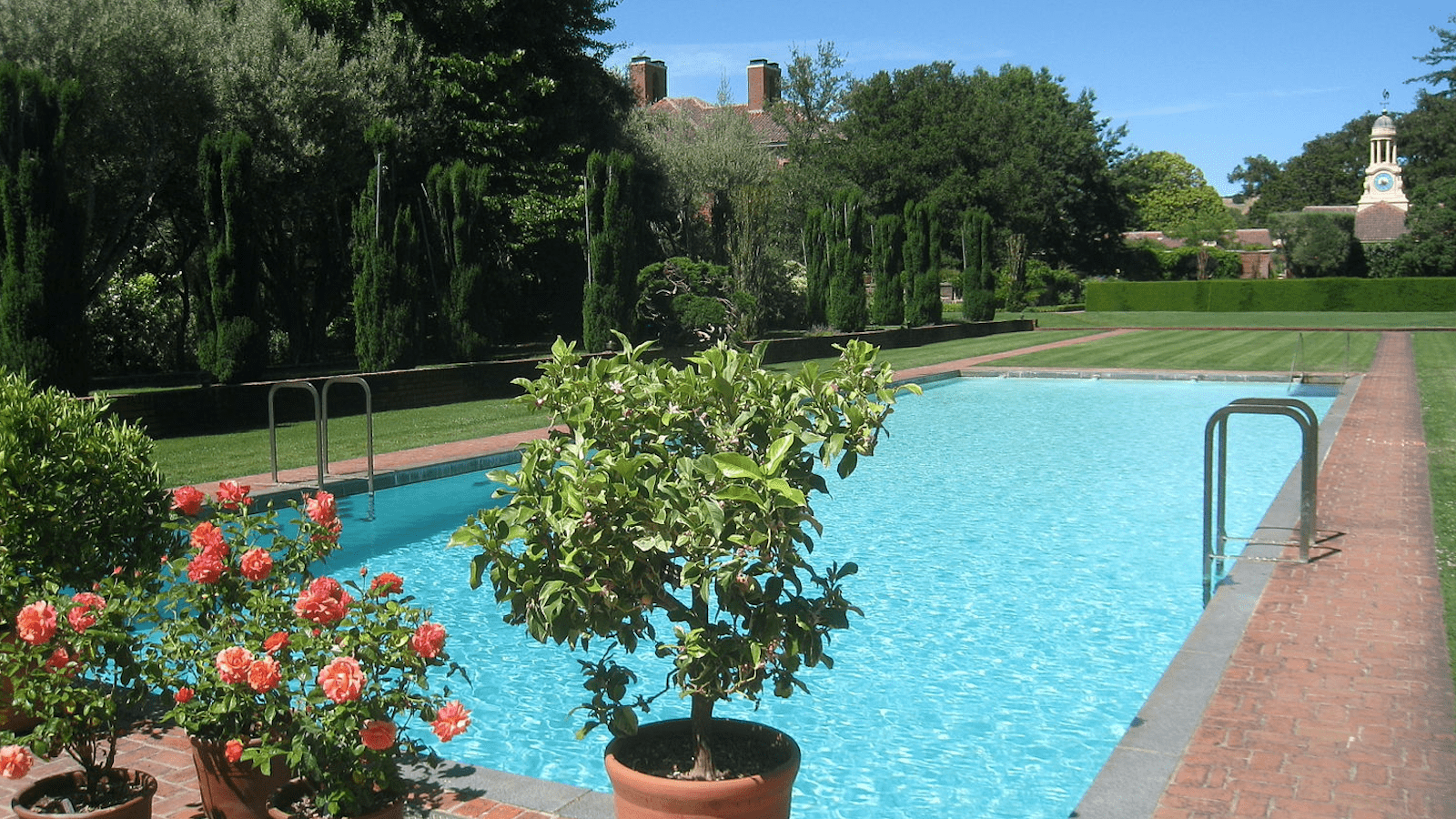 Similar to the Bourns, the Roths entertained lavishly at Filoli; possibly their most notable celebration being the 1939 debutante ball where, according to the San Francisco Chronicle, "the Roth twins were launched into society like luxury liners." 
Then in 1943, William Roth, similar to his predecessor at Filoli, suffered a debilitating stroke causing the family to add a large pool to the property where the patriarch would recuperate. But 20 years later, he died at age 83; unable to witness the rise to prominence of his son, William Matson Roth, as America's leading trade negotiator during the JFK presidency; later as a potential candidate for governor of California and a longtime University of California regent.
After a period of mourning, Lurline Matson Roth resumed her interests in horsemanship and gardening, winning wide acclaim in both pursuits. Over time, maintaining Filoli Estate and Gardens became an unnecessary burden and in 1975 Lurline Matson put the immense property on the market. Yet when a buyer was found, on learning the new owners would not allow public access, she refused to sell and instead donated Filoli to the National Trust for Historic Preservation, along with an endowment to insure the property would kept in prideful condition. Ten years later, Lurline Matson Roth died at age 95.
Similar to their mother, all three children of William and Lurline Roth lived well into their 90s. Also like their mother, the identical twins, Lurline and Bernice were both skilled equestrians, accomplished gardeners and dedicated docents who would lead visitors on tours of Filoli. And, in addition to his political endeavors, son William teamed with his mother in the 1960s to preserve San Francisco's Ghirardelli Square from being demolished and converted the iconic brick structure into a retail and entertainment center, one of the first of its kind in the nation.
Today, Filoli, also referred to as the Bourn–Roth Estate, employs a staff of 60 and involves over 1,200 volunteers. It is open daily, 10am to 5pm and is located at 86 Canada Road in Woodside, California. filoli.org