This summer is a great time to explore the natural wonders of Humboldt County and take that road trip to California's northern coast to see the world's tallest trees, do a scenic drive along the Avenue of Giants, visit the best of small-town California, and explore the Lost Coast.
As a child of the Golden State, I've been taking summer road trips to the coastal redwood forests since I was a kid, and I haven't even begun to experience everything this land of superlatives has to offer. As a seasoned travel writer, I can guarantee, it's one of the best family road trips in the nation — a perfect combo of natural beauty, outdoor recreation, and American kitch. Keep reading and you'll see what I mean.
Redwoods National Park: Home to the Largest Trees on Earth
It's difficult to explain the feeling you get walking through the misty old-growth forests of Redwood National Park without citing Alice in Wonderland. Like a verdant jungle, the coastal redwoods of Humboldt County are a multistoried affair, and its trees — the tallest living things in the world — are just the top layer.
Everything here seems immense and mysterious, as if from a prehistoric age: giant mushrooms and colorful mosses saturate the ground, 10-foot-tall ferns line the creeks, the ground is soft and eerily springy, and the smells are rich and musty. It's so outsized and primeval you half expect to turn the corner and see a dinosaur munching on giant huckleberry bushes.
I'll admit, getting here isn't easy. Air service is limited, and the drive from San Francisco will take at least five hours. But I promise you it's well worth the drive — once you step out of your car and into these ancient forests, you will be awestruck at the size and grandeur of these mighty redwoods.
The statistics are almost incomprehensible: trees as tall as a 35-story skyscraper, with trunks more than 20 feet thick and life spans of up to 2,000 years. And chances are good you'll marvel in the solitude as well, as this is one of the least-visited parks in California due to its isolated location.
It's also one of the most accessible parks in America, providing beautiful scenic byways and wheelchair-accessible trails for elderly and disabled visitors. Most of the park's highlights are right off the road, access is open and free year-round, and parking is never a problem.
But my favorite places to see involve a bit of hiking, such as the trail through Fern Canyon and the descent into Tall Trees Grove. You'll also encounter numerous wildlife such as Roosevelt elk, bald eagles, river otters, black bears, and even gray whales migrating along the spectacularly rugged coast.
A short hike leads to one of the world's tallest trees — 365 feet tall, 14 feet in diameter, and more than 600 years old. It was once touted as the world's tallest tree, but new record-holders keep popping up nearby, and this proud giant has lost a couple of feet to time. It's still worth it to see this contender, particularly in the fall when the giant maples' blazing orange and yellow leaves — the size of dinner plates — provide spectacular contrast to the mossy forest floor.
Bring a blanket and picnic basket because you'll want to spend all day here exploring the grove, relaxing under the sun-streaked canopy, and watching river otters play in the emerald-green river (I do it every year).
This incredibly scenic trail is the most popular destination in the parks. Flat and relatively short, the winding trail leads deep to a lush grotto of ferns — lady, deer, chain, sword, five-finger, and maidenhair — clinging to 30-foot-high vertical walls divided by a brook (bring the camera for this one).
It's only about a 1.5-mile walk, but be prepared to scramble across the creek several times on your way via small footbridges. Visit the canyon in the morning, then spend the day relaxing on Gold Bluffs Beach (bring drinks and a sandwich).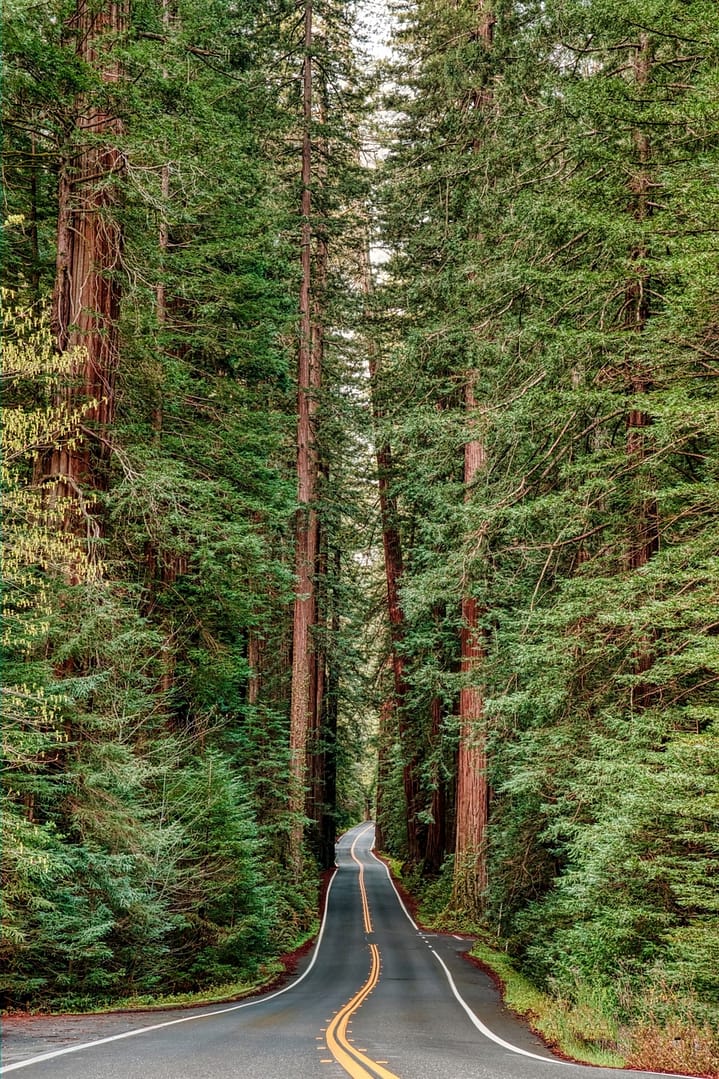 If you live in Northern California, have young kids, and haven't taken them to see the Avenue of the Giants yet, well, it's time. This 31-mile section of Old Highway 101 — which runs parallel to Highway 101 between the towns of Phillipsville and Pepperwood — winds through the world's largest concentration of coastal redwoods. The best natural attraction along the Avenue is Founders Grove.
Be sure to stop here to take the half-mile, self-guided loop trail that passes by the Dyerville Giant, which, before it fell in 1991, was considered the "champion" coastal redwood at 364 feet tall, 53 feet in circumference, and weighing in at nearly a million pounds. That's one big tree.
And how can you not love all those hokey tourist attractions scattered along the route, such as the Chimney Tree, the Shrine Drive-Thru Tree, the One-Log House, and the Eternal Tree House? Somewhere in my garage I still have Super 8 film of the trips we took here in the early '70s — I just can't get myself to toss it out. Trust me, this classic California road trip creates priceless memories for kids, so be sure to bring the video camera.
The Best of Small-Town America
If you're losing faith in America, it's almost a sure bet that you can restore it by spending a few days in Humboldt County, starting with Arcata, my favorite small town in California.
Arcata has it all: its own redwood forest and bird sanctuary, a beautiful town square, great restaurants, and even its own minor-league baseball team, which draws the entire town together on many a summer afternoon.
Sort of a cross between Mayberry and Berkeley, it has an undeniable small-town flavor, yet it possesses that intellectual and environmentally conscious esprit de corps so characteristic of university towns (Arcata is the home of Humboldt State University).
For those who can't survive without good restaurants, interesting boutiques, and a few bookstores to browse, Eureka, the largest town in northwestern California (population 27,000), has all those hallmarks of civilization in and around its picturesque Old Town. Located on historic Humboldt Bay, it also has a number of superb bed-and-breakfast inns, making it a great launching point for exploring Redwood National Park.
The heart of Eureka, Old Town, is a 13-block stretch of shops, restaurants, and hotels, most of them housed in painstakingly preserved Victorian structures.
One of Old Town's highlights is the Clarke Memorial Museum, which has a new exhibit on the history of electrical generation in Humboldt County, with demo fuel rods and a life-size control room with bells, whistles, and flashing lights, all controlled by dials and knobs and levers (kids love this exhibit — click here to see).
And if you need a good book at a great price, stop by the Booklegger, a wonderful bookstore in Old Town with thousands of used books.
As for lodging, Hotelier Mark Carter has built one of the most romantic inns in California — the Carter House Inns. I still remember the first time I walked inside the Carter Cottage — a gorgeously designed mini-mansion with a huge chef's kitchen, two fireplaces, a grand bathroom with a whirlpool tub for two, a sundeck, and all the privacy you could ever hope for. "This… this is all ours?" It's the perfect place to stay while exploring Redwood National Forest, the Lost Coast, and other North Coast attractions.
A must-see in Eureka is the multigabled-and-turreted Carson Mansion on the corner of 2nd and M streets. Built of redwood in 1886 for lumber baron William Carson, it's one of the nation's finest Victorian architectural masterpieces.
Before you leave Eureka, be sure to take a bay cruise on skipper Leroy Zerlang's Madaket, the oldest passenger vessel on the Pacific Coast. The 75-minute narrated tour — a surprisingly interesting and amusing perspective on the history of Humboldt Bay — departs daily from the foot of C Street in Eureka and gets progressively better after your second or third cocktail. Afterward, stroll over to the Lost Coast Brewery for a fresh pint of Alleycat Amber Ale and an order of buffalo wings.
Day Trips to Ferndale & Trinidad
Just 16 miles south of Eureka, the entire village of Ferndale has been designated both a National and State Historical Landmark for its well-preserved Victorian architecture. Even if Ferndale isn't on your itinerary, it's worth taking a detour off Highway 101 to stroll for an hour or two down the colorful Main Street, browsing through the art galleries, gift shops, and cafés strangely reminiscent of Disneyland's "old town." Ferndale, however, is for real and hasn't changed much since it was the agricultural center of Northern California in the late 1800s. It's like a trip back in time.
In the early 1850s Trinidad was a booming supply town with a population of 3,000; now it's one of the smallest incorporated cities in California, encompassing a little rocky bluff that a handful of anglers, artists, retirees, and shopkeepers call home.
A sort of Mendocino-in-miniature, cute-as-a-button Trinidad is known mainly as a sportfishing town: trawlers and skiffs sit patiently in the bay, awaiting their owners or tourists eager to spend an afternoon salmon fishing. Scenery and silence, however, are the town's most desirable commodities; if all you're after is a little R & R on the coast, Trinidad is among the most peaceful and beautiful areas you'll find in California.
Samoa Cookhouse: A Meal Fit for a Logger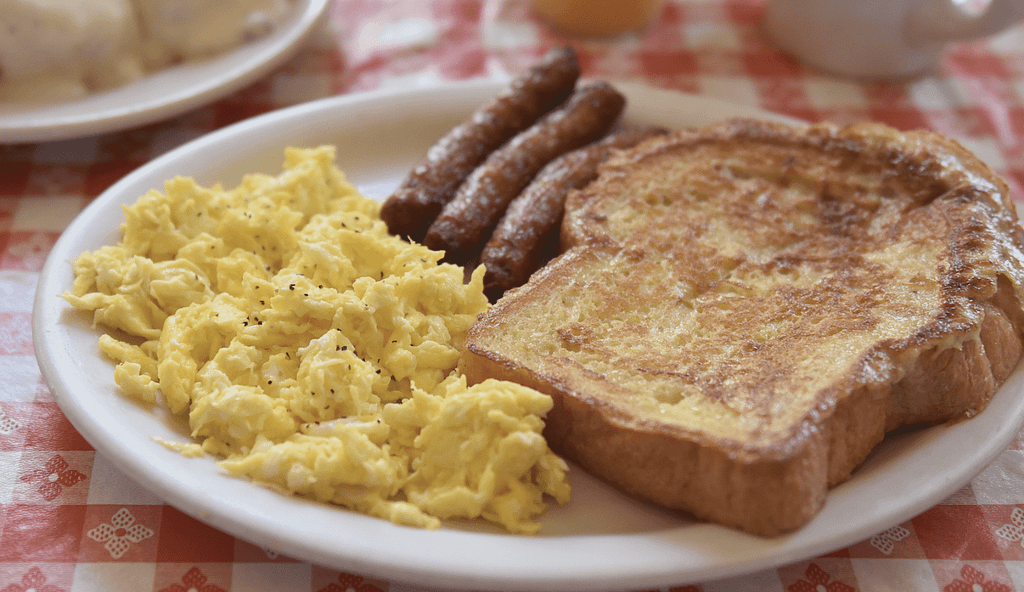 Visiting the Eureka area without a stop at the Samoa Cookhouse is like visiting Paris without seeing the Eiffel Tower. This venerable dining spot is the last surviving cook house in the West (it's been in operation for more than a century) and a Humboldt County institution, where guests are served lumber-camp-style in an enormous barnlike building at long tables covered with checkered cloths. Few decisions are required–just sit down, and the food will come until you say uncle.
Breakfast typically features sausages, biscuits, scrambled eggs, potatoes, and French toast or pancakes. Lunch and dinner include potatoes and the meat-of-the-day, which might be ham, fried chicken, pork chops, roast beef, barbecued chicken, or fish. Mind you, the food isn't fancy, but there's plenty of it, including the delicious bread, which is baked on the premises. And just when you think you're about to burst, along comes the fresh-baked pie.
After your meal, spend a few minutes waddling through the adjoining logging museum. It's open for breakfast and dinner every day, and lunch Monday through Saturday. From Hwy 101 take the Samoa exit (R St) in downtown Eureka, cross the Samoa Bridge, turn left on Samoa Rd, then left on Cookhouse Rd.
The Lost Coast is proof that if you don't build it, they won't come. What wasn't built along 90 miles of pristine California coastline along the southern coast of Humboldt County was a road: The topography of this brutally rugged region — steep mountain ranges abutting rocky shore — wouldn't allow it, forcing the builders of Highway 1 to make a detour far inland.
The result of this absence of asphalt is the last untamed and undeveloped stretch of coastline in California, a place so devoid of urbanization that more cows repose on its beaches than people (seriously). In fact, you can spend days roaming the coastal range and without seeing a soul, making the Lost Coast the sine qua non of "get-away-from-it-all" experiences. 
Despite the absence of a coastal road (aside from a brief stretch along the northern region), the Lost Coast makes for a fantastic road trip. Of the three entrance points into the region — Garberville, Humboldt Redwoods State Park, and Ferndale — the most scenic route is through the State Park. Take the Humboldt Redwoods State Park turnoff on Highway 101 and follow the Mattole Road all the way to Ferndale and back onto Highway 101.
The 3- to 4-hour, 75-mile drive is incredible, transporting you through lush redwood forests, across golden meadows, and past miles of deserted beaches (well, if you don't count the cows). Be sure to start with a full tank, keep a map, binoculars and camera handy, pack a lunch, and bring a jacket if you plan to venture anywhere on foot — the ubiquitous afternoon fog is a real bone-chiller.
What I've included in this article is only a fraction of all the things there are to see and do in these parts Along with more than 40 parks, forests, reserves, and recreation areas (which together preserve half the world's old growth giants), this lightly visited region of California also offers camping, biking, bird watching, beachcombing, horseback riding, fishing, kayaking, canopy tours, and more.
For more information about exploring Humboldt County's numerous road-trip-worthy attractions, including having a free copy of Humboldt County's official travel publication — Redwood Coast Travel Guide — mailed to your home, log onto redwoods.info.