There's a lot of greenwashing these days, even in the progressive, forward-thinking, "live your truth" Bay Area. One company, however, has done it right. And if you see the slick red Bengal tiger sticker on a bumper or Yeti, you know the core values of that car or cooler owner. In other words, if you can vote with your dollar for ethical treatment of workers, sustainable business practices and the success of LGBTQIA businesses, Equator Coffees is your brand. The idea for a sustainably, fair-ethical company started well before it was mainstream. Back in 1993, life and business partners, Helen Russell and Brooke McDonnell started operating two espresso carts in San Francisco. Immediately, Brooke wanted to know where the coffee beans were sourced, and whether the family farms got a fair price, etc. With an uncompromising eye towards fair practice, Brooke handled product, while Helen handled the people and business. The missing piece to their business, was process — enter Maureen McHugh a childhood friend from back East.
Featured Photo: Jordan Rosen Photography
Equator Coffees was among the first coffee roasters to purchase coffee through the fair trade system (they visit the coffee farms) and in 2011, they became a certified B Corp. Today with an internationally recognized name (and logo), nine outlets in the Bay Area, and now expanding to Southern California, this trifecta has weathered ups and downs, including the pandemic where fifty percent of their business — wholesale business to companies like Google, Twitter, Slack — went away. Considering their recent expansion to Los Angeles, we figured, now would be good time to shine the light on this dynamic team, via founder, and spokesperson, Helen Russell.
Oh and the name? The actual equator has two long harvest seasons, and at 3,000-6,000 feet elevation is the ideal place to grow the Arabica bean. It's that simple.
You started Equator in Marin, do you think this helped in any way? If so, how?
I think it's helpful to be a part of the community you are doing business in, people love to see owners at their local stores. Marin consumers are educated, sophisticated and rightly have high expectations. We appreciate that about them! Brooke and I have lived in Marin since the early '90s — we see our friends and neighbors at our cafes, and have made friends over many cups of coffee and our shared love of community.
As you have expanded south, what attracted you to Culver City?
Culver City is such a creative part of L.A.! There's so much happening and you feel it in the vibe of the neighborhood. It's so exciting to be in proximity to numerous tech and entertainment studios, including NPR, Apple, Amazon Studios and Sony Picture Studios. There are TV shows and movies being created and produced all arounds us. It's such a thriving and cultural hub.
Besides Equator, what else should people experience when visiting Culver City?
Culver City has a thriving dining scene along with a growing art and design district, theaters and studio lots, as well as boutique hotels, quirky museums and cool neighborhoods. I love it because I can feel the history of a town that was founded in 1917 and became the epicenter for movie making. Now the streets are teeming with young professionals and families.
What was an unexpected positive effect of the pandemic on your business?
The pandemic forced us to re-focus on our culture, our team and our responsibility as leaders for our people and our community. Our team members here in California and our coffee farm partners. We did everything we could to keep our teams safe and employed, and worked hard to keep our green coffee contracts intact. The pandemic also forced us to diversify and focus on our direct to consumer business. Of course we have a website and offered subscriptions pre-pandemic, but it was a small part of our business. With everyone shifting from drinking coffee in their offices to enjoying it at home, we had to get creative in how we reached people. We now have a robust subscription program and growing grocery business.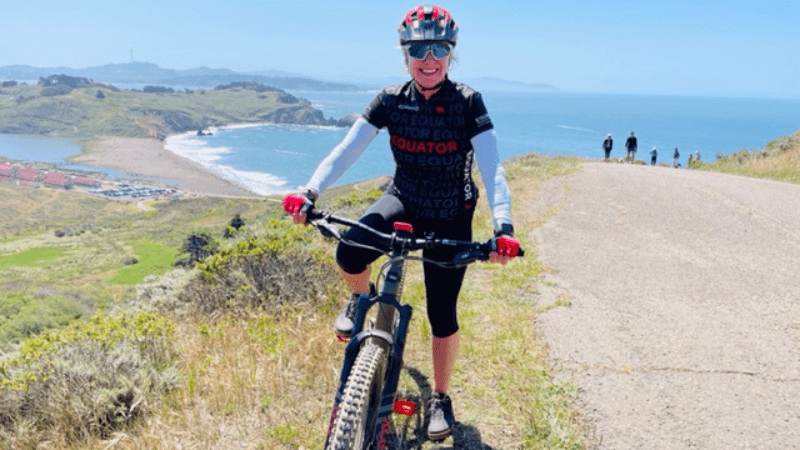 Biggest challenge resulting from the pandemic?
When tech company employees started working from home we lost 35% of our top line revenue overnight. All of the sudden it was 2010 all over again in terms of our revenues. We immediately decided to close our stores for two weeks to assess all of our procedures to make sure our employees and customers were safe. Fortunately, we were testing our online ordering app right when the pandemic hit so we re-opened with the app, which saved the day. At the end of this year we will be back to pre pandemic revenues. Essentially we lost two years, we are so grateful that we are still here and for the customers who supported and trusted us.
What has been the hardest ethical part of your business to maintain?
The biggest thing for me has been seeing the waste generated in our cafes and via online orders going up. We were on track to roll out reusable cup sharing right before the pandemic pushed everything into paper, and it is much more packaging to ship individual bags of coffee to individual houses rather than supply an office with coffee. Here, too, we feel we made the best decisions we could by using recycled and compostable options, but culturally it feels like ground was lost in the fight to end one time use items.
What has been the easiest?
As a B Corp, making decisions that are good for our stakeholders and our planet is ingrained in our DNA. It's not hard to maintain our ethics because it's such a part of who we are. We did have to make some tough decisions, we were confident every decision we made was done thoughtfully and with the best intentions. We knew that even through two years of taking a loss certain things were non-negotiable. We take care of our employees, we offer paid health insurance at 30 hours a week, we pay a fair price for our coffees and we make environmentally sound choices. Period. Those things are never going to be sacrificed even during lean times.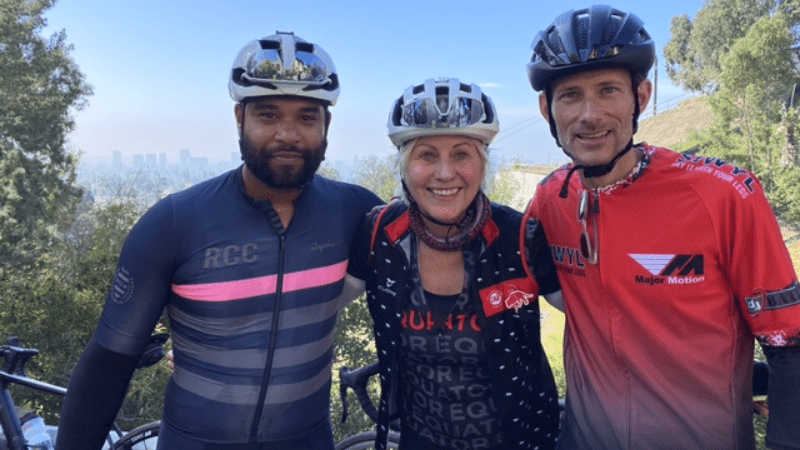 Tell us about 1951 Coffee Company.
We are huge fans. They are a non-profit specialty coffee organization located in Berkeley that promotes the well being of the refugee community in Northern California. They offer a barista training program for refugees and asylees. They teach the hard skills of coffee preparation and cash handling as well as soft skills like customer service conversation. They've proven that by offering coaching in a classroom environment they are able to set up their graduates for success in cafes. We do a lot of our training live on the floor of our cafe, which is challenging for English learners or people who have not yet had a "typical" American job.
Have you hired any grads?
We love the mission of this company and it's been a great way to add to our workforce. We've made a few hires over the years from them — this is a population I'm personally passionate about supporting. Moving to a new country must be such overwhelming experience, it's up to us as Americans to make sure new Americans feel welcome and to support them however we can. Coffee is such an incredible industry, because so many careers can be launched from getting that first barista job. Most of our department heads and managers have been baristas, from our green buyers to accountants. Being a barista was even my first job in the coffee industry! The sky is really the limit in coffee, and sometimes all people need is support with their first step.
Was there someone on your team, who thought, "Hey, we could offer instant coffee, too!"
One of the first innovators of specialty instant coffee was a company called Sudden, which was based here in the Bay Area for several years before they unfortunately went out of business. We quickly saw that they were doing something special, and were eager to roll out our own instant coffee — we were one of their first co-packing clients. I was very excited to have a vial of their coffee that I could keep in the back pocket of my cycling jersey. Now anywhere I went in the world I could have a great cup of coffee, I just needed water. My travel bags are filled with our instant coffee.
Road biking is a passion — is there a bucket list ride in California you have on your mind?
I love to ride both road and mountain. My favorite ride ever was riding around Lake Tahoe with friends. We started at Kings Beach at 7am and made the 72 mile trip in 7 hours, stopping of course to take in the views, especially Emerald Bay. My next bucket list ride will be in France.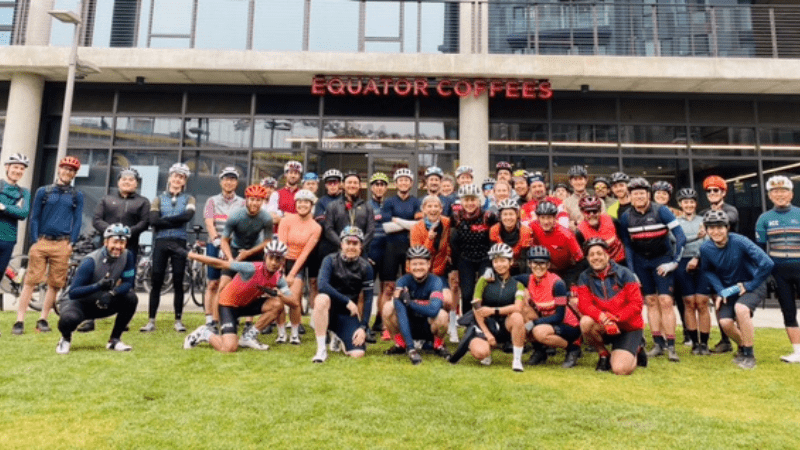 If you have visitors, where do you bring them in the Bay Area?
Every Equator Cafe, of course! We have a friend coming in this week and will stop at the Golden Gate Bridge for coffee at the Roundhouse Cafe, take in the spectacular view of the Bridge, and then drop down to our store in Sausalito for lunch before heading to the house. My favorite places to visit and share with visitors are Tiburon, Muir Woods, Yountville, Healdsburg, Alcatraz and take the ferry from Sausalito into the Ferry Building in San Francisco.
What is your favorite thing to enjoy with coffee? And where?
I have so many great coffee memories and moments. Being able to share this passion with my partner Brooke is such an incredible part of my life. When we opened our second cafe we spent a lot of time perfecting a gluten-free waffle mix. My favorite thing to enjoy with coffee is a gluten-free waffle with Brooke at our Mill Valley Cafe.
California is notoriously difficult for small businesses — why do you think Equator has thrived?
Californians are smart consumers, they want to support ethical businesses. We have thrived where others haven't because we make holistically sustainable choices in all aspects of what we do. We listen to our customers and our team, we always strive for excellence. Our customers trust us to do the right thing and support us in doing so.