Breakfast is a meal with a lot of variety, existing sometimes as takeout during work commutes or at other times as a relaxing full morning affair. Sacramento meets breakfast's different demands perfectly, with a spectrum of choices ranging from casual donut shop favorites and light brunches to packed nationally recognized sit-down pancake houses. Plus, thanks to Sacramento's local "Farm-to-Fork" culture, breakfast cooks frequently collaborate with surrounding farms to provide the freshest experiences.
Feature photo: Courtesy of Marie's Donuts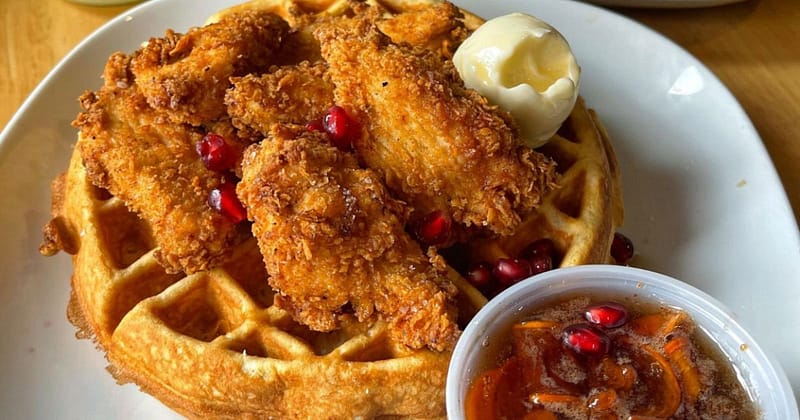 5913 Broadway, Sacramento
916.346.4445
Bacon and Butter's name hints at the face-stuffing delicious breakfast, brunch and lunch flavors which are celebrated by a cult following of diners, local media and Michelin reviewers within. Almost everything is made farm-to-table in house, from the famous grilled cheese Benedict and homemade cinnamon rolls to fun rotating selections like cumquat syrup and over 25 breakfast cocktails. Smaller plates and vegetarian options are also no problem at this fun urban diner located in Tahoe Park. baconandbuttersac.com
Fox and Goose Public House
1001 R Street, Sacramento
916.443.8825
Notorious English-inspired Fox and Goose pub along historic R Street Corridor is famous for its olallieberry scones paired with Devonshire breakfast cream. Scones are complimented by English sausage alongside beans and toast, smoked meats and corn beef hash, and plenty of other selections that allow customers to visit repeatedly. The incredible breakfast spot is housed in historic Fuller Paints and Glass Company's facility from the 1910s, and was reinvented into a traditional pub gathering space by an English restauranteur in 1975. When breakfast ends at 2pm, a dinner menu supplements regular live music, open mic, and pub quiz public events. foxandgoose.com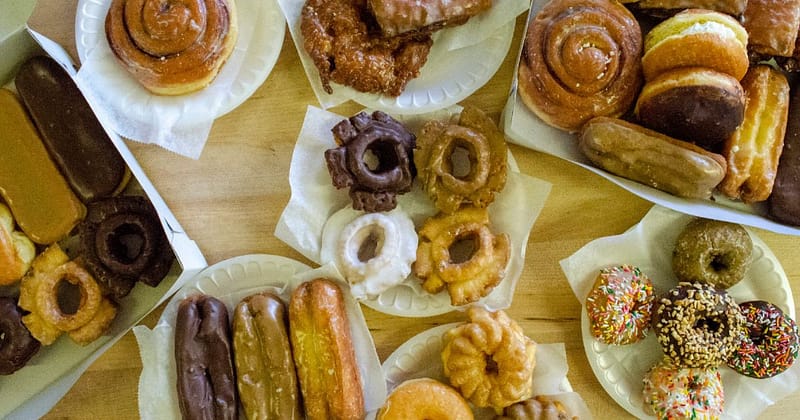 2950 Freeport Blvd, Sacramento
916.444.5245
Visitors smell fresh baked Marie's Donuts several hundred feet away from the relatively unassuming, old-school teal and white building with paintings of donuts on the side. People drive from across town to this cute Land Park shop that's been serving every kind of traditional sprinkled, powdered, glazed and frosted donut in pink cardboard boxes since the 1950s. Orders taken from their exterior walk-up window are appreciated at garage sales and business meetings alike. It's a decades-old donut stop which genuinely embodies a casual morning stop, always delicious, and is a cherished local icon for doing so.
3440 C Street, Sacramento
916.442.7370
Locally celebrated Orphan Breakfast House is a perfect morning outing tucked among the nostalgically attractive neighborhoods in northern East Sac. Rosemary-baked toast, heaping banana blackberry or lemon poppyseed pancakes, nods to Latin flavors with chilaquiles and sweet corn breakfast tamales, and light granola yogurt or other small plates really go the extra mile and are loved in hundreds of reviews and media outlets. Referencing "orphan businesses" which succeed without large exterior support, Orphan's menu, setting and fun quirks like cash only payment (free ATM on site) make a breakfast experience that many people return for. orphanbreakfast.com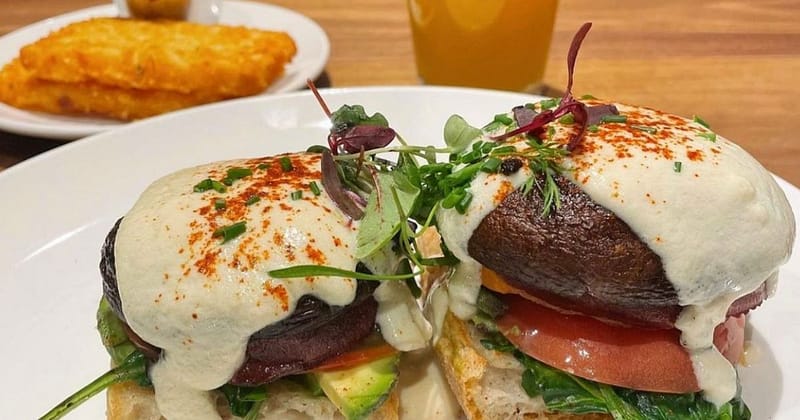 1813 Capitol Ave, Sacramento
916.823.5520
Sibling by Pushkin's offers farm-fresh brunch, with an empowering vegan-friendly and 100% gluten free menu better than the vast majority of restaurants for visitors. Look no further for some of Midtown's best morning toasts and Benedict's, quinoa and parfait bowls, breakfast staples like waffles topped with fruit and sandwich lunch selections. Additional highlights are the outside patio with a view of the Capitol rotunda a few blocks distant and newly developed dinner menu which is available on select days. siblingsacramento.com