If you're visiting the islands with toddlers, we've found outdoor wear that keeps up when your tyke is on the move while protecting from UV rays.
These durable and quick drying tops come in a long sleeve option, offering a little more protection from surf and sun.
These stylish sun wear tops for boys and girls is perfect for outdoor play in and out of the water.
In a variety of prints for both girls and boys, these one-pieces are a perfect option for beach and pool days.
This aqua and white sunsuit is highly rated top choice and is equal parts cute and durable. Available in a range of toddler sizes, these come in a variety of soft colors (attracting less sun than darker colors).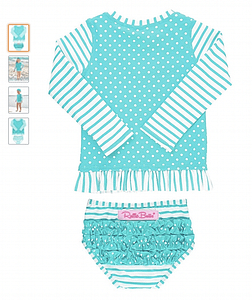 *We are an Amazon affiliate and may receive a commission for your purchase. Mahalo!