Working with Local Getaways
Launched in June 2021, LocalGetaways.com offers travel tips, best of's and booking opportunities for California and Hawaii. As we got our start in Hawaii, our mission is to share the Aloha Spirit, an actual law, which is defined in part as the coordination of mind and heart within each person and that each person must think and emote good feelings to others. If you agree, we'd love to work with you!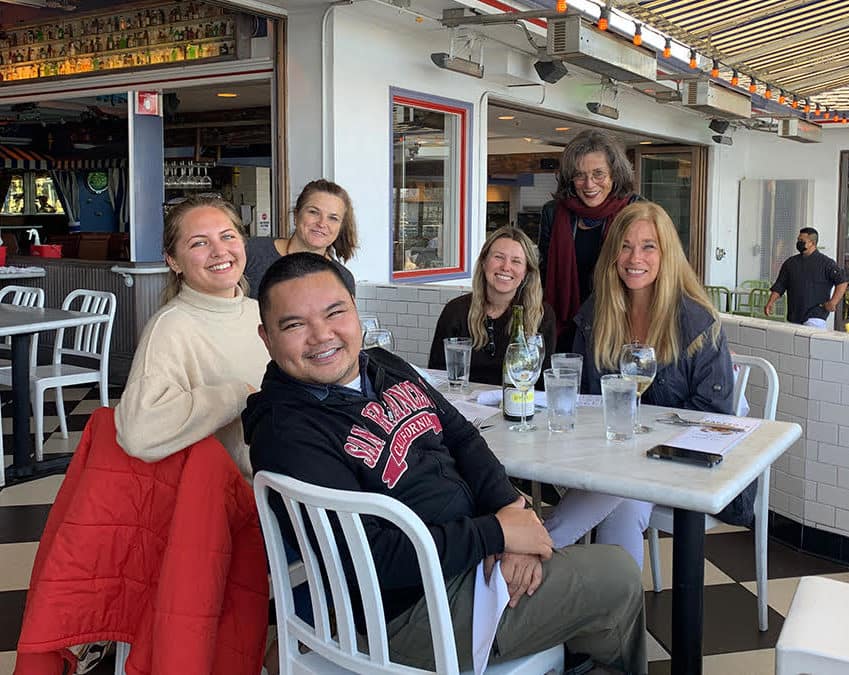 Position: Digital Associate Editor
Sausalito-based 270-Media is seeking a digital associate editor to support ongoing content strategy and create content aligned with business objectives for LocalGetaways.com. We are looking for a creative, curious, editorially-minded candidate who is passionate about adventure, travel, community, and sustainability — and most importantly words. This is an entry-level position, with the opportunity to grow.  
As part of our startup team, you will learn about publishing (both digital and print) from A-Z, literally. You will support our team, create content, and help out with events as well as represent our Local Getaways brand at industry events.
This will be a full-time, multi-faceted, position based in Sausalito with opportunity to WFH two days a week.
Admin: 
Maintain content folders and update Trello/Google sheets every week.

Work with freelancers to ensure editorial standards.

Ask for backlinks

weekly.

Help with events, maintaining guest list, help with planning, point person at events.

Plan and manage intern projects.
Editorial:
Proofread content, for both grammar and brand relevance before uploading to the website. 

Add SEO + keyword placement as needed. 

Curate monthly calendar of events + find photos for Bay Area, edit other regions.

Work with affiliate and regional editors as needed. 

Ongoing writing of articles, social posts, as well as enhancements to existing articles. 

 
Digital: 
Upload content to WordPress CMS using SEO and keyword best practices.

Prepare content for weekly newsletter.

Share content on various social media platforms.

Work with the edit team to maintain proper tagging, categories on the website. 

Create weekly analytics reports for the entire team.

Monitor and troubleshoot ongoing bugs on website, i.e. broken links, visibility issues, update website according to changes in brand/aesthetic.

Engage with audience via social media.

Create Mail Chimp and website analytics report for advertisers.

Ability to post ads as a backup for ad administrator on the Broadstreet platform.
Experience:
Impeccable writing and editorial skills, with a good command of the English language. 

Ability to tell a story using words, images, or audio, and an understanding of how to create content that draws an audience.

Expertise with using SEO best practices to write creative copy that includes effective keyword placement.

Experience with social media engagement strategies and best practices.

Up to date with the latest technology, platforms, tools, and content marketing strategies.
Compensation: Salary plus benefits.
Position: Sales Account Manager
Local Getaways has an immediate opportunity for a highly motivated and experienced Account Managers to drive sales revenue for Local Getaways within the California and Hawaii markets. This role will be responsible for prospecting and selling new business with customized 360 degree solutions across print, digital, social, video, and experiential platforms at Local Getaways. The ideal candidate will have an in-depth understanding of the current media landscape, will have established relationships with marketers at local brands and agencies, and a high level of comfort with networking and securing long-term partnerships.
*This is a full-time position at our office in Sausalito, CA.
Job responsibilities include, but are not limited to:
Prospect and develop new business by cultivating high-level client relationships with a focus on consultative selling

Manage and maintain client relationships from initial contact through campaign completion

Work with Marketing teams to create client proposals and solutions based on an in-depth knowledge of the client, the marketplace, and Local Getaways products

Meet and exceed all sales quotas and goals as set by leadership

Attend scheduled sales meetings 

Report regularly to leadership on sales pipeline and partnership progress

Serve as a Local Getaways ambassador within the California/Hawaii communities by attending targeted events and continually networking
Successful candidates will possess the following skills/abilities:
Highly-driven and goal-oriented

Self-motivated and with an ability to exercise independent judgment and solve problems while still able to work collaboratively in a team environment

Personable with superb people skills and a professional demeanor

Excellent presentation skills and a clear understanding of Microsoft Office products

Experience with CRM systems

Ability to understand and sell complex ideas across multiple media platforms

Ability to develop and deliver sales presentations and negotiate contracts based on the needs of the client

Very strong organizational and time-management skills

Additional skills required include strategizing, marketing and networking 
Required Qualifications:
Bachelor's Degree or equivalent work experience

5+ years sales experience in a media or agency environment

A clear understanding of current media trends on a local and regional

Strong persuasive verbal and written communication skills
Our Work Environment?
Our people are our best asset!

Our team enjoys being part of a dynamic, creative environment focused on community and travel

Everyone has an entrepreneurial spirit and is valued

Authenticity, integrity and quality are our core values

Collaboration is encouraged
Sound like a good fit?
If you are a qualified candidate and interested in this position, we encourage you to apply. Please email a cover letter and resume to nikki@270-media.com with the job title and job location in the subject line.
Salary: Competitive, with benefits
Position: 270 MEDIA INTERN
The Opportunity:
We are looking for someone to help with overall marketing and editorial strategy for 270 Media and our portfolio of products: Local Getaways California, Local Getaways Hawaii and our quarterly print publication. You will work on editorial, ads, digital marketing and social networking.
Join our edit and sales team and work on projects that directly impact company growth and revenue. We want this internship to be an impactful and informative learning experience for you, and you will be joining us at a particularly exciting time as we expand our brand!
You:
Are excited to collaborate with talented people and solve interesting problems

Are resourceful, can operate with little direction, and have a strong "get stuff done" attitude

Can articulate your ideas and research clearly — in person and in writing

Have basic/intermediate skills in Google Drive and WordPress — Adobe InDesign and Photoshop are highly desirable as are video editing skills

Are detail-oriented

Want to learn more about the publishing industry

Want to work on a team that will invest in your personal/professional development
The broad internship duties include:
Assisting marketing and edit team

Promoting brand awareness (includes marketing copywriting, social network outreach, blog sharing, etc.)

Differentiating ourselves from competitive media

Positioning us to publicists and marketers as the go-to resource for stories and expert staff

Assisting in integrating our online, print, mobile and social media networks
MARKETING INTERN DETAILS
This internship offers candidates the opportunity to:
Develop and promote new sales initiatives (includes marketing copywriting)

Promote future issues

Promote signature events

Develop sponsorship opportunities

Promote sponsored events

Fulfill sponsorship benefits with online presence for clients (includes marketing copywriting, some visual storytelling)

Facilitate strategic media and event partnerships
EDIT INTERN DETAILS
This internship offers candidates the opportunity to:
Hone their editorial voice and research skills

Gain a better understanding of the WordPress content management system, SEO skills and Trello

Learn how to effectively work with members of the public relations community

Develop their photographic sense through helping to source, size and edit photos for the site
We only offer internships to students who are currently enrolled in an accredited undergraduate program of study. Before we can schedule an interview, we need confirmation from your department that our internship program fulfills all requirements set forth by your department. Please send any documentation from your school that outlines what needs to be covered to fulfill course credit towards your degree, and we'll see if a meeting would be appropriate to schedule — thanks!
Application Process:
If you are a qualified candidate and interested in this position, we encourage you to apply. Please email a cover letter and resume to editorial@localgetaways.com with the job title and job location in the subject line.
Salary: School credit
Are you a photographer who loves where you live? And we mean, do you wake up when it's still dark to get that iconic shot of the fog/water/rising sun? If so, we'd love to connect with you!
We're a group of long-time publishing folks who are crazy about our communities and the people who make them shine. We showcase the best of California and Hawaii on our site — localgetaways.com — in a weekly newsletter, a quarterly print issue, and on social media.
We love words and know that a picture is worth (at least) a thousand of them.
For editorial consideration, please send images to kasia@localgetaways.com with "Photo submission" in the subject line, and feel free to start a convo in our DMs.