Photo Courtesy: Ellie's Essential Blends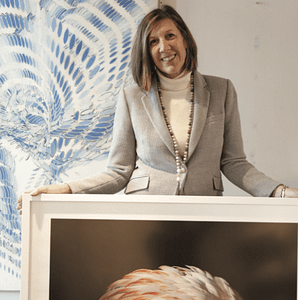 During a recent opening party at her Sausalito gallery, art consultant Bettina Stiewe showcased two artists who are both donating 10% of their proceeds to efforts directly helping the Ukrainian people.
Upstart Modern is a result of Bettina's passion for art and desire to match artists with collectors. Raised by art collectors, delving into the backstories and process of artists was a meaningful part of their family's dynamics. Therefore, when she joined the board at Headlands Center for the Arts, which hosts a world-famous artist in residence program in the Marin Headlands, it was a natural fit for many longtime friends to participate in shows and gatherings. "I love the idea of bringing more art into homes and businesses," says Stiewe, "It brings me great pleasure to see my clients fall in love with a piece of art. If I can do more of that, I'm all in.
Her bespoke gallery near Sausalito's waterfront offers a place to gather, introduce artists to collectors and collectors to new artists, share stories (and occasionally artist-lead meals). From adventuresome and thought-provoking canvases to pieces with quiet minimalism, Stiewe helps her clients explore the unique possibilities by narrowing the selections and guiding them through the process.
I am from Kiev and the imprint is in my work. I can't help but see how the grit, glitz, and heroisms in my work comes out of our survival stories and assimilation strategies. My generation are not modernists. Unlike our modernist parents, who were determined to erase the past, we seek out our histories, fabricate false nostalgias, and channel imprinted grit. We are haunted and curious. My grandmother told me it took them a year to walk from Kyiv to the port where they boarded a ship bound for Ellis Island.
Purchase SOS and I will donate 10% of the sale to @mercycorps Ukrainian Refugee Aid to help the kids walking out through Poland as my grandmother did in 1909 to escape Stalin.
My paintings are about meditative work process where the focus is on the brush movement, the viscosity of the paint, breathing and patience. The linen is treated in a way to emulate the chaotic field of the background environment. The painted lines are based on motifs I've been working on for decades that related to pipelines, maps, highways and spectrum emissions and the ways I navigate through space and time. The Pandemic was a massive world challenge I have learned that troubles are inevitable, but as an optimist even in the worst of times, beauty and growth can always be found in the aftermath and I think these works are my aftermath. 
My mother's side of the family is from Ukraine, and I will also donate 10% of proceeds to @mercycorps Ukrainian Refuge Aid.