Photo Courtesy: Poet and the Bench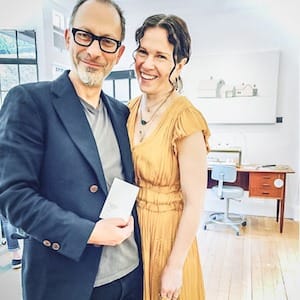 The Poet and/the Bench edit of emerging and independent designers and artists reflects the shop's passion for discovery and a considered fascination with narrative, taste and a devotion to craft. The owners' mission is from the heart: to elevate the relationship we have with objects of appreciation in order to create more intimate connections between the object and the maker.
Whether you're gifting for yourself or others, their collection of small batch, limited-edition and one-of-a-kind dips into the playful, fierce and sublime across fine art, jewelry, home goods, apothecary and culinary accessories.
Thoughtful curation of these talented artists and craftspeople — and giving voice to their story — is the distinguishing factor that brings alive the warmth, refinement and engaged design experience Poet and/the Bench has craved and aims to present. Selections reflect investigations of subjects and inspirations across unique everyday essentials to investment pieces, from minimalist expressions to maximalist pops of fresh.
The shop explores a rich diversity of aesthetic genres reflecting the curious journeys of its makers — 80% are women, 70% are from the Greater San Francisco Bay Area and more than 20% are BIPOC, AAPI and LGBTQ artists.
This is also the home of custom jewelry by Poet and/the Bench co-founder and goldsmith Jeffrey Levin. Design engagement rings and wedding bands revive an old heirloom or realize a symbolic design. Each bespoke design is a considered relationship between you and Jeffrey to bring to life meaningful adornment.
The Poet and/the Bench credo:

We believe in the power of design:
We believe good design expresses both beauty and emotion, inspires people, and creates a sense of place.
We value the human-ness behind good design—the makers, their talent and the personal stories that move them.
We advocate for community as we know the collective power of good, curious people.
We do what we love to bring you things that you'll love, for yourself and others.