Looking for a reason to slow down… maybe even stop? Kauai's North Shore is your spot. Having just returned from a quick "research" trip, I can report that Kauai is as breathtaking as ever, the food is better than I remembered and because of a few infrastructure projects, no one is in a rush. As in, after a huge mudslide in March of 2021, the road to Hanalei is closed for repair throughout the day. It opens for a few hours at a time to allow what the locals call "the convoy" to pass through on a single lane. And then again for several hours after 5pm to accommodate the sunset and dinner activities. Besides this big project, there are other road projects in progress around the island, which can be seen as gentle reminders to slow your roll. 
Getting there hasn't been easy. During the pandemic, Kauai had the most strict restrictions for visitors of all the Hawaiian Islands. Fewer travelers meant fewer airline options. "Almost all the carriers pulled out during the height of the pandemic when we had the 14-day quarantine (now a 10-day quarantine)," says Kauai Visitors Bureau Executive Director, Sue Kanoho. "Delta was the only transpac carrier continuing during the peak of the pandemic." However, things are changing, and according to Kanoho, all the airlines, and then some, will have resumed flights to Lihue by June.
For visitors who love the slow pace and authentically raw, natural beauty of the North Shore, there might not be a better time to visit. I hope this overview of my quick trip can shed some light on what it is like to travel to Kauai right now. 
Feature Photo Credit: Hawaii Islander
United we wait. I rarely complain about something as privileged as traveling to Hawaii, but I think there could have been a better solution for the two hundred or so of us travelers, who jumped through Covid testing hoops — even after being fully vaccinated — and navigated hotel reservations and tried to secure car rentals. 
The United attendant could have had a little sympathy in his voice when he chirped, "Good news United flight 1111 with service to Lihue." After changing gates and waiting for an hour, this was the moment we all thought we would be boarding. He continued, "We have just secured a plane especially for you, and it will be departing from Denver shortly." There were so many things wrong with that sentence. I exchanged glances with a few fellow stranded passengers as if to say, "Who's gonna take him down" and "we will all turn off our phones, no evidence." 
Still high from the idea that we were on our way to Kauai, my daughter cheerfully said, "Let's go get manicures at that Xpress Spa." Off we marched, only to learn that during Covid the company pivoted to become testing centers, and the SFO spa was temporarily closed. 
Again, the fact that we were heading to the emerald green, lush island of Kauai kept our spirits high and the six hour wait wasn't that bad. There are plenty of really good restaurants at SFO and the WiFi was great.
Fun fact: Row 41, where our seats were located, is the very last row in a Boeing 757. This discovery marked the end of our bad luck because, unlike some people landing in Kauai, we had a car reserved, thanks to our hosts. The forty-five minute drive to Princeville was uneventful. Something to keep in mind for those driving north in the dark: this is a two-lane highway, and the Safeway in Kapaa is a great place to stop for provisions (wine) — there are very few sundry options once you get there late at night.
The Kauai Car Rental Situation
Kanoho echoes the sentiments of many locals now that visitors are returning. "Sadly, traffic is back, even with the drop in rental cars." As it turns out, many residents are renting out their cars via Turo. "The computer chip challenge is a real situation for all rental cars in top visitor destinations." 
As reported in Honolulu-based Civil Beat, the Garden Isle's rental car fleet is down by at least forty percent from its typical, pre-pandemic inventory level, and in many cases there are simply no cars available. However, Sue says, "We do have a few hundred new rental cars coming in this month, but not sure it will fully satisfy the large demand." The bigger issue, she continues, is with the computer chip issue which affects all car rentals. "Our island is trying to ramp up Uber and Lyft drivers to help move our visitors to activities and restaurants, as well as consider shuttles from Lihue Airport to large resort areas like Poipu, Kapa'a and the North Shore. We have talked for some time about trying to create and sustain alternate forms of transportation for those that might not need a car rental for the full time they are here."
I noticed car rental shuttles (the ones that usually stick to the airport) dropping off guests in Princeville, 45 minutes north of the airport, and found out that these travelers would have to find a ride back to the airport to get a car at a later date. This is a temporary situation, but for the next few months, possibly through the end of the year, be sure you have a guaranteed price for your car. Or, a simpler solution — stay in a place where you don't need a car.
What's the Draw to Kauai's North Shore?
Despite all of these obstacles, most of the hotels, condos and homes on the North Shore are at capacity. Why? Hanalei has international appeal. Let's start with the name, Hanalei has two meanings. Hana means to work or do and lei means… lei, as in lei making. It also means "crescent bay," in reference to the nearly two miles of white sand beach. Both have a very pleasant effect on the brain. And if renting a house here has been on your bucket list, now is the time.
What could be seen as negative — the road closure — has created a unique opportunity for peace and quiet. When the access road is closed it is so peaceful; it's like being on an island within an island. And despite the closures, most of the restaurants, food trucks and bars as well as surf schools are open and ready to transport you to that elusive state of deep relaxation.
There are a few cons, such as getting workers to the shops and restaurants as most don't live in Hanalei, and for visitors who are unaware of the timed closures — inevitably getting stuck on one side or the other. The remedy for both of these situations is patience. Once you're there, choose from a handful of world-class eateries including: Tahiti Nui, featuring live music and a very popular mai tai; the foodie fan favorite, Bar Acuda; and The Dolphin, a super popular, award-winning, open-air sushi place along Hanalei river, to name a few. This trip, I discovered the mochi loaf at the Hanalei Bread Company, which has its own fan club — I'm the president. There is a rhythm that happens when the road opens, an influx of people pours in, lines form, then recede. So don't worry about the lines, there's nowhere else to go anyway.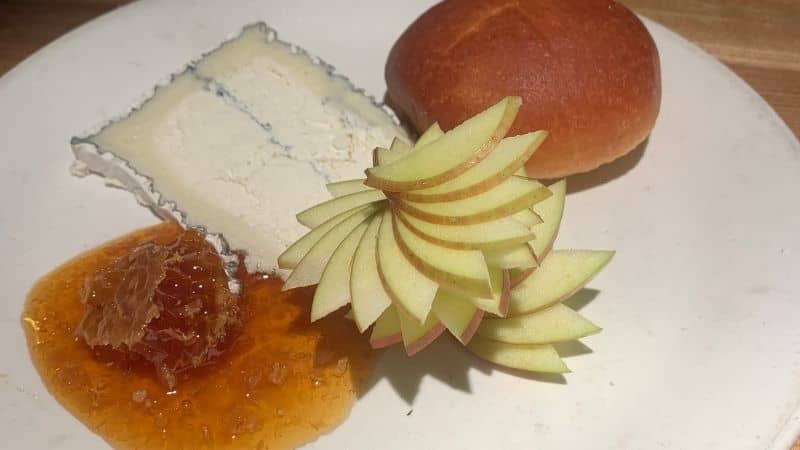 Searching for a home to rent for four people on VRBO and Airbnb might show one or two options in Hanalei, but most likely it'll bounce you back to Princeville for the majority of the listings. Normally this is not an issue since Princeville is a ten-minute drive, but this year the road closure can turn those ten minutes into an hour. 
For this trip we stayed at The Cliffs at Princeville, an independent timeshare resort. Translation: it's not associated with a big brand. Most importantly, for the intent of the story, I will be writing on sustainable travel on Kauai — aforementioned "research." The property has been recognized by the State of Hawaii's Green Business Program for two years in a row, as well as the top spot in the RCI Green Awards program again this year. The property was evaluated based on its innovations in energy and water conservation, waste management, community outreach and environmental management. 
General Manager Jim Braman describes the resort as an ideal choice for visitors coming to Kauai's Northshore. "Not only are we the only independently-owned and managed property in Princeville — considered the gateway to Hanalei — but we are well positioned for exploring Kilauea, Kapaa and beyond to the South Shore." Cost-wise, The Westin Princeville has a bit more to offer as a resort, with multiple pools and onsite dining. Their rooms come in at around $400 a night (according to their website), while the rooms at The Cliffs start at $289 a night. Keep in mind that for this price you most likely will not get an ocean view at the Cliffs, as these are reserved for the timeshare owners and they are already eighty percent booked through the year.
Speaking of pivots, a positive aspect — for the health of the island — that has come out of the pandemic is the reduced access to state parks. Just like the sunrise reservations for Haleakela's summit on Maui, the Kalalau Trail is now by reservation-only for visitors. It's not expensive, so if you are planning to visit, just make the reservation even if you don't use it. Our group took a kayak along the Wailua River and I've never seen so many people at the Uluwehi (a.k.a. Secret) falls.. It's a beautiful journey, but as our guide Thomas suggested, try to be the first ones there; Otherwise, you'll do more people watching than nature appreciation. Also, since the 2018 floods, the state has built a very useful path above the muddy trail, which I think has increased the enjoyment of this trail significantly. Another thing to keep in mind for all activities, including dining, is that there is limited staffing — again, patience is the key to happiness. 
A Few Locals' Perspectives
For full-time residents, the pandemic pause allowed for the slow pace and high-quality of life associated with Kauai to resume. Locals have had time to reflect and re-evaluate land usage and access with an eye towards the future. According to Nancy Williams, this has been a great reset. "Sadly many businesses that relied on tourism have been threatened, or have gone out of business, however, many also pivoted too and have survived." As a real estate agent, Nancy says it was a shockingly great year for business. "I think it accelerated those people who had always dreamed of living in Kauai — when the pandemic hit, they just decided to make the leap," she says. Nancy herself moved to Kauai nine years ago. "I'm from Nebraska, lived in Marin County for many years, but always wanted to live in Kauai, and living here far surpasses any of my dreams. It's magic." 
Leela Linder, born and raised on the island, agrees about the magical pull. After spending twenty years in California, she and her sister both returned to Kauai during the pandemic. This had been the plan for a while, but the prospect of sheltering in place — in Kauai — tipped the scale. Leela and her new husband, Martin Mez, now live in a converted water tower in Moloa'a, and have taken over the family smoothie business. "It feels like Kauai finally had a moment to recover from the fast-paced growth we've had in the last decade. People have been able to thoughtfully proceed with land use, especially in terms of access to state parks," says Leela. "It's been wonderful to see all of the shops and restaurants reopening their doors. Kauai ultimately relies on tourism so the ramped up support for local businesses was much needed! It's definitely bittersweet as we certainly loved having the island to ourselves but feels good to have things back open and share this special place with visitors who are mindful and respectful of Kauai's mask mandate which still requires masks to be worn indoors."
For Sue Kanaho, the leader of Kauai's Visitors Bureau, the pandemic added a lot of weight on her shoulders, especially because in storms, floods, hurricanes, you'll have the impact and then you begin the recovery a few days later. "This pandemic has been 14 months of an 'impacts us 24/7' situation. Each of our visitors bureaus had to help manage the quarantined people, as well as answer the hundreds of calls and emails coming in daily amidst the ever-changing rules. It has been one of the most daunting jobs to be in charge of tourism for an island that relies on tourism, when traveling could impact the spread of Covid." She feels good about how Kauai has handled the crisis, "A lot of people moved here to work remotely because it was so safe. And the only positive for me was getting out a little more than normal to swim in the ocean or take a few hikes with my husband."
1. Patience. Bring your best attitude, books to read, stuff to work on these days as airlines get back to normal.
2. Print out your Covid test results. On my last trip, there was an issue with seeing my results that couldn't be resolved online.
3. Upload your info to Safe Travel Hawaii. And take a screenshot of your QR Code (assuming your test results will be recognized).
4. Don't book United's lowest price option. You can't check a bag, you'll pay $35 per bag and you'll have no control over your seat assignments.
5. Consider the crowds. If you want to have more elbow room when visiting popular destinations, aim to be there early. 
6. Make reservations. There are only a few spots available for activities, restaurants are in high demand.
Ready to go? 
Head to our Oahu, Kauai, Maui and Big Island pages to read all things Hawaii.
Check out the latest info on Covid-safe travel here.