With access changes to state parks and new rules set statewide to preserve the fragile ecosystem, Kōke'e State Park is still a hiker's dream, with 45 miles of hiking trails that offer breathtaking views of Kaua'i's fabled Nāpali Coast. To get the best out of your experience, we've done some research for you to ensure the ultimate experience.
Feature Photo: Courtesy of Ben Ono
Bring a jacket! No matter what time of year — or how warm it may be at the beach in Po'ipū — be prepared for cold or wet weather. Kōke'e State Park sprawls over 4,345 acres on a plateau between 3,200 and 4,200 feet above sea level in west Kaua'i. Temperatures range from 45 degrees in January to 68 degrees in July, with an annual rainfall of about 70 inches. A $5 entry fee can be paid at one of many kiosks, reservations are not necessary unless you are planning to camp overnight. The visitor center is open daily, has restrooms, camping and picnic areas, a gift shop, restaurant and museum — but no cell service.
The nonprofit Hui o Laka runs the Kōke'e Natural History Museum as a visitor center for both state parks. The museum is open from 9am to 4pm daily. Nearby is the Kōke'e Lodge, which has a gift shop stocked with locally made products and a popular restaurant that offers a variety of delicious dishes, from chili made with local beef to a house-made lilikoʻi chiffon pie. There's also a full bar — the Kōloa mai tai is a must! — live music and a welcoming fireplace. But note: It closes at 4:30pm daily. (The kitchen closes at 4pm).
Research Hikes and Lookouts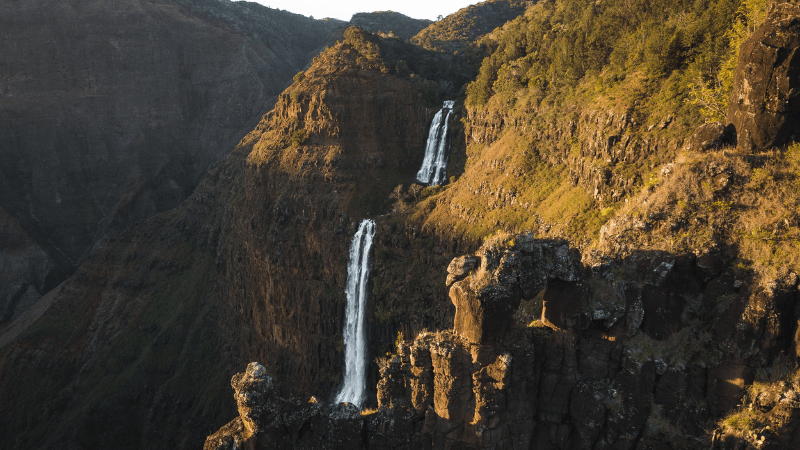 Kōke'e State Park boasts about 45 miles of hiking trails, some with views of Waimea Canyon — like the 3-mile Canyon Trail to Waipo'o Falls — and others with treks through native forests to lookouts of the island's north shore. The 6-mile (roundtrip) Awa'awapuhi Trial ends at an overlook at 2,500 feet above the Nāpali cliffs; it's downhill to the lookout, which means it's uphill the entire way back. The Kalalau Lookout is the highest elevation most people can reach by road, at about 4,000 feet. From here, you can see Honopū and Kalepa ridges. Check weather conditions, as heavy clouds can block these views.