Everything you need to know about visiting Hilo.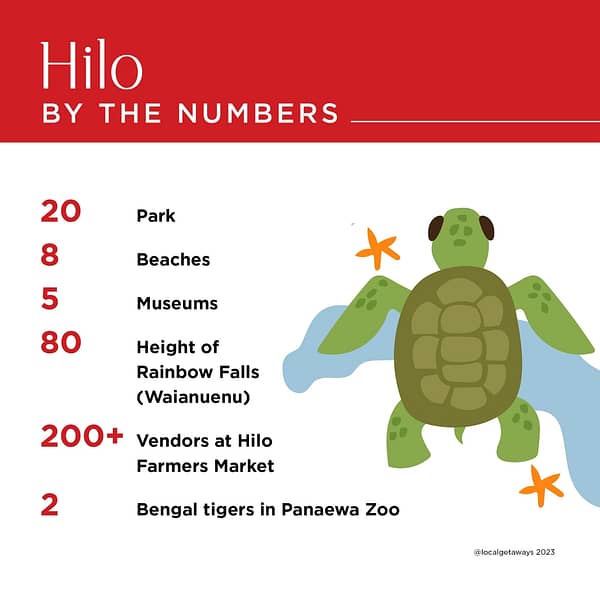 Feature Photo: Pascal Debrunner/Unsplash
Pana'ewa Rainforest Zoo located in Hilo is the nation's only rainforest zoo

Hila has two volcanoes; Mauna Loa which is active and Mauna Kea which is dormant

Hilo is the largest town on the Big Island

Hawaii Volcanoes National Park is located 45 min south of Hilo
The closest thing to a big city on the Big Island, Hilo (pronounced He-low) revels in its small-town atmosphere, including a plethora of mom-and-pop shops and restaurants, colorful clapboard buildings and equally kaleidoscopic produce in its sprawling farmers market. The distant, sometimes snow-capped summit of Mauna Kea hovers over green hillsides dotted with modest homes that overlook broad Hilo Bay and its commercial harbor. During Hilo's frequent rains, the Wailuku River creates spectacular show in a series of pools known as Boiling Pots and the 80-foot cascade of  Rainbow Falls, named for the reflection in its morning mist.
North of Hilo lie more waterfalls, botanic gardens and lush fields and farms that were once home to sugarcane plantations. Many of the area's large Japanese American population can trace their roots to the plantation system that brought waves of immigrants, primarily from Asia, to the islands in the late 19th and early 20th centuries. Not surprisingly, Hilo is renowned for its sushi, mochi (rice flour confections), saimin (noodle soup) and other Japanese fare; hearty "local" dishes such as loco moco (eggs, rice, burger and gravy) is also popular at places like Ken's House of Pancakes and Café 100.
In town, four relatively compact but compelling museums explore local science — including tsunamis, astronomy and natural history — and culture, from pre-contact Hawaii through the missionary era till today. A string of small beaches lie to the south, as well as family attractions such as the Mauna Loa Macadamia Nut Factory and Panaewa Zoo. What you won't find: four-star hotels or any pretensions to luxury. Residents wouldn't have it any other way.
History: A devastating tsunami in 1946 led to the creation of a warning system still in effect today. Sadly, those warnings were initially ignored during a 1960 tsunami, repeating death and destruction along Hilo's bayfront. Today, the low-lying area is largely parkland.
Big Island's Annual Events
JANUARY: Check out the latest films, relevant exhibits, and special events highlighting the ocean experience, ocean environment, island culture, inspirational stories, and epic adventures at the annual Waimea Ocean Film Festival. View the latest surf films at the Kona Annual Surf Film Festival and pay homage to the state's official sport. 
FEBRUARY: Japan isn't the only place known for its cherry blossom trees. Visit the Waimea Cherry Blossom Heritage Festival to see these famous flowers in full bloom. 
MARCH: Celebrate Hawaii's favorite music and instrument at Great Waikoloa Ukulele Festival with artists from all around the world. 
APRIL: Want to learn more about Hawaiian culture? Explore and honor native traditions, language, and arts at the Merrie Monarch Festival in Hilo. For chocolate lovers, the Big Island Chocolate Festival features the best chocolatiers on the island with tastings and celebrations.
MAY: The official symbol of Aloha, the Lei welcomes guests to the islands and represents love, friendship, and celebration. See some of the best Lei sewers at the May Day Lei Day Festival.
JUNE: A state-wide celebration, the Kamehameha Festival celebrates the Hawaiian King who united all the islands under one reign. Expect parades, shows, and celebrations surrounding King Kamehameha Day.
JULY: At the annual Great Waikoloa Rubber Duckie Race witness 10,000 rubber ducks compete for a chance to be crowned fasted duckie on island. Before the race, participate in the official Big Island watermelon and Shave Ice Eating competitions. At the annual Experience Volcano Festival, celebrate the culture, people, and traditions of the Volcano Area. 
AUGUST: At the annual Don the Beachcomber Mai Tai Festival bartenders from around the world compete for the title of "World's Best Mai Tai." This all-day event features a battle of the BBQ cook-off, a marketplace for local goods, live music, and the Mai Tai Mix-Off. 
SEPTEMBER: Celebrate Hawaii's most famous piece of clothing, the Aloha Shirt at the Aloha Shirt Festival. Expect vintage Aloha Wear exhibits, second-hand collections, and see the best styles from contemporary designers. 
OCTOBER: Dive into the ways of traditional sea navigation at the Hilo Wayfinding Festival where you can learn wayfinding and navigation skills, knot tying, see planetarium shows, cultural exhibits, documentaries, and speakers.
NOVEMBER: Witness some of the best hula dancing in the world at the Moku O Keawe International Hula Festival.
DECEMBER: Celebrate the holidays at the Kailua-Kona Christmas Parade. In addition to festive and expertly decorated floats, there are plenty of holiday-themed activities for kids and adults.