Lei Day is May 1st and here's what you need to know
As the official anthem to an unofficial (but widely celebrated) holiday, the song "May Day Is Lei Day in Hawaii" explains why you'll see a profusion of leis and related festivities on and around May 1 in the islands. But it doesn't tell you how this colorful tradition began — or about the deep cultural associations leis still have today.
In 1928, Oklahoma-born poet and artist Don Blanding used his Honolulu newspaper column to suggest designating a day to celebrate Hawaiians' centuries-old custom of making and wearing lei. Although most often woven or sewn with flowers today, leis can incorporate lacy ferns, shiny ti leaves, polished kukui nuts, feathers, seeds, delicate shells and, in ancient times, even dog's teeth and human hair — a status symbol for high-ranking chiefs and royalty.
Then as now, giving a lei may convey respect, honor, affection or welcome, depending on the intention of the maker and giver. In Hawaiian mele (songs), a lei may also symbolize a lover or a child, reflecting the garland's embrace around one's neck. Speaking of necks, drape a lei gently over the head and on the shoulders of the recipient, rather than wearing it like a necklace. (Tradition also holds that pregnant women should wear an untied strand rather than a loop, to protect the baby.)
Blanding's brainchild quickly won the support of local authorities and Honolulu Star-Bulletin society editor Grace Tower Warren, who proposed May 1 as the date for the first festival. Today you'll find Lei Day parades, contests, workshops, exhibitions and concerts held around the islands. If you miss these events, not to worry: Birthdays, graduations, anniversaries, arriving or departing guests, parties — all are good excuses to give and wear a lei. If you can't make your own, you'll find flower lei for sale in local supermarkets, drug stores, flower shops and airport kiosks.
Here are three popular blooms that embody the spirit of aloha and a link to order lei online — just make sure to place your order early.
Flowers tell a story: the meaning behind your lei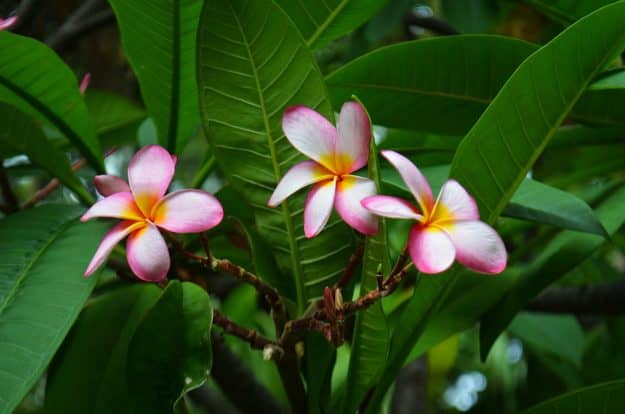 Flower Plumeria
Hawaiian Name Melia
Known as the "lei flower," this sweet-smelling bloom adds a delicious scent and full body to your garland; its waxy, sturdy aspect also makes it a popular choice. A variety of colors, from bright pink to soft white and yellow, can give your lei a vibrant look. Plumerias symbolize positivity and are used both for celebrations and for decorating graves.
Flower Orchid
Hawaiian Name Okika
For a more refined look, no bloom beats the orchid. What these beauties lack in scent they make up for in durability, longevity and stunning structure; the bright lavender color is especially beloved. Symbolizing love and affection, the elegant blooms are favored for leis celebrating graduations, weddings and anniversaries and are a great option for people sensitive to fragrance.
Flower Tuberose
Hawaiian Name Kupaloke
These white flowers with blooms similar to a small rose are one of the most aromatic and delicate lei blossoms available; you only need a handful to make your entire garland smell intoxicatingly sweet. Though the tuberose holds its fragrance long after being plucked, it wilts more quickly than most. The flower symbolizes love, congratulation, friendship and commitment and hence is a favorite for weddings.
Photo Credits: Top image: Hawaiʻi Tourism Authority (HTA) — Mark Kushimi, Plumeria, by Ariana Kaminski via Unsplash, Orchid Lei, by BestFlowerLeis via Wikimedia Commons, tuberose Shameem Reza via Wikimedia Commons. 
Get lei'd this May Day by taking part in one of these events or activities (thanks Go Hawaii!)
In celebration of Lei Day on May 1, five Marriott Hawaii Resorts across Oahu and Maui have launched a virtual lei greeting as a way to carry on the tradition of sharing the spirit of aloha with a floral garland — the lei. 
The Moana Surfrider, A Westin Resort & Spa, The Royal Hawaiian, a Luxury Collection Resort, Sheraton Waikiki, and Sheraton Princess Kaiulani on the island of Oahu, and Sheraton Maui Resort & Spa on the island of Maui, representing 4,603 resort guestrooms and suites, are introducing the new Aloha Lei filter. It was developed as an interactive augmented reality filter that can be utilized across social media platforms Instagram and Facebook. 
To access the filter, travelers can visit the Instagram profiles of any of the five resorts, and tap the smiling face icon to the right of the photo grid. Once the Aloha Lei filter is selected, guests can tap "try it" to practice with their favorite pose, before uploading their final video to Instagram and Facebook stories.   
May Day is Lei Day! It is with pride, we host this signature event at the Kauai Museum bringing together flower lovers, lei makers and Hawaiian cultural enthusiasts. Enter your leis in the annual contest or learn how to weave and tie a lei yourself if you don't already know how. Bid during the silent auction and bring home a priceless piece of nature or a one-of-a-kind lei, made from love just for you. Food vendors and live entertainment add to the unforgettable day of fun.
Kahuli Leo Lea will produce "Hawaiian Airlines May Day 2021: Makaikai," a virtual concert that continues the annual Lei Day tradition by the Brothers Cazimero. Keauhou, the 17-time Nā Hoku Hanohano award winning group, returns to headline the concert experience with special guests, Robert Cazimero and his Halau Na Kamalei o Liillehua, Manu Boyd, the Haehae girls, Ka La Onohi Mai o Haehae under the direction of na Kumu Hula Tracie and Keawe Lopes, Halau Mohala Ilima under the direction of Kumu Hula Mapuana de Silva, and host, Billy V.
 Echoing last year's presentation, the concert experience will return in a virtual format, maintaining the collective commitment to re-imagine treasured events and gatherings amid COVID-19. The broadcast will premiere on Friday, May 1, 2020, statewide at 6:00 pm on KGMB and 7:00 pm on KFVE, and worldwide via Facebook Live by Kahuli Leo Lea and various partnering organizations. The program will also be re-broadcast on May 3, on KFVE at 8:00pm.
Join us on Saturday, May 1st, for our May Day Celebration! Free to the public, Pearlridge Center will be hosting an outdoor, socially distanced performances by Josh Tatofi and Halau Hula Olana. 
Join us in our first-ever video presentation of the Investiture of the 2021 Lei Court on May 1, 2021. Viewing will be available on the Honolulu Department of Parks and Recreation YouTube page. For a second year, DPR is proud to continue – Nā Lei Koa (Warrior Lei) theme for Lei Day, an opportunity for all island residents to display aloha and show their appreciation for the warriors battling the Coronavirus; and, our first responders, medical professionals, and essential workers who are keeping us safe and working hard during this global pandemic. As part of the Nā Lei Koa theme, residents are invited to make a lei using items found in and around your home, and display it safely outside your home – front door handle, balcony, etc. on May 1. Be sure to share your pictures of your lei on social media by using the hashtag #leidaycelebration2021 and tagging DPR on @honolulu_parks, that way the whole world can experience the Spirit of Aloha. Enter a lei and be part of an "unofficial" longest lei world record. You may join Hawai'i by entering a photo of your lei along with its length (do not include the ties), and post it to social media with the hashtag #leidaycelebration2021 and tag @honolulu_parks. Lei may be made from items in and around your home — it does not have to be a fresh flower lei. So, go ahead and string up macaroni or popcorn with cranberries (yes, like the Christmas garland). Let those creative juices flow!
Due to current Covid Tier restrictions, this concert will be converted to a ticketed livestream performance on Saturday, May 1, 2021. Two-time Grammy Award winner Kalani Pe'a will headline Hawaii Theatre's May Day Is Lei Day concert. Two-time Grammy Award winner Kalani Pea will headline Hawaii Theatre's May Day Is Lei Day concert. Kalani Pea made history early in 2017 when he became the first Hawaii-resident recording artist to win a Grammy Award since Hawaiian music was absorbed by the catch-all Regional Roots Music category. At this special concert, the Grammy Award Winner will perform brand new original compositions off of his latest release "Kau Ka Pea", along with special guests. Akahi a hoomaka, this is the start.