The Ultimate Guide to Wailea, Kihei and Makena.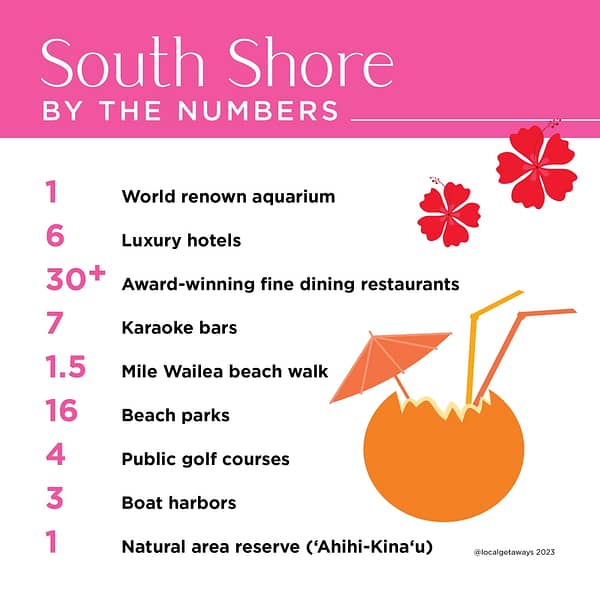 Wailea means "water of Lea"; Lea is the goddess of canoe makers.

Kihei means "cloak" or "cape."

Makena means "abundance."

The Hawaiian Islands Humpback Whale National Marine Sanctuary has its headquarters and a visitor center in Kihei.

Molokini Crater is home to over 250 species of fish, 38 species of hard coral and a seabird sanctuary.  

Kihei has 6 miles of beaches.

The rugged Hoapili Trail, aka the Kings Highway, once circumnavigated the island and now starts at La Pérouse Bay south of Makena .

Oneloa Beach in Makena State Park is 3,300 feet long and 100 feet wide, hence its widely used nickname, "Big Beach."
For starters let's get the pronunciation correct for these towns. The resort community is Wailea (why lay uh), the popular local town with tons of affordable condos is Kihei (kee hay) and then farthest south is Makena (mah ken ah), a mix of beautiful  residential homes, high-end condos and charming Keawalai Congregational Church, built in 1832. 
 Maui's South Shore is known for its dry and warm climate, making it ideal for beach lounging and exploring the ocean. Kihei is a small town with a variety of shops, restaurants, bars and cheaper accommodations than neighboring Wailea, a 1,500-acre resort community consisting of beautiful beaches, 54 holes of golf courses, and incredible pools (check out the Grand Wailea for the most dramatic water slides.) Walk along the beach path to explore the shoreline and ogle the different properties of this resort community. Makena Beach State Park has one of Maui's most famous beaches, Big Beach (Oneloa.) Due to protected waters, some of the most vibrant sea life attracts snorkelers, scuba divers and general water goers. 
About 3 miles off the coast is Molokini, a small crescent-shaped island that is a state of marine life and bird conservation. Take a boat charter out to this marine reserve to scuba or snorkel among the 250 species of tropical fish that reside there. Between mid-December and March, keep your eyes peeled for passing humpback whales that frequent those waters; you can spot green sea turtles and dolphins anytime of the year.
The early Hawaiians called the South Shore of Maui Kamaole, meaning  "barren," due to its arid climate; three beach parks in Kihei share that name today. The first residents of Kihei were fishermen and harvesters of taro planted up the slopes of the Haleakala Crater, where the trees used to build canoes also grief.. During the 20th century, there were efforts to put a sugar plantation in the area, however, it never came to fruition, and during World War II the region was used as a training zone for the U.S. military. In the 1970s, the sunny region and its many beaches caught the attention of tourists, spurring the development of resorts, restaurants and golf courses. In 1987 the Wailea Community Association was founded to keep the first-class status of the resort district.
Best Places to Eat in South Maui: Wailea and Kihei
What to do on Maui's South Side