Hawaiian food comes in many different shapes and sizes. Some of it is a reflection of the ancient culture and traditions that the original Polynesian voyagers brought with them to create the backbone of Hawaiian history and culture. Canoe plants — along with the ocean's bounty — have set Hawaii up for endless generations to be able to eat off of the 'aina (land) and from the sea, as long as everyone practices their kuleana (responsibility) to care for them.
Food also reflects the waves of different people and industries that took root in the Islands. As each new group introduced their own cuisines and products, many took hold and became their own Hawaiian version of the dish. Though the sugarcane and pineapple plantations of the 19th and 20th centuries are no longer dominant monocrop offerings, their influence on Hawaii's food history is everlasting thanks to the outside labor brought in to help in the fields. Korea, Japan, Puerto Rico and other countries have huge influences on what people in Hawaii eat to this day.
It's the fusion of traditional and new, of authentically Polynesian and uniquely foreign, of ancient methods and contemporary ones coming together to feed our 'ōpū (stomach) and our soul with ono grinds and nurturing dishes that illustrate not only where Hawaii has been, but also where it can go in the future.
Here are some key Hawaiian staples to be on the lookout for.
When Polynesian travelers took to their canoes around 400 A.D., they filled their boats with the seeds, roots and cuttings of life-sustaining plants that were the core of their societies. Not only were these plants used for food, but for medicine, clothes, cordage, and more. Canoe plants include the familiar — coconuts, bananas, sugar cane and sweet potatoes, as well as plants that are less familiar, such as ulu (breadfruit), 'awa (kava) and 'olena (turmeric).
Of all of the plants in Hawaii, however, none holds a more sacred place than kalo, the plant that is used to make taro and poi. Kalo was an important part of early Hawaii as it was a food staple used as medicine and in ritual. Kalo was the elder brother of man and had a sacred role in Hawaiian culture. Believed to have the greatest life force of all foods, all Kanaka Maoli are connected to the plant.
A wide variety of tropical fruits can grow in Hawaii, making it a great place to try things that seem "exotic." On an island with abundant agriculture like Hawaii Island, it's easy to find fresh fruits everywhere you turn thanks to daily farmers markets, farm-to-table restaurants, and friends and relatives who grow their own fruits. Trying something unfamiliar like a prickly rambutan or juicy soursop is a real treat that can create a really memorable experience. Another treat is some of the fruit preparations that make up common snacks, such as pickled mango, fruits sprinkled with li hing mui powder, and guava with shoyu and vinegar.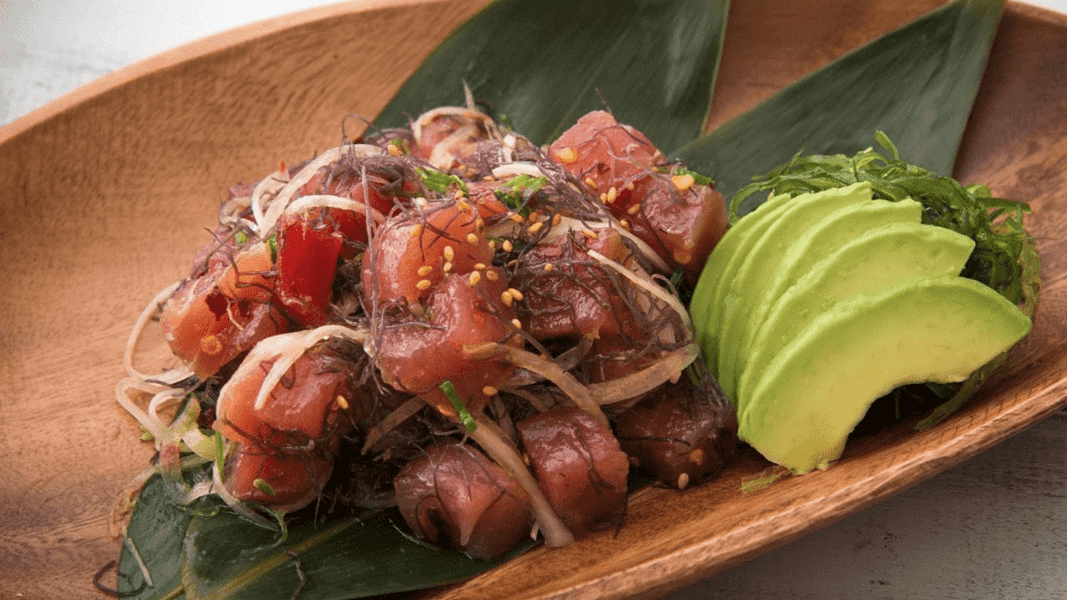 Seaweed is one of the many gifts that the ocean has bestowed upon the world, and Hawaiians used seaweed in abundance not only to flavor foods, but also for the ocean vegetable's high vitamin and mineral content. Limu kohu is one of the more popular varieties of seaweed, and one of the only varieties that cannot be mass produced — it must be harvested by hand. Once harvested, the seaweed is salted, pounded, then rolled into a ball and dried for storage. Limu kohu can be found in a variety of dishes, but it's best known as a poke ingredient.
If a hearty breakfast is what you're after, a loco moco — rice topped with a hamburger patty, brown gravy, and a fried egg — is what you need. Originally created in Hilo in 1949 at Lincoln Grill, the breakfast in a bowl can now be found created with many different variations. In fact, Cafe 100 in Hilo, boasts over 30 different ways to make a loco moco when you visit them.
Mochi was introduced to Hawaii in the mid-1800s by Japanese plantation workers, but it was in Hawaii that the first mochi donuts were created. Charmaine Ocasek created the first poi mochi donuts in 1992, and the rest is trendy dessert history. Now packaged goods, creators like Mochi Foods sell their own mixes to consumers, while popular donut shops like Liliha Bakery and MoDo Hawaii sell the chewy confections that are typically topped with glazes, cereals and other toppings to create a truly fun treat.
Named for the exposed seed that comes when preserved fruits are split down the middle to make them truly snackable, crack seed is such a big part of Hawaiian snack culture that there are stores created just for it. Prune mui is one of the most popular forms of traditional crack seed, a gift from Chinese laborers that features sweet (sugar), sour (lemons), and salty, along with other vibrant flavors from ingredients like li hing mui (dried plum) and Chinese 5 spice. Walking into a crack seed store can be like a kid walking into a candy shop for some, but with the addition of salty, tangy, sour and umami flavors added to the sweet mix. Other popular crack seed items include preserved lemon peel, dried cuttlefish, wasabi peas and more.
In 1936 the founders of Mountain View Bakery on Hawaii Island created a whole new cookie experience by creating a hard, rectangular cookie that was larger than your typical confection. Shigeru and Takeyo Kotomori created this tough cookie when they originally opened the bakery and it has stood the test of time. Sweets fans who can handle a cookie that bites back can find them in a variety of flavors including chocolate chip and raisin. The recognizable white bags can be found at the East Hawaii bakery, as well as select retailers.
Shave Ice is one of the most sought after snacks in Hawaii, a bright, sweet treat that brightens anyone's day, whether you're visiting or a resident. Shave ice consists of ice shaved down (rather than crushed like a sno cone), drizzled with syrups, and then (optionally) topped with a variety of treats like mochi, popping boba, snowcaps, li hing mui and more. Each shave ice shop has their own variations, their own way of doing things, but regardless you're going to enjoy with a smile. Adults can find boozy shave ice at Breakwall Shave Ice in Maui.
If there is one condiment that's used in abundance across the world, it's salt. And in Hawaii, sea salt can be hand-harvested in small batches straight from the shoreline pools where it bakes and crystallizes under the sun. Today, larger-scale operations like Kona Salt are drawing from 2,200 feet into the ocean to harvest Hawaiian sea salt to package and sell. Other large operations include Kauai's salt ponds in Hanapepe, where more traditional salt pond techniques are utilized. For Hawaiians, salt is not only a way to flavor food, but a way to preserve it and is an important part of religious and ceremonial observances.
Everyone has their own secret recipe for this Hawaiian version of hot sauce, but most bottles will contain Hawaiian peppers (50-70,000 on the Scoville scale), salt, water, and vinegar. It's typically a DIY condiment that families make at home, though it can sometimes be found on the tables of restaurants. Typically, the chili pepper water is splashed on top of the food, but don't be shocked to see diners sipping it out of a shot glass along with their meal.
The world is pretty familiar with the funky, tangy, fishy Korean condiment, kimchi (kim chee). But it takes on a whole new life in Hawaii. Most homes have a giant jar of kimchi that gets placed on the table at many meals, ranging from hot to spicy preparations. Walk the aisles of grocery and specialty stores in Hawaii and you can find kimchi preparations with daikon, cucumbers, carrots, garlic — even kim chee soft shell crab. Kim chee dips are also a welcome addition to any party spread. 
It's no secret that sweet and tart is a flavor combination that people love to eat in Hawaii. Don't be surprised if you run across the unexpected like pickled mango (so ono on a hot day) or soy sauce and vinegar pickled cucumbers. One staple of many homes, however, is the humble pickled onion that makes a great condiment because it's not only sweet and tart, with a hint of heat, it eats clean and it's healthy!