If living well is the best revenge, it's no wonder the "revenge vacation" — the big-budget response to travel postponed by the pandemic — has now joined forces with the equally pent-up desires to celebrate special occasions and spend time with family and friends in favorite destinations.
Resorts and hotels in Northern California getaway regions and the Hawaiian Islands report a leap in bookings for weddings, elopements, vow renewals, major anniversaries, birthdays and even long-delayed memorial services. The previous slowdown in travel also often gave many properties time to create new amenities and facilities for such celebrations, along with guidelines to address any coronavirus upticks.
Feature photo: Courtesy of Outrigger Reef Waikiki Resort
"Maui has always been a top pick for destination weddings, but we've definitely seen a boom as people are gathering and traveling again," said Lana Uytterhagen, director of sales and marketing at the Westin Maui Resort & Spa. "We've noticed that couples are being really intentional with every detail and hyper-focused on the overall guest experience — not just the wedding itself."
Uytterhagen noted that couples booking weddings at Westin Maui are "really excited by the amenities we have — especially in our newly renovated Hokupaa Tower." The tower's second-story Lanai at Hokupaa, available to guests who book a room in the tower, includes infinity-edge soaking pools overlooking Kaanapali Beach, breakfast and happy hour "bites," private bar, and daily cultural experiences, including live music. "We also have a team of experts to help couples personalize their wedding and guests' experience from welcome notes and gift bags to in-suite celebrations and wedding-party 'pool takeovers'," she added. The hotel's recent $120 million renovation helps enable the latter, since the new pool deck includes a half-dozen swimming pools.
For Laura Fraize, group sales manager at MacArthur Place Hotel & Spa in Sonoma, the Wine Country village's small-town feel and beautiful natural landscape make it "the perfect setting to celebrate and feel renewed with loved ones and fellow travelers," with a few new trends reflecting the post-omicron mood.
"Traditional wedding timelines and weekend excursions are now being replaced with sensory touches and experiences, such as hand-crafted specialty cocktails rather than a standard open bar, barbecued oysters on the half-shell … and open firepit lounge areas where strangers become friends," Fraize noted.
"Guests lists are being decreased to make room for weekend celebrations, stayovers and dinner parties with toasts, musical performances and written words replacing fluorescent dance floors," she added. "Sonoma has always been a place with heart and purpose, and gatherings are following suit by putting meaning and intimacy behind these loving celebrations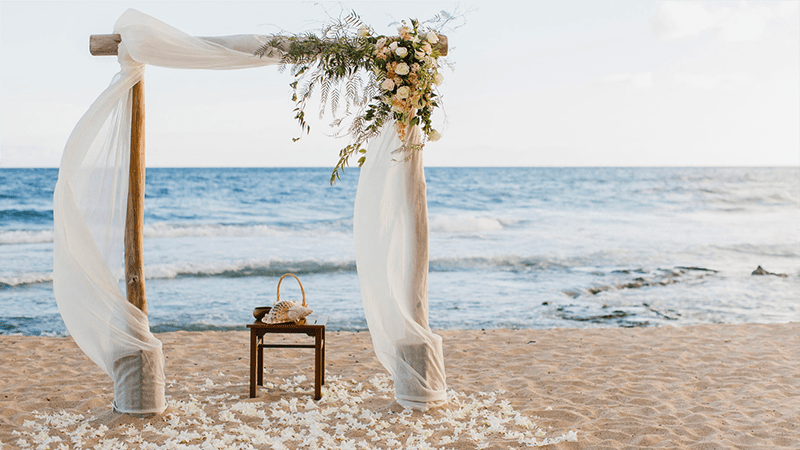 Multi-day wedding festivities that include a larger circle of guests — and a larger budget — have become more frequent at Four Seasons Resort Hualalai, according to Melina Manchester, assistant director of weddings and special events at the luxury hotel on Hawaii Island. "The couples who have been wanting to get married for a very long time, now that they're finally able to do it, they say, 'Let's just make this happen, let's make this the best wedding ever,' and they're pulling out all the stops and having multiple-day celebrations for those," Manchester explained. "That's been very common with destination weddings, but now every larger wedding is doing that, because the couple want to spend time with all their guests that they haven't been able to see for two years."
For rehearsal dinners, typically limited to the wedding party and close family, couples are now "incorporating the entire group — they want people to be together the whole time," Manchester said. "The post-wedding brunch is also very popular."
Some couples have chosen the resort's new Golf Hale clubhouse, which offers interactive games and a large deck,  for post-wedding brunches or cigars and bourbon tasting, "especially for the groom who loves to golf," she noted. New two-story villas with private pools are hosting elopement receptions and celebration dinners, Manchester added, while the new Bungalow Zero next to the prime wedding spot of Kumukea Beach "is like renting your own house on the beach and you can do events there, including ceremonies and receptions."
And it's not just nuptials that are prompting lavish group getaways, according to Manchester. "We get a lot of big milestone birthdays, where the guests want to have a wonderful trip with their family. We're working on a big 70th birthday for one woman who has a block of 30 rooms; they're doing a big birthday rolled into a reunion," she said. At press time, she was also planning a 50th anniversary for a couple that was "almost like a corporate retreat," Manchester said. "They have their whole family coming to stay with them, 20 rooms for their kids and their kids' kids, and we have a couple of nice dinners and they're also doing snorkel days."
In Monterey County, Hyatt Carmel Highlands has seen a boom in weddings even as its elopement package, created in response to pandemic restrictions, remains popular, according to Jessica Schmidt, events and catering manager. Once the hotel and residence club figured out a way to host small, outdoor weddings that met local health regulations, "we probably did 90 elopements between June and December 2020 alone," she recalled.
"When things opened up, we had this massive influx in weddings and 2021 sold out in two seconds We had all of our 2020 weddings rolled into 2021, plus all the people who had planned to get married overseas. Fast-forward into 2022 and we're still in the aftermath of that — Fridays, Saturdays and Sundays are completely sold out for weddings," Schmidt said.
While people are spending more money on their weddings, she noted, it's not necessarily all on the celebration. "What I've noticed is that a lot of our couples were assessing what their needs really area and what they truly want to spend money on. For those who can splurge, we're seing a massive uptick in our elopement package — they want to do something intimate and then splurge on their honeymoon and go all out for traveling, because they really want to get back on the road," Schmidt said. "For some couples, it may be the opposite: The pandemic may have hurt them financially, but they're still trying to have a beautiful, intimate celebration."
The pandemic also has spurred other memorable occasions, she added. "We're starting to see an uptick in celebrations of life. Those who passed on during the pandemic are starting to do something special to get their families together and do something in memory of their loved ones," Schmidt explained. "We're hosting four or five of those this year."
Sometimes, staging a destination event costs nothing more than the travel itself. Luana Maitland, director of cultural experience at the newly reopened Outrigger Reef Waikiki Beach Resort, created a free, beachfront vow renewal ceremony some 20 years ago at the request of the adult children of parents who were celebrating their 50th anniversary in Hawaii.
"The parents had always wanted to make it to Hawaii,  but had to raise their kids and put them through college, and when they were finally empty nesters, their kids asked if wthere was any way to make it special," Maitland said. "I talked to a kahu (ordained officiant) and we did everything we do today," including an early morning exchange of vows in Hawaiian on the beach, and a song before and after the ceremony by a ukulele player accompanied by a hula dancer.
Before the pandemic, the Outrigger Reef and its sister Outrigger Waikiki Beach Resort offered the vow renewals four days a week, with more than 16,000 couples taking part over the years. The program resumed in March and should be back to four days a week by June, Maitland said. Once school is out, she also expects to see the return of family entourages: "We had calls from families saying, 'We had to postpone this during Covid,' but once 2022 came along, all these people were confirming that they're coming."
An earlier version of this story appeared in the San Francisco Chronicle.