Whether you enjoy hot and messy chocolate drenched fudge brownies, refreshing sorbet, decadent strawberry cheesecake, or a classic vanilla ice cream cone, dessert is always the best part of any meal. In Hawaii, those classic desserts include a variety of tropical flavors like tart, vibrant lilikoi or rich, creamy ube. With so many choices for sweet-tooth quenching treats, you're going to want to save room for some of the best desserts on Maui.
Feature image: Leonard's Bakery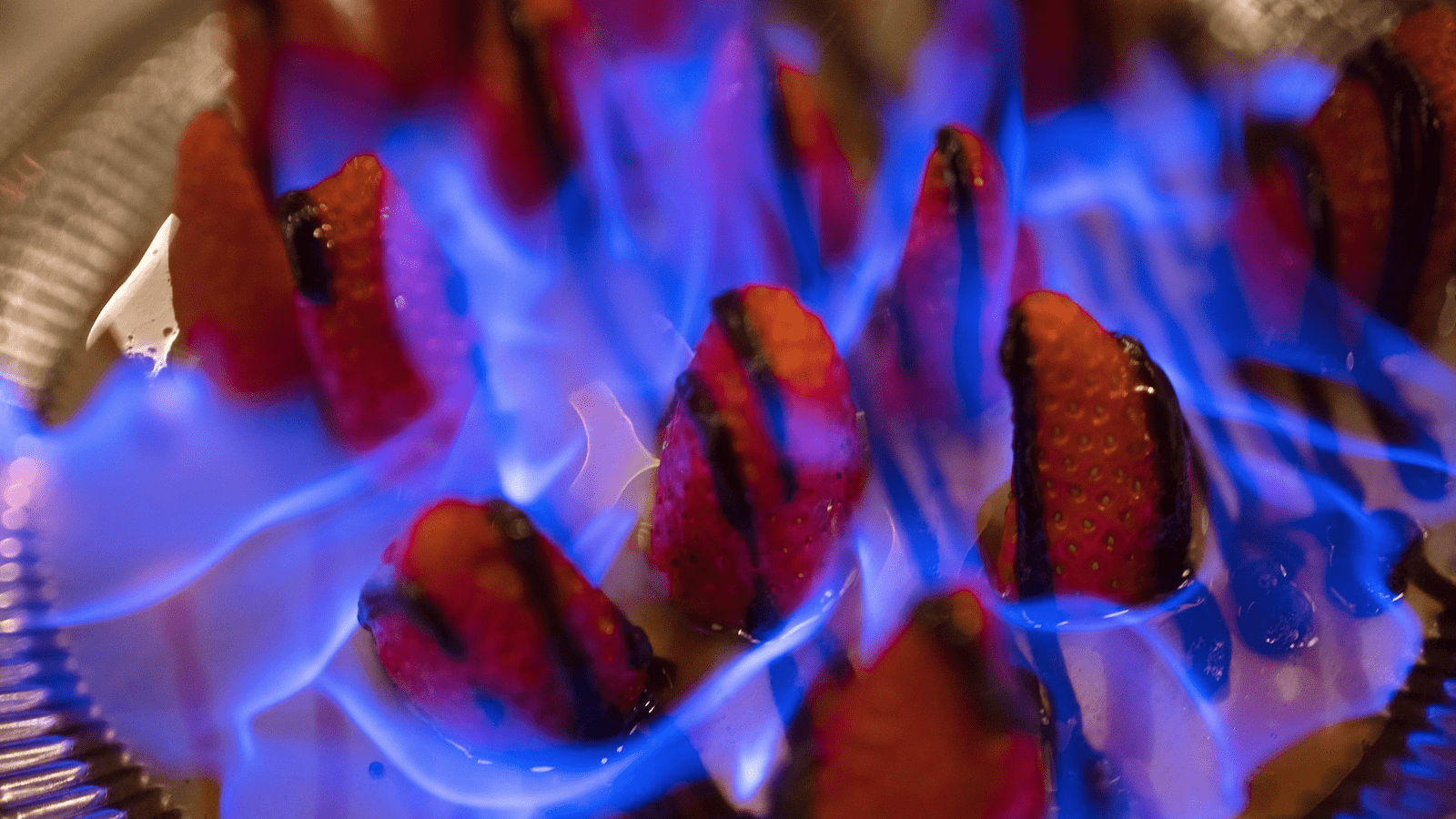 Fairmont Kea Lani is a great place to start if you're looking for an array of dessert options. Banana bread is a popular treat in Hawaii, and the Fairmont's signature restaurant, Kō, serves up their Brown Butter Banana Bar as an elevated answer to the typical banana bread, topped with caramelized bananas and vanilla bean ice cream. For more decadent fruit dessert options stop in at Nick's Fishmarket at the same hotel for their Strawberries Panzini. This two-person dish is served with Ulupalakua Ranch strawberries that are prepared tableside with some artistic flare, flambéed in Grand Marnier, then served with Hawaiian brown sugar, cream, and chocolate sauce.
For a deep dive into a dark and decadent chocolate, the Dark Chocolate Souffle at DUO Steak and Seafood at Four Seasons Maui is divine. The addition of Tahitian vanilla bean ice cream and lilikoi caramelized banana adds a taste of the tropics to this classic dish. For an extra indulgence, finish the evening at Four Seasons' popular lobby bar and indulge in their sweet, fluffy malasadas served with vanilla coconut cream.
Humu Pie at Humunukuapua at the Grand Wailea, takes the traditional mud pie to another level. It's perfect for a pair to split, especially as the sun fades into Wailea Bay. The Humu Pie is layered with Lappert's Macadamia Nut and Kona Coffee ice cream accented by candied macadamia nuts, chocolate sauce, and whipped cream and topped with a chocolate tiki.
Speaking of indulgent pies, the Strawberry Cream Pie at Monkeypod Kitchen is an instant classic thanks to the elegant mound of rich cream filling combined with strawberry guava jam and topped with fresh berries. Not a strawberry fan? They also have equally delicious chocolate, banana, and coconut cream pie.
Indulge in your childhood favorites at Ka'ana Kitchen, Andaz Maui's signature restaurant, with their Coconut Ice Cream Sundae. This delicious ice cream indulgence includes a base of coconut cake, topped with chocolate sauce and macadamia nuts. Pair it with a beautiful wine from their extensive wine list for the perfect end to an evening.
For a leisurely dessert try the signature Holy Manoli at Manoli's Pizza Company. This huge chocolate chip cookie is baked to order (allow 15 minutes for preparation) and served in a skillet with vanilla ice cream, hot fudge, caramel sauce, and cookie crumbles on top. It's definitely a shareable dessert!
There are so many options on Maui for one of Hawaii's signature treats, but shave ice tastes the best after a hot day at the beach. For Makena Beach goers, try the Jawz Fish Tacos food truck, with two convenient roadside locations near Big Beach. Choose up to three flavors and don't forget a scoop of vanilla ice cream at the bottom.
A Greek dessert may be an unexpected entry on a list of Maui's best desserts, but when it's a Baklava Ice Cream cake from Pita Paradise, it's not much of a surprise. Two layers of vanilla ice cream are framed by housemade baklava to create a deliciously decadent dessert.
Best Desserts on Maui's North Shore
At Paia Gelato the gelato is made in the traditional Italian style but features fresh, local ingredients and island-inspired flavors to put a new twist on frozen treats. Popular flavors includ Lilikoi Quark (passionfruit and goat cheese), Sandy Beach (for peanut butter lovers), and a rotating array of seasonal specials. Grab a cone, a pint to go, or even a gelato cake featuring this made-fresh-daily dessert. Both dairy and dairy-free options are available.
Cafe Des Amis on Baldwin Ave in Paia, serves up Chocolate Banana and Lime Sugar Crepes. These french inspired crepes are stuffed with bananas, chocolate, toffee sauce and cream. The lime and sugar crepe is a lighter option, but still retains its sweet and sugary flavor with fresh lime and Maui cane sugar sprinkled on top.
For a decadant dessert opt for the Polynesian Black Pearl at the famous Mama's Fish House oceanfront eatery. This visually stunning dessert includes lilikoi mousse in a chocolate pastry seashell. The lilikoi creme brulee or the kuau chocolate pie baked in a caramel cookie crust also make great choices to end a meal.
Pono Pies at Mana Foods are made by John Cadman. Filled to the brim (or in this case crust) with breadfruit or taro the pies are a good gluten-free or vegan option. Pono Pies are becoming a big craze on Maui.
Try the Banana Bread on the Road to Hana
If you are on the road and want to get a yummy snack for the trip back from the Road to Hana, try banana bread. Hana Farms is known for their hand-crafted banana bread, with fresh hand picked ingredients. The moist bread is filled with chunks of banana and berries and is topped with tropical fruit jam and a crunchy raw sugar cane crust. Other great banana bread options on the Road to Hana include Aunty Sandy's Banana Bread in Keanae and the Halfway to Hana Stand at mile marker #17.
Here are popular Hawaiian desserts to look for when you're dining on the Islands. They originate from all over the Pacific, but have all found a home here in the Islands.
Malasada: Originally made in Portugal, this egg shaped confection is traditionally eaten on Terca-feira Gorda, also know as "Fat Tuesday" or Mardi Gras. The pastries are deep fried in oil and then coated in sugar. Malasadas made their way to Hawaii through the "Shove Tuesday" (Malasada Day) tradition, which dates back to the 19th century when sugar cane plantains thrived and were used to make this age old dessert, that was to be eaten before Lent.
Mochi: A traditional Japanese dessert, mochi is a sticky rice cake. Mochi can come in many different flavors, however the most popular flavors include green tea, kona coffee and plum wine. (Mochi donuts pictured here.)
Passionfruit aka lilikoi: Passionfruit is grown mostly in tropical areas such as Brazil and Hawaii. It has a fleshy purple or yellow skin and has a tangy, seedy interior. It's often used in other desserts or with other fruits to provide more flavor.
Guava: Another common tropical fruit, guava has a lemon looking rind, but with a sweet and juicy taste.
Haupia: This is a traditional Hawaiian dessert and has a coconut-milk base. It is usually served in squares, similar to gelatin. However, it also served on the top of cakes for a sweet bonus of flavor.