A moonlit beach and the right person by your side are all you really need to experience romance in the Aloha State. Still, these hotels offer the right combination of atmosphere and amenities — like spas with couples' treatments and secluded pools — for those looking to savor some special aloha with their sweetheart. Whether you're looking to pop the question, tie the knot or just share paradise with your paramour, Kaua'i has the perfect spot for you and your ku'uipo (sweetheart). Here are our favorites, from the North Shore heading south to the West Side.
Feature Image: Ko'a Kea Hotel and Resort Facebook
TIP: Most hotels have 4 pm check-in. Ask for an early check-in.
If they can't accommodate, they will let you store your bags so you can head to the beach!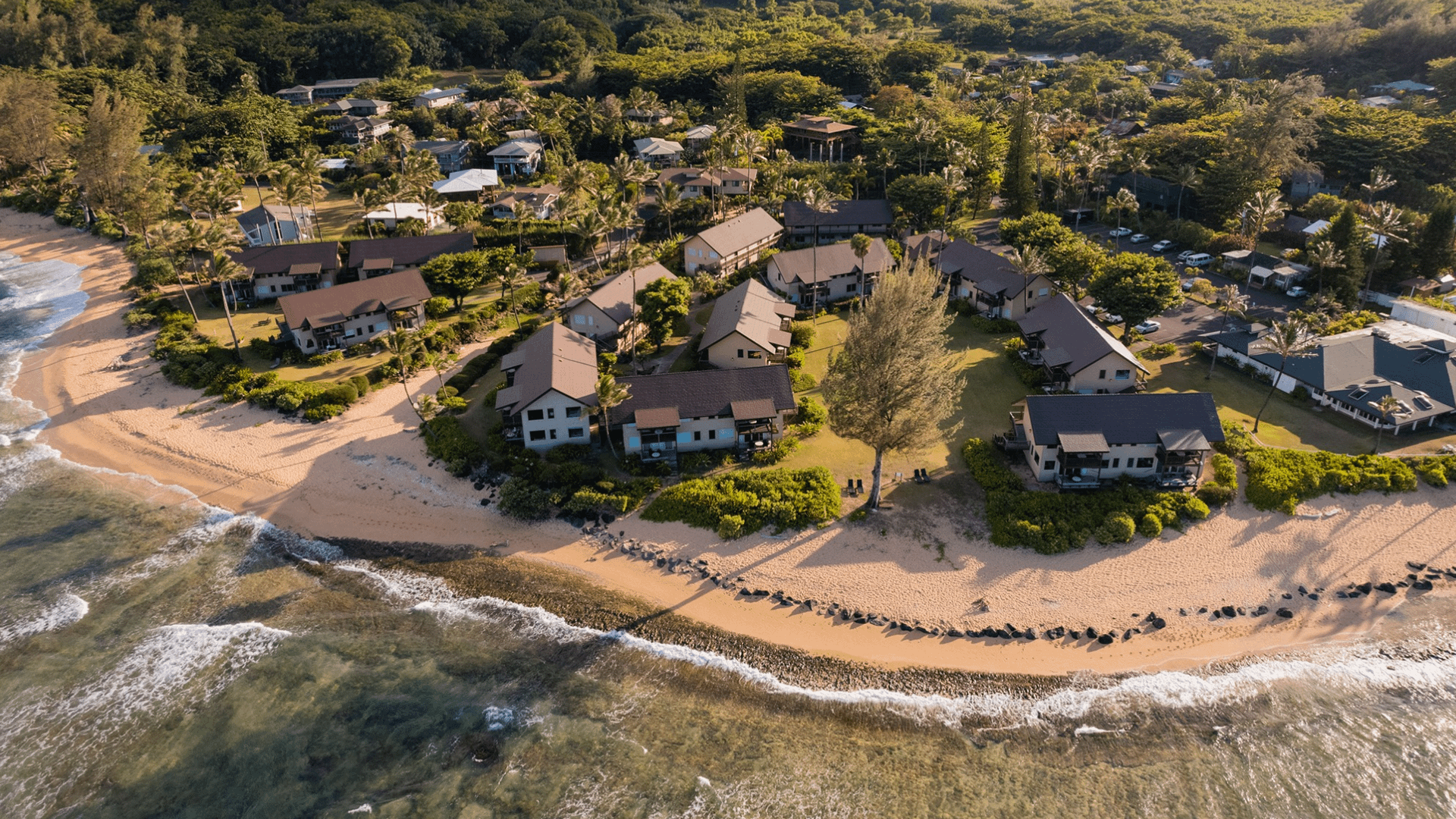 The winding drive across one-lane bridges below emerald hills laden with lush foliage prepares you to slow down for this serene enclave of vacation condos, almost at the end of the road in Ha'ena. A handful of two-story buildings offer suites with a full (if dated) kitchen, 1.5 baths, a king bed and a living room, separated by sliding doors, with a double sofa bed; the tropical furnishings have been recently updated by a top Hawaiian design firm, with luxury bedding and bath amenities. There's Wi-Fi but no TV, for added tranquility. 
Large picture windows provide sweeping views of the ocean, miles of beaches and verdant peaks. The onsite Opakapaka Bar & Grill (open for lunch and dinner), Hanalei Day Spa and Na Pali Art Gallery & art gallery/gift shop with coffee bar provide reasons to linger, especially on rainy days.
HIGHLIGHTS
Kepuhi Beach may not be safe for swimming, but it makes for wonderful strolls and the sounds of crashing waves makes for great sleeping; there's also a small pool on the property. Make a morning reservation to park at Haena State Park and you'll have a terrific jump-start on hiking the Kalalau Trail or snorkeling at Ke 'e Beach at the actual end of the road; the resort also provides shuttle service to Hanalei and other North Shore destinations.
Embodying Sustainable Luxury, 1 Hotel Hanalei Bay is designed with wellness and eco-consciousness in mind. Built into the cliffside overlooking Hanalei Bay, beyond scenic views, the hotel offers Mind & Movement classes, Belformd Wellness Center, cultural education workshops, and custom retreats. Seamlessly blending comfort with sustainability, consideration for the natural environment and the guests' enjoyment is evident throughout the resort's biophilic structure and eco-initiatives. The latest renovations include landscaping with 70% endemic and indigenous plants that support local wildlife, rainwater irrigation reducing outdoor water consumption by 97%, support of local farmers, fishers, and growers, and much more. The pool overlooks the scenic bay, and snorkeling gear, surfboards, stand-up paddle boards, and kayaks are available at the hotel's beach access.
HIGHLIGHTS
There are no resort fees, so activities including Mind and Movement fitness classes, Culture Education Experiences, nature adventures, and access to their fully electric e-trons Audi car are free of charge.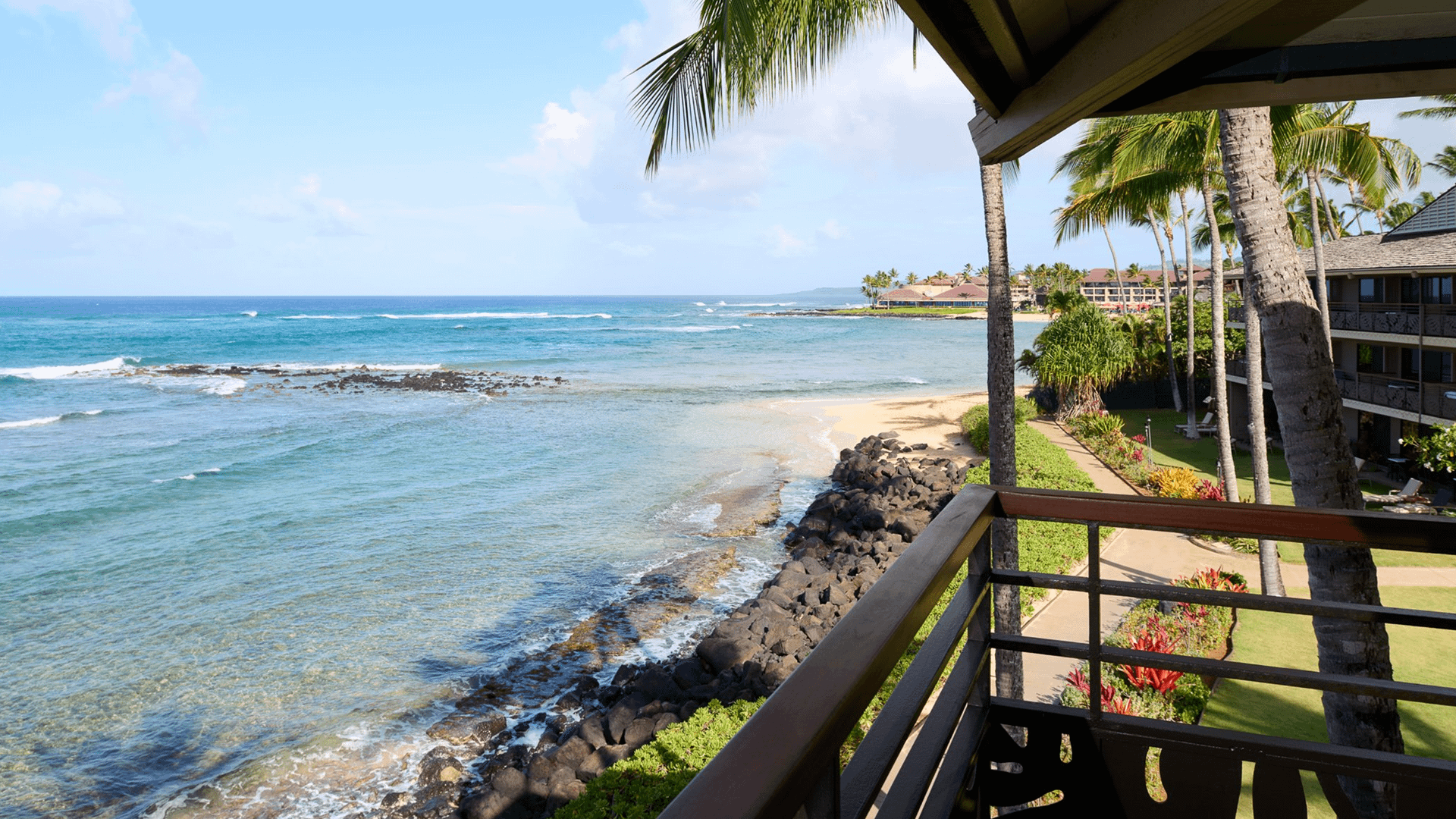 This was the last hotel on Kaua'i to reopen after 1992's Hurricane 'Iniki, but it was worth the 17-year wait. A sleek and chic metamorphosis of a former oceanfront motel, Ko'a Kea ("White Coral") remains a luxuriously seren oasis in popular Po'ipu. The 121 rooms (book an ocean view if you can) lie a short walk from a small cove that's swimmable in high tide, with sandy beaches a longer but still easy walk away. The dining and spa options are exquisite and discreet, too.
HIGHLIGHTS
Enjoy a complimentary mai tai at the daily Tiki Torch ritual at sunset, preferably after a Hawaiian-inspired spa treatment or couple's massage in one of two outdoor seaside cabanas. Be sure to make reservations for Red Salt, the upscale dinner restaurant known for artful presentations and tropical touches, a la seared mahi flavored with Madagascar vanilla bean. If you're staying a suite, the spa staff can draw you a bath infused with island flora.
Grand Hyatt Kauai Resort & Spa
This 52-acre bluffside compound above Keoneloa Beach (Shipwreck Beach) in Poipu may be the largest on the island with 602 rooms, but it hosts many garden nooks where you can enjoy the sweeping ocean views in relative tranquility. It also boasts lively gathering places. Kids of all ages will enjoy the best pool complex on the island — including a lazy river, 1.5-acre saltwater lagoon with its own beach, multiple tiers and a 150-foot water slide — while grownups will appreciate the sushi and spirits at Stevenson's Library. 
The quieter expanse and expertise of Anara Spa draw patrons from all over the island, as does the 18-hole championship Poipu Bay Golf Course next door. Good to know: With such a big footprint, the resort makes serious efforts to reduce its carbon emissions.
HIGHLIGHTS
At lushly landscaped Anara Spa, opt for a pohaku (warm stone) massage or the customized organic facial with a volcanic rock foot scrub. Couples may splurge on the 5-hour Anara Pilialoha ("Romance") package, a sensual multi-treatment experience that ends with lunch and tropical pedicures.
Waimea Plantation Cottages
This collection of restored vintage plantation-era cottages is on the dry, quiet West Side, near the road heading up to Waimea Canyon and Koke 'e State Park and within striking distance of the 17-mile beach at Polihale State Park. Couples who aren't off exploring can take advantage of the secluded setting with long walks on the driftwood-dotted, black sand beach or lounging in a free cabana by the compact pool.
The 59 cottages of varying sizes are spread across 43 acres. They come with full kitchens, with Chicken in a Barrel BBQ restaurant and bar onsite and more casual dining options within a short drive.
HIGHLIGHTS
While the cottages have modern amenities like flat-screen TVs and Wi-Fi, they radiate Old Hawai'i charm with aloha-print fabrics and rustic furnishings; some have roomy ocean-view lanais with rocking chairs. A stroll under the stars at night or in the shade of a massive monkeypod tree by day can be heavenly.