Looking for poke (poh-kay) on Oʻahu beyond Waikiki's top spots? Here are our favorite places for this classic diced raw fish dish, brought to the islands by Polynesian voyagers, and its delicious modern interpretations from around the island.
But wait, there's more. We're here to help demystify some of the unusual words you might see on menus like furikake, laulau and lilikoi — and explain which meat is being served and why. And possibly most importantly of all, provide the fun facts on the origins of local dishes. 
If you're happy with your meal, tag us @HawaiiIslander on Instagram to share the love.
Poke on Oahu's South Shore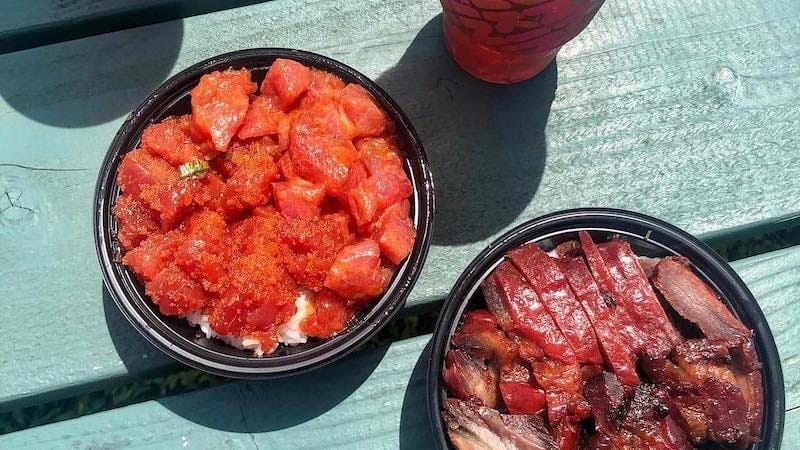 Alicia's Market was founded in 1944 and even a fire in 2018 couldn't stop this family-run business  from churning out a rainbow's worth of delicious poke (spicy salmon, smoked tako, wasabi masago ahi, etc.) — they just moved a couple doors down. Ask for a free sample if you can't figure out what to order — or even if you can! Open Monday through Friday 8am to 7pm and Saturday 8am to 6pm. 
Located at Queen's Surf Beach, on the Diamond Head side of Waikiki, this is an ideal spot to watch the surfers while you chow down. Barefoot Beach Cafe is a family-owned and -operated cafe appears to be a snack bar but don't be fooled. They are whipping up delicious and refreshing dishes, including poke, and offer some of the best views in Waikiki. Open daily 7 am to 8:30 pm.barefootbeachcafe.com
This breezy little market is the perfect spot to grab some poke before heading to the beach to soak up the rays. The Coco Cove menu features a lot of local favorites, but we recommend the poke bowls, of course! Open daily from 6:30 am to 11pm and are grateful for your service. 
Tucked into the Luana Waikiki Hotel & Suites, this bright new jewel box for poke and other home-style breakfast and lunch fare has just 16 seats and an open kitchen. If you can't nab a spot, get one of the beautifully prepared poke bowls to go. Fish Hook Cafe is open Monday through Sunday 7am to 2pm. 
You can also get sushi, sashimi and other Japanese dishes at this restaurant in the Pearl Waikiki hotel, but you'd be missing out on some particularly delicious fresh poke. Try some with unique twists such as ume (Japanese plum) and shiso leaf. Maguro Brothers is open Monday through Saturday 5:30pm to 9pm and are happy to serve you. Closed on Sunday. 
You could drive right past this cute little hole in the wall, but don't! It's just the basics here, but the best of these basics. The house smoked tako (octopus) is a real treat, and there are all kinds of poke to try from. So a grab a few options and find your personal favorite. Ono Seafood is open Tuesday through Saturday 9am to 6pm. Closed Sunday and Monday. 
The founders may have gotten their start with a sushi bar in Southern California, but Poke Bar Waikiki spot fits right into the local poke scene with sushi-quality seafood. The build-your-own bowl concept may produce some puzzling combinations to aficionados (hold the pineapple or corn, please!) but the basic proteins (salmon, tuna and tofu among them) and savory sauces like wasabi shoyu or sriracha are top-notch. Open daily 11am to 10pm. 
Located in the International Marketplace, ShoreFyre offers live music and great grinds. This is a great place to sample poke and enjoy some tunes. Open daily 10 am to 11 pm. shorefyre.com
Poke on Oahu's Windward Side
The glass counters at this market are brimming with tasty options for poke (by itself, or with salad or rice in bowls.) But if you count yourself among the some who like it hot, the spicy ahi and spicy clams versions won't disappoint. The Hibachi is open Monday through Wednesday 10am to 8pm and Thursday through Sunday from 10 am to 9pm. 
Tamura's Fine Wine & Liquor
Yep, you read that right — one of Hawaiʻi's best poke purveyors is actually a chain of family-owned liquor shops that have fresh-made poke bars in the back. The Kailua Tamura's location is one of five on Oʻahu; click on the link above for the deets on the other sites. Open Monday through Saturday 9:30 am to 8pm and Sunday 9:30 am to 7pm. 
Poke on the West Side / Central Oahu
Can't decide between tacos or poke? Hawaiʻi Regional Cuisine cofounder Peter Merriman has the answer at his playful Ko Olina Resort restaurant, serving up ahi (tuna) poke in crunchy wonton shells; his equally yummy sesame ahi poke and tako (octopus) poke are also part of the awesome raw bar mixed plate. Monkeypod Kitchen is open daily 11am to 11pm. 
Parking here can be a bear at peak times, but the poke at this bare bones restaurant is worth the wait. If you've got at least one other diner with you, go for the Kamikaze poke nachos — one pound of delicious shoyu or spicy poke on top of crispy wontons. Poke on Da Run is cash only. Open Monday through Friday 10am to 4pm. Closed on Saturday and Sunday.
Poke on Oahu's North Shore
The vision of Poke for the People's (PFTP) is to spread "culinary aloha" to locals and visitors alike. This small business on the North Shore uses high quality fresh ingredients, attention to detail and presentation to create delectable Hawaiian style poke dishes. Open Monday through Saturday 11am to 6pm. Closed Sundays. 
Across the busy road from the popular snorkeling spot of Shark's Cove, this blue food truck serves a lot more than just poke. You can't go wrong with spicy ahi, especially with a side of seasoned quinoa. Pupukea Grill is open Tuesday through Sunday 11am to 4:45pm and would be happy to serve you. Closed Monday.pupukeagrill.com
The Smoking Boar & The Coconut
One of the newest spots to open on the North Shore, this restaurant converted from an old gas station is serving local style plates and there's lots of fish on the menu. There are eight styles of poke to choose from, and be sure to save room for dessert. The Smoking Boar & the Coconut is open Monday through Saturday 11am to 3pm, Closed Wednesdays, Thursdays through Sundays 3pm to 8pm.