Whether you're a longtime fan or a complete poke novice, if you're visiting Hawaii, you've got to try some poke (POH-kay). This Hawaiian dish features fresh, usually raw, diced fish mixed with other ingredients. There are many different flavor combinations, so try a few and discover your favorite. 
But wait, there's more. We're here to help demystify some of the unusual words you might see on menus like furikake, laulau and lilikoi — and explain which meat is being served and why. And possibly most importantly of all, provide the fun facts on the origins of local dishes. 
If you're happy with your meal, tag us @HawaiiIslander on Instagram to share the love.
Feature Image: South Shore Maui
The fresh ahi poke tacos in crispy wonton shells are worth coming here on their own. Monkeypod also has a hefty selection of beers on tap, delicious locally sourced small plates, and hand tossed kiawe wood fired pizzas. The daily happy hour (3:30pm to 5pm) is one of the best on the island and the sunsets aren't half bad either. Open daily 11am to 10pm with a happy hour daily 3:30pm to 5pm. monkeypodkitchen.com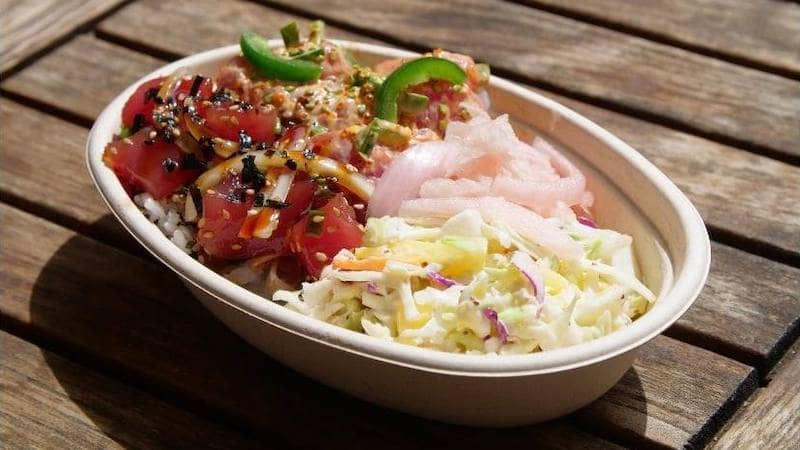 With a motto of "Shop Local, Eat Local, Spend Local," you know this food truck means business when it comes to sustainably caught fresh fish. It's so good and popular, they often sell out. Go for the half spicy/half traditional poke bowl featuring the day's locally caught fish and rice with house made pineapple coconut slaw — it'll hit the spot. Open Monday through Saturday 11:30am to 2:30pm and Friday and Saturday 5pm to 8pm, but they recommend calling first to check there's still fish in stock as they sell out each day! Closed Sunday. southmauifishco.com
At this beautiful open-air restaurant, the poke is served either as tacos (perfect for a snack) or as a poke bowl (more of a meal). Whichever you choose, alongside their handcrafted piña colada, it's the right choice. Open 12pm to 8pm every day. Happy hour daily 2pm to 5pm. tommybahama.com