For over a century, travelers have flocked to Hawaii for luxury vacations, but it was only a few decades ago that similarly upscale lodgings took root on the Garden Isle. Back then, the Princeville Resort was the standard-setter, with windows that transformed from opaque to clear with the flip of a switch and a restaurant by Michelin-favored Jean-Georges Vongerichten. Although it's closed this year while it transforms into the newly sumptuous 1 Hotel Hanalei Bay, Kaua'i is still abloom in choices for well-heeled travelers and those willing to splurge on once-in-a-lifetime accommodations. Here are our favorite opulent oases, starting on the South Shore and heading north.
Feature Photo: The Lodge at Kukui'ula Facebook
TIP:  Since most hotels have 4pm check-in. Ask for an early check-in. 
If they can't accommodate, they will let you store your bags so you can head to the beach! 
Tucked into the most exclusive community of vacation residences on the Garden Island, the Lodge at Kukui'ula offers 38 bungalows, cottages and villas with one to four bedrooms, spa-like bathrooms with outdoor showers, lavishly stocked kitchens and spacious indoor and outdoor Iiving areas. 
Only guests and residents have access to the amenities of the Club at Kukui'ula, including an 18-Hole Tom Weiskopf–designed golf course, the exceptional spa and fitness center, a 10-acre hillside farm and lake, two restaurants, saltwater ocean-view pools, a kids' club, and more; the sandy cove of Kukui'ula lies downhill. The gracious staff will go out of their way to make your vacation perfect.
HIGHLIGHTS
Take advantage of the resort's Huaka'i Outfitters shop & adventure guide program, which can arrange all sorts of unique experiences on the water and off the property.

The indoor-outdoor treatment rooms of Hi'ilani Spa and its private lap pool are worth seeking out, as is the nearby Shops at Kukui 'ula, home to gourmet and casual restaurants as well as boutiques.
Embodying Sustainable Luxury, 1 Hotel Hanalei Bay is designed with wellness and eco-consciousness in mind. Built into the cliffside overlooking Hanalei Bay, beyond scenic views, the hotel offers Mind & Movement classes, Belformd Wellness Center, cultural education workshops, and custom retreats. Seamlessly blending comfort with sustainability, consideration for the natural environment and the guests' enjoyment is evident throughout the resort's biophilic structure and eco-initiatives. The latest renovations include landscaping with 70% endemic and indigenous plants that support local wildlife, rainwater irrigation reducing outdoor water consumption by 97%, support of local farmers, fishers, and growers, and much more. The pool overlooks the scenic bay, and snorkeling gear, surfboards, stand-up paddle boards, and kayaks are available at the hotel's beach access.
HIGHLIGHTS
There are no resort fees, so activities including Mind and Movement fitness classes, Culture Education Experiences, nature adventures, and access to their fully electric e-trons Audi car are free of charge. 
This was the last hotel on Kaua'i to reopen after 1992's Hurricane 'Iniki, but it was worth the 17-year wait. A sleek and chic metamorphosis of a former oceanfront motel, Ko'a Kea ("White Coral") remains a luxuriously seren oasis in popular Po'ipu. The 121 rooms (book an ocean view if you can) lie a short walk from a small cove that's swimmable in high tide, with sandy beaches a longer but still easy walk away. The dining and spa options are exquisite and discreet, too.
HIGHLIGHTS
Enjoy a complimentary mai tai at the daily Tiki Torch ritual at sunset, preferably after a Hawaiian-inspired spa treatment or couple's massage in one of two outdoor seaside cabanas

Be sure to make reservations for Red Salt, the upscale dinner restaurant known for artful presentations and tropical touches, a la seared mahi flavored with Madagascar vanilla bean.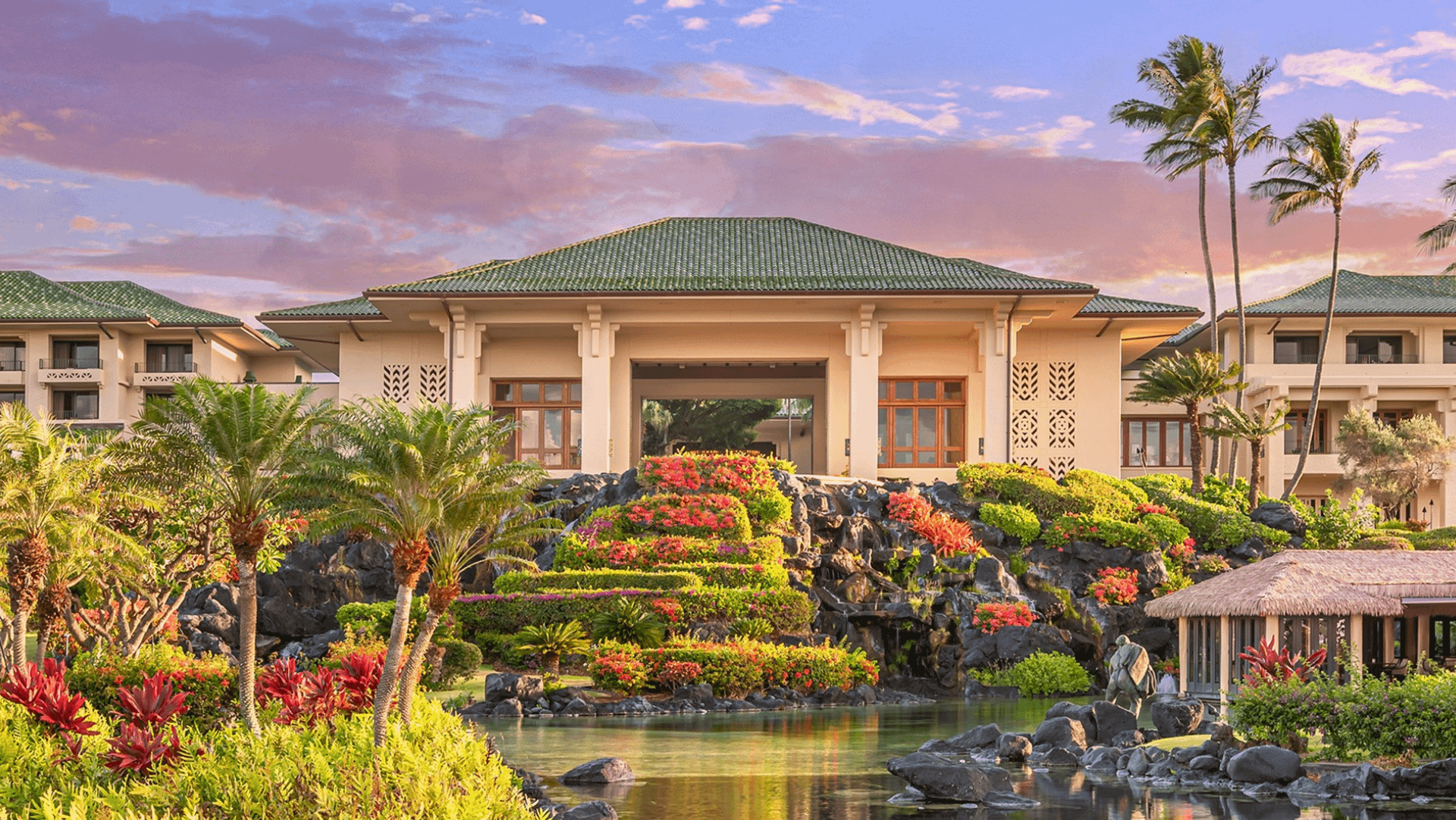 Grand Hyatt Kauai Resort & Spa
This 52-acre bluffside compound above Keoneloa Beach (Shipwreck Beach) in Poipu may be the largest on the island with 602 rooms, but it hosts many garden nooks where you can enjoy the sweeping ocean views in relative tranquility. It also boasts lively gathering places. Kids of all ages will enjoy the best pool complex on the island — including a lazy river, 1.5-acre saltwater lagoon with its own beach, multiple tiers and a 150-foot water slide — while grownups will appreciate the sushi and spirits at Stevenson's Library.
The quieter expanse and expertise of Anara Spa draw patrons from all over the island, as does the 18-hole championship Poipu Bay Golf Course next door. Good to know: With such a big footprint, the resort makes serious efforts to reduce its carbon emissions.
HIGHLIGHTS
Besides the all-day fun at the swimming pool, families will enjoy the convenience of an onsite luau as well as several casual cafes and restaurants.

At lushly landscaped Anara Spa, opt for a pohaku (warm stone) massage or the customized organic facial with a volcanic rock foot scrub.
Hokuala, a Timbers Resort
A brief ride from the airport in Lihu'e, this oceanfront community benefits from its unrivalled setting on 450 acres overlooking Ninini Point and Kalapaki Bay as well as its modern, expertly furnished two- to to four-bedroom vacation villas, which you can buy or rent. Golfers will want to hitthe Jack Nicklaus Ocean Course, while others will want to lounge in the two-tiered oceanfront infinity pool (one of two pools), partake in a spa treatment, bike the miles of trails or shuttle over to Kalapaki Beach. Dining at Hualani's restaurant is casual but not forgettable, showcasing local ingredients, including many from the resort's own farm.
HIGHLIGHTS
Between the children's programs and concierge-designed excursions for adults, every age can enjoy unique experiences on the Garden Isle.

The staff is eager to make sure your stay is exceptionally comfortable, too.
Did we miss your favorite hotel?
 Let us know — email us at stay@localgetaways.com or tag us @localgetaways_HI.