Though the drive along the Road to Hana is its own adventure, it's not the only adventure that the east side of Maui has to offer. There are plenty of beautiful sights in Hana, like the Kaeleku Caverns and Kahuna Garden, and include a variety of Hana beaches. While there are many gorgeous beach options in Hana, especially viewed from the road driving into town, only a handful of them are safe for swimming. It's always a good idea to be cautious with unfamiliar beaches and swimming areas; Hana is prone to flash flooding, windward currents can be rough and unpredictable, and there are frequent emergencies when it comes to swimming here. Proceed with caution, but have fun at these Hana beaches! 
Feature Photo: Bernard Spragg via Wikimedia Commons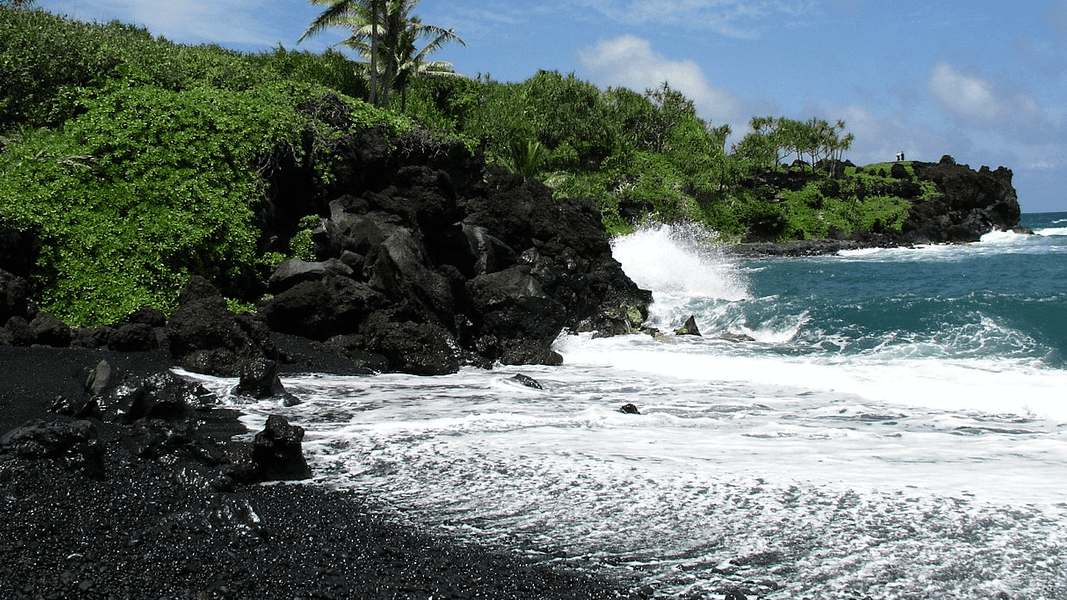 Pailoa – Black Sand Beach
There is a tragic legend involving a beautiful maiden associated with the caves just off shore of Maui's most beautiful black sand beach; in brief, take it as a warning to stay out of these waters unless you are an excellent swimmer or the waters are very calm. Pailoa is a part of Waianapanapa State Park which now operates via an online reservation system, so book early if you want to visit this treasure. Even if you're not swimming at this Maui black sand beach, plan to spend at least an hour, hiking along trails and enjoying plenty of beautiful vista points.
The beach park at Hana Bay features a beautiful black sand beach that is very swimmable, though you'll need to watch for rocky a bottom in certain parts. In fact, thanks to the protective reef Hana Bay Beach is the safest beach for swimming on the east coast of the Island. There's always lots of activity in the harbor, from paddlers to paddleboarders and fishermen, along with local families who spend their weekends here. For those looking for a bit of adrenaline, opt for a jump from the pier. Note that Hana area residents ask that Sundays be reserved for local families so that the area doesn't become too crowded.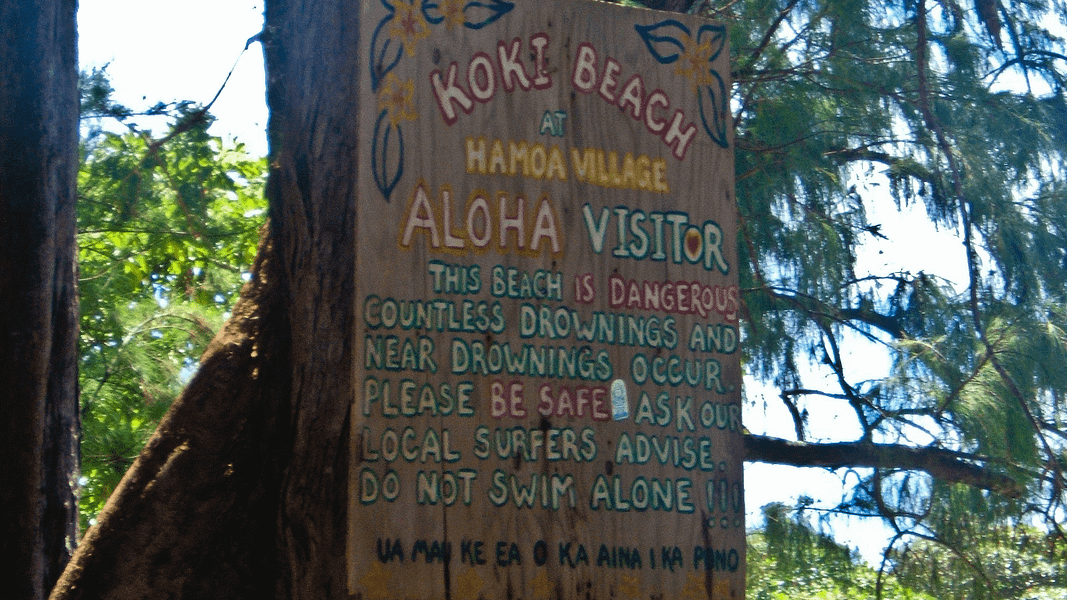 To be on the safe side, Koki Beach is perhaps more of a stroll opportunity as the waters at this Hana beach can get rough, especially in the winter. During the summer there are wide swaths of white sand and the waves are generally a bit more gentle, but it's still not recommended for swimming. Photo ops include the Lehoula sea arch off the south point and the coconut tree-topped Alau Island just offshore, which was a sacred place of study for ancient Hawaiians.
This relatively safe and serene white sand Hana beach has earned countless accolades throughout the years. Hamoa Beach is the most "vacation-typical" beach on this side of the island. There is a snack shop and a direct shuttle here from Hana-Maui Resort for hotel guests, including chairs, towels, etc. This Hana beach offers ample shade options and the ocean is doable for all levels of swimming. If the seas are gentle and you are looking for your own private beach, venture around the south point, but don't stay too long, it can be a tough swim back once the tide comes in. A note of caution if you are driving here on your own: be prepared to walk for a bit, as there are not many easy parking spots.