You're on vacation, soaking in rays, snacking on pupus, sipping on drinks, yet something is amiss. Maybe a sense of purpose? Visitors to Hawai'i Island have multiple opportunities for everyone to pay it forward, while enjoying the island's boundless natural wonders and traditional Hawaiian culture. If you're looking to do some good and leave some good on your next trip, here are five ways to malama (take care of) the island of Hawai'i.
Feature Photo: Waikoloa Dry Forest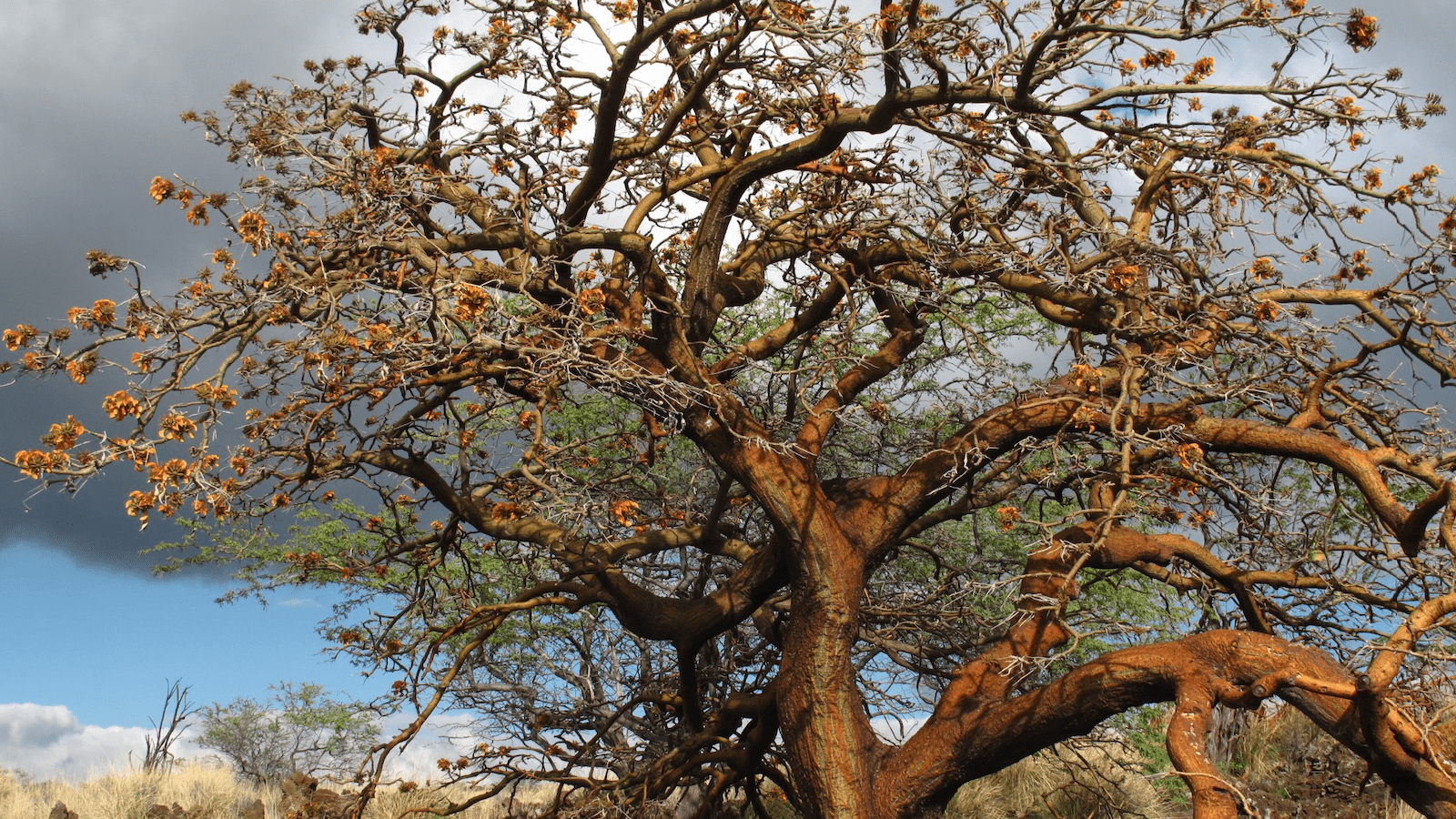 Five miles above Waikoloa Beach Resort, the Waikoloa Dry Forest conserves 275 acres of one of the last native dryland forests in Hawaii, home to rare wiliwili, koai'a, mamane and 'iliahi (sandalwood) trees and other indigenous plants. Volunteers gather the second and fourth Saturdays of each month from 8am to noon to plant native trees, collect seeds, clear weeds and build trails. Organizers provide tools, gloves, safety equipment and water; you just need to sign up in advance, bring a refillable water bottle and wear sturdy shoes and sun protection. There's an optional potluck lunch afterwards at the pavilion.
Don't dig getting dirty? You can also support the initiative by shopping at the nearby Dusty Donkey Emporium thrift shop, open Tuesday, Thursday and Saturday from 9am to 1pm, or donating to have a tree planted in your name.
More info: Waikoloa Dry Forest Initiative, Off Quarry Road, Waikoloa, 808.494.2208, waikoloadryforest.org
The island of Hawai'i has some of the most beautiful beaches in the state. Thanks to regularly scheduled beach cleanups, you can help keep them that way while also protecting marine life from ingesting plastic, cigarette butts and other debris that ends up on the sand. Keep Puako Beautiful participates in occasional beach cleanups throughout the Kohala Coast, while Clean Rewards leads monthly beach cleanups in Kona, typically 9 a.m. to noon on a Sunday. Clean Rewards can also provide some trash pickers and buckets. The Hawai'i Wildlife Fund is active in restoring the Waiohinu coastal ecosystem in remote Ka'u and protecting highly endangered nesting hawksbill sea turtles. Be sure to register in advance 
More info: keeppuakobeautiful.com, cleanrewards.org, wildhawaii.org
Take a Dog on a Field Trip
"Where people are hurting, animals are hurting," according to the CEO of Hawai'i Island Humane Society, which cares for hundreds of dogs, cats and other pets in need of a home at its shelter in Keaau (south of  Hilo) and its Animal Community Center in Holualoa (south of Kailua-Kona). To help shelter dogs decompress as well as spark interest in their adoption, certain canines are eligible for "field trips" with qualified volunteers. The Humane Society provides a short safety briefing, plus a harness, leash, backpack, water bottle and bowl, and suggestions for dog-friendly destinations. Pick the lucky pup up at a scheduled time on Friday, Saturday or Sunday, and return by 4:30pm. No time for a walk? Buy something in the Animal Community Center's delightfully well-stocked retail store, open Friday through Tuesday 10am to 3pm.
More info: Hawai'i Island Humane Society, Shelters near Hilo and Kailua-Kona, 808.329.1175, hihs.org
Held in an open-air pavilion at historic St. James' Episcopal Church since 2016, the Community Meal is a free, weekly sit-down dinner for people from all walks of life, intended to "build community one meal at a time." Drop-in volunteers as well as full- and part-time residents work in roughly two-hour shifts on Wednesdays and Thursdays to chop veggies, make rice, grill meat, bake cookies and pack meals for deliveries to the homebound and unhoused. On Thursdays, more volunteers serve the buffet line, open from 5 to 6 p.m., and help with cleanup. All are welcome to sit down for dinner, usually accompanied by live music. No time to cook? Feel free to drop off cookies or another dessert for the dinner buffet.
More info: The Community Meal, 65-1237 Kawaihae Rd., Waimea, 808.885.4923, stjameshawaii.org
Hawaiian fishponds not only represent the pinnacle of Polynesian aquaculture, they also provide welcoming environments for native flora and fauna. In partnership with  Hui Aloha Kiholo, a cultural stewardship group, experts and volunteers with the Nature Conservancy have rebuilt the traditional rock walls of the historic fishpond along Kiholo Bay, removed invasive trees and weeds, and put up fences to keep feral goats out of newly planted native vegetation. You can help them keep up the good work by joining volunteer workdays the third Saturday of the month. For a dazzling overview of their handiwork, stop at the scenic overlook near mile marker 82 on the ocean side of Hwy. 19.
More info: The Nature Conservancy Kiholo Preserve, Off Hwy. 19, North Kona, 808.537.4509, nature.org