California has it all. And now, California is embracing it all. During California's ancient past, at least 64 different languages were spoken here, making this one of the most diverse populations of any region in the Western Hemisphere.
Featured Photo: Andreas Canyon at Agua Caliente courtesy of Max Whittaker/Visit California
Visit California, the official destination marketing agency for the Golden State, has launched an initiative focused on California's diverse tribal lands, highlighting cultural richness, landmarks, traditions, and customs. In partnership with the state's vast network of tribal communities, the promotional effort known as Visit Native California provides a whole new way for residents and visitors to explore the state's regional roots as well as the dynamic, contemporary lives and livelihoods of its Native American peoples. Visit Native California provides compelling suggestions for ways travelers can explore the state's rich Indigenous cultures.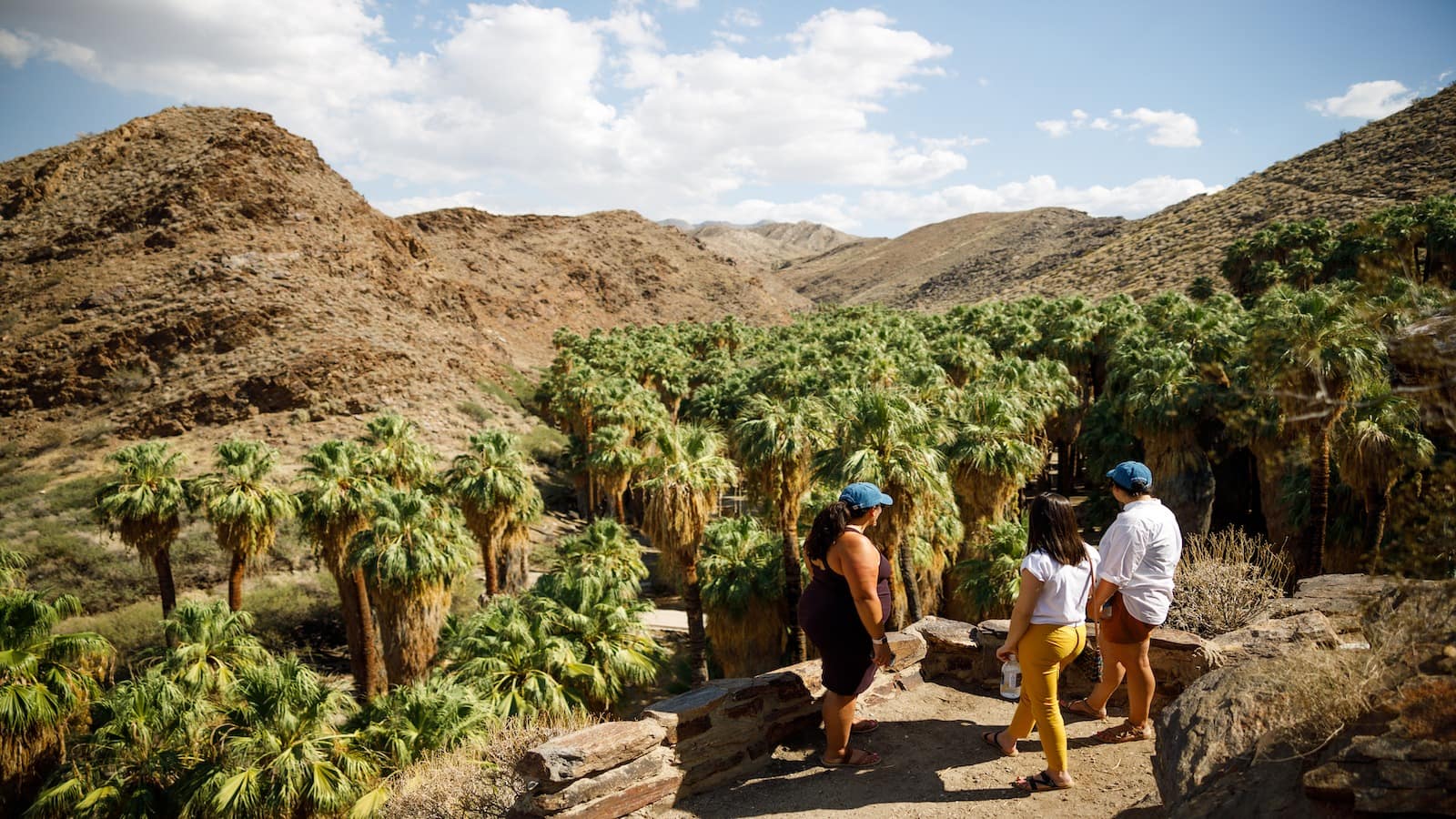 In late summer 2022, tribal leaders and state tourism representatives gathered at the new Agua Caliente Cultural Plaza in Palm Springs to announce $1 million in federal funding via the American Rescue Plan Act dedicated to "increase awareness of, and travel to, the state's cultural heritage experiences by curating, preserving, and uplifting native stories."
Did you know that? California is home to the largest Native American population in the nation. There are currently 109 federally recognized tribes representing about 720,000 residents that call California home. According to the 2020 U.S. Census, approximately 1.4 million Californians identify as full or partially American Indian and Alaskan Native and Los Angeles has the largest indigenous population of any U.S. city. 
Every corner of California has an ancient story to tell, from the oyster beds along its northern stretches, to the world's largest trees, to the unique ecosystems of deserts near the Mexican border. 
Among the many suggested activities for visitors are an authentic redwood dugout canoe that undertakes adventure tours guided by members of the Yurok Tribe while exploring ancient native traditions on the Klamath River. With 5,000 members, the Klamath Tribe is California's biggest and many say the Klamath is California's top stream for steelhead and salmon fishing. Pergish Carlson's Blue Creek Guide Service leads fly-fishing trips on the river. There are guided walks with Tuolumne County's Me-Wuk tribe to see ancient native drawings and bird singing performances by the tribe.
Inter-tribal Powwow Gatherings
In autumn, there's the colorful three-day Morongo Thunder and Lightning Powwow near Palm Springs, featuring three days of dancing, singing, storytelling, food and arts & crafts. Also open to the public, the Chumash Inter-Tribal Powwow is in the Santa Ynez Valley, the Sycuan Annual Powwow takes place near San Diego, and the Suscol Intertribal Council Annual Powwow is in Napa.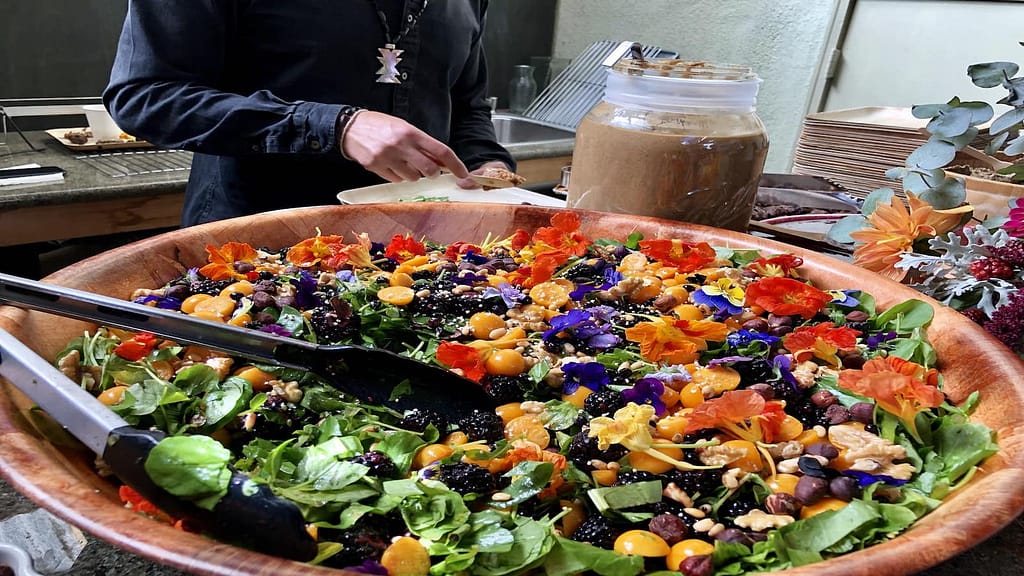 Designed with sensitivity and sustainability in mind, Café Ohlone is a new restaurant and community space located on the University of California Berkeley campusin the outdoor courtyard of the Hearst Museum of Anthropology. Diners are ushered into a one-of-a-kind place where abundant trees, fragrant plants, and redwood tables pay homage to a landscape that reflects pre-colonial, pre-mission times. Culinary traditions and recipes plus spices and cooking techniques passed down from elders are shared in the world's only Ohlone restaurant — imagine dishes such as venison meatballs, chia seed bread, and chilled silky acorn soup. By displaying native artifacts from baskets to blankets, the café also serves as a cultural center.
Agua Caliente Cultural Plaza in Palm Springs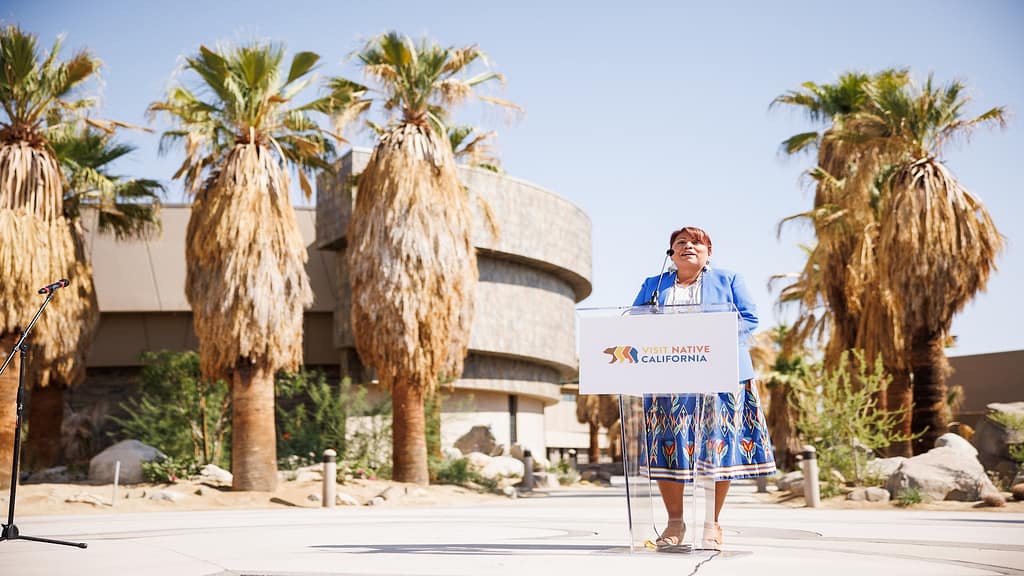 Museums and cultural centers are another focal point of the Visit Native California efforts. Significantly, right in the heart of downtown Palm Springs, the Agua Caliente Band of Cahuilla Indians is has created a stunning new cultural plaza featuring a 48,000-square-foot museum that will be California's most important Native American cultural destination. The center will feature collections in a main gallery, permanent art gallery, and a changing gallery, and art gallery. The new museum, a repository for cultural artifacts, stories, and history, will also include an education center and garden. Oasis Trail, an interpretive green belt, and The Spa at Séc-he (meaning 'the sound of boiling water') are included at this site where healing hot springs were used by the tribe for thousands of years.
"The water from the Agua Caliente Hot Mineral Spring is estimated to be upwards of 12,000 years old and is truly unique as it contains a mineral make-up that has not been found anywhere else in the world. The Tribe has shared the healing water with visitors for more than 120 years, and the hot spring was the first tourist attraction in Palm Springs." — Vision Agua Caliente
More Museums and Cultural Centers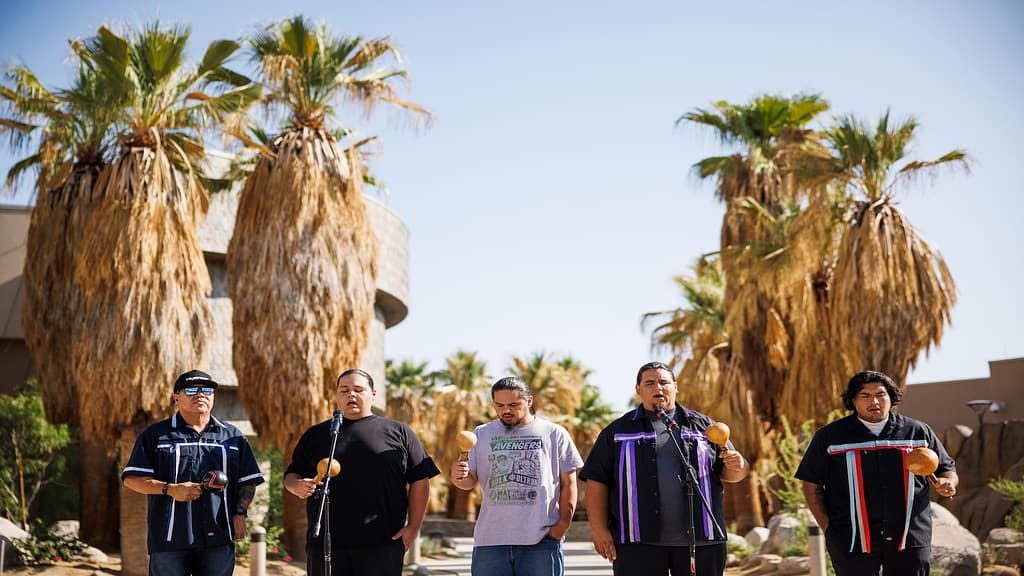 In Santa Rosa, California Indian Museum & Cultural Center has an exhibit about Ishi, the legendary Yahi tribesman dubbed as "the last wild Indian in California" in 1911. Near Shasta Lake, the Wintu Cultural Resource Center and Museum has artifacts and displays to tell the story of the Wintu Tribe. 
East of Bakersfield, the Nuui Cunni Cultural Center runs basketmaking, gourd art, and native crafts workshops operated by the Kern River Paiute Council on land that's part of the Sequoia National Forest. In Banning, the Malki Museum was the first California museum founded in 1965 by Native Americans. Housed in an adobe building on the Cahuilla Indian Reservation, it exhibits baskets and pottery and has an ethnobotanical garden with 50 native plants used by the Cahuilla. In Bishop, the Owens Valley Paiute Shoshone Cultural Center displays elaborately woven baskets alongside native artisan crafts for sale. 
Northeast of Downtown Los Angeles in the San Gabriel Mountains, the Haramokngna American Indian Cultural Center in Angeles National Forest fire station tells the story of five regional tribes: the Chumash, Tongva, Kitanemuk, Serrano, and Tataviam. And in the Santa Monica Mountains National Recreation Area, the Satwiwa Native American Cultural Center has a replica of a traditional Chumash dwelling. Further south near San Diego, Barona Cultural Center & Museum is an award-winning destination dedicated to Kumeyaay/Diegueño people via artifacts dating back 10,000 years. Browse authentic shell jewelry and baskets made by local artisans in the museum store.