With a pleasant temperature year-round, Santa Barbara is an all-around top destination for many types of travelers. Winter is one of the best times to visit even the Monarch butterflies agree, as November marks the beginning of their migration and they can be seen decorating tree branches until they leave in March. Foodies, better plan a week to hit all the hot spots and world-class wineries; couples, choose from many romantic lodging options, long beach walks and shopping; families, count on beaches and parks abound.
Speaking of beautiful, winged creatures, kids of all ages love the walk-through butterfly garden at the Santa Barbara Museum of Natural History. And for history buffs, a long afternoon at the Santa Barbara Mission will be one for the books. As it's not the usual hot and dusty adobe complex; it's considered the Queen of the Missions.
One could say, Santa Barbara as the pretty sister of California cities. She doesn't try to be, but she's just got that "wow" factor, and it just comes so easy. Her white sand beaches, surrounded by the Santa Ynez mountain range freckled with bright, white Spanish Colonial Revival architecture, colorful tile roofs and brilliant splashes of bougainvillea have earned her the trademarked moniker, The American Riviera. 
If you've been thinking of heading to Santa Barbara, we've done a bit of research for you. 
Featured Photo: Mar Monte Hotel
The American Riviera's rich history began with the Chumash Indians, a hunter-gatherer tribe known for their rock art and basket-weaving skills. In 1602, the name Santa Barbara first became associated with the area when Spanish maritime explorer Sebastián Vizcaíno graced the channel and surrounding islands with it in gratitude after surviving a violent storm there. The region began evolving with the arrival of the Spanish Colonials. In 1822, Santa Barbara became a territory of Mexico after the Mexican War of Independence. With the conclusion of the Mexican-American War in 1847, Santa Barbara became part of the United States.
Santa Barbara's personality continued to transform with the excitement of the Gold Rush, the Victorian Era, which launched a lifelong love affair with health and well-being, rolling right into the Silent Film Era (1910 to 1922), when Flying A Studios saw hits from stars like Charlie Chaplin before the advent of talkies. Still to come was an oil boom, two devastating earthquakes, and those stationed in Santa Barbara during World War II drawing attention to the idyllic region.
It's easy to spot Santa Barbara's past reflected in the city through its mission-style architecture and landmarks like the 1872-built Stearns Wharf (California's oldest working wharf), the 1786-founded Old Mission Santa Barbara, where Franciscan Friars live to this day.
Where to Stay in Santa Barbara
According to Wikipedia, the Santa Barbara South Coast region is the northernmost part of Southern California, and according to my car, it's about one-and-half tanks of gas from the Bay Area. No matter how you slice it, or measure it, it feels like Santa Barbara is in middle of California and attracts about seven million visitors a year — the pandemic has not slowed it down.
Lodging options range from camping to roadside inns, short-term rentals, super opulent hotels and homes fit for royalty. High-end properties like The Ritz-Carlton Bacara and the now-shuttered Four Seasons Biltmore reinforce the town's uber-luxe reputation, however, value can be found throughout the county. We've done ample "value" exploring on upper State Street and can highly recommend the Lemon Tree Inn and the Pepper Tree. Note: these are the only lodging options with a "tree" in the name we recommend. We like upper State Street because of the local vibe — you'll find lots of great restaurants and shops not serving the flocks of tourists. An even more residential vibe is the area between Goleta and the city of Santa Barbara — locals call it "Noleta" — which is also full of plenty of under-the-radar places to seek out good rates. Mid-week stays, as well as fall through early spring visits, offer the very best deals. Visit Santa Barbara is offering a 3rd night free with select properties through the end of the year. 
Speaking of good rates, here's a fun fact: The original Motel 6 was founded just steps away from the East Beach, back in 1962 by inspiring entrepreneur, Bill Becker. The motel, which charged just $6 per night for a stay, aimed to make travel accessible, and it worked. And it's still going strong. This original location across the street from East Beach was just remodeled and is still a deal with rates starting just above $100.
However, if you want to just dive into the full visitor experience, here are a couple of our favorite options.
Offering a taste of that old-timey elegance, Mar Monte Hotel has recently reopened as a reincarnation of the historic 1930s Vista Mar Monte, which went through many iterations and eventually was simply known as, "The Hyatt" for decades. The property is still under the Hyatt umbrella in the Unbound Collection. The 200-room Spanish-style property ambles over three oceanfront acres with a pool, comfortable lobby areas and two ballrooms for celebrations or company meetings. Another great feature of this property is the proximity to the Cabrillo Pavilion, which has also undergone a sizable renovation, and is a popular spot used for big family parties and weddings and large group functions (once those happen again).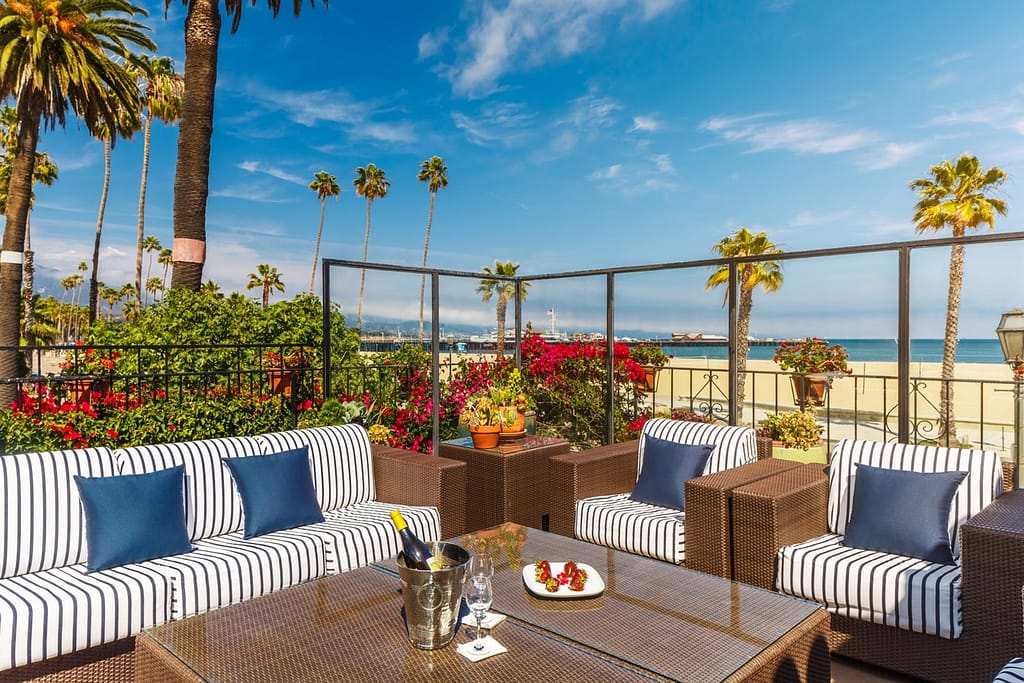 Another one of our favorite spots is the Hotel Milo, also across the street from the beach, named for the prolific historical hotelier Milo Potter, whose popular Potter Hotel helped to put Santa Barbara on the tourism map back in 1903. Today, all that is left of this grand dame is a park lined with palm trees, which is now a convenient courtyard in the center of the 2.5 acre property with a bounty of fire pits and seating areas scattered throughout.
Where to Eat in Santa Barbara
Those aforementioned foodies might want to plan to stay for a week, considering there are thirteen eateries here with a Michelin nod. We had our own guide to follow. Having a college student in any town usually results in a list of, "now that you're in town" places to visit. My daughter's list included Arigato for sushi, and Secret Bao for modern Chinese dining — both are located on State Street. East Beach Tacos at 226 S Milpas Street is the best take-out for a beach picnic, while Empty Bowl Gourmet Noodles is ideal for a picnic at the mission. Be sure to also check out Toma on Cabrillo for delicious Italian food with abundant parklet seating. Margerum Wine Bar was our stop for researching the Urban Wine Trail, since they have expanded outdoor seating to stay in business.
Breakfast
Scarlet Begonia — Waffles and cinnamon buns worth writing home about.
The Boathouse at Hendry's Beach — Classic brunch spot near the UCSB campus.
Jeannine's — Local favorite for years, with a new beach location.
Backyard Bowls — Tasty açai bowls, good anytime of the day.
Lunch
East Beach Tacos — Family favorite for innovative tacos, located next to a batting range.
Backyard Bowls — Tasty açai bowls, good anytime of the day.
Empty Bowl Noodles — Creative (and tasty) noodles, dim sum from all over Asia.
Savoy Cafe and Deli — Voted best salad bar for years, they also offer the traditional deli fare, as in, there is something for everyone.
Dinner
The Lark — Great vibe, innovated menu equals an unforgettable meal under the stars in the Funk Zone.
Secret Bao — Just off State Street, this all-star culinary team offers creative Asian cuisine.
Toma — Authentically delicious Italian cuisine right across from the beach.
*This list has been compiled by foodie friends and family and will be updated often.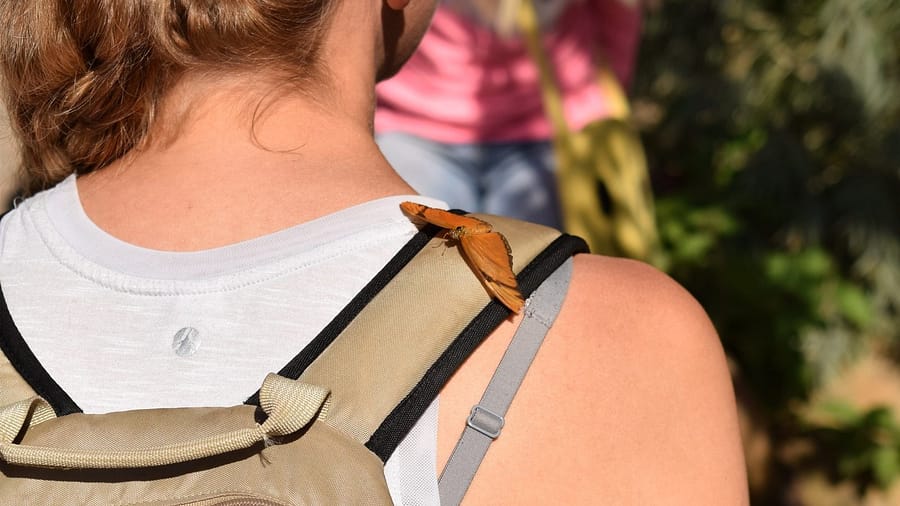 What to Do in Santa Barbara
Luckily Santa Barbara has as many healthy activities as noteworthy restaurants. From surfing, stand-up paddling, to running and hiking, my time in Santa Barbara always feels like a balance of calories in, calories out.
There are endless hikes throughout Santa Barbara's diverse landscape. Want a view of the ocean? A mountain to summit? Critters to spy? Yes, there's those elements and so much more. 
With its five miles of trails, excellent trekking can be done at Santa Barbara Botanic Garden. This living museum is lush with native plants and birds. It's even possible to spot deer and coyotes. 
Bringing with it stone steps, a wooden bridge, and a tree-filled canyon is Goleta's Nojoqui Falls Park. Just waiting to delight here: an 80-foot waterfall. 
Go for the adrenaline rush of Cathedral Peak with its towering boulders that rank for class 3 rock climbing. 
For almost 23 years, Santa Barbara Surf School's instructors have made wannabe surfers' dreams of hanging 10 come true on Mondos Beach. Available to all skill levels, the 1.5-hour classes are offered on a private or group basis.
Catch sight of kayakers along the American Riviera, and the desire to join in will come on. Go for it! Santa Barbara Kayaking offers three kayaking tour options: Harbor Wildlife Kayak Tour (easy; 10am, 11am; from 1.5 to 2 hours), Gaviota Coast Kayak Tour from Haskell's Beach (easy to moderate; 9:30am to 12:30pm; 2.5 hours), and the Sunset Kayak Tour on Santa Barbara Harbor (easy to moderate; 2.5+ hours) with a start based on time of year.
This 9.3-acre property along Devereux Creek includes woodlands, coastal bluffs, and meadows, landscapes appealing to humans and butterflies alike. Especially the Goleta Butterfly Groves, ideal for over-wintering Monarchs. Catch them during their migration period November through February.
Channel Islands National Park
805.658.5730
At the southern border of California's Central Coast, where Santa Barbara County is tucked in between San Luis Obispo and Ventura County, the Channel Islands are accessible to visitors. Five of the eight islands within 160 miles offshore are designated as a national park and marine sanctuary. Worlds away from life on the mainland, one must fly in or arrive by boat; the islands are vehicle-free. The National Park Service suggests, "This is a place to hike, camp, snorkel, kayak, birdwatch, take photographs, sketch, or just relax to the soothing sounds of the natural world." Tip: There are full-day and half-day trips for whale watching year-round. nps.gov/chis/index.htm
Love museums? Santa Barbara's got this territory covered. Especially the Santa Barbara's Museum of Natural History, with exhibits dedicated to geology, astronomy (yep, there's a planetarium here, too), anthropology, paleontology, and, of course, creatures great and small. Head to Stearns Wharf to check out the adjunct Sea Center for a glimpse of the area's marine life. Prefer art or history? Pop into downtown's Santa Barbara Museum of Art and the historic El Pueblo Viejo District's Santa Barbara Historical Museum. 
This 1786-founded Franciscan mission is one of the 21 missions along California's Historic Mission Trail. Take a self-guided tour of the property, which includes a museum, cemetery, mausoleum, and 12 acres of historic gardens. Highly recommended: pack a picnic to enjoy in the rose garden.
This eclectic area just off the beach has affectionately become known as the "drunk zone" due to its plethora of wine tours (don't miss the self-guided Urban Wine Trail's 20+ stops) and tasting rooms. Beyond imbibing, there's plenty to see and do, from taking in art ranging via murals and galleries, popping into shops to pick up great buys from local artisans, and savoring cuisine that will trigger return trip cravings.
February 
For over 35 years, silver screen luminaries have flocked to Santa Barbara for the Santa Barbara International Film Festival (SBIFF). Want to get in on the action? Head for SBIFF's home, Riviera Theatre. Beyond showcasing international and independent films, the festival offers industry panels and filmmaker seminars. On tap, too, are award ceremonies honoring some of the film industry's brightest. On this year's list: Michelle Yeoh, Jaime Lee Curtis, and Brendon Fraser.
Every May
Bright colors make their way through Santa Barbara's Mission Plaza each May as the annual I Madonnari Italian Street Painting Festival gets underway. Veritable masterpieces in chalk, over 150 of them, adorn the sidewalks and streets. During the three-day event, it's possible to watch the artists in action and take in the stunning colors while partaking in Italian food and vibing to live music. Another perk: the event benefits Children's Creative Project's arts education programs.
August 2-6, 2023
Going strong since 1924, Old Spanish Days lauds Santa Barbara's Spanish, Mexican pioneers, and Native Americans by showcasing their rich history, culture, and traditions, with a week filled with food, mercados (or markets), music, dance, and parades at locations throughout town.
October
The Santa Barbara Bowl is a beloved outdoor amphitheater nestled in a eucalyptus grove. LA residents often spend the night so they can watch shows from major touring performers. They've been posting new concerts for the summer, fall and beyond to their website, including My Morning Jacket (Sept. 23), Lord Huron (Sept. 28), Glass Animals (Oct. 27-28) and more.
October
A program featuring pianos painted by artists temporarily set up throughout downtown. Anyone can play these pianos, and they often have guest musicians come and play, such as Zach Gill (from Animal Liberation Orchestra a.k.a. ALO, who often tours with Jack Johnson).
October
The Montecito Motor Classic features a diverse selection of rare and unique vehicles. The annual car show draws car enthusiasts and families for an opportunity to interact with the cars and their caretakers, free of charge.
December 
Santa Barbara Harbor's City Pier transforms into a winter wonderland replete with snow, a holiday tree, and an illuminated boat parade. Don't wait until dark to start the fun. The event kicks off at noon with standup paddlers and kayakers decked out for the festivities. At 5:30 p.m., the boat parade commences from Ledbetter Beach to Cabrillo Arts Pavilion, then Stearns Wharf. Capping off the event: fireworks.