New Celebrity Beyond℠ offers bold advances in luxury, entertainment and dining that make it the perfect place to treat yourself to a long-overdue splurge.
At a time when wellness, self-care and pampering are a bigger priority in travel than usual, it might be that the best place to live like a celebrity is on Celebrity Beyond. Launching in April 2022, Celebrity Beyond is the third in Celebrity's Edge® Series and offers an A-lister experience including some of the most luxurious suites on any ship, one of the most exclusive restaurants at sea bearing the name of a culinary icon, Chef Daniel Boulud, and splurge-worthy amenities and service that is top-notch.
For travelers with a love of culinary experiences, the 3,260-passenger Celebrity Beyond will feature 32 restaurants, bars, and lounges, including the highly anticipated Le Voyage by Daniel Boulud, which is the renowned chef's first signature restaurant at sea. Chef Boulud — Celebrity's Global Culinary Ambassador says the menu will present globally-inspired flavors and French notes meant to connect you to the traditions that inspired them. The contemporary dining space, crafted by acclaimed design firm Jouin Manku, will feature soft colors and intimate curved shades.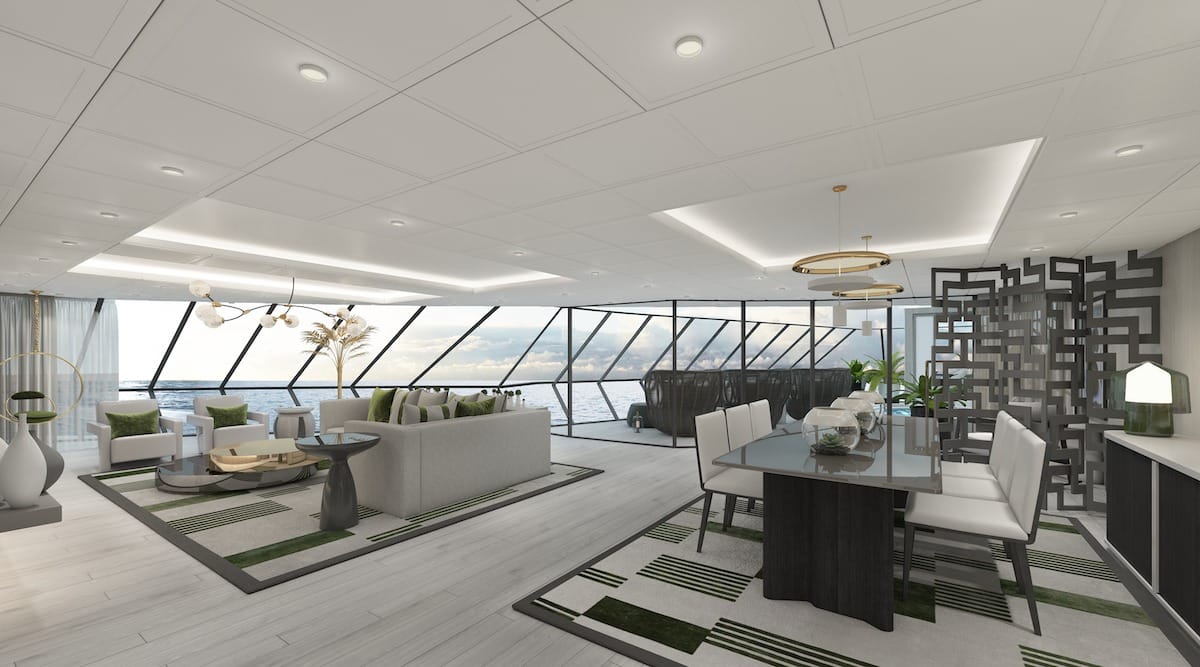 Among the other options will be: Blu, an exclusive restaurant for AquaClass guests, that will offer new menu options focused on a healthier lifestyle, including an extensive list of sustainable, biodynamic wines; the newly redesigned Cyprus Restaurant; the specialty dining Fine Cut Steakhouse; Le Petit Chef; and the Spa Café and Juice Bar, which will feature a signature smoothie by a popular healthy living brand.
Entertainment aboard Celebrity Beyond will feature some plot twists, including the Theatre on Beyond, which has been designed to nearly a theater-in-the-round setting, creating a much closer experience for guests and performers. And they will up the interactivity with jaw-dropping Eden, one of many spaces on Celebrity Beyond that transforms from one setting during the day into an equally amazing but different setting at night. By night, Eden is an ever-evolving experience that transforms throughout your vacation. A series of tantalizing nightly events all designed for a unique and exciting experience. Each night you visit Eden, you'll encounter a new fusion of music, libations, and interactive experiences unlike anything else at sea.
Probably the best way to get the A-list celebrity experience, however, is in The Retreat® on Celebrity Beyond —a resort-within-a-resort that includes stunning accommodations, private restaurant, private lounge and an exclusive two-story outdoor sundeck that is 40 percent larger than on Celebrity Apex℠ or Celebrity Edge. (Along with updated protocols for screening and testing of passengers and enhanced sanitizing measures, all crew and guests who are eligible must be fully vaccinated, and each ship will have reduced capacity, and the HVAC system continuously supplies and filters 100 percent fresh air throughout the ship.)
Highlights of The Retreat include:
* Luminae, a private restaurant only for guests of The Retreat features menus that change daily as well as selections from Chef Daniel Boulud that are not available in any other restaurant onboard. An innovative dining space with more airy, outward-facing interiors designed by Kelly Hoppen.
* The Iconic Suites, with about 2,500 square feet of indoor and outdoor space, are the largest in the Celebrity fleet and, because they're immediately above the bridge, offer the same view as the captain.
* The exclusive Retreat Lounge and the connected Retreat Sundeck that, because Beyond is one deck taller and longer than Celebrity Edge and Celebrity Apex, has been expanded to include two tiered outdoor decks and a more social round pool. Both venues offer an exclusive concierge who can make "any arrangements you need — on board or off."
* The Edge Villas, two-story suites that include a private plunge pool and direct access to The Retreat Sundeck and Retreat Lounge, and the new wellness-focused AquaClass Sky Suites will offer spa-inspired elements — eco-friendly bath products, wellness programming on the TV, yoga mats, and an enhanced air filtration system — as well as access to luxury spaces and amenities of The Retreat.
* AquaClass Sky Suites combine the best of their wellness focused AquaClass experience with the ultimate luxury of The Retreat. Spa-inspired elements are thoughtfully infused throughout, including eco-friendly bath products, on-demand wellness programming on the stateroom TV, yoga mats, in-stateroom fitness amenities, daily bottled water service, and an enhanced air filtration system.
All of which is a splurge-worthy experience with some of the biggest and best developments — not just for Celebrity but for the world of cruising.
Learn more by calling 1-888-283-6879, contacting your travel advisor, or visiting celebrity.com.