California, with almost 40 million people, has over 400,000 miles of highways. But when it comes to bridges, most think it's thin pickings. There's the Golden Gate, the Bay Bridge and the Bixby Bridge near Big Sur that's in car commercials. That's it.
Think again.
California has more than 50 significant bridges currently serving automobiles. Significant meaning they're worth talking about. These are truss, arch, beam, cantilever and suspension bridges. And the state has at least four working drawbridges — the number varies, as drawbridges aren't always working. 
One interesting drawbridge is Tower Bridge, which spans Sacramento River connecting Yolo County with the state capital. Completed in 1937, it's a mechanical marvel that's begs comparison to its namesake, London's iconic Tower Bridge. Both are vertical lift bridges — meaning the roadway remains level as it rises between two towers allowing watercraft to pass below.
But if drawbridges often malfunction, here's a bridge in an even worse plight: It's the Bridge to Nowhere. Built in 1936 to span the San Gabriel River between Azusa and a resort named Wrightwood in Southern California, it never felt rubber meet its roadway. A flood in '38 washed out unfinished highways leading to and from it; now it's only reachable via a three-hour hike where it's used for bungee jumping. 
However, that's an exception. California bridges provide vital recreational and economic links along the state's 400,000 miles of roadways. Here, arranged according to length — longest to shortest — are a dozen California bridges worth talking about.
Featured Photo: Tower Bridge courtesy of the Library of Congress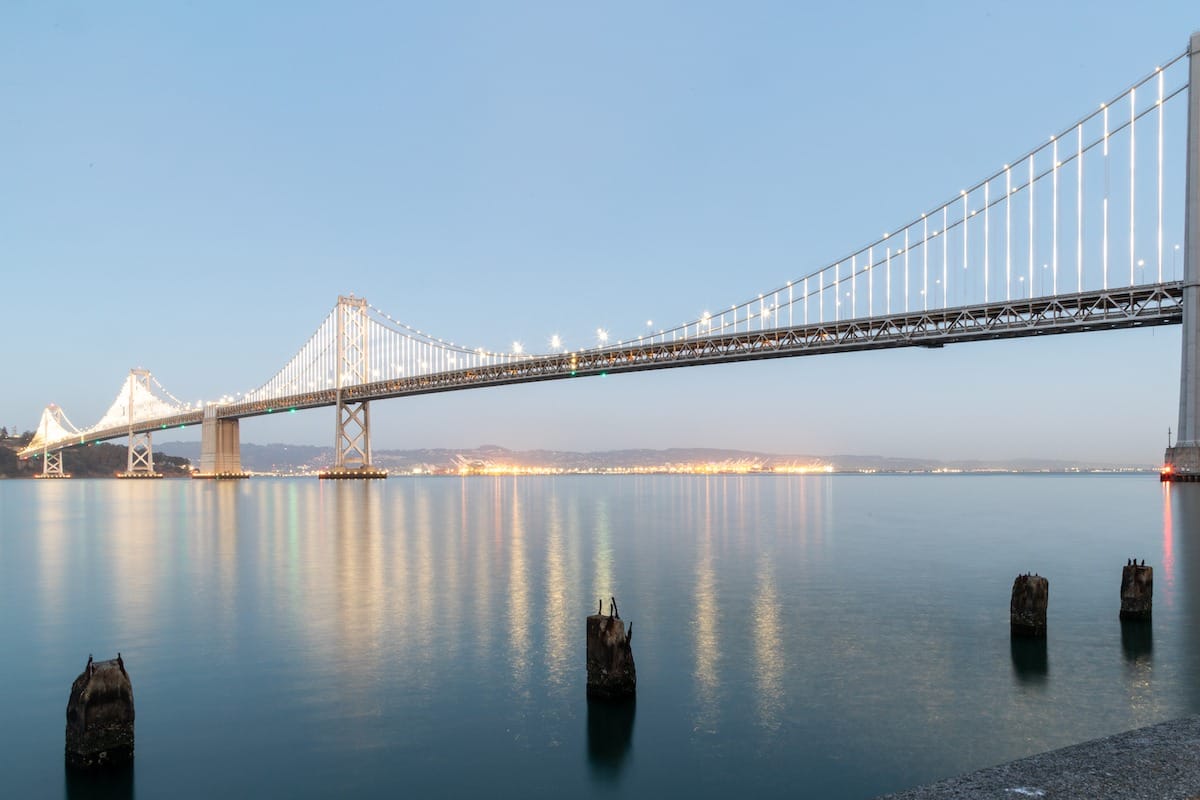 Length: 23,556' (4.5 mi.)
Clearance Below: 190'
Height: 525'
Opened: November 12, 1936
Architect: Charles Henry Purcell
In 1849's Gold Rush, supplies, along with hundreds of miners, arrived by ship in San Francisco. The City by the Bay was indeed on its way. But 20 years later, when the cross-continent railroad terminated in Oakland, San Franciscans felt they'd no longer be the area's preeminent city. In an effort to mitigate, in 1872 a civic character named Emperor Norton proposed a bridge across the bay, threatening arrest if city fathers didn't respond. 
Respond they did, but engineering studies indicated the bay was far too deep for crossing. Thus, the idea languished for nearly 50 years. A 1921 commission explored the idea of a tube between the two cities; which also proved unworkable. In 1929, a Hoover-Young Commission decided the only feasible approach was to use Yerba Buena Island as midpoint; saving considerable costs. However, the island was a Naval base requiring Congressional approval to be a public thoroughfare. Once political, designing, bonding, engineering and regulatory procedures could be completed, construction began on July 8, 1933, and 24 workers died before the San Francisco-Oakland Bay Bridge was completed. It opened on November 12, 1936, six months ahead of the Golden Gate Bridge.
The Bay Bridge is actually two bridges of relatively equal size with Yerba Buena Island in the middle. The western bridge, named for former San Francisco Mayor Willie Brown, is a double span suspension bridge with traffic heading into San Francisco on its upper deck and Oakland-bound cars on its lower deck. A similar bridge arrangement between Yerba Buena and Oakland partially collapsed in the 1989 Loma Prieta Earthquake, resulting in being entirely rebuilt as a combination causeway and self-anchoring suspension bridge. All traffic on this portion is on one deck resulting in it being one of the nation's widest bridges. Of note: Following the earthquake of 1989, the cost of seismic retrofitting the Bay Bridge's eastern portion was estimated at $250 million. After political infighting, it was decided a new bridge would be constructed. It cost $6.5 billion and took six years to complete.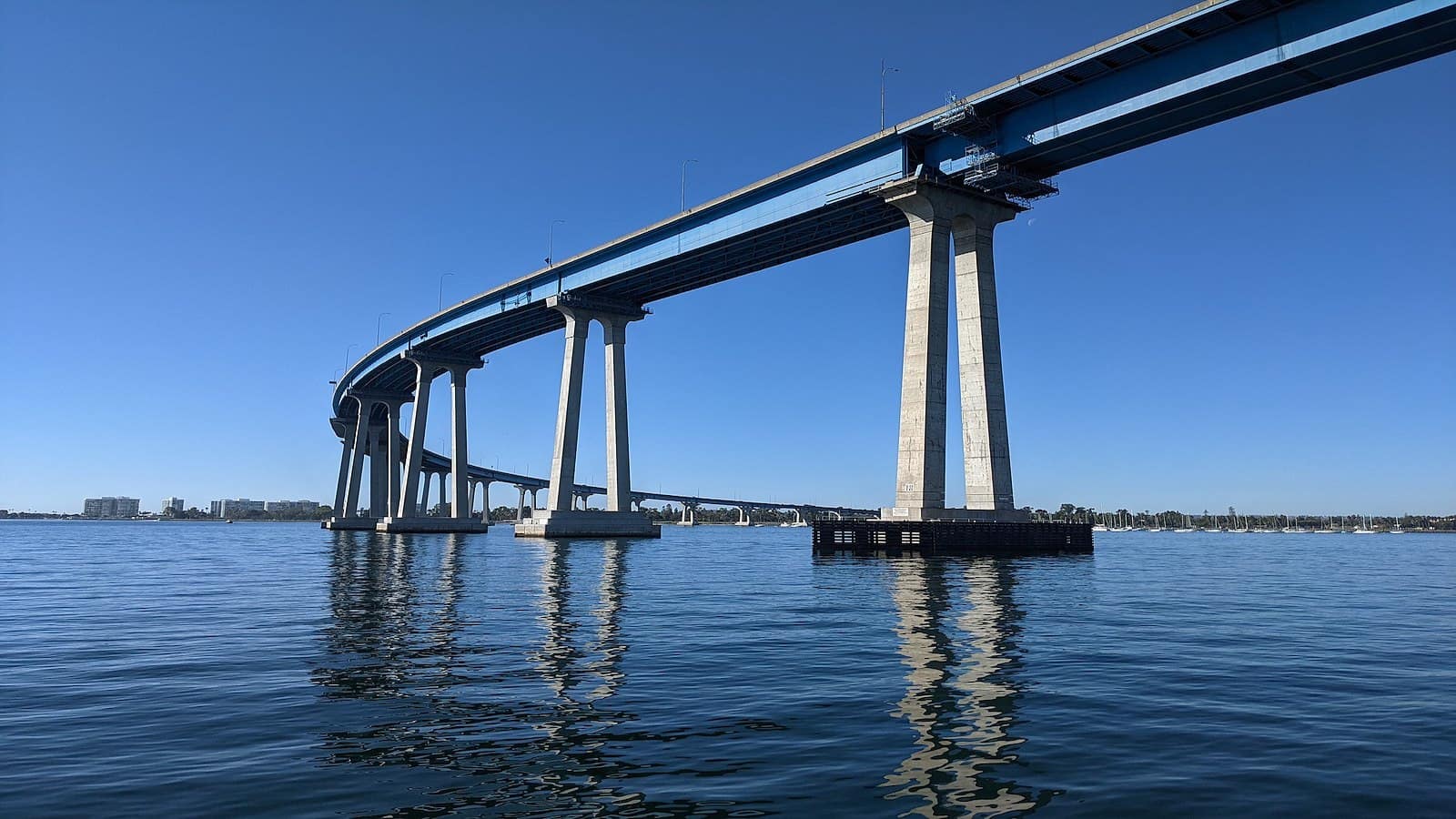 Length: 11,178' (2.1 mi.)
Clearance Below: 200' 
Height: 205'
Connects: San Diego and Coronado over San Diego Bay.
Completed: August 1969
Architect: Robert Mosher
Building a bridge near a military base is never small potatoes. The military's concern is an enemy destroying it and trapping shipboard response in port. The Coronado Bridge was no exception. A bridge across San Diego Bay was proposed nearly 100 years ago, but voters nixed the idea. And in the 1950s, an admiral said the Navy would leave San Diego if a bridge were ever built. A decade later, in a turnaround, the Navy agreed to a bridge if an aircraft carrier could safely sail beneath it. That meant the Coronado Bridge had to hang 200 feet in the air; a worthy challenge seeing the distance to be spanned was less than two miles. In order to achieve a reasonable grade for traffic (4.5%) the bridge was designed to dramatically curve as it approached Coronado, thereby increasing its length to 2.1 miles. Construction started in February of 1967 and was finished in two and a half years.
Upon its opening, the Coronado Bridge had five lanes: Two in each direction and one, defined by moveable cones, which varied in direction depending on traffic loads. But in 1981, a speeding drunk driver crashed through the cones killing a Coronado resident returning home. The accident resulted in a Moveable Barrier Machine being installed in 1993. The Coronado Bridge has no pedestrian or bike lanes and no shoulders. However, starting in 1986, a-once-a-year "Run/Walk the Bridge Day" was declared, and in 2008, a similar arrangement gave bicyclists free rein of the Coronado for one day. Adding character to the Coronado Bridge is the presence of several enormous Chicano-inspired murals on the last few of the 27 girders supporting the span; the splash of color occurring as traffic exits the bridge and passes through a popular San Diego barrio. A far less celebratory aspect of the Coronado Bridge is that with over 400 deaths, it is second only to the Golden Gate Bridge in number of suicides resulting from leaps from its heights. 
Length: 8,981 (1.7 mi.)
Clearance Below: 220'
Height: 746'
Connects: San Francisco with Marin County over the Golden Gate, a mile-wide strait where the Pacific Ocean meets San Francisco Bay.
Opened: May 27, 1937
Credit that a Golden Gate Bridge exists largely goes to one man, Joseph Strauss, a diminutive engineer (and poet) whose early ambition was to build a bridge across the Bering Straits, connecting Asia with North America. Following the earthquake of 1906, city fathers wanted San Francisco to be the west's prominent metropolis and building a massive bridge sounded intriguing. So they lured Strauss west, where, in 1917, he quickly saw that wind, fog, and fierce tidal surges and currents — not to mention 350-foot deep icy water — would be major challenges. Also opposing a bridge would be ferryboat owners/operators and wary taxpayers; along shipping and military interests fearing a collapsed bridge would coral them. And then came the Great Depression. Still, a mere two decades later, autos by the hundreds would gleefully glide across a completed Golden Gate Bridge. 
Once building a bridge was approved, an exhausted Strauss mysteriously disappeared and Clifford Paine, his young engineering partner, assumed control. After several near disasters, Paine solved the immense problem of constructing piers in deep, swirling and icy water. And after bonding became the least objectionable means of financing, A. P. Giannini, father of the Bank of America, declared, "California needs that bridge, we'll take those bonds." On January 5, 1933, construction began and a rested Joseph Strauss reappeared, bringing with him Irving Morrow, an architect known for radical modernism. Morrow covered the bridge's skeleton with steel Art Deco cladding and, most controversially, decided that the Golden Gate Bridge would be painted red (actually, international orange). The bridge opened on May 27, 1937, at cost slightly less than what Joseph Strauss said it would cost back in 1917: $27 million. 
According to Frommer's, "The Golden Gate Bridge is the most beautiful, certainly the most photographed, bridge in the world." American civil engineers list it, along with the Panama Canal, Eiffel Tower and the Chunnel, as one of the Seven Wonders of the Modern World. For more than 25 years following its opening, the Golden Gate Bridge was the longest and tallest suspension bridge in the world. Unfortunately, over the years, it is also been a magnet for people wanting to end their lives by jumping off it. A human jumping from 220-feet reaches 80 miles per hour during the four seconds it takes to hit the water. If that doesn't bring death, drowning, in all but very rare instances, does. A high percentage of suicides occur from mid-bridge and its eastern side, which faces the city. In all, over 1,600 people have possibly ended their lives by jumping from the Golden Gate Bridge; so many so that bridge suicides are no longer reported by local media, fear being they cause a "copy cat" response. A plastic-covered steel suicide-preventing net is presently being installed of both sides of the Golden Gate Bridge. Its cost: $76 million. 
Today, well over 100,000 cars, buses and trucks a day cross San Francisco Bay on the Golden Gate Bridge.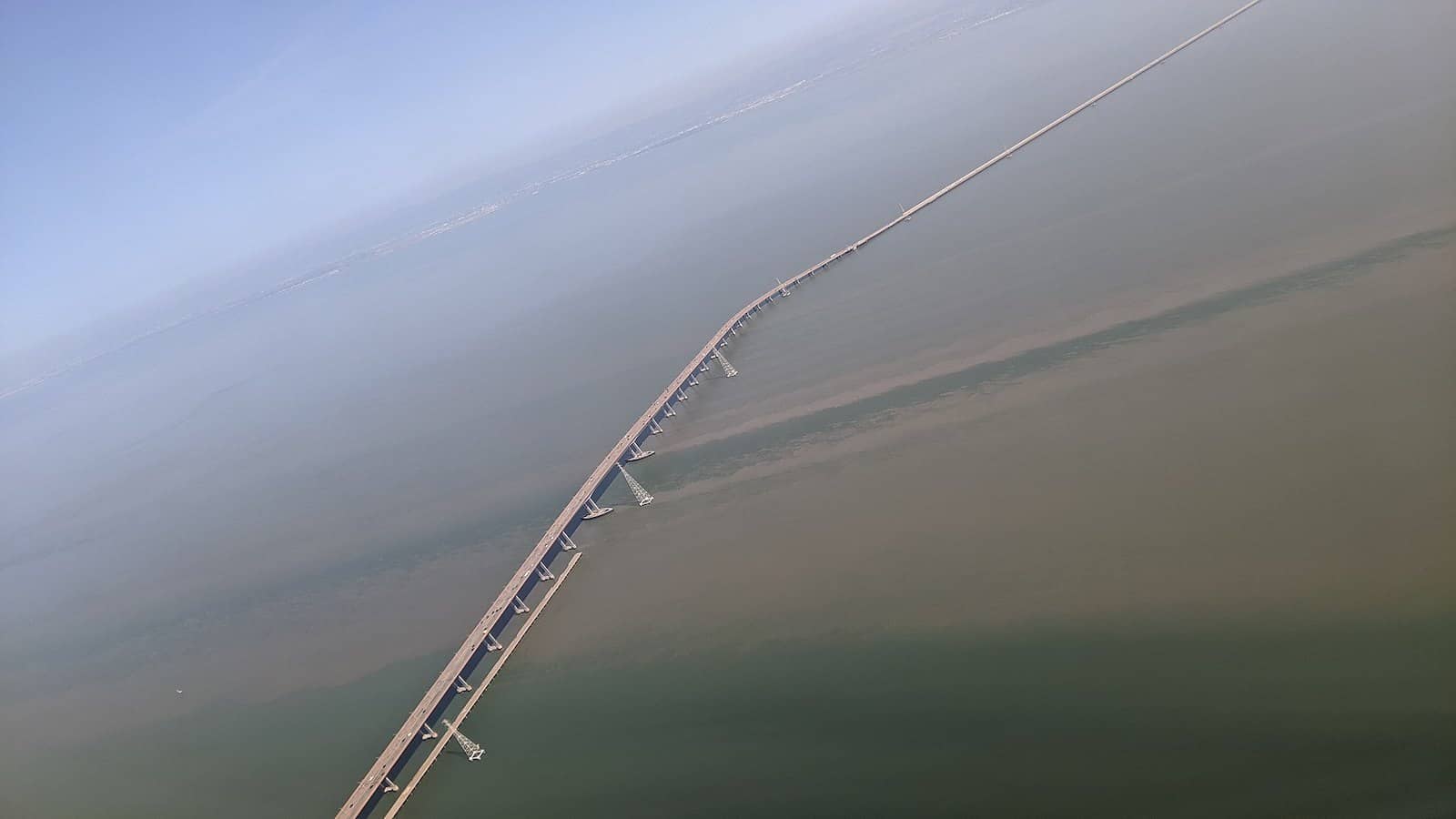 Length: 8,600 (1.6 mi.)
Clearance Below: 85'
Connects: southern cities of the Bay Area across San Francisco Bay
Completed: October, 1982
Dumbarton was the first vehicular bridge to cross San Francisco Bay. Built in 1927, with private funding to connect East Bay cities with South (actually, west) Bay cities, the original two-lane drawbridge had to be replaced in the early 1980s with what eventually became a six-lane expressway carrying over 70,000 vehicles a day. Never hearing of this bridge is understandable, as it has never been officially named. Its unofficial name, Dumbarton, comes from Dumbarton Point, an East Bay geographical prominence named after a Scottish town of the 1800s. Building the 1980s replacement bridge cost $200 million; it had four lanes when it was opened on 1982 and grew to six-lanes following the earthquake in 1989 that temporarily closed the Bay Bridge and put added traffic on the Dumbarton Bridge. Unfortunately, congested traffic at the bridge's western end played a role in the in 2007 automobile accident that killed journalist/author David Halberstram. 
Here's a telling tale of tolls that's possibly applicable to most Bay Area bridges: In 1927 Dumbarton Bridge collected a 40-cent toll in both directions. That stayed until 1969, when it jumped to 70-cents, but in only one direction. Then in 1976, tolls went to 75-cents and stayed there thru the 1982 opening of the replacement bridge. In 1988, tolls on all Bay Area bridges climbed to $1, ten years later all tolls jumped to $2 (to cover seismic retrofitting) and in 2004, voters approved Measure 2 calling for all tolls to be $3. In 2007, cost overruns on the Dumbarton repairs resulted in a $4 toll, and in 2010 they went to $5. In 2018, voters approved Measure 3, allowing all tolls to reach $6 in 2019; $7 in 2022; and $8 in 2025. On a lighter side, the 1971 film Harold and Maude had Maude speeding over the Dumbarton Bridge after disobeying a policeman. Possibly, she was avoiding a toll.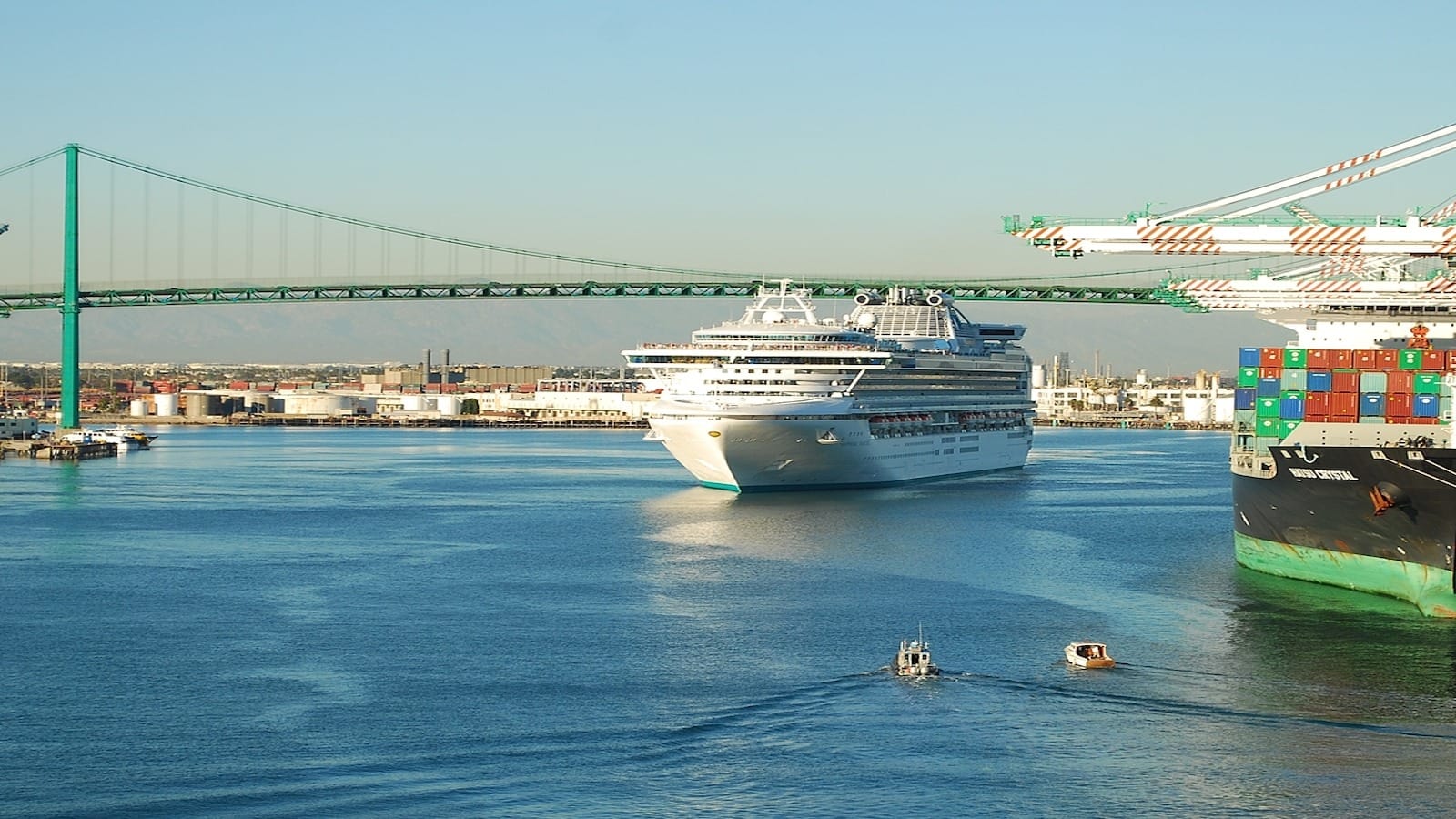 Length: 6,060' (1.14 mi.)
Clearance Below: 184'
 Height: 365'
Connects: San Pedro with Terminal Island across Loa Angeles Harbor
Completed: November, 1963
How do you get a bridge named after you? Over a span of 20 years, you sponsor 16 pieces of state legislation in order to get that bridge built. Starting in 1940, that's what long-serving California Assemblyman Vincent Thomas did before construction began on the popular bridge in his district. It's the only suspension bridge in the Loa Angeles area and, at 1,500-feet, it is the 76th longest suspension bridge span in the world. The bridge opened in 1963, charged tolls until 2000 and, in 2007, at a cost of $1 million, became one of the first bridges to have a solar-powered LED light installation. In all, there are 160 lamps whose striking color is a deep dark blue.
The Vincent Thomas Bridge is America's first welded, as opposed to riveted, suspension bridge, and is the world's only suspension bridge supported solely by piles; nearly 1,000 of which were sunk during its construction. The bridge's two towers are 365 feet in height and the roadbed is 185 feet above water, allowing modern day cruise ships to easily pass below. And because of the similarities in appearance, the Vincent Thomas Bridge is often referred to as "San Pedro's Golden Gate"; and it is considered to be the welcoming monument to visitors entering L.A. by sea. However, as with many bridges, the Vincent Thomas has had its tragic incidents: In 1990, Olympic medalist Larry Andreasen was killed after diving off the south tower in an effort to set a world high diving record; and in 2012, for unknown reasons, film director Tony Scott committed suicide by jumping from the Vincent Thomas Bridge.
Length: 3,465' (.7 mi.)
Clearance Below: 148'
Height: 394'
Connects: Northern California cities of Crockett and Vallejo over San Francisco Bay
Completed: November, 2003
Following 75 years of cumbersome and dangerous ferry crossings, the first bridge across Carquinez Strait was completed in 1927 and it immediately became part of the famous Lincoln Highway that stretched all across the country. Prior to that, San Francisco-Sacramento traffic went south to Stockton then turned west into the Bay Area. The bridging of the Carquinez Straits, once considered impossible, created a direct route between the two areas as shaved considerable time off the journey. Seventy-five years later, there were three Carquinez Bridges; all in close proximity to each other. The Carquinez Bridge that opened in 1927 was a technologically advanced cantilever bridge that cost $8 million to construct. Just over 30 years later, due to heavy traffic use, a second bridge, costing $38 million, opened; it was also a cantilevered bridge. Then, due to the Loma Prieta Earthquake, a third Carquinez Bridge opened in 2003. Bridge #3 was a suspension bridge that cost $240 million to construct. To handle traffic while bridge #2 was being retrofitted, bridge #1 was brought into service and it wasn't until 2007 that it was dismantled. So now there are two Carquinez Bridges.
The Carquinez Bridge that opened in 2003 carries westbound traffic along with lanes for pedestrians and bicyclists. It's officially called the Alfred Zampa Memorial Bridge, named for an ironworker who labored on several Bay Area bridges among them the original Carquinez Bridge as well as the Golden Gate Bridge. However, it could easily be called the International Bridge as its deck sections came from Japan; cable wire from Canada; cable bands from France; its suspender cables were fabricated in Missouri, its tower saddles in England and its steel caissons arrived from nearby Vallejo, California.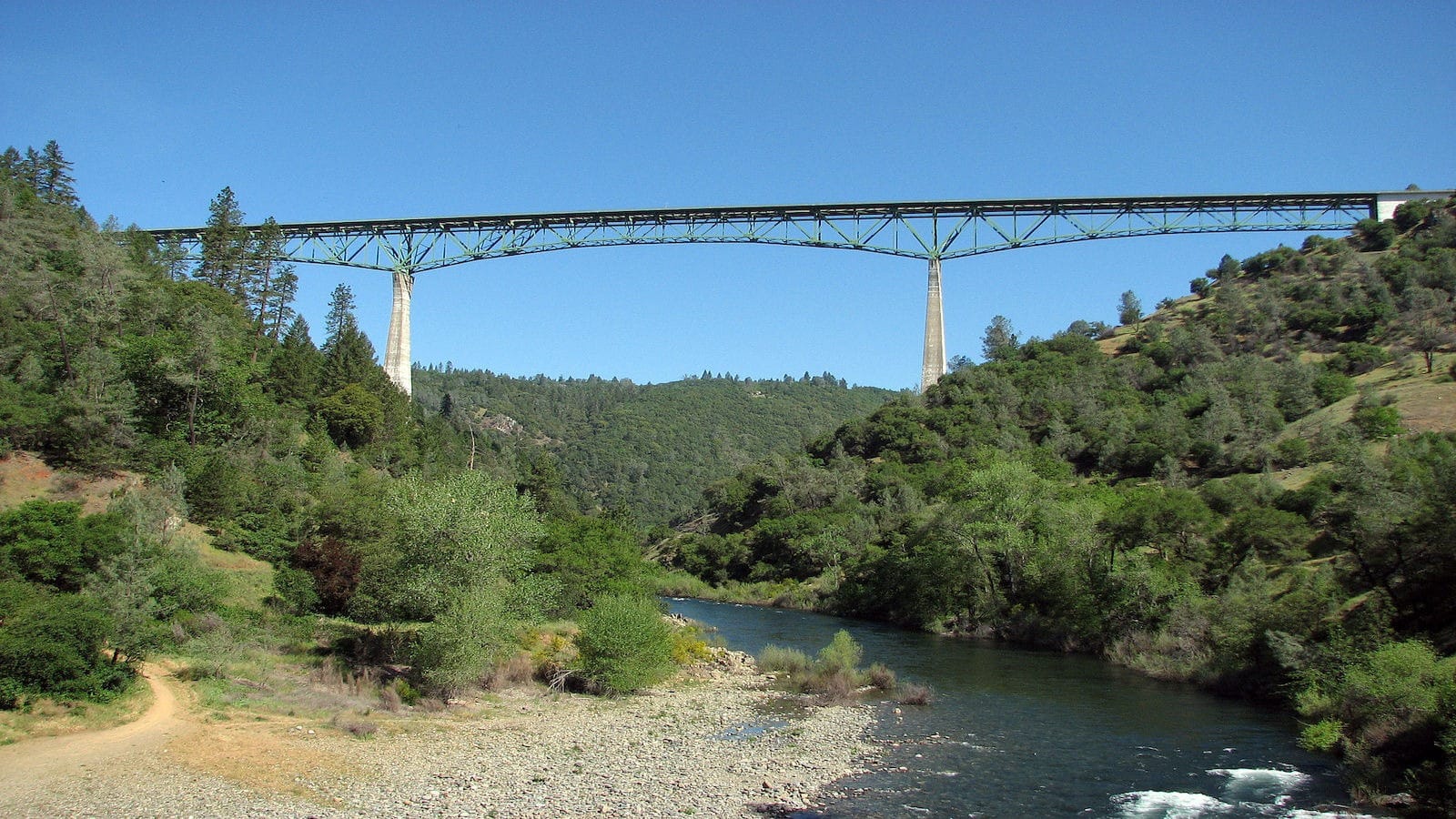 Length: 2,428' (.5 mi.)
Clearance Below: 730'
Height: 730'
Crosses: North Fork of American River
Completed: 1973
California's tallest bridge results in a tall — but true — tale. It's easy to see that this $73 million structure never should have been built. Yet, here it is. In the 1970s, there was serious talk that Auburn Dam — named because it's near the Northern California town of Auburn — was about to be constructed. At over 600-feet tall, it would be one of nation's tallest dams. So tall, that it would eventually flood out the river-level crossing of the North Fork of the American River. So a really tall bridge, costing $73 million, was built and with great fanfare it opened in 1973. Shortly thereafter, engineers discovered a nearby seismic fault that could, in their estimation, cause the big dam to rupture. And that's one reason the Auburn Dam was never built (Other reasons: Lack of funding, environmental opposition, etc.). So now there's a big bridge that people too often use to commit suicide, 94 of them have done so since the Foresthill Bridge opened; the latest being a husband and wife, in their 40s, who donned helmets before jumping, and took their dog with them (all three perished). Construction of the original bridge cost $13 million; it was fabricated by Japan's Kawasaki Industries and shipped across the Pacific to be assembled. It took a little over two years to complete. In 2011, a seismic retrofitting and repairing of the Foresthill Bridge began and took four years to complete. It cost nearly $75 million. The repairs included a fence eight-feet tall designed to prohibit suicides. Unfortunately, nine suicides have taken place since it was installed.
In the 2002 film XXX starring Vin Diesel, the Foresthill Bridge had a starring role. Diesel's character evades police in a stolen red Corvette, drives it off the 730-foot high bridge and, in mid-flight leaps from the car and pops a parachute then safely glides down to his companions on the North Fork of the American River. Besides being the highest bridge in California, it is supposedly the third tallest in the U.S. And at that height, people can do strange things like declare their undying love for one another. The pale green paint on the Foresthill Bridge is no exception. They have been etched with 50 years of, well, romantic intent. "NB + JW Forever," "Mike and Mary Always" and thousands of similar commitments that cast a lighter light on a structure where, too often, people use it to terminate their lives. If you're traveling I-80 and want to see Foresthill Bridge, take the Foresthill/Auburn Ravine Rd. exit and follow the signs to Foresthill, a historic gold mining village. Parking is available on both sides of the bridge. Check it out. Don't jump.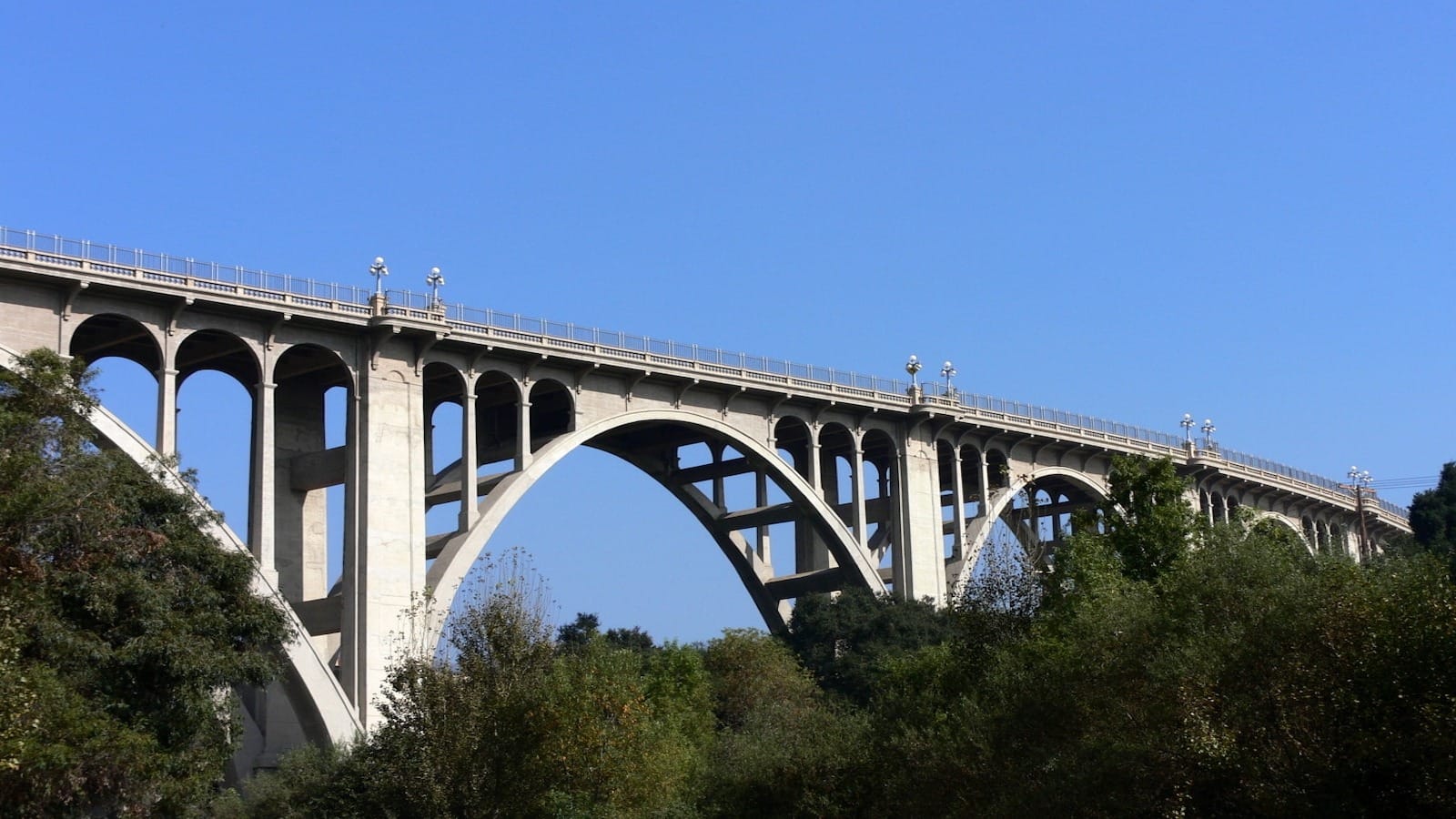 Length: 1,486' (.3 mi.)
Clearance Below: 144'
Connects: traffic between Pasadena and Los Angeles over the Arroyo Seco gorge
Completed: December, 1913
Architect: Waddell and Harrington of Missouri
At slightly more than a quarter mile long, Pasadena's Colorado Street Bridge isn't California's longest bridge, and at 144-feet it's certainly not the tallest. However, having opened in 1913, it's possibly the state's oldest. However, the graceful concrete arch bridge, designed by architects in Missouri, soon became known as "Suicide Bridge." Once opened, over a dozen people ended their lives by jumping — possibly led into that desperate act by the story of a worker who fell from the bridge and died after landing in wet concrete at the bridge's base. And as America entered the Great Depression, leaps from the bridge only increased. Another publicized suicide didn't help Colorado Street Bridge shake its gruesome nickname. In this case, a young mother threw her child off the bridge before she leaped. The result was the woman died on impact, but the infant landed softly in a tree and survived unharmed. Soon thereafter, the original railings were raised to eight-feet, yet the suicides continued. 
On the positive side, the Colorado Street Bridge was part of the original Route 66 until 1940 when the Arroyo Seco Freeway took away that designation, along with most of its traffic. Despite deferred maintenance also taking a toll, the bridge was listed on the National Register of Historic Places in 1981. But in 1989, the Loma Prieta Earthquake resulted in the bridge being closed until 1993. It was then that $27 million was put into retrofitting it, restoring its Beaux Arts details and reopening it. However, suicides continue to cloud the picture. Even though in the 2016 romantic musical La La Land, Emma Stone and Ryan Gosling took an evening stroll across the 109-year-old Colorado Street Bridge, its sides have 10-foot tall chain-link fences in an effort to contain suicides. Now locals now say the bridge is haunted.
Length: 984' (.2 mi.)
Bottom Clearance: 150-feet
Crosses: The Albion River in Mendocino County via California's State Highway 1
Completed: 1944
There's been a bridge over the Albion River since Civil War days, but it was always low to the water; reached only by taking treacherous grades down and up nearby bluffs. In 1944, a bridge 150-feet above the water was opened, but due to WWII scarcities it was built with salvaged wood with a second-hand steel center truss. Now, it's the only wooden trestle bridge remaining on California's State Highway 1. According to Caltrans, the second-hand wood has held up surprisingly well, however, the bridge's width and railing heights don't meet modern codes. But in 2010, when a replacement bridge of steel or concrete was proposed, it met with strong opposition from nearby residents who cherished their historic wooden bridge. They had such affection for it they registered it in state and national registers of historic landmarks, thus slowing the approval process considerably. It is now at least estimated it will be 2031 before a replacement bridge is completed.
Hold on. Supposedly 3,200 cars, buses and trucks pass over the Albion River Bridge every day; yet it doesn't meet modern codes. Of course it's safe, says Caltrans. It is merely "functionally obsolete," meaning it doesn't meet design standards in regard to shoulder width and bike and pedestrian lane sizes, etc. If it were deemed unsafe, the state would require that a replacement bridge be constructed. And that appears to be sometime in the future, in the distant future.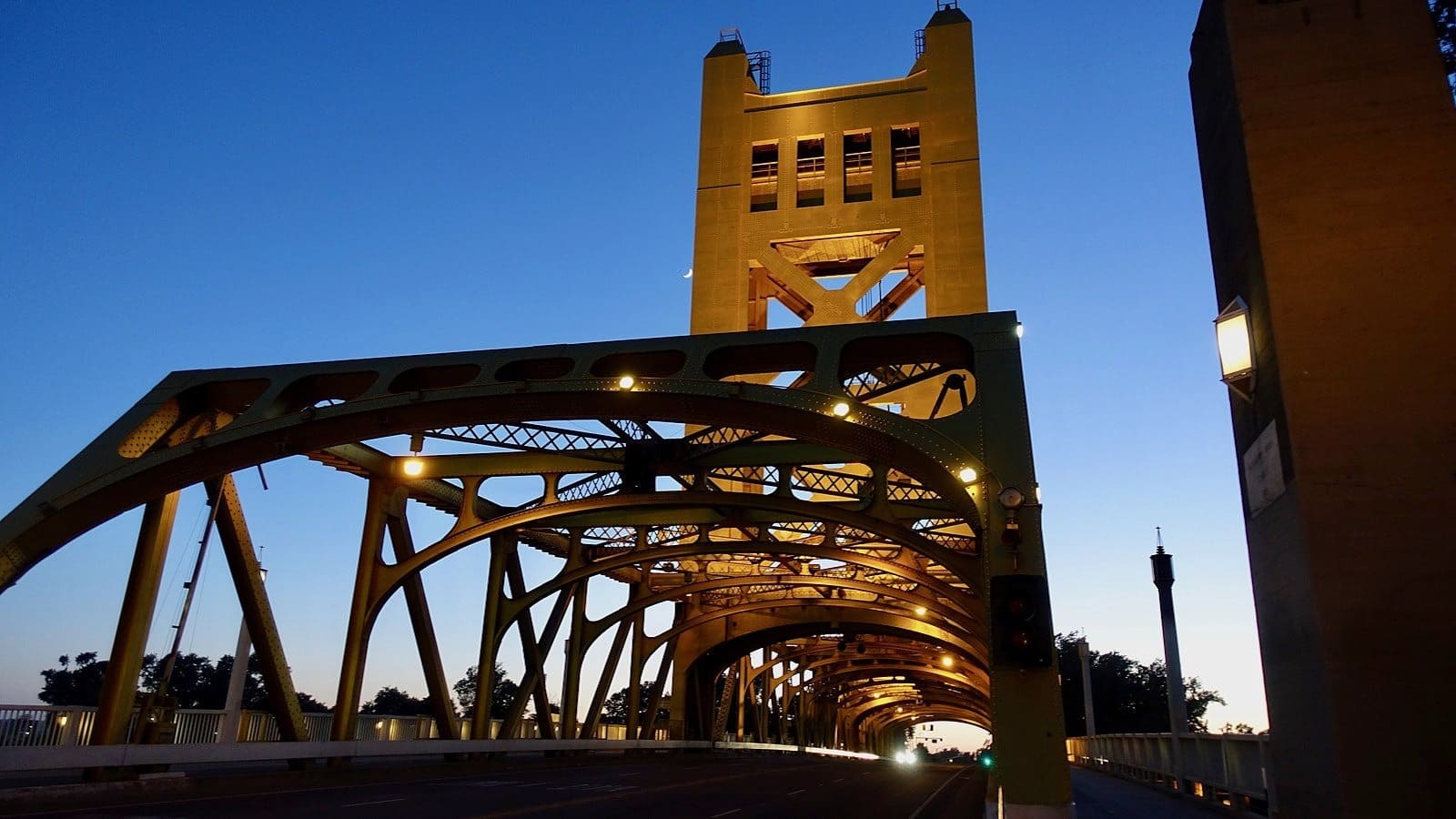 Length: 737' (.14 mi.)
Clearance Below: 98'
Height: 161'
Connects: Yolo County with the state capital over the Sacramento River
Completed: December, 1935
Architect: Alfred Eichler
Mention Tower Bridge to a bridge aficionado and immediately London's iconic Tower Bridge will come to mind. That's OK. They're both, in a way; vertical lift bridges and they have rather similar appearances. But the London bridge (it's not the London Bridge) is 50 years older and more ornate than Sacramento's Tower Bridge. However, seeing that it was built in the art deco-mad mid-1930s, and its architecture style is called Streamlined Moderne, Sacramento's Tower Bridge has its share of embellishments. And it's easily spotted approaching California's state capital. Sacramento's Tower Bridge opened on December 15, 1935, with Governor Frank Merriam releasing 1,000 white doves to spread the news. Originally, it had a large middle lane for trains to pass across, but in 1963 rail was eliminated and now only cars, bikes and pedestrians cross on it. 
Also of note: The span that's lifted when ships approach, weighs over 1,000 tons. However, thanks to an equal amount of counter weights hidden in each of the towers, two measly 100-horsepower electric motors appear to do all of the, well, heavy lifting. Then there's the matter of the Tower Bridge's color. For years it was painted silver — and locals complained it was too glaring. Then in 1976, it was painted gold — and locals complained it faded fast and looked blah. So in 2001, a vote was taken: Should Tower Bridge be painted gold and green; gold and silver; gold and burgundy; or all gold. All gold won — and locals complained it wasn't as gold looking as it was promised to be. But the paint job was guaranteed for 30 years; so it won't be repainted until 2032. Stay tuned.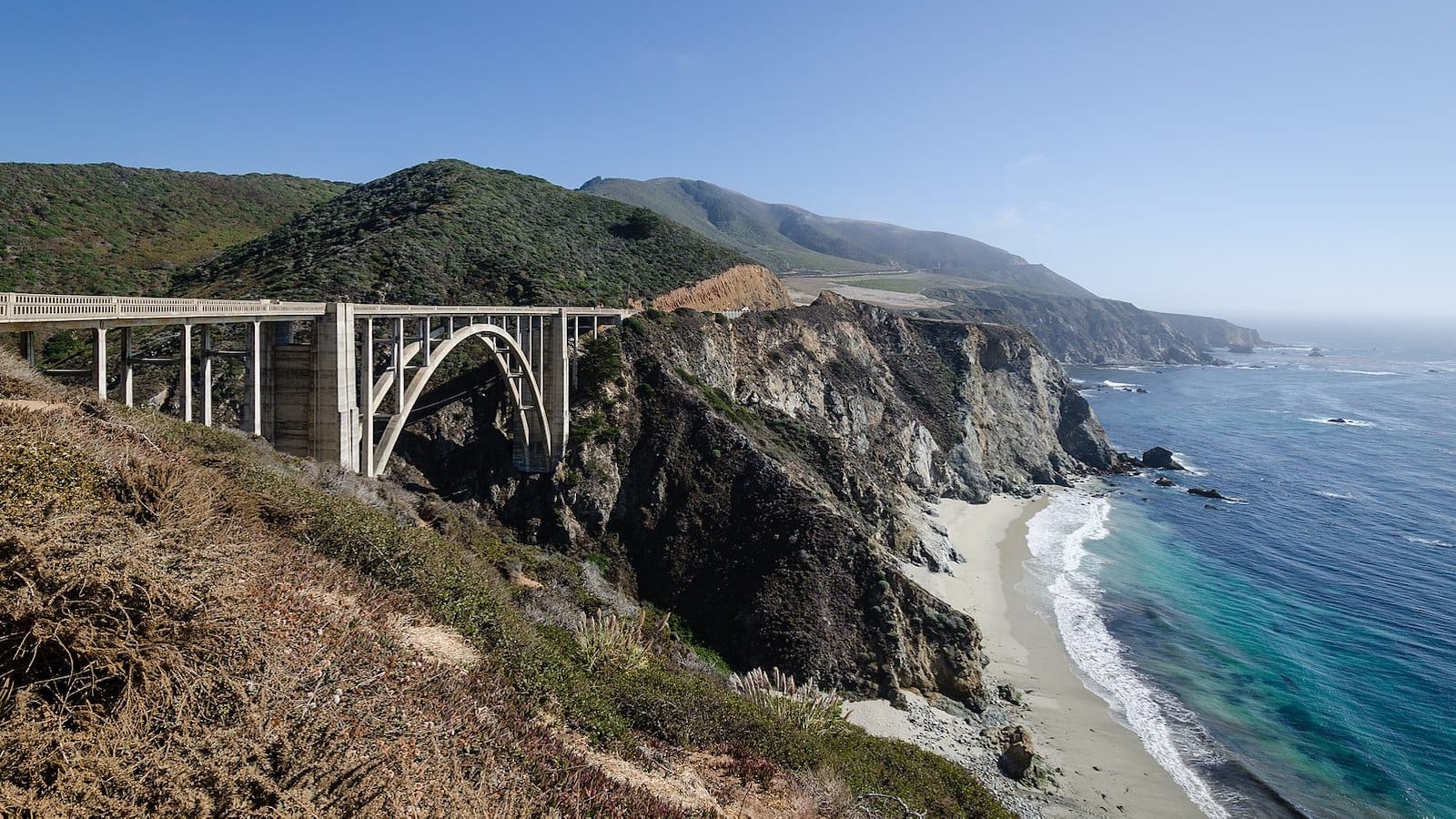 Length: 714' (.14 mi.)
Clearance Below 260'
Connects: Carmel with Big Sur over Bixby Creek gorge
Completed: November, 1932
Designer: F. W. Panhorst
Before the Bixby Creek Bridge was built, people wanting to reach Big Sur had to go 11-miles inland to cross Bixby Creek, and then trek back 11-miles to the coast. In 1919, work started on the rugged and scenic 100-mile stretch of State Highway 1 between Carmel and Cambria. It was easy to see many bridges would be need, the largest being at Bixby Creek. Construction started on it in August of 1931 and finished in November of 1932; the cost was less than $200,000, about $3.5 million in today's dollars. In 1966, First Lady Lady Bird Johnson, in ceremonies at Bixby Creek Bridge, dedicated this section of State Highway 1 as a Scenic Highway, California's first such designation.
Due to its graceful architecture, Bixby Creek Bridge is one of California's most frequently photographed bridges. The bad news is that visitors often back up traffic. Adding to the congestion, the bridge is only 24-feet wide, where modern codes call for at least 32-feet of width. So it has no pedestrian or bicycle lanes; still visitors often walk across it. And in 2019, the travel website TravelpPulse named it "The World's Most Instagram-Worthy Destination." The Bixby Creek Bridge is on a postage stamp, was featured in the video game Grand Theft Auto and in the opening credits of cable TV's Big Little Lies. Over time, the bridge has been favored by BASE (Buildings, Antennas, Spans-bridges and Earth-cliffs). In 2016, two such jumpers wearing helmets equipped with tiny cameras made a successful leap, but perished when strong surf engulfed them. Three days went by before a body was found.
Length: 101'
Crosses: Oregon Creek in Yuba County
Completed: Sometime between 1860 and 1871
Builder: Tom Freeman
Many think covered bridges are only in New England; maybe Madison County. Don't buy it. Drive north on State Route 49 out of Auburn and three miles past North San Juan you'll find the Oregon Creek Bridge. And it's covered. It was rehabbed in 2018 and, though only 12-feet wide, you can drive over it provided your vehicle weighs less than five tons. The bridge is often referred to as Freeman's Crossing as Tom Freeman built it — or built them —s ometime between 1860 and 1871. Tom's first bridge washed out in a storm, requiring a second effort that lasted until 1882. That's when an up-the-creek dam collapsed sending a cascade of water that again tore the bridge off its footing. Only this time the water twisted and turned the bridge around and sent it 50 yards down Oregon Creek. When logging crews hauled it back, they somehow goofed by putting the west end on the east side abutment and vice versa. And that's how it sits today, 120 years later.
The 16" x 16" hand-hewn Ponderosa pine support beams look as solid today as they did the day they were fit into place. However, 50-years ago the existing shake roof was replaced with corrugated tin in order to stand up to winter's heavy snow loads. In 1910, ownership of the Oregon Creek Bridge was acquired by Yuba County and they maintained it today. In 1975, it was listed on the National Register of Historic Places, as well it should be.
Length: 700' (.14 mi.)
Clearance Below: 26'
Crosses: Sacramento River in Redding
Completed: July 4, 2004
Architect: Santiago Calatrava
The Sundial Bridge is in Redding's Turtle Bay Exploration Park, which also contains environmental, art and history museums. In engineering terms, it's a cantilever spar cable-stayed bridge; in everyday talk, it's an attraction worth seeing (among projects worldwide, Calatrava designed the Oculus, the massive replacement for the transit hub destroyed on 9/11). The support tower is a 217-foot mast that points due north, possibly making Sundial Bridge "The World's Largest Sundial." The tower's shadow is cast upon a large dial where its tip can be seen to move about one foot every minute, demonstrating the Earth's rotation to bystanders. The bridge itself is 700-feet long, its deck is translucent (it glows aquamarine at night) and transports pedestrians and bicycles crosses the Sacramento River without touching the water. The less-than-positive news is that, in the 1990s, Redding budgeted $3 million for a pedestrian bridge to cross the river. In the end, the Sundial Bridge opened on July 4, 2004, three years later than was originally planned. And its final cost was almost $24 million. Much of the delay was caused by residents who wanted a more "folksy bridge," possibly a "covered bridge." As for the cost overruns? Reportedly the Redding-based McConnell Family Foundation met them.
More Activities in Northern California