Disney fans from around the globe converged at the Anaheim Convention Center Sep. 9-11 for Disney's 2022 D23 Expo, a star-studded weekend of entertainment, panels, and major announcements from the Walt Disney Company. On Sept. 11, During one of the most highly anticipated of the weekend's panels, Disney Parks, Experiences and Products Chairman Josh D'Amaro shared a closer look at what's headed to Disney theme parks and resorts in the coming years. And while there was plenty to discuss for Disney theme parks around the world, the Disneyland Resort came out way ahead with so much to look forward to in the coming weeks, months and years. Here's a recap of all that's on the horizon at Disneyland to help you plan your next visit.
Featured Photo: Courtesy of Disney
Disneyland Will Be the Hub for Disney's 100th Anniversary Celebration
The Walt Disney Company will kick off its 100th anniversary celebration, "Disney 100 Years of Wonder," (Disney100) in 2023 with festivities happening around the globe.
"Each of our destinations around the world — on land and at sea will showcase the anniversary in their own way," D'Amaro said, but noted that Disneyland, Disney's original theme park, will anchor the 100th anniversary celebration, with special events kicking off in late January 2023.
"The heart of this entire celebration will be right here in California at Disneyland," D'Amaro said.
Avengers Campus Will Expand Into the Multiverse With a New Ride and New Villain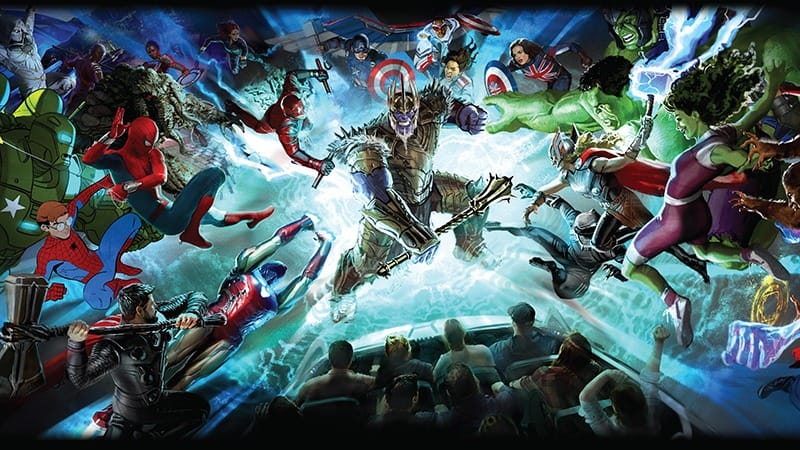 Marvel Studios President Kevin Feige joined D'Amaro on stage to share more details following an announcement by Disney CEO Bob Chapek during the Disney Legends panel that a third attraction is coming to Avengers Campus at Disney California Adventure Park. The new ride finds guests teaming up with their heroes in an epic battle.
"You're gonna be able to battle alongside all the Avengers against all the foes from anywhere, from every when that you can possibly imagine," Feige said. 
The ride will also introduce a new Thanos variant, "King Thanos," a character "coming into the MCU via this attraction," Feige said. "This is the Thanos that won."
While no timeline was given for the new ride, Feige and D'Amaro did announce that a new experience would be coming to Avengers Campus this week. A massive walking, talking Hulk took the stage as it was announced the character would begin meeting guests at Avengers Campus this week for a limited time.
A Mandalorian and Baby Yoda Encounter Is Coming to Star Wars: Galaxy's Edge
Mandalorian executive producer and Disney Legend Jon Favreau stopped by to give fans a first look at two characters headed to Star Wars: Galaxy's Edge at Disneyland Park. Beginning in mid-November, guests will finally get their chance to "cross paths" with Din Djarin and "The Child," Grogu.
Favreau called the costume design and development of the characters a "real labor of love" and stressed how meticulously the costume designers worked to get every detail right.
'Magic Happens' Is Finally Returning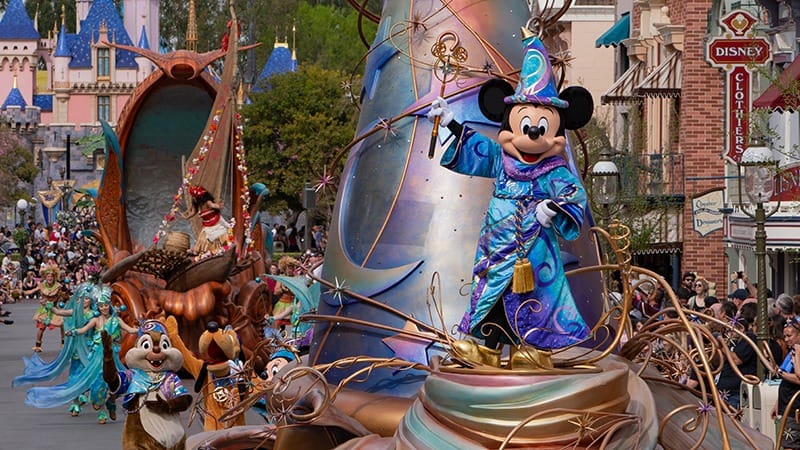 Disneyland debuted an exceptional new parade, "Magic Happens," on Feb. 27, 2020 at Disneyland Park. The park's first new daytime parade in nearly a decade was enthusiastically received by the lucky few who got to see it before the park's pandemic-induced closure. Fans have been calling for its return ever since and it was finally confirmed to return in spring 2023. 
Disneyland Resort Will Debut New Nighttime Spectaculars at Both Theme Parks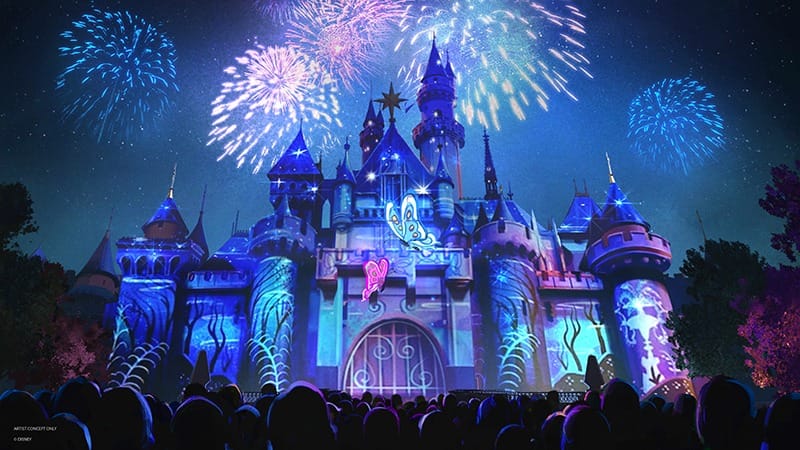 As part of the Disney100 celebration, both of Disneyland's theme parks will launch new nighttime spectaculars. At Disneyland Park, "Wondrous Journeys" will feature fireworks, projections, and nods to all 60 Walt Disney Animation Studios films to date. 
At Disney California Adventure, a new version of the park's fountain and project show, "World of Color — One" will celebrate Disney's storytelling legacy.
Both new shows will debut in late January 2023.
Disney California Adventure's Pacific Wharf Will Be Reimagined as San Fransokyo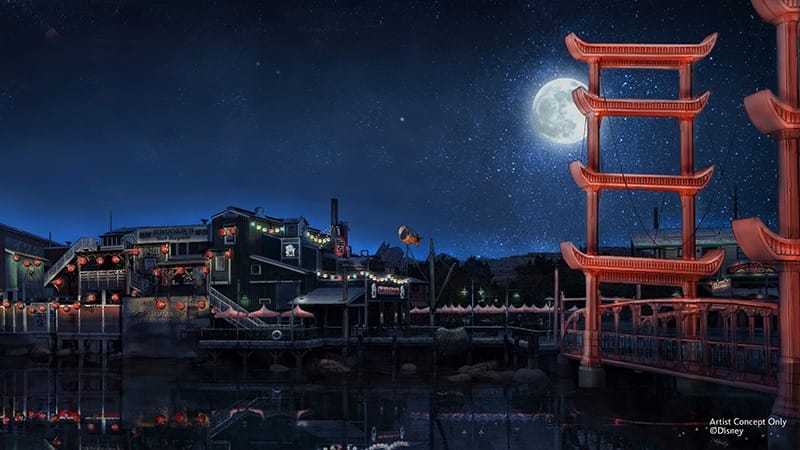 The Pacific Wharf area of Disney California Adventure is getting an East-meets-West retheming to the fictional San Fransokyo from the animated film "Big Hero 6." The area will have shops, restaurants and a meet-and-greet with Baymax.
Work Progresses on Mickey's Toontown and Mickey & Minnie's Runaway Railway
Mickey's Toontown at Disneyland Park is undergoing an elaborate reimagining and will reopen in early 2023 with a new ride — Mickey & Minnie's Runaway Railway. During D23 Expo, models and concept art for the updated land and new ride were showcased in the Wonderful World of Dreams pavilion. 
A Closer Look at Tiana's Bayou Adventure
In 2020, Disney announced that classic attraction Splash Mountain would be reimagined at both Disneyland and Walt Disney World as a Princess and the Frog-themed ride. During the presentation, Imagineers Carmen Smith, Charita Carter and Ted Robledo joined D'Amaro to share more details about the new ride, Tiana's Bayou Adventure.
So the ride's backstory goes, Tiana has become an entrepreneur and community leader and to celebrate Carnival season, she's hosting a party for the people of New Orleans. But, she's missing a special ingredient and she needs help finding it so she takes guests with her and Louis down the bayou on a magic adventure. Four of the original voice actors from The Princess and the Frog, Anika Noni Rose, Jenifer Lewis, Michael Leon Wooley and Bruno Campos, will reprise their roles for the new ride, which will open in late 2024.
Introducing The Pixar Place Hotel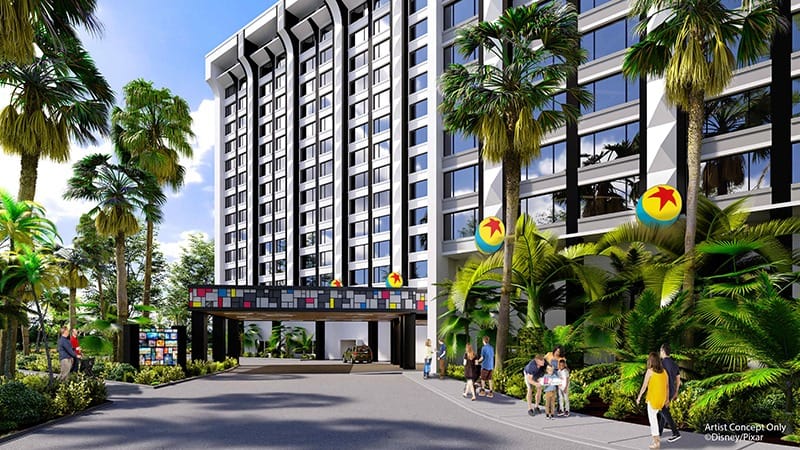 It was previously announced that Disney's Paradise Pier Hotel would be getting a major overhaul and a Pixar retheming. Now we know the hotel's new name, "The Pixar Place Hotel," and some additional details. The hotel is getting a "Finding Nemo" splash pad and SoCal restaurant Great Maple will be opening a flagship restaurant in the hotel and will operate additional food and beverage locations on the property as well.
"You're going to feel like you walked right into a Pixar art gallery where you'll see new interpretations of favorite characters," D'Amaro said.
A New Outpost of the Popular Porto's Bakery & Café Is Coming to the Downtown Disney District
Disney has announced plans to introduce more than a dozen new and reimagined locations, including hugely popular Din Tai Fung restaurant, to the Downtown Disney District, Disneyland's shopping, dining and entertainment complex. D'Amaro added another newcomer to the list with the announcement that Southern California favorite, Porto's Bakery & Café, would be opening a new location for its pastries, desserts and California-Cuban-inspired dishes.
runDisney Races Are Headed Back to Disneyland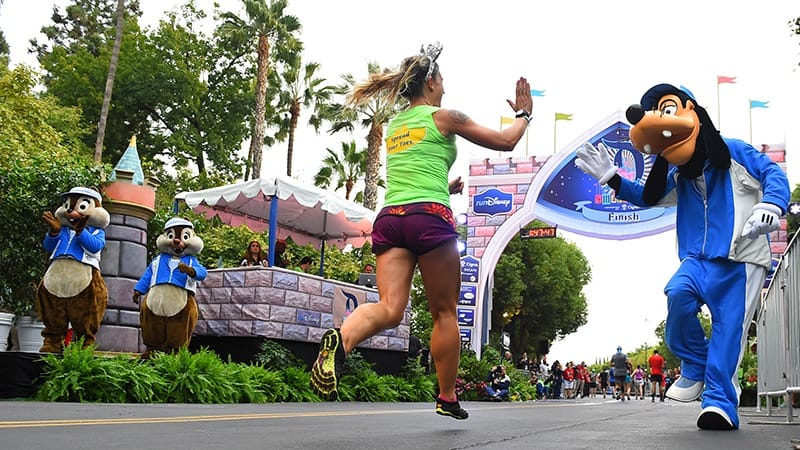 runDisney has a robust annual race program at Walt Disney World with four action-packed race weekends a year. Races have been on hiatus at Disneyland since before the pandemic, so West Coast runners were thrilled to hear D'Amaro announce that runDisney would finally be coming back to Disneyland in 2024.