Celebrate the spring season, California-style, with a delicious brunch inspired by the bounty of ingredients sourced from California growers and producers. From local farm produce, to small batch heritage grains, to an organic craft spirit, this fresh and wholesome menu will launch you and your guests into the day and new season.
Photos by Lynda Balslev.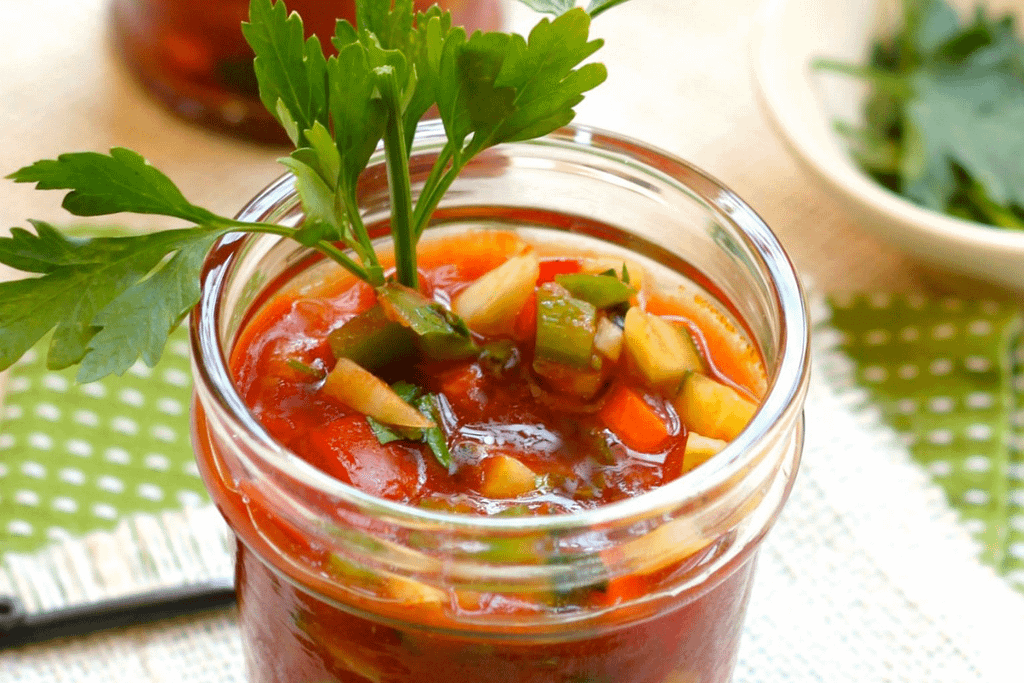 Grab your morning mocktail (or cocktail if that's how you roll) and dig in with a spoon. This crunchy rendition of a Bloody Mary is prepared gazpacho-style with a cornucopia of chopped vegetables swimming in tomato juice, which is spiced and spiked with all the fixings of a traditional Bloody Mary. Keep it virgin or add a splash of vodka, such as Hanson of Sonoma Organic Vodka, to tip it into the adult-beverage category. Hanson of Sonoma is a family-owned distillery in Northern California's Wine Country, where they produce handcrafted vodka from organic grapes, infused with whole organic ingredients. hansonofsonoma.com
Serves 6 to 8
4 cups tomato juice
2 vine-ripened tomatoes, cored and seeded, finely diced
2 celery stalks, finely diced
1 English cucumber, seeds removed, finely diced
1 jalapeño pepper, stemmed and seeded, minced
1/2 medium red onion, finely chopped
1/4 cup fresh lime juice
2 teaspoons Worcestershire sauce, or to taste
2 teaspoons prepared horseradish
1 1/2 teaspoons kosher salt, or to taste
1 teaspoon Tabasco sauce
1/2 teaspoon freshly ground black pepper
2 tablespoons finely chopped Italian parsley leaves
Vodka
Garnishes:
Parsley sprigs or celery stalks
Lime wedges
Combine all the ingredients, except the vodka, in a large bowl. Stir to blend, then taste for seasoning. Cover and refrigerate for at least 3 hours to chill and allow the flavors develop.
Before serving, stir in the vodka if using. For each 1 cup (8 ounces) of gazpacho, add 1/2 ounce vodka (or to taste). Serve garnished with parsley sprigs or celery sticks and lime wedges for squeezing.
Springtime in California yields new leafy greens and baby root vegetables, such as beets, carrots, and turnips at the farmers markets. Full Belly Farm is a 400-acre certified organic farm located in the Capay Valley north of Sacramento, where they grow and market over 80 different crops and sell at markets within a 120-mile radius. In the spring, their bounty includes a rainbow of beets, carrots, turnips, and spinach. When prepping these vegetables, it may be tempting to chop off the stalks and discard the pile of greens left behind with the trimmings, but don't do that. These greens are nutrient-rich and delicious on their own, sautéed in olive oil, blitzed into pestos, and baked in egg dishes, such as this frittata.
This recipe has just enough egg to bind the greens. If you prefer an eggier dish, feel free to add 2 more eggs and 1 additional tablespoon of half and half. fullbellyfarm.com

Serves 4 to 6
16 ounces tender greens, such as spinach or beet, turnip, and carrot greens
4 large eggs, room temperature
2 tablespoons half and half
1/2 cup (packed) finely grated Pecorino Romano cheese, divided
1/4 cup Panko (Japanese breadcrumbs)
1 tablespoon olive oil
1 small yellow onion, chopped
2 garlic cloves, minced or pushed through a press
1/4 teaspoon red chili flakes
1/2 teaspoon kosher salt
1/4 teaspoon freshly ground black pepper
Heat the oven to 350°F.
Wash the greens. Remove any tough stems or ribs from the hardier greens.
Heat the oil in a 10-inch oven-proof skillet over medium heat. In batches, add the greens and sauté just until they wilt. Transfer to a colander, pressing down to release any excess liquid. Repeat with the remaining greens.
Whisk the eggs and half and half in a bowl, then stir in half of the cheese. In a separate bowl, mix the remaining cheese and breadcrumbs and set aside.
Add 1 tablespoon oil to the same skillet. Add the onions and sauté over medium heat until translucent without coloring, 2 to 3 minutes. Add the garlic and chili flakes and sauté until fragrant, about 30 seconds. Stir in the greens and season with the salt and black pepper.
Remove the skillet from the heat. Pour the eggs over the greens, gently nudging the greens around to evenly distribute the eggs. Sprinkle the breadcrumbs evenly over the frittata.
Transfer the skillet to the oven and bake until the eggs are set, and the top of the frittata is golden brown in spots, about 25 minutes. Remove and let stand for at least 5 minutes. Serve warm or at room temperature.
Asparagus and Quinoa Salad with Egg Mimosa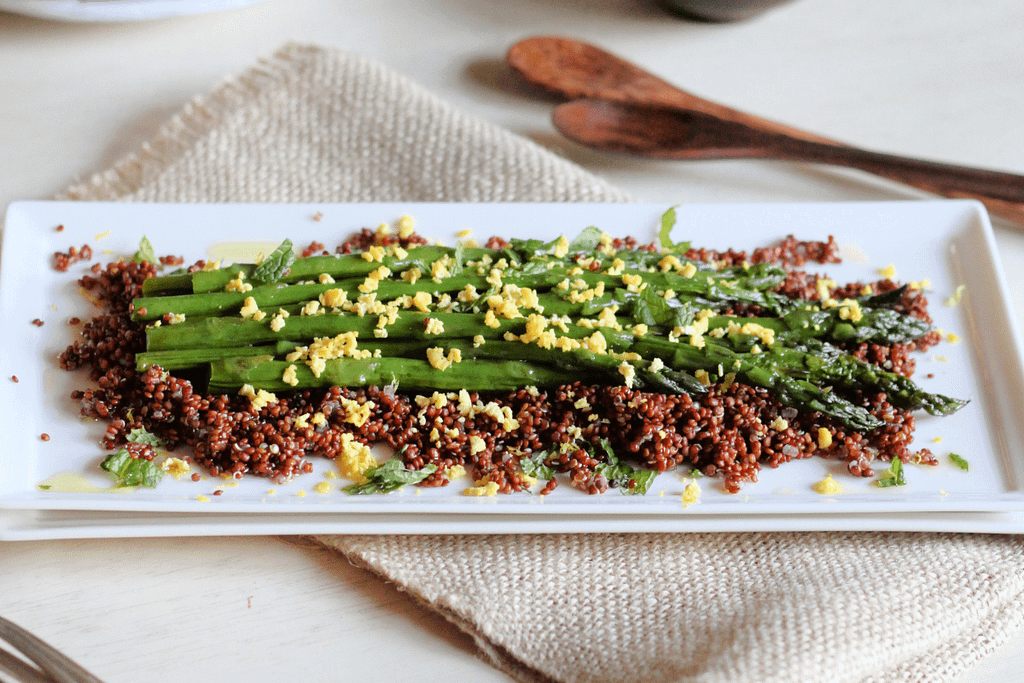 Spring is synonymous with asparagus when the plant roots send up their spears through the soil. California farmers specialize in growing this crop, such as Durst Organic Growers, who pick and pack them by hand at their farm in the Yolo Valley, northeast of Sacramento.
This asparagus and quinoa salad is crowned with egg mimosa. Not to be confused by the popular champagne and orange juice cocktail, mimosa is the French culinary term for finely grated hard-cooked eggs yolks, which is aptly named after the canary-yellow mimosa flowers which bloom in France in the early spring. durstorganicgrowers.com
Serves 4 to 6
1 1/2 cups red or tri-color quinoa
Extra-virgin olive oil
Kosher salt
1/2 teaspoon finely grated lemon zest, plus more for garnish
1/4 teaspoon freshly ground black pepper
2 tablespoon chopped fresh mint, plus more for garnish
1 tablespoon chopped fresh chives, plus more for garnish
1 pound thin asparagus, woody ends trimmed
2 large hard-boiled eggs
Sea salt flakes
Rinse the quinoa under cold water. Place in a large saucepan with 3 cups water. Bring to a boil and simmer until the quinoa grains are tender and release their white tail (germ), 12 to 15 minutes. Drain the quinoa, then transfer to a bowl. Stir in 1 tablespoon oil, 1/2 teaspoon salt, the lemon zest, and black pepper. Taste for seasoning and add more salt if desired. Cool to room temperature, then stir in the mint and chives.
Heat the oven broiler. Arrange the asparagus in one layer on a rimmed baking tray. Drizzle with olive oil and lightly season with salt, turning the asparagus to coat. Broil on the top shelf until the asparagus are bright green and crisp tender, about 2 minutes, shaking the pan once or twice. Remove and cool slightly.
Spread the quinoa on a serving platter. Arrange the asparagus over the quinoa. Press the egg yolks through a sieve with medium-sized holes over the asparagus. Garnish with sea salt flakes, lemon zest, and additional mint and chives. Serve slightly warm or at room temperature.
Early spring heralds the strawberry season in California, where growers, such as JSM Organics in Monterey County, grow these juicy red berries organically, respectfully allowing Mother Nature to do her work.
This simple cake celebrates the strawberry, allowing it to shine in a gently sweetened and uncomplicated cake. It's a guaranteed people pleaser, meant to be enjoyed for breakfast, brunch, and tea, generously studded with more berries than you know what to do with; actually, that's not accurate — we all know what to do with fresh strawberries. Just be sure to save some to make this cake. jsmorganics.com
Serves 6 to 8
1 1/2 cups all-purpose flour
1/2 teaspoon baking powder
1/2 teaspoon baking soda
1/2 teaspoon kosher salt
6 tablespoons unsalted butter, softened
3/4 cup plus 1 tablespoon granulated sugar
1 large egg, room temperature
1/2 cup buttermilk
1 teaspoon vanilla extract
1 teaspoon finely grated lemon zest, plus more for garnish
1 pound strawberries, halved (or quartered if very large)
Heat the oven to 350°F. Butter a 9-inch pie dish or tart pan.
Whisk the flour, baking powder, baking soda, and salt in a bowl.
3. Combine the butter and the 3/4 cup sugar in a stand mixer fitted with a paddle attachment. Beat on medium-high speed until light and fluffy, about 3 minutes. Add the egg, buttermilk, vanilla, and 1 teaspoon lemon zest and mix on medium speed. Add the dry ingredients and mix to combine without over-mixing.
4. Spread the batter in the prepared dish. Arrange the strawberries, cut-sides down, on top of the batter, gently pressing to partially submerge. Squeeze in as many strawberries as possible — it's okay to be greedy. Sprinkle the top of the cake with the 1 tablespoon sugar.
Bake in the oven until the top of the cake is light golden and a toothpick inserted in the center of the cake comes clean, 50 to 60 minutes. Transfer to a wire rack to cool. Garnish with lemon zest and serve slightly warm or at room temperature with whipped cream, if desired.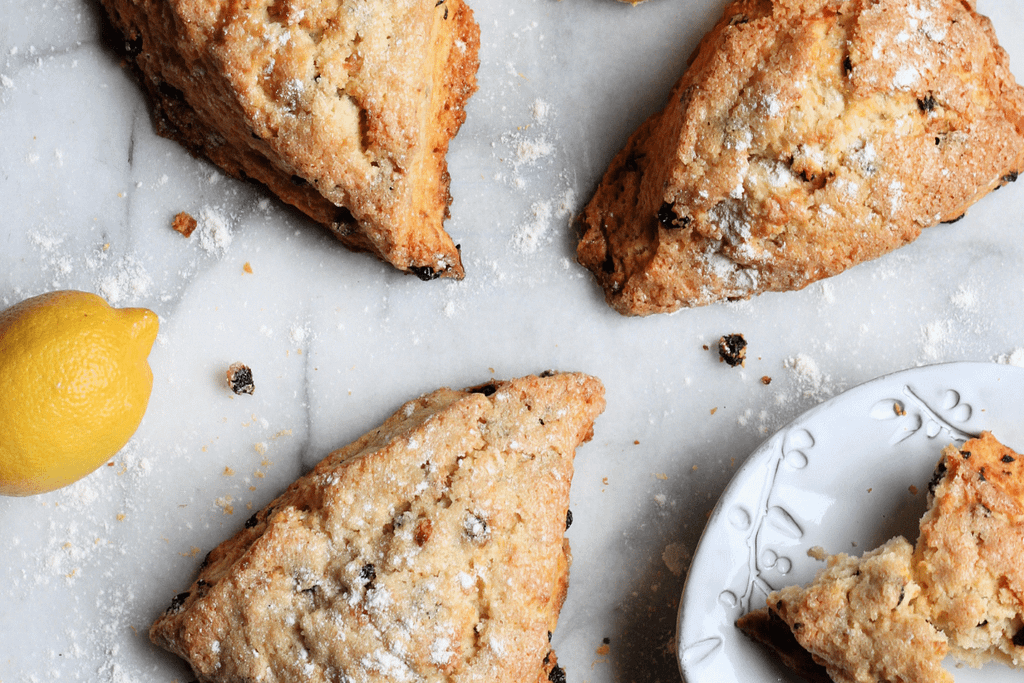 Currant Scones
"Farm to Table" takes on a new meaning with California stone mills. Capay Mills in Esparto, California is a community-serving stone mill connecting farmers, bakers, and chefs with fresh-milled, locally grown, small batch heritage grains in Northern California and beyond. Incorporate their locally sourced flour in your baked goods, and then you might call it "Farm to Flour to Table."
In addition to choosing quality ingredients, the technique to making these scones is very specific: the ingredients should be as cold as possible. For do-ahead prep, the scones can be formed and cut, then frozen in advance of baking. Simply pop them into zip-lock bags and freeze for up to 1 month. The morning of serving, remove the scones from the freezer and bake them frozen, adding an additional 5 minutes or so for baking to compensate for their chilliness. Recipe adapted from Cooks Illustrated. capaymills.com
Makes 8
2 cups all-purpose flour
1/2 cup granulated sugar
2 teaspoons baking powder
1 teaspoon finely grated lemon zest
1/2 teaspoon salt
1/4 teaspoon baking soda
1/2 cup whole milk
1/2 cup sour cream
1/2 cup (8 tablespoons) frozen butter, plus 2 tablespoons melted butter for brushing
1/2 cup dried currants
Turbinado sugar for sprinkling
Preheat the oven to 400°F.
Combine the flour, sugar, baking powder, lemon zest, salt, and baking soda in a medium bowl and stir to blend.
Whisk the milk and sour cream in a separate bowl and refrigerate while you grate the butter.
Coarsely grate the frozen butter and place in a bowl. Freeze for 5 minutes and then add the butter to the flour mixture. Quickly mix with the tips of your fingers to combine. Pour in the milk and stir until just combined.
Transfer the mixture to a floured work surface and knead several times until the dough holds together in a ragged ball. Roll the dough out into a 12-inch square, adding a little flour as needed. Fold the dough 3 ways into a rectangle, like a business letter, using a metal spatula to lift the dough from the surface as necessary. Fold the short ends of the dough into the center, overlapping, so you have an approximate 4-inch square. Freeze the dough for 5 minutes.
Roll the dough out again on a floured surface into a 12-inch square. Sprinkle the currants over the dough, lightly pressing them in to adhere. Roll the dough up into a tight log, then press into a 12 by 4-inch rectangle. Cut the rectangle into 4 equal sections and then cut each section on the diagonal to form 8 triangles.
If freezing, place the triangles in one layer in a large zip-lock bag, press the air out, and freeze for up to 1 month. When ready to bake, remove from the freezer and proceed with the next step.
8. Transfer the triangles to a parchment-lined baking sheet. Brush the tops with the melted butter and sprinkle with the turbinado sugar. Bake on the middle rack of the oven until the tops and bottoms are golden, about 20 minutes (or 25 to 27 minutes if frozen).
More Activities in Northern California