As any parent can tell you, when you're traveling with kids, getting there is (and better be) at least half of the fun. Fortunately, here in Northern California, we've elevated unusual and entertaining modes of transportation to an art form. On an average day, you can ride a cable car halfway to the stars, take a gondola to a high-altitude swimming pool, drive a talking car, and cruise a lake on an old-fashioned steam paddlewheeler. Here are some of my favorite ways to sightsee San Francisco when the getaway needs to be equal parts journey and destination.
Featured Photo: Daniel Abadia via Unsplash
Hop on a Vintage Streetcar
While Muni's extensive web of buses and trolleys will take you pretty much anywhere in the city, its historic Muni F-line is an experience unto itself. Made up of a fleet of lovingly restored vintage streetcars that hail from all around the world — Zurich to Melbourne, Milan to Philly — each car still bears the markings and design details of its native city. Adults have to pay $3, but all riders under 19 now ride free. You can ride one up and down Market Street and all the way to Fisherman's Wharf, getting a city tour and a rolling lesson in mass-transit history along the way.
My personal favorite, "The Boat," is a 1934 open-air car built for seaside resort service in Blackpool, England, that Muni brings out on sunny days. It's hands-down the most fun — and the best bargain — you'll find on public transportation this side of the Mississippi. streetcar.org
Cruise the Hills on a Cable Car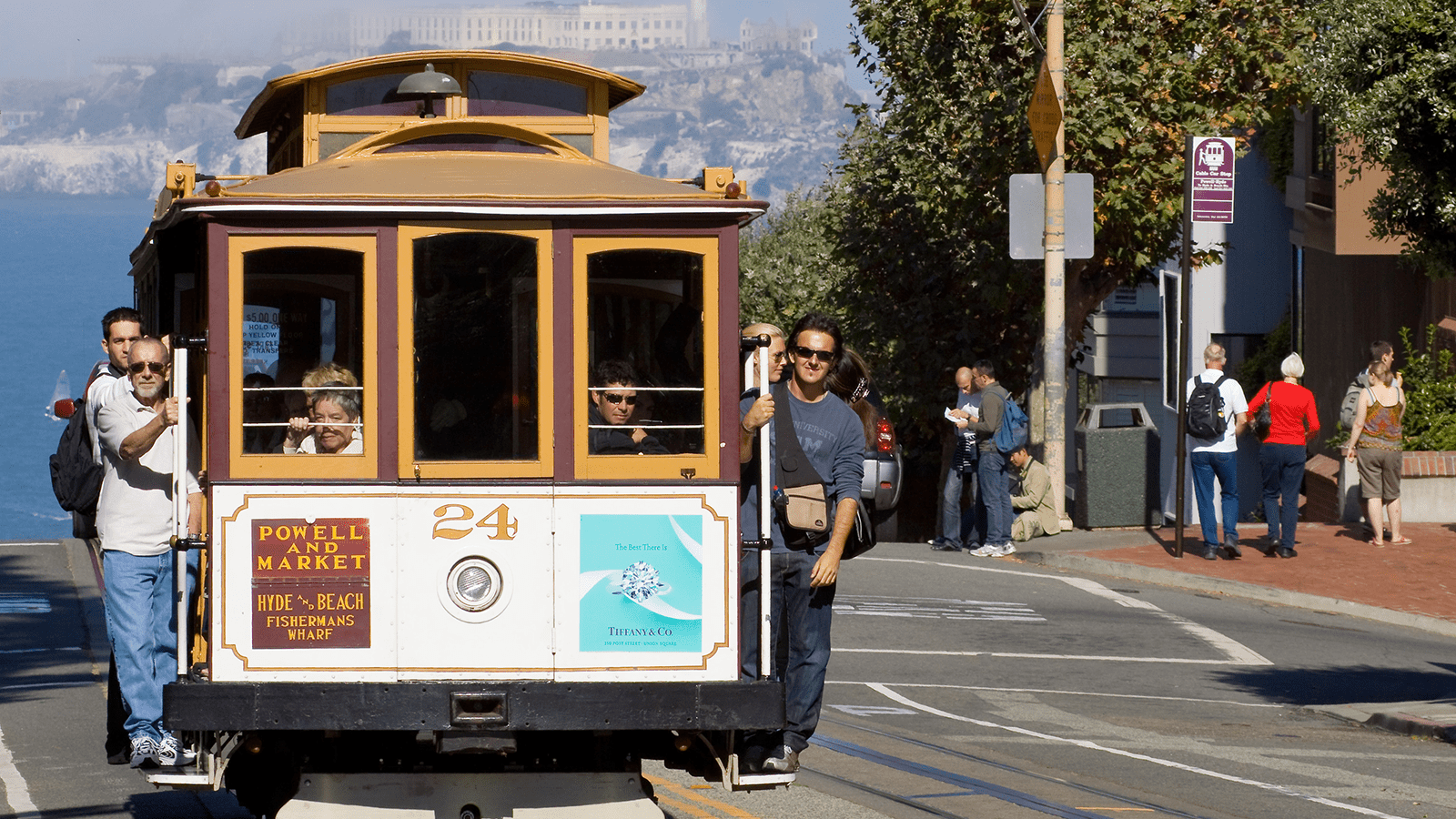 Okay, it's a cliché, but you gotta ask yourself — when was the last time you rode a cable car? The little trollies that toddle up San Francisco's steep slopes are not only America's only moving National Historical Landmarks, they're by far the most entertaining way to get from downtown to Fisherman's Wharf.
Invented in 1873 by Scotsman Andrew Hallidie, cable cars were an ingenious solution to scaling San Francisco's formidable hills. They work via a motorless underground cable-grip system — essentially getting pulled up by a cable that is continuously wound and unwound around enormous wheels.
For $8 per rider (sorry, no discount for kids 5 and older), start out at the Powell Street terminus and for extra thrills, hang off the running boards, Doris Day-style, until you reach Washington and Mason streets. Hop off for a pit stop at the Cable Car Museum – with free admission — where you can see Hallidie's original 1873 trolley, along with the powerful turbines that keep the cars humming along at a steady 9.5 mph. Then get back on and hang tight for the rollercoaster descent into Fisherman's Wharf. sfmta.com
Check it out Go-Kart Style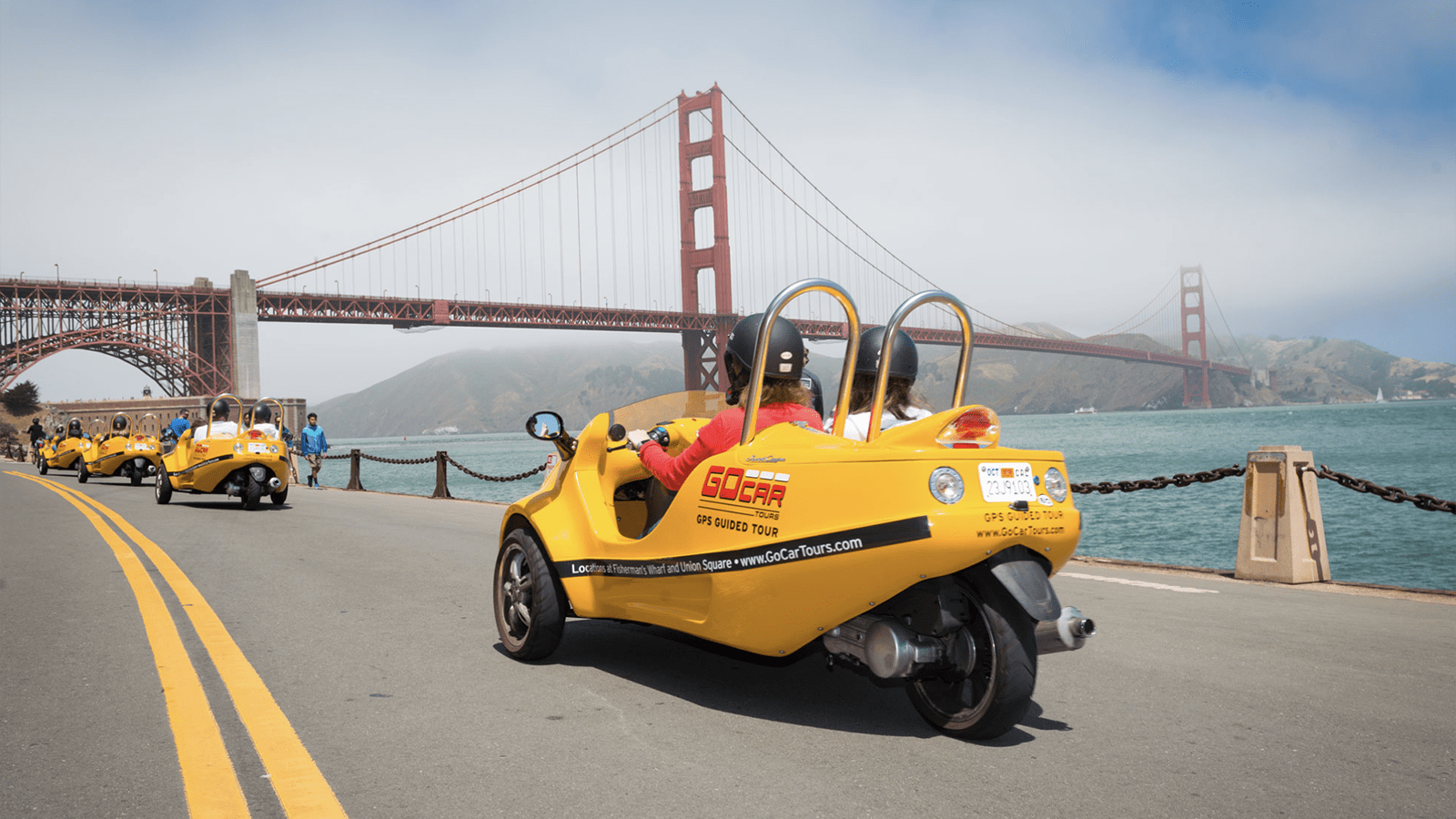 With all those precipitous hills and neighborhoods with names like Little Italy and Chinatown, San Francisco is like a life-size Disneyland. Tour it in a GoCar and you'll feel like you just bought a book of E-tickets. The bright-yellow mini-electric cars come with a built-in talking GPS system to help you navigate the city's notorious one-way streets along with a narrated guide to sights and attractions. Several different tours are offered in San Francisco, which you can do at your own pace with as many stops as you please (you can also turn off the narration and just use the pre-programmed satellite GPS). GoCars offers both two-seaters and a four-seat electric vehicle that can hit speeds up to 35 mph; kids must be 7 and older to ride. The best part — all GoCar vehicles are small enough to squeeze into even those notoriously tight San Francisco parking spots.
Bike or Scoot Around the Bay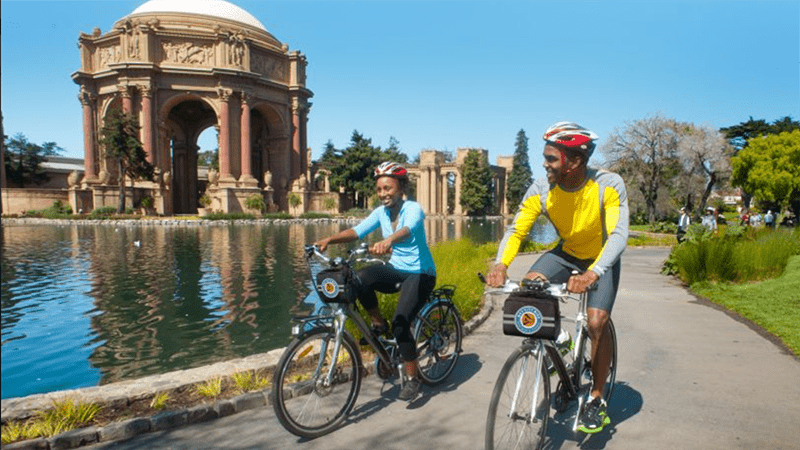 Even jaded locals get teary-eyed crossing the Golden Gate Bridge on a glorious golden afternoon, when the international orange towers frame the city skyline like a life-size postcard. Sure, you can drive it, but to truly savor the experience, you need to take it slow. You can walk across the east side from sunrise to sunset, or even better — bike across on either side anytime (see goldengate.org/bridge for details). Later, you can ferry back across the Bay to Fisherman's Wharf on the Blue & Gold Fleet from Sausalito or Tiburon, going past Alcatraz Island and getting up close and personal to the bridge's impressive underside.
With five outlets at Fisherman's Wharf and one at Union Square, Blazing Saddles is a good bet for bike rentals for families. The 25-year-old company offers a huge inventory of traditional bikes, e-bikes, baby trailers, tag-alongs and kid tandems (kid gets the front seat; steering and brakes in the back). Plus, their multiple locations make it easy to pick-up and drop-off when kids poop out.
If scooting is more your thing, but getting up and down the hills seems daunting, try an electric scooter from San Francisco-based Lime, which offers numerous pick-up and drop-off spots all over the city. It's earth friendly, which San Franciscans like.
Another good option is Viator for a three-hour guided tour through San Francisco and Sausalito.