While the pandemic was notoriously a time for over-indulgence as we tried to comfort ourselves with nightly cocktails and self-soothe with all the pizza and pasta and cheese, some folks ended up finding solace in eating healthy, exercising, and taking care of their body (instead of fattening up like they were destined to be a future prosciutto, like me). The same can be said for the chefs and restaurateurs who have been feeding us — with the reopening, some San Francisco chefs are sticking with offering the comfort food dishes their guests have been craving the past 15 months, while others have come back with some healthier or less meat-centric menus, as well as more low-ABV or non-alcoholic drink options.
Featured Photo: Anchovy Bar by Marcia Gagliardi © tablehopper.com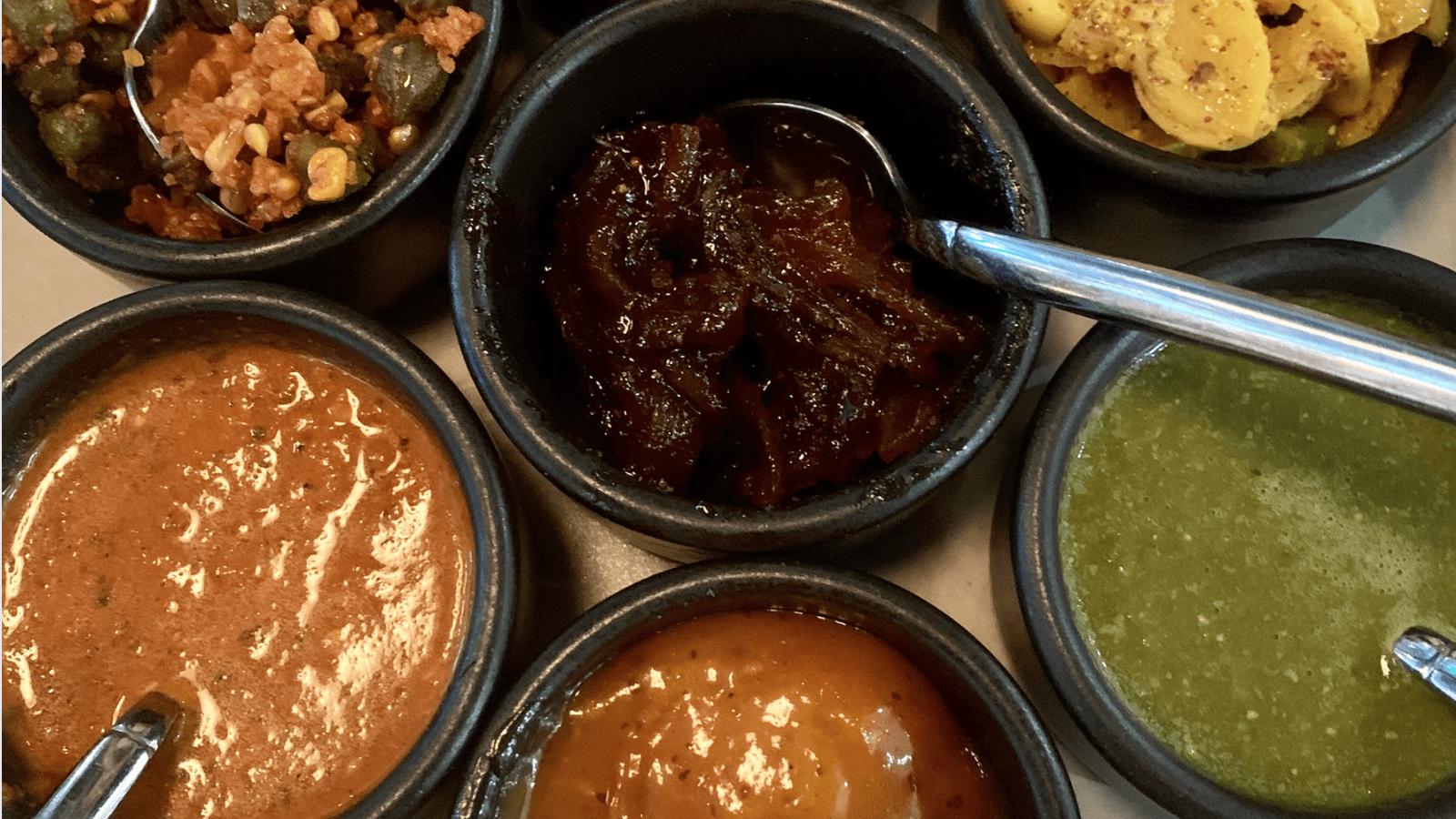 Chef-owner Heena Patel of Besharam in Dogpatch always had a menu that leaned vegetarian, which included some meat dishes she'd prepare for her guests (even though she's vegetarian). But now that the pandemic is waning, she is following her vision of offering a completely vegetarian menu of her creative and regional Gujarati dishes with some California ingredient flair. With one bite of the ricotta-like maska paneer with a spiced spinach sauce, you won't miss any meat, although she's also offering a kebab and samosa with plant-based "meat" from Impossible Foods, and her salads are always spectacular.
Over in the Lower Haight, the pandemic delayed the opening of Nick and Anna Sager Cobarruvias's Otra (their first restaurant is Son's Addition in the Mission). This latest venture is a Mexican restaurant and bar, featuring family recipes and they're even nixtamalizing and grinding their own masa for the tortillas (using heirloom corn sourced from Masienda). The menu features a number of tacos, and while the slow-cooked beef tacos in guajillo chili are getting rave reviews, guests are loving the number of vegetable-driven dishes, including roasted sweet potato tacos, a hen of the woods huarache, and roasted carrot or grilled asparagus tostadas.
Nick explains he wanted the menu to reflect more of how he's eating at home, which is about less meat and more plants. He also simplified the reopening menu and concept, not only to meet what they believe diners want right now, but also in an attempt to diminish the labor required, and get some time back. He said, "I don't want to work 16 hours a day anymore, six days a week. As a good chef buddy of mine said, 'If you didn't learn these lessons out of this, you're an idiot.'"
A big shift in this return is about mental health: working fewer hours and not into the wee hours of the night was a huge wake-up call for many burnt-out chefs and restaurateurs about what it feels like to have more sleep, and more personal time for themselves and their families. Now that San Francisco restaurants are reopening, we're seeing a shift in how they're choosing to return, with shortened hours, less complicated menus, and even Loló in the Mission decided to cancel their popular brunch service, explaining in a post on Instagram that it's "so that we can spend more time with our families and loved ones." Priorities have shifted.
In the case of chef-owner Stuart Brioza (State Bird Provisions, The Progress, The Anchovy Bar), he was able to hop on his bike and start riding regularly to the Headlands and beyond, logging about 100 miles a week or more. One look at his tanned arms and bright eyes, and you can see he took advantage of the extra time in his day to climb some hills — he said it really helped him work through some of the tough business decisions they were having to make early on, and would help him focus and feel strong for his team, and his family. He says, "The pandemic helped amplify good habits I already had in place," namely getting good sleep and eating healthier.
May we all avoid a return to burnout culture — especially the restaurant industry, one of the most notorious grinds there is.