Featured Photo: Andrea Martin, LaChanze, Campbell Scott and Rachel Prather in the original production of "A Christmas Carol," by Joan Marcus.
Getting excited for the holidays? We are! Great news, tickets for BroadwaySF's production of A Christmas Carol, have just gone on sale.
For over a century, thespians of all ages have been honoring this story of redemption tied to the 'true meaning of Christmas' for audiences in gymnasiums to grand theaters. While the tale is always sweet, the talent might wane, hence the opportunity to see this immersive production is one not to miss. It opened on Broadway in 2019 and features dazzling staging, moving storytelling, and 12 of the most cherished Christmas carols, including "Joy to the World," "Silent Night," and "It Came Upon the Midnight Clear."
Since opening it has earned five Tony Awards as well as a Drama Desk Award for Outstanding Adaptation. This year, the all-star cast includes seven Bay Area actors and will be showing at the Golden Gate Theatre from November 26 – December 26, 2021. Click here to scroll to performance times.
The importance of "A Christmas Carol" in what we know as the Christmas holiday today.
Christmas as we know it, is a rather recent phenom and can be attributed to Charles Dickens, who published more than a dozen tales on this unappreciated season between 1835 – 1848. Yep, we did the math too, it appears our founding fathers, and most Americans didn't celebrate Christmas, ironically known as a day for drinking, cross-dressing and basic debauchery in the colonies.
… is nothing new. Dickens knew that neither his message of social justice or the Christmas holiday would sell books — but Victorian's loved ghosts. So a story about ghosts, with its first line being, "I have endeavored in this Ghostly little book, to raise the Ghost of an idea…" is sort of like adding "Beyonce" into your article title about economics — people will click! The first edition was sold out in a couple weeks, and children around the world would soon be getting gifts under a tree.
The now world-famous author and symbol of the holidays couldn't find a publisher for A Christmas Carol in 1843, so he self-published the book and charged 5 shillings (about $30) per copy. Nearly a decade later, he gave his first public reading of the story.*
Several modern day phrases came from this story, including Merry Christmas (people used to say Happy Christmas), and the term Scrooge, when referring to a miserly character.*
British newspapers in 1844 attributed a spike in Christmastime charitable donations to the popularity of A Christmas Carol, citing how the book inspired many people — especially the nouveau riche of the industrial revolution — to dramatically increase their generosity.
*(Thanks to RedLands Symphony for these fun facts)
The Cast of "A Christmas Carol"
Francois Battiste (Ebenezer Scrooge)
An actor acclaimed for his work in theatre, television, and film. He received the OBIE Award, plus Lucille Lortel and AUDELCO nominations for The Public Theater's The Good Negro. Broadway and Off-Broadway credits include One Night in Miami, Bronx Bombers, Prelude to a Kiss, Paradise Blue, Detroit '67, The Winter's Tale, The Merchant of Venice, and the Broadway National Tour of Jitney. He was a series regular on ABC's "10 Days in the Valley." Film and television credits: "Station 19" (ABC), "Evil" (CBS), "The Family" (ABC), The Normal Heart (HBO), "Person of Interest" (CBS), Men in Black III, A Long Walk, You Bury Your Own, Delivering the Goods, and One Week. Francois is a graduate of the Juilliard School and the British American Drama Academy. He received his BS from Illinois State University and was a recent inductee into the College of Fine Arts Hall of Fame.
Nancy Opel (Ghost of Christmas Past)
Broadway: 15 Broadway shows including Wicked, Beautiful, Honeymoon In Vegas, Cinderella, Memphis, Gypsy, Fiddler, Urinetown, Triumph of Love, Anything Goes, Sunday In The Park With George, Evita. Regional: The Suffragist (Uni); Clue (Cape Playhouse); Follies (St. Louis Rep.); Prince of Broadway (Japan); Honeymoon In Vegas (Paper Mill Playhouse); Holiday Inn (St. Louis Muny); Hello, Dolly! (Ford's Theatre, DC). Off-Broadway: Curvy Widow, Toxic Avenger, My Death, Polish Joke, Mere Mortals, All in the Timing. National tour: The Drowsy Chaperone. TV: "The Big C," "L&Os". Juilliard School, Drama Division. nancyopel.com
Amber Iman (Ghost of Christmas Present/Mrs. Fezziwig)
Broadway: Shuffle Along, Nina Simone in Soul Doctor. Off-Broadway: A Civil War Christmas, RENT. National tour: Hamilton (1st National, Peggy Schuyler/Maria Reynolds). Favorite regional credits: Joy in Witness Uganda (The Wallis, LA Ovation Award Winner – Best Featured Actress in a Musical), Cheryl in Stick Fly (Huntington Theatre, IRNE Award Nominee – Best Supporting Actress), Aldonza in Man of La Mancha (Shakespeare Theatre, Helen Hayes Award nomination for Outstanding Actress and Emery Battis Award for Acting Excellence). Howard University Graduate (2016 James Butcher Alumni Award). Proud founding member: 2021 Tony Award-winning Broadway Advocacy Coalition, Black Women On Broadway. Writer, executive producer, and star of her award-winning short film, Steve, streaming on kwelitv.com. Up next, Amber will be starring in Goddess, A New Musical at Berkeley Repertory Theatre (March 2022). amberiman.com
Ben Beckley (Father/Marley)
Broadway: What The Constitution Means To Me. First National Tours: Small Mouth Sounds, Peter and the Starcatcher. Theatre: The Whistleblower (Denver Center), Dying For It (Atlantic), World My Mama Raised (Clubbed Thumb), King Lear (Northern Stage), and four international engagements with Temporary Distortion. On-Camera: Onion News Network, "Inventing Anna" (Netflix). As co-artistic director for The Assembly, Ben has co-created seven original plays and musicals, all dir. Jess Chayes. For Rick and for Roger. benbeckley.com
Charlie Berghoffer IV (Tiny Tim)
A dapper, social, and happy 11-year-old boy living with Cerebral Palsy from Austin, Texas, who enjoys life to the fullest! He plays chess, piano, swims, horseback rides, and loves his adaptive bike. He is an adaptive shoe and clothing model, actor in TV/films, and loves to be in front of the camera smiling. He's very excited to have this amazing opportunity and thanks his parents, sister, family, and fans worldwide for their love and support!
Samuel Faustine (Ferdy/Nicholas)
An award-winning singer, actor, and musician who performs a wide variety of genres. Favorite roles: Tony (West Side Story), Candide (Candide), Anthony (Sweeney Todd), and Seymour (Little Shop of Horrors). Sam appears often with SF Symphony and is an active choral and sacred music performer, singing countertenor and tenor. Sam occasionally tours with his Queen tribute band impersonating Freddy Mercury. IG: @samfaustinesf or samfaustine.com for more!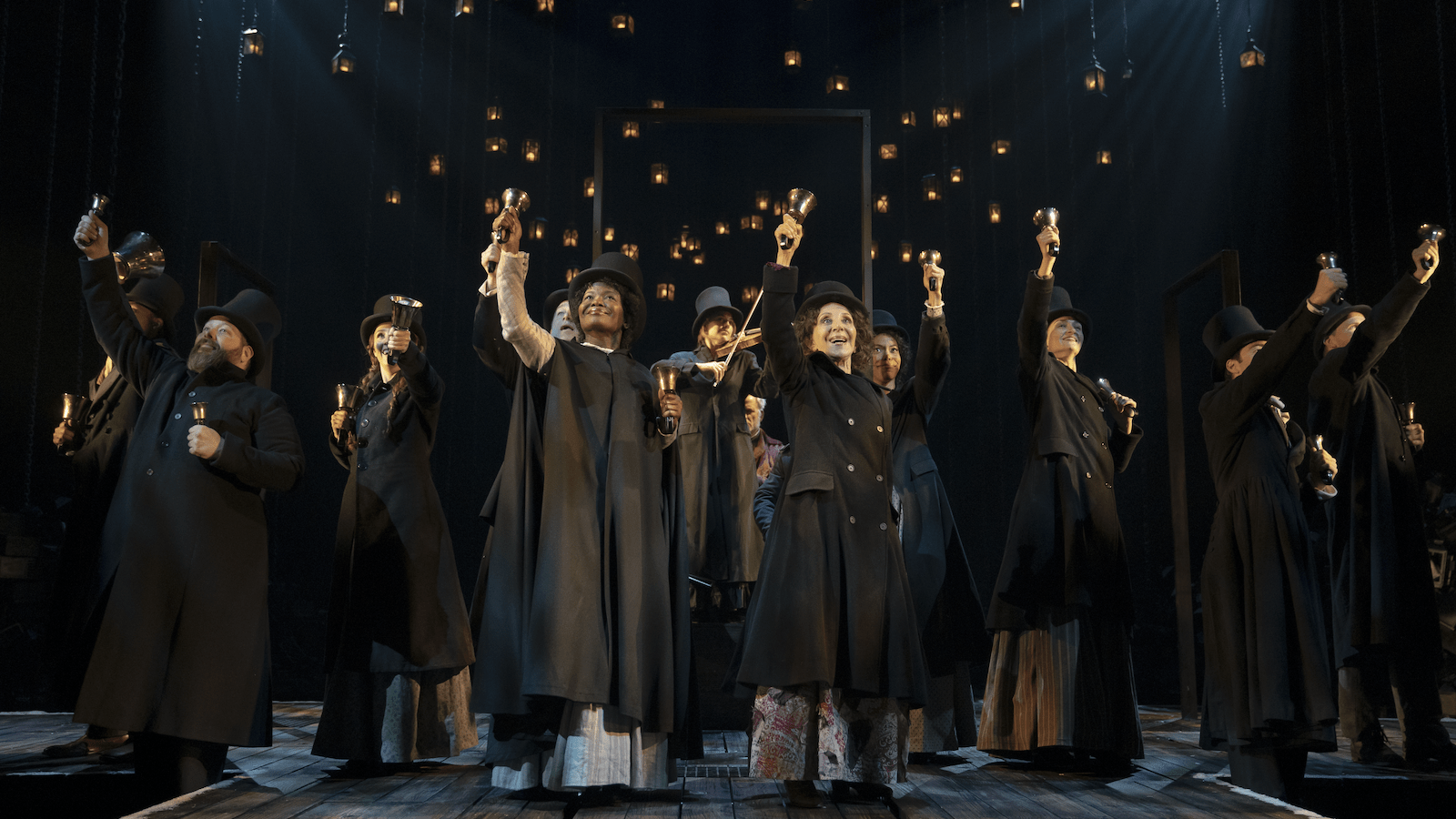 LeRoy S. Graham III (Fred)
A Brooklyn, NY native actor and is very excited to get back to being on stage. In 2020, Graham graduated from The American Conservatory Theater where he received an MFA in Acting. Since graduating, Graham has worked on a few short films and commercials. Past credits include Of Mice and Men (A.C.T. MFA), The Substitution (A.C.T.), Luce (Meadowbrook Theater), The Birds (Cortland Rep), If a Tree Falls (film).
A graduate of the American Conservatory Theater MFA program, class of 2020. Regional credits include The Great Leap (San Jose Stage), The Song of Summer (SF Playhouse), Top Girls (American Conservatory Theater), and The Good Person of Szechuan (California Shakespeare Theater). Monica is the winner of the 2016 San Francisco Bay Area Critics Circle Award for Best Actress. She is immensely thankful to her friends, community, and Carlos for their support. IG: @1monicaho.
Rodney Earl Jackson Jr. (Standby for Fred, Ferdy/Nicholas, Bob Cratchit, Young Ebenezer, George)
The Artistic Director and Co-Founder of the San Francisco Bay Area Theatre (SFBATCO). He made his Broadway debut in The Book of Mormon and was last seen at American Conservatory Theatre and Arena Stage in the co-produced production of Toni Stone. Prior to that he traveled North America in the First National Tour of Motown The Musical. Other theatre credits: Berkeley Repertory: Ain't Too Proud, SFBATCO: I, Too, Sing America. FB: rodneyjacksonjr. IG: @rodneyearljacksonjr.
Ramzi Khalaf (Bob Cratchit)
A recent graduate of The Juilliard School's Drama Division where some of his favorite roles include The Baker in Into the Woods, Peter in Red Speedo, and Mr. Bonaparte in Golden Boy. Regional: Berkshire Theatre Festival, Goodspeed Opera House, McCarter Theatre, The O'Neill Center, Paper Mill Playhouse. Other theatre: Falsettos (Jason, original First National), and A Christmas Carol (Young Scrooge, Madison Square Garden). TV: "Blacklist."
A 6th grader from New York City, Gabriel thrilled to make his professional theater debut as Tiny Tim in A Christmas Carol at the Golden Gate Theatre. He is honored to work with this cast and crew. Notable award: Outstanding Performer, Premiere program – Disney. Gabriel would like to thank manager Lisa Calli, coach Mr. Beer, Jason Thinger, J. C., and send love to his family and friends for all their support. IG: @gkong21.
Stephanie Lambourn (Mrs. Cratchit)
Regional theatre: Arkansas Repertory Theatre, Aurora Fox, Great River Shakespeare Festival, Milwaukee Repertory Theatre, and Utah Shakespeare Festival. Stephanie has been a company member at the Great River Shakespeare Festival for eight seasons, performing in over sixteen productions. Training: Guildford School of Acting (PGDip), Central Qld Conservatorium of Music (BMT). Love to my husband Scott and my family in Australia.
An actor, playwright, and teaching artist who splits her time between New York and San Francisco. She is a proud graduate of American Conservatory Theater where she received her MFA in Acting. Thank you to my family for your boundless faith and support. Love to my friends, teachers, students, and the people I get to do this with for the first time in nearly two years. ashmalloyacts.com. IG: @Ash__Malloy.
Kris Saint-Louis (Young Ebenezer)
Recent endeavors include Pandemic the Musical (World Tour), Once (Pioneer Theatre Co., Geva Theatre), and Hair (Berkshire Theatre Group). Many thanks to everyone on the team for making this holiday season extra special. Happy Holidays!
Thrilled to be back in the Bay Area! National tours: The King and I (Anna alternate), The Sound of Music (Elsa Schraeder u/s). A graduate of Stanford University, Annie has performed in the Bay Area with SFBATCO, the Oakland Symphony, TheatreWorks SV, and Stanford Talisman. Annie is also a foreign language enthusiast, self-taught accordion player, and the creator of Piaf Lives, a show about Edith Piaf's wildlife. Website: AnnieSherman.me. IG: @theanniesherman.
Helen Siveter (Standby for Mrs. Cratchit, Jess)
Delighted to make her US debut with A Christmas Carol in San Francisco. West End credits: Memphis, Matilda The Musical, Mamma Mia!, We Will Rock You, Fame. Other credits: Resident Director, Priscilla Queen of the Desert; Associate Choreographer, "The Grinch" (NBC); Associate Director for High Fidelity, Sketch You Up, Little Shop Of Horrors, Cabaret, Chicago, Rent, Fame, Mamma Mia!, Saturday Night Fever, Oh! What a Night, The Wiz, and Charley's Aunt. Film credits: Matilda, Mamma Mia! 2: Here We Go Again. @helensiveter.
Wiley Naman Strasser (George)
a San Francisco Bay Area native. Credits include work with Aurora, Berkeley Rep, Crowded Fire, Cutting Ball, Detour Dance, Golden Thread, Hope Mohr Dance, Los Angeles Theatre Center, Magic Theatre, San Francisco Playhouse, and Shotgun Players. A graduate of UCLA's Theater Department, Wiley has also studied with Alonso King LINES Ballet, CalArts, Teatr Zar, and Teatro Yuyachkani. wileynamanstrasser.com
An Equity actor around the Bay and beyond for over 25 years. He played Fezziwig for A.C.T. in their 2016 and 2017 productions of the Perloff/Walsh adaptation of A Christmas Carol and understudied the Broadway tour of Dirty Blonde. Career favorites include Sisters Matsumoto for Center Rep and Company for Marin Theatre Company. TV and film work includes NBC's "Zoey's Extraordinary Playlist," "Trauma," "13 Reasons Why" for Netflix, and Blue Jasmine.
Performance Times
November 26 – November 28
Friday at 1pm and 7:30pm
Saturday at 1pm and 7:30pm
Sunday at 1pm
November 30 – December 19
Tuesday, Wednesday, Thursday, Friday, Saturday at 7:30pm
Wednesday, Saturday and Sunday at 1pm
December 21 – December 26
Tuesday, Wednesday, Thursday at 7:30pm
Wednesday, Friday and Sunday at 1pm
Sunday at 6:30pm
*No performance on Saturday, December 25