When we think of the New Year's holiday, we think of celebration, personal reflection, and resolutions. It is a time when we set personal goals and incite change in one's behavior. These are all traditions we annually look forward to and practice for our well-being.
Likewise, Jewish folks celebrate their New Year's holidays, Rosh Hashanah in a similar fashion but during a different time of the year.
Featured Photo: Courtesy of Wise Sons
The evening of September 25th marks the beginning of Rosh Hashanah, also known as the Jewish New Year. It is one of Judaism's holiest days of the year and ends on the 27th. During Rosh Hashanah, one will celebrate by attending synagogue services and enjoying a traditional Jewish meal, i.e., brisket, kugel, roasted chicken, and matzo ball soup.
Rosh Hashanah is the beginning of the "Days of Awe" or "Days of Repentance."  These 10 significant days from Rosh Hashanah through Yom Kippur are meant for meaningful reflection, introspection, and practicing forgiveness. 
Yom Kippur commences on October 4th and ends on the 5th. For observant Jews, 25 hours of fasting begins before sunset on the evening before and ends after nightfall on Yom Kippur. Most of Yom Kippur is spent in a synagogue, in prayer. After services come to an end, people gather to break the fast with a traditional meal such as bagels, lox, and a deli tray — that's where Wise Sons, Boichik Bagels and Schlok's really shine!) 
Together Rosh Hashanah and Yom Kippur are known as the "High Holidays."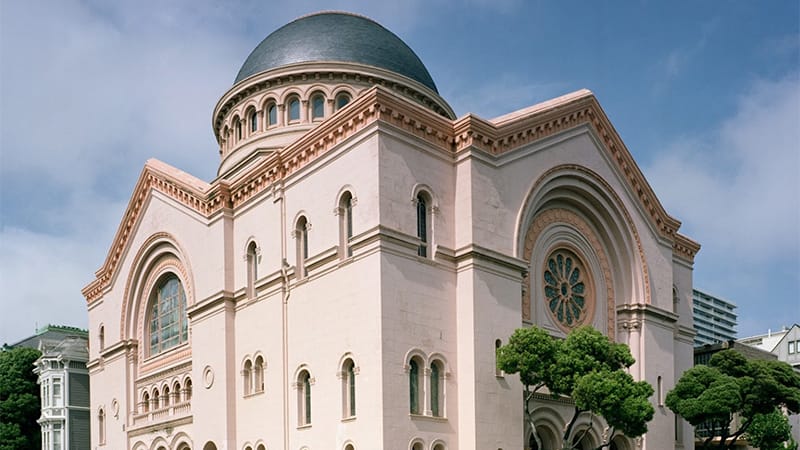 Whether you are visiting, new to the area or looking for a change, here are a few Synagogues to consider.
Congregation Beth Sholom is a Conservative synagogue, founded in 1921, in SF's Richmond District. The permanent location was established in 1934 on the corner of 14th Avenue and Clement Street. The congregation is currently led by Amanda Rusell, who is devoted to creating a warm, friendly and welcoming environment at Beth Sholom.
301 14th Ave, San Francisco, CA 94118, (415) 221-8736
Congregation Sherith Israel is a Reform Jewish Congregation in SF's Pacific Heights neighborhood. Founded in 1904 and it is one of the oldest synagogues in the United States. It was established during California's Gold Rush period and reflects the ambitions of early Jewish settlers to San Francisco.  
2266 California St, San Francisco, CA 94115, (415) 346-1720
Kol Shofar is a Conservative synagogue in Tiburon California, founded in 1962. The congregation is led by Rabbis Susan Leider and Paul Steinberg, both of whom were ordained by the Ziegler School of Rabbinic Studies. 
215 Blackfield Dr, Belvedere Tiburon, CA, (415) 388-1818 
Rodef Shalom is a Reform Jewish Congregation, founded in 1946, at Mission and Forbes Street in San Rafael, and then moved to their current location,  on the Lonee C. Hoytt Jewish Campus in San Rafael, California in 1956. 
170 N San Pedro Rd, San Rafael, CA (415) 479-3441
Congregation B'nai Shalom is a Conservative synagogue in Walnut Creek California, founded in the 1960's. The congregation is Contra Costa County's only Conservative congregation and its mission is rooted in tradition. 
74 Eckley Lane Walnut Creek, CA 94596, (925) 934-9446
Temple Sinai is a Reform Jewish Congregation in Oakland, founded in 1875. It is the oldest Jewish congregation in the East Bay region. The congregation is located on 28th and Webster streets.
2808 Summit St, Oakland, CA, (510) 451-3263
Congregation Beth David is a Conservative synagogue right outside of San Jose in Saratoga, CA. Founded in 1963, the congregation has held services all over the South Bay. Its permanent location was established in 1975 and has been an important part of the South Bay Jewish community since. 
19700 Prospect Rd, Saratoga, CA, (708) 257-3333
Congregation Emeth is a Reform Jewish Congregation located in Morgan Hill, CA. It is the only Reform Jewish Congregation between San Jose and Salinas. Congregation Emeth is a synagogue for those seeking a meaningful Jewish connection in Gilroy, Morgan Hill, south San Jose, and the surrounding communities.
17835 Monterey Rd, Morgan Hill, CA, (408) 778-8200
Bay Area Rosh Hashanah Offerings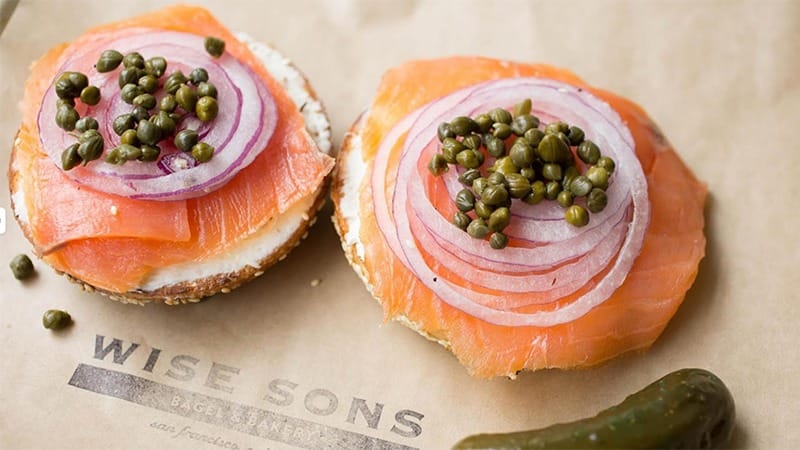 Photo: Courtesy of Wise Sons
Throughout the Bay Area you can find Kosher sections in Whole Foods and Mollie Stones as well as many Lucky's stores.
Whole Foods — this store has a Kosher section
788 Harrison St, San Francisco, CA 94107
690 Stanyan St, San Francisco, CA 94117
3950 24th St, San Francisco, CA 94114
3251 20th Ave Ste 340, San Francisco, CA 94132
Mollie Stone's Supermarket — this store has a Kosher section
2435 California St, San Francisco, CA 94115
635 Portola Dr, San Francisco, CA 94127
4201 18th St, San Francisco, CA 94114
Lucky's  — this store has a Kosher section
1750 Fulton St, San Francisco, CA 94117
1515 Sloat Blvd, San Francisco, CA 94132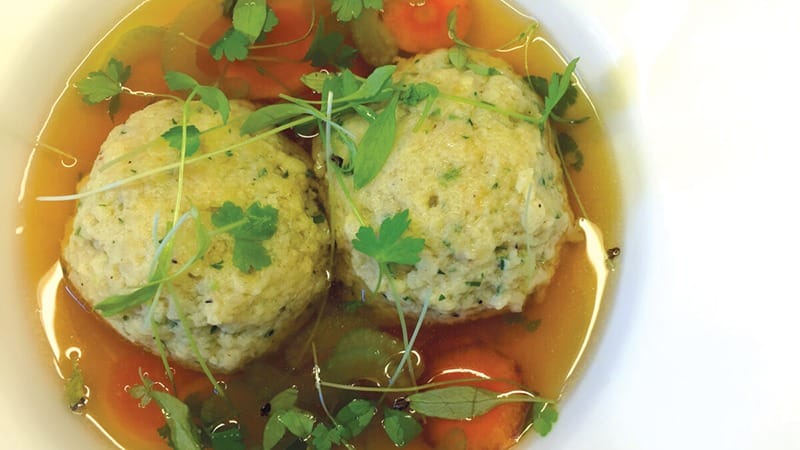 Photo: Courtesy of One Market
One Market/ Mark and Mike's NY Style Deli 
1 Market St, San Francisco, CA 94105
A popular FiDi hot spot for decades, One Market also offers some pretty fabulous kosher deli offerings via Mark 'n Mike's NY Style Deli. This year's offerings includeMark's matzo ball soup, smoked brisket, fresh corn polenta with pomegranate-glazed carrots, semifreddi challah, and honey apple cake, $59, per person. Orders taken September 27 thru October 1. 
2272 Market St, San Francisco, CA 94114
Chef Mat Schuster's Jewish heritage shines this time of year, at this traditionally Spanish tapas eatery. This year, Canela's is offering a 4 Course Dinner, Sunday, September 25th and Tuesday September 27th. Including, Course 1:  Challacado Toast, Toasted Challah with Labneh, Sliced Avocado, Pickled Radish and Honeyed Dates, Everything Sprinkle. Course 2: Choice of Pear and Almond Gazpacho or Seasonal Salad with Honey Vinaigrette. Course 3: Seared Wild Fish Filet, Braised Greens, Indian Summer Tomatoes and Corn, Herb Aioli, Saffron Broth. Course 4: Apple Crumble with Oats, Caramel Sauce and Honey Ice Cream. Optional Course 5, $27 Braised Lamb Riblettes with Seasonal Veggies, Mashed Potatoes and Tempranillo Wine Reduction. Order online for pick-up this Thursday to Sunday.
1263 Fell Street San Francisco, CA 94117
When referring to the 'hottest thing since sliced bread" in the world of bagels, you're probably talking about Schlok's in San Francisco. Friends, James and Zack started making east coast style bagels as weekend pop-up in September 2020 and by April 2021 signed their first lease on Fell Street in San Francisco. They offer full catering, with a 48+ hours notice, through ezCater, including bulk bagels, schmears, lox and veggie platters, and bulk coffee (hot and iced). 
3419 Lakeshore Ave, Oakland, CA 94610
Established in 1962, Oakland Kosher Foods is known throughout Northern California for its vast supermarket, high quality deli, mouth watering restaurant food, and one of a kind delicious catering. Oakland Kosher Foods has decades of experience and strives for high quality customer service to satisfy all your kosher food needs.
Whole Foods — this store has a Kosher section
230 Bay Pl, Oakland, CA 94612
5110 Telegraph Ave, Oakland, CA 94609
3000 Telegraph Ave, Berkeley, CA 94705
1025 Gilman St, Berkeley, CA 94710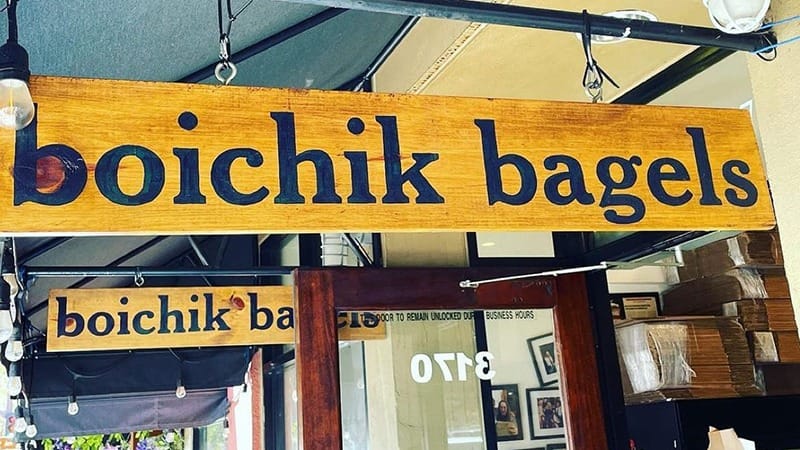 Photo: Courtesy of Boichik Bagels Facebook
1475 Shattuck Ave., Berkeley, CA 94709
The Berkeley deli has a special menu for the high holidays, which includes things like their excellent matzo balls, gefilte fish, apple raisin kugel, brisket, and apple and honey cakes. 
3170 College Ave, Berkeley, CA 94705
At Boichik Bagels, patrons line up for vegan, kosher, New York-style bagels with organic elements at this buzzy shop. For Rosh Hasanah and Yom Kippur, a catering menu is available.
3978 S Bascom Ave, San Jose, CA 95124
Pars is a high-quality kosher market carrying a variety of meats, bread, canned and packaged goods. The market features a deli with a wide selection of sandwiches and hot meals available for take-out. 
Lucky's  — this store has a Kosher section
2175 Grant Rd, Los Altos, CA 94024 
Mollie Stone's Supermarket — this store has a Kosher section
164 S. California St. Palo Alto, CA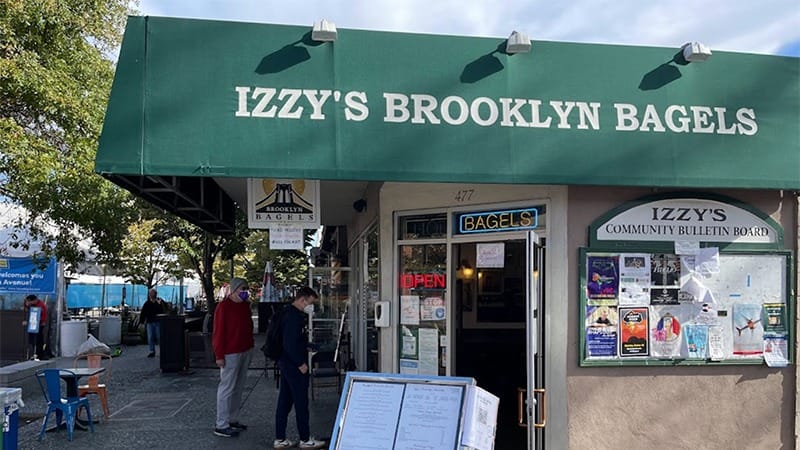 Photo: Courtesy of Christian Marin
1711 W El Camino Real Mountain View, CA 94040
369 California Ave, Palo Alto, CA 94306
1640 S Bascom Ave, Campbell, CA 95008
The Bay Area's most recognizable Jewish deli covers all the savory and sweet bases with a Rosh Hashanah menu that offers roasted brisket and chicken, carrots, and potatoes, as well as challah, chopped chicken liver, matzo balls, and potato latkes.
477 S California Ave. Palo Alto, CA 94306
Izzy's Brooklyn Bagels offers homemade delicacies, such as kugel and knishes to rugelach and Black & White cookies using only fresh ingredients and traditional recipes. Izzy's menu consists of dairy and pareve items shipped directly from specialty purveyors across North America. All with kosher certification of the VAAD of Northern California.
152 Shoreline Highway, Mill Valley, CA 94941
Floodwater is a bar-driven restaurant designed to allure the community with our enticing social atmosphere, uniquely balanced cocktails, and elegantly approachable Californian menu. On the evening of October 5th, the chef will be serving Yom Kippur dinner. The dinner service will include a frisee salad, braised creekstone brisket with pot roasted potatoes, and panna cotta. Vegetarian and dairy-free options are available upon request.
Whole Foods — this store has a Kosher section
731 E Blithedale Ave, Mill Valley, CA 94941
414 Miller Ave, Mill Valley, CA 94941
Mollie Stone's Supermarket — this store has a Kosher section
100 Harbor Dr, Sausalito, CA 94965
Scotty's Market — this store has a Kosher section
620 Manuel T Freitas Pkwy, San Rafael, CA 94903