Photo: Conrad Hotel
Scorching wildfires, severe drought, torrential flooding, mudslides and bomb cyclones. There's no denying climate change is taking its toll, particularly in California. Never before has it been so critical to integrate sustainable practices and reduce our carbon footprint to help save the planet. Always the trendsetter, the Golden State is turning green with a new generation of socially and environmentally responsible properties popping up.
As of 2022, there are 386 LEED projects in California, spanning a whopping 96,457,139 sq ft. They earn points across five basic areas: sustainable sites, water efficiency, energy and atmosphere, materials and resources, indoor environmental quality and go through a verification and review process by Green Business Certification Inc. (GBCI). The projects are then awarded points based on the criteria that correspond to a level of LEED certification: Certified (40-49 points), Silver (50-59 points), Gold (60-79 points) and Platinum (80+ points).
As more conscious travelers take interest in a resort's green practices, these LEED-Certified and green hotels are following innovative eco-friendly initiatives and sustainable practices, everything from low-flow shower heads, motion sensors lights and saltwater pools, to recycled material furniture and drought tolerant landscape design. Here are some of our favorite forward-thinking hotels for your next escape.
Top Leed Certified Hotels
Yountville
Platinum LEED
It's all about blending into nature at this LEED Platinum Certified hotel — only one of seven in the United States, and one of 28 in the world. From the roof — that's fitted with a concealed photovoltaic solar collector and reflective material — to the nearly 100,000 square feet of salvaged wood used for flooring, walls and beyond, no eco detail is overlooked. This ethos extends to dining. The culinary team at Lucy Restaurant, uses produce and ingredients from farms within 110-mile radius that exemplify the taste of Yountville. For those seeking hand-on experiences, Garden-to-Glass allows guests to create original cocktails with locally-sourced garnishes they have picked fresh from the on-site culinary garden.
This 36-room, eco-chic hotel in the heart of Sonoma County puts guests at close range to fabulous wine tasting, hiking and dining. The hotel's relaxed hip vibe is further elevated by their authentic green elements such as an undulating grass-covered roof which filters rain water and regulates temperature, solar panels for hot water, salvaged wood for furniture and decks, bamboo flooring, organic linens, reusable water carafes and more. Guests can forgo their cars and explore charming Healdsburg on Dutch cruising bikes or enjoy organic locally sourced eats and wine from nearby sustainable vineyards at the hotel's eatery Spoonbar.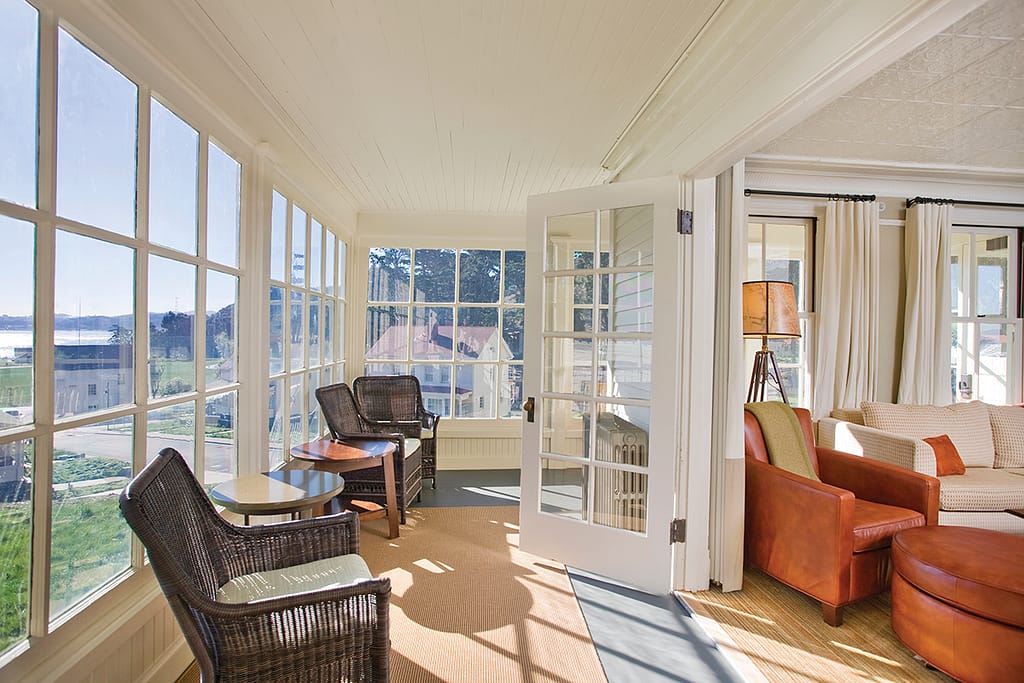 Set in the Golden Gate National Recreation Area, Cavallo Point shines as a leader in conscious travel. Built from sustainable and recycled materials (think shredded blue jeans as wall insulation), the waterfront property sits on the original footprint of the historic site and its design focuses on open space. Guests can explore the flora and fauna on guided hikes and enjoy bridge and bay views. Natural and energy efficient ventilation design reduced 97% of the need for air conditioning. Expect organic linens, robes and mattresses and natural paraben-free beauty products, and farm-to-table dining to elevate your green stay. Cavallo Point also makes quarterly donations to six local nonprofits like The Marine Mammal Center and The Golden Gate National Parks Conservancy.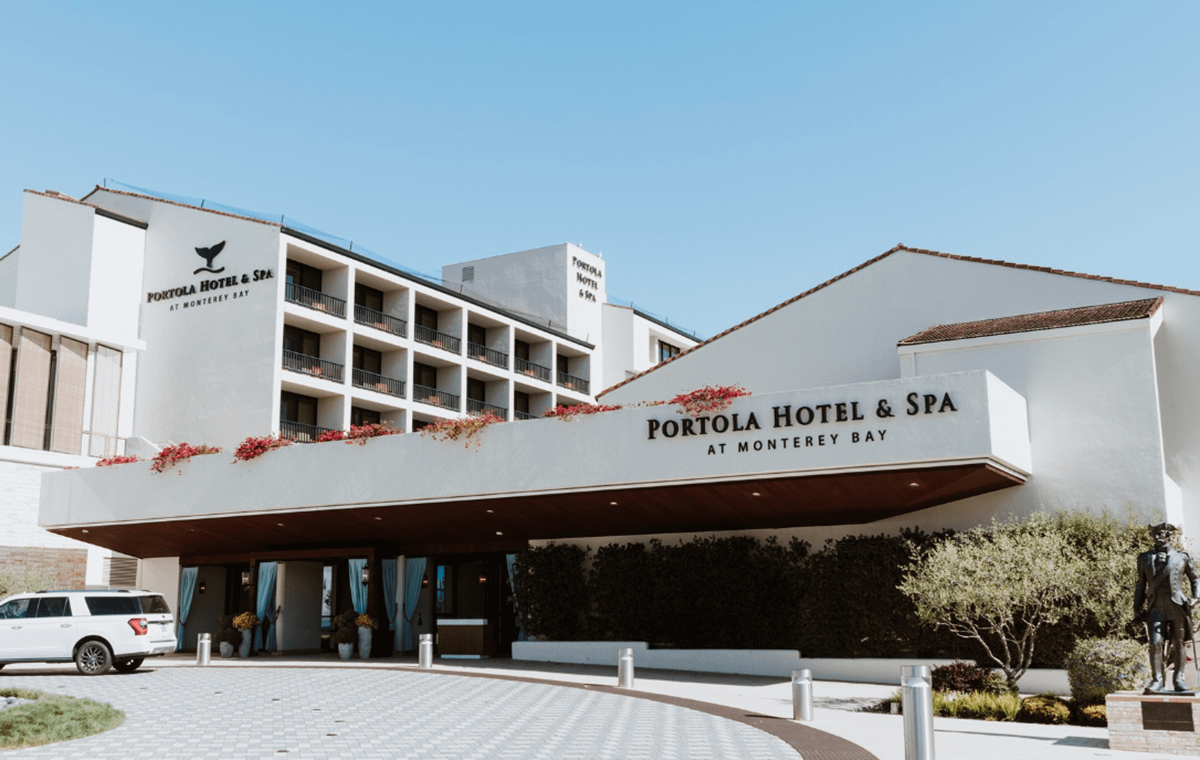 Monterey's greenest property sits waterfront, just steps from Fisherman's Wharf, the famed aquarium and historic Cannery Row. In addition to the sunlit open common spaces and sweeping water views you'll find low flow faucets, energy-efficient technologies, bath amenities made from biodegradable materials, non-chemical cleaning products and locally sourced food in their Surfrider-deemed "Ocean Friendly" restaurants that follow the recommendations outlined by the Monterey Bay Aquarium Seafood Watch® Program.
This bright and airy, glass box hotel may have a relaxed carefree vibe, but Santa Monica's first Gold LEED hotel takes environmental responsibility very seriously. Touches include a solar-heated pool, LED lighting, low-emitting paint, VOC-free carpets, energy efficient elevators, storm water capture systems, drought resistant plants, and climate controlled rooms. Guests can opt to skip housekeeping to reduce their footprint and receive in-house credit with their Green Clean Program. And the fitness center's refillable water fountain calculates the number of plastic water bottles saved by using your own water bottle to inspire the clientele to ditch single use plastic! When you're ready to head out is an easy walk to the Pier, Third Street Promenade and the local dining scene.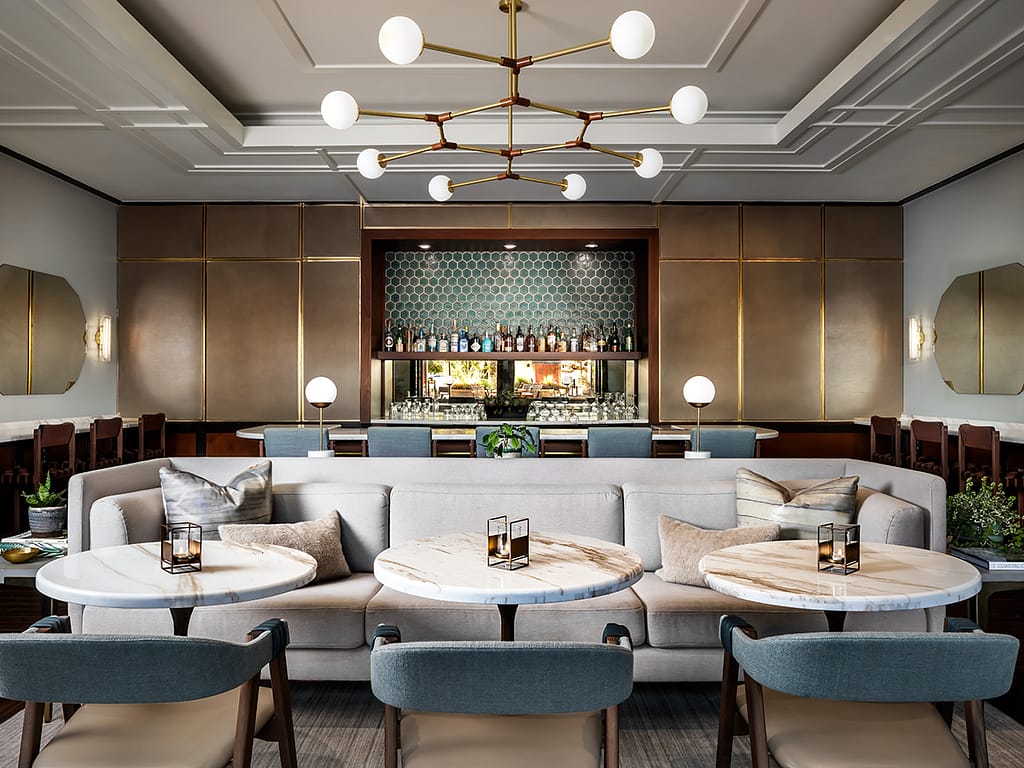 This pioneer property, a stunning SoCal American Craftsman in a residential neighborhood, received the first US Green Building Council's LEED Silver Certification in the USA. Style and sustainability weave together seamlessly here where you'll find a charming patio flanked by drought tolerant native plants, electric car charging stations for that Tesla, water-saving faucets and low flow toilets in your luxe bathroom. Ardently committed to green practices, 75% of the property's waste is recycled and composted and an electric vehicle awaits to drop you around town.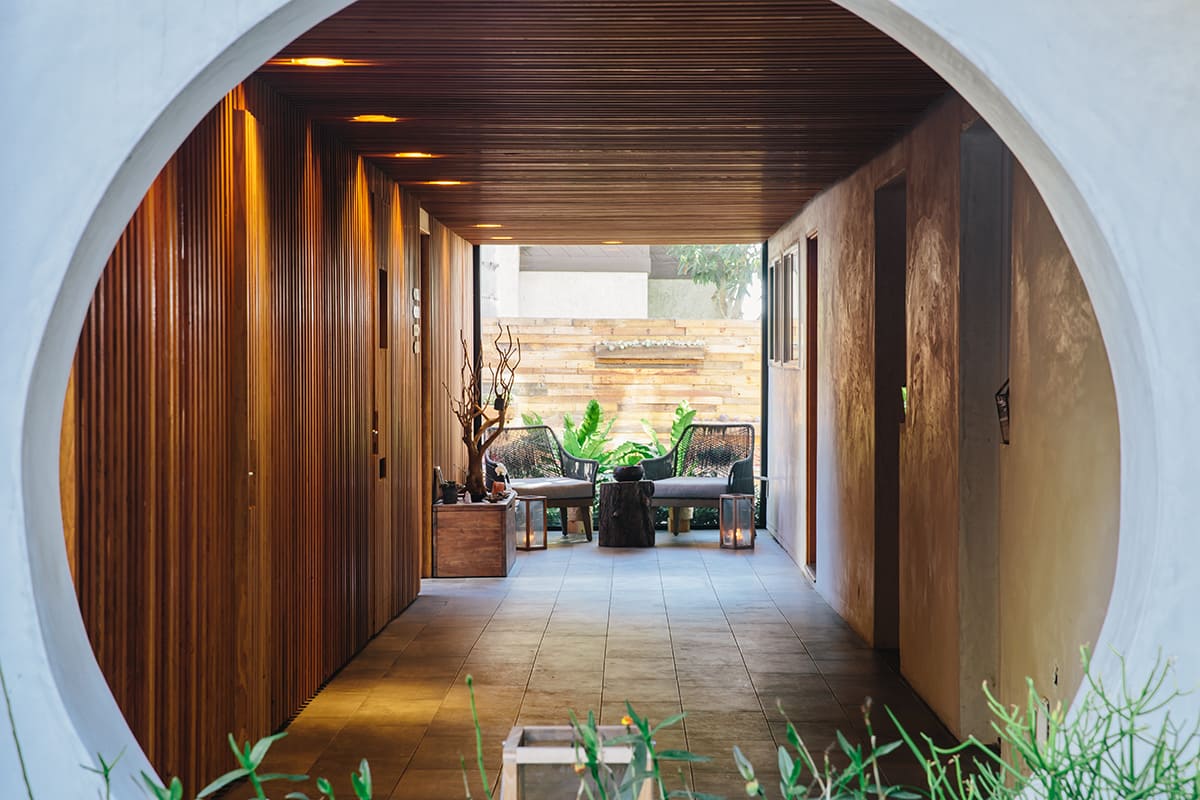 This inspired five-suite inn, tucked away in Encinitas, is the first in the world to earn the prestigious WELL-Certification at the platinum level from LEED. Properties earning WELL Building Standards elevate human health and well-being through design and operational features of the built environment. Constructed from reclaimed lumber and powered by solar, the Zen-vibing inn has an urban biodynamic garden, purified water and air systems, a wellness lab for soap and candle making, meditation deck, sound bathing sessions and succulent box-making classes.
Set on 87 sprawling acres, this renovated 1950s classic resort takes stewardship and sustainability seriously. Partnered with The Ecology Center, the resort's half-acre garden supplies fruit vegetables and herbs for their "Ocean Friendly" restaurant. An advanced water reclamation system saves about 21 million gallons of water per year; the resort's onsite bottle crusher converts used glass into golf bunker sand while their bamboo biodegradable keys reduce plastic waste — just to name a few of their eco-friendly practices.
Al Capone's hideaway, the oldest mineral hot springs resort in the country, is also a sustainable gem that's completely carbon neutral. A giant solar field generates its electricity, sustainable landscaping and drought resistant flora reduce water use and natural and eco-friendly building materials are favored. After your superfood facial, sage cleansing ritual and CBD massage, you can stargaze in the therapeutic hot springs and relax knowing that this place's sustainable practices are legit.
This elegant resort with its three-starred Michelin restaurant and top-notched, Tom Fazio-designed golf course is determined to do the right thing environmentally. Guestroom water filtration systems have eliminated the use of 268,000 plastic bottles annually and large format bath amenities eradicate waste from 135,000 small plastic bottles per year. The golf course utilizes reclaimed water and high-efficiency sprinkler heads. Near the 4th hole you'll find "bee hotels" as the Grand Del Mar has rescued over 120,000 and given them habitats to reproduce in. A pollinator garden will be planted in 2023 to further sustain the bees.
Located in Colorado, California, Oregon, Hawaii and Costa Rica, SCP Hotels place an emphasis on holistic hospitality and green values that appeal to the conscious traveler. SCP plans to achieve Net Zero Waste at all of its properties by serving vegetarian, locally sourced fresh food, implementing composting programs, using solar power and eco-friendly materials and eliminating single use plastic bottles and utensils. Through their Every Stay Does Good giveback program they plant a tree for each guest stay with the nonprofit One Tree Planted.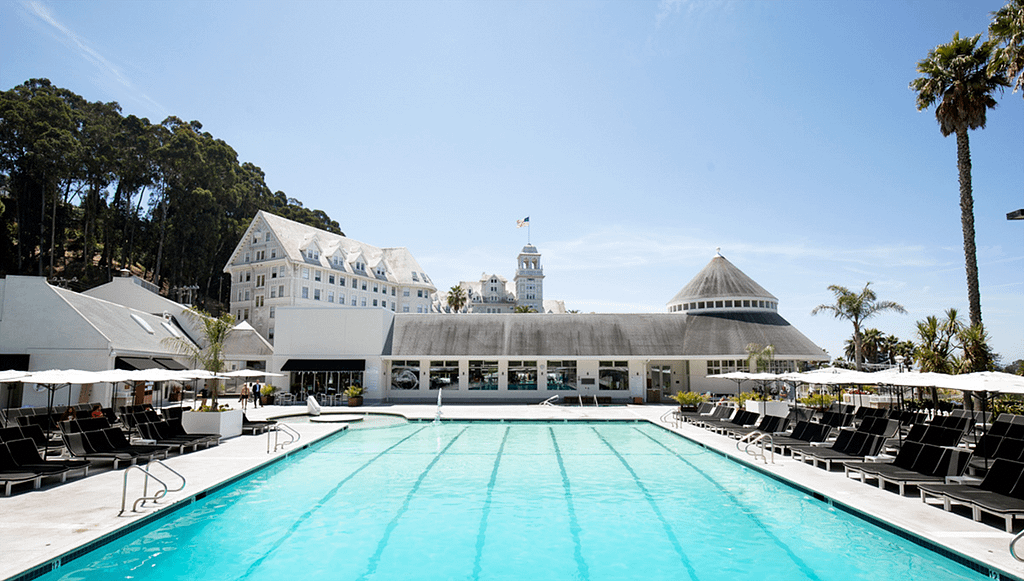 This historic hotel may be more than 100 years old, but when it comes to sustainability and minimizing impact, it's au courant. With water conservation, energy savings and food waste reduction programs, the hotel focuses on minimizing its impact. Funds are sent to Plant for the Plant to support reforestation to address climate change and bee hives line the properties roof to promote awareness and help protect the threatened pollinator.
The 1888 seaside resort takes pride in being the first historic hotel to achieve a Silver Green Seal certification for making significant progress against climate change. Initiatives include a robust recycling program, refillable toiletry containers, low flow water fixtures, engaging local sustainable farmers, ranchers and fishermen, donating surplus food to Waste Not San Diego, and participating in Hilton's Carbon Neutral Meetings program that tracks an event's carbon footprint and then neutralizing it by purchasing carbon credits from The South Pole Group.
What the Heck Does LEED Mean Anyway?
LEED stands for Leadership in Energy and Environmental Design. This global green building certification program was developed by the U.S. Green Building Council (USGBC) and is the most widely used green building rating system in the world.
Reduce Your Carbon Footprint
Travel has a major impact on our environment from airplane carbon emissions to massive water and electricity consumption, so you can take a step to offset your negative impact by donating to groups fighting climate change. WILDCOAST restores wetlands and mangrove forests which naturally capture and store damaging atmospheric carbon; One Tree Planted focuses on global reforestation, while the Clean Air Task Force advocates for policy which will reduce methane and black carbon emissions and advance the adoption of carbon capturing technologies.
You can calculate your carbon footprint here: epa.gov/carbon-footprint-calculator