There are certain people who will do just about anything to fulfill their dream. When Hugh Hefner decided to launch Playboy magazine in 1953, he mortgaged his furniture to pay for the first edition. In 1945, Dave McCoy, a hydrographer for the Los Angeles Department of Water and Power, mortgaged his motorcycle so he could build a rope tow on Mammoth Mountain. Now every guy secretly wants to be Hugh Hefner (at least for a day), and every serious skier wants to carve turns at one of the best downhill ski areas in North America. And Mammoth is also one of the prettiest regions in California — especially in the fall. In fact, the Eastern Sierra is rated by the now-defunct gorp.com as the nation's second-best spot for viewing fall foliage.
Just so we're clear on this, Mammoth Lakes is the town, and Mammoth Mountain is the, well, mammoth mountain that soars over the town. And both overlook the Long Valley Caldera, a sweeping valley that is one of the largest calderas on earth. In fact, the entire region — glacier-carved, pine-covered peaks that soar up from flower-filled meadows — is riddled with natural hot springs, which are a great way to relax from a full day of hiking, mountain biking, skiing, fishing, kayaking, cross-country skiing, golfing, horseback riding, sledding, snowmobiling… well, you get the point.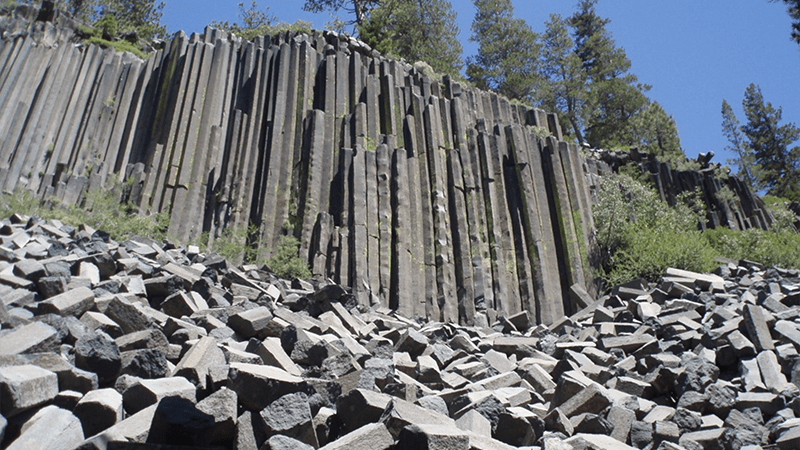 But hot springs aren't the only bonus. Mammoth is also a budding geologist's wet dream. It's worth visiting Mammoth just to see Devil's Postpile National Monument, one of nature's most curious geological spectacles. Formed when molten lava cracked as it cooled, the 60-foot-high, blue-gray basalt columns that form the postpile look more like an enormous, eerie pipe organ or a jumble of string cheese than anything you'd expect to see made from stone. Even the walk getting there is fascinating — you pass numerous gurgling springs that are an eerie reminder that you're traipsing around a young, dormant volcano. After you've seen the Postpile, follow the trail for another 2 miles to the beautiful Rainbow Falls, where the San Joaquin River plunges 101 feet over an ancient lava flow into a deep pool, often creating rainbows in the mist.
In addition to epic skiing, the Mammoth region is famous for its fantastic fishing. Trout is king here, and several fishing derbies celebrate its royal status. Hot Creek is the most popular catch-and-release fishery in California. On average, each trout is caught and released five to six times a month. Trout fishers can also try their luck at Convict Lake, where you can rent a boat and stock up at the Convict Lake Resort's tackle shop.
True to its name, the Mammoth Lakes area boasts 10 lakes (none of which, oddly enough, are named Mammoth). The largest and one of the most striking is Lake Mary, and even though it's set high in the mountains, it's easy to get to. Numerous hiking trails at Lake Mary lead to nearby smaller, less-crowded lakes, including Horseshoe Lake, a great place for swimming (the water is slightly warmer than in neighboring lakes).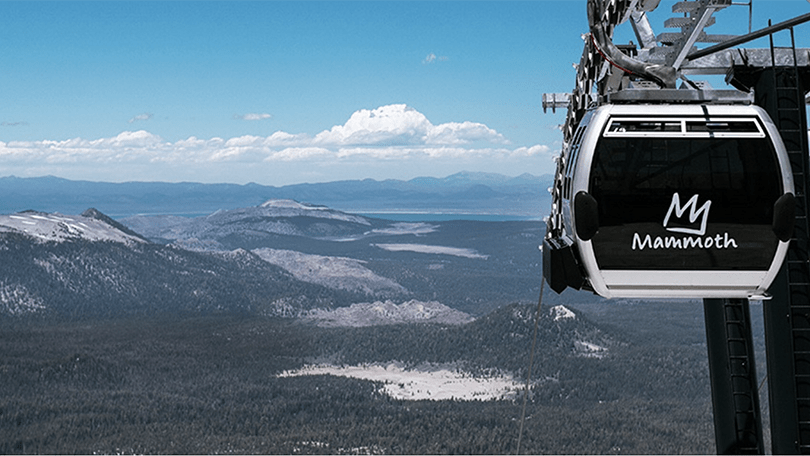 Skiing and Mountain Biking
In the summer, the entire Mammoth Mountain Ski Area is transformed into one of the top bike parks in the country. You can buy an all-day pass to 60 miles of single-track trails and a gondola that will zip you and your bike up to the top of the mountain. It's all downhill from there, with trails ranging in difficulty from the mellow "Paper Route" ride to the infamous "Kamikaze." If you don't want to pay for a lift, there are dozens of epic trails in the area where mountain bikes are permitted.
With winter comes an onslaught of downhill skiers, when more than 10,000 Los Angelenos make the lengthy commute. (Tip: About 90 percent of the skiers arrive on Friday night and leave Sunday afternoon, so come on a weekday.) If you've ever witnessed the traffic jams converging on the ski area's parking lot, you know why veteran Mammoth skiers always park their wheels in town and take the shuttle to the resort. These shuttles are not only convenient, but they're also free. Mammoth Lakes also has mile upon mile of perfectly groomed cross-country ski trails winding through gorgeous stretches of national forest and immense meadows. The Tamarack Cross-Country Ski Center offers 25 miles of groomed trails, extensive backcountry trails, lessons, rentals, and tours.
As for dining options, there are dozens of restaurants in every price range, but I always end up going to Petra's Bistro & Wine Bar for the rib eye steak and wine pairing (four of their waiters are sommeliers). Be sure to tell Robert, the owner, that Matthew Poole says hello. My other favorite place to dine and drink is Gomez's. Michael Lesdesma, one of the owners and Director Of All Things Fiesta, will be your new best friend as he pours a few samples from his world-class stock of agave tequilas (you'll love this place).  
As for lodging, there are far too many choices to list here, but I highly recommend Snowcreek Resort. They offer a wide variety of luxury town homes and condominiums in a quiet setting on the south side of town that is so pretty you don't want to leave your porch. The resort also has the most scenic 9-hole course I've ever played (and they only charge $1 per hole for guests), a full gym and athletic club with daily fitness classes, a full-service spa, hiking, fishing, and free shuttle service from the airport and around town — a huge perk. The Tamarack Lodge is a very special experience, especially when you top off an active day of hiking off by dining at the Lakefront Restaurant. I'm running out of room here, but just about everything you need to know about the Mammoth region is available online at the Mammoth Lakes Tourism website, including directions on how to get here and their new nonstop flights from San Francisco and San Jose (finally!). And if you're planning a fall visit, be sure sure to check out the Fall Colors Tour section of their website.