Foggy fireworks are a hallmark of the Fourth of July in the Bay Area. Never mind, one can always find sunshine somewhere in the Bay Area — and plenty of wonderful events to enjoy. From Marin to Mendocino, we've got a taste of what's happening in the North Bay this July.
We've done the deep research for you on the best things to do in the North Bay including museums, cultural events, food tours, athletic events, hikes and more. Speaking of food, we also have an extensive list of our best restaurants in the North Bay, and if you're planning a weekend, the best places to stay. 
The sunny and warm North Bay weather continues this month, with average temperatures from high 60s to high 70s.
Featured Photo: Jazz and Blues, courtesy of Bruce Forrester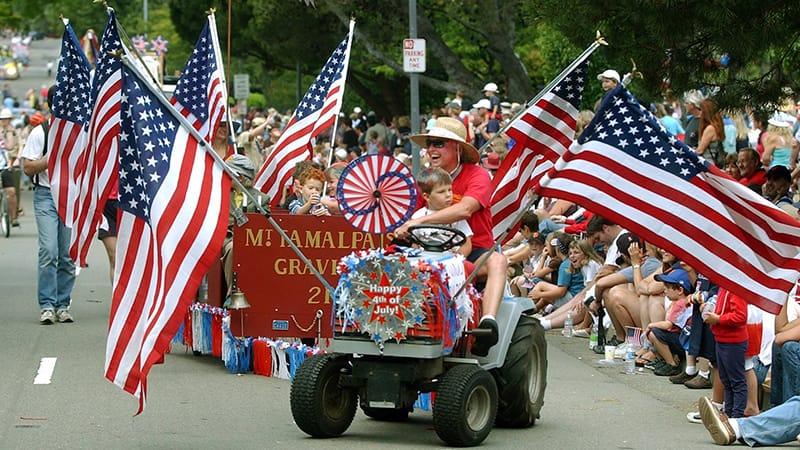 Parade and Festival | Corte Madera and Larkspur
The annual Fourth of July parade starts at 10:30am at Redwood High School, winds through Downtown Larkspur, and makes its big finale at the Corte Madera Town Center. Come for the famous Corte Madera Town Band, stay for the live entertainment, fine artisans, face painting, and a cone of Lappert's Ice Cream.
More info: visitmarin.org
Destination Sausalito Festivities
Parade starts at 10am on the corner of Second and Main, dancing down Bridgeway and Caledonia before culminating in an afternoon picnic at Dunphy Park. Enjoy music from the Cal Alumni Marching Band, and floats from community groups like the Sausalito Woman's Club and the Sausalito Fire Department. Fireworks start at 6:30pm. Free.
More info: destinationsausalito.com/events-in-sausalito
Jazz and Blues by the Bay
Jazz, Blues, and R&B are coming to the waterfront this July. Every Friday evening, the City of Sausalito is hosting outdoor concerts right on the lawn. Purchase dinner from one of the community group-sponsored vendors, or bring your own and have a picnic while you enjoy the music. Shows start at 6:30pm.
More info: sausalito.gov
Petaluma Art & Garden Festival
Looking to see what's happening right now in the North Bay? Our comprehensive list of venues below will help you find what you need to know what's going on.
More Activities in Northern California