Foggy fireworks are a hallmark of the Fourth of July in the Bay Area. Never mind, one can always find sunshine somewhere in the Bay Area — and plenty of wonderful events to enjoy. From Marin to Mendocino, we've got a taste of what's happening in the North Bay this July.
We've done the deep research for you on the best things to do in the North Bay including museums, cultural events, food tours, athletic events, hikes and more. Speaking of food, we also have an extensive list of our best restaurants in the North Bay, and if you're planning a weekend, the best places to stay. 
The sunny and warm North Bay weather continues this month, with average temperatures from high 60s to high 70s.
Featured Photo: Jazz and Blues, courtesy of Bruce Forrester
Jazz and Blues by the Bay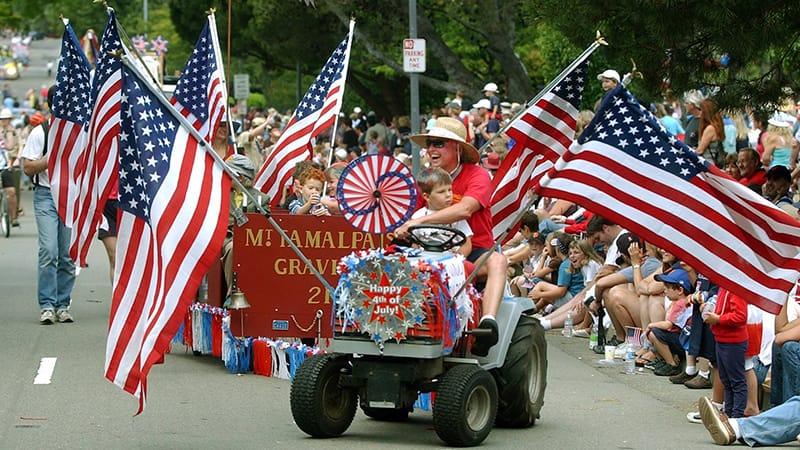 Parade and Festival | Corte Madera and Larkspur
Parade usually starts at 10:30am at Redwood High School in Larkspur and ends at Corte Madera Town Center. Famous Corte Madera Town Band, McIntosh Pipe Band, and the Freedom Band. Entertainment, marketplace, food booths, children's activities.
Destination Sausalito Festivities
Parade starts at 10am down Bridgeway and Caledonia before an afternoon picnic at Dunphy Park — and this is just the start of Destination Sausalito festivities. In the evening at Gabrielson Park, dance to Neon Velvet from 6:30pm before fireworks begin. Free.
Petaluma Art & Garden Festival
One of Petaluma's favorite events with 145 booths by local crafters, artisans, gardeners, and live music. The Petaluma Art & Garden Festival also has a Kids Zone with hands-on arts and crafts, face painting, and a bouncy house.
Looking to see what's happening right now in the North Bay? Our comprehensive list of venues below will help you find what you need to know what's going on.
More Activities in Northern California