Looking for the coolest things to do to soak up the last of the summer months? We've got you covered. Even once the celebrations wane, there is still plenty to do. We've done the deep research for you on the best things to do in Sonoma County including museums, cultural events and food tours and more. Speaking of food, we also have an extensive list of our best restaurants in Sonoma County, and if you're planning a weekend, the best places to stay.
August is hot in Sonoma County, with temperatures in the 90s.
Featured Photo: Gravestein Apple Fair
Russian River Valley Winegrowers Paulée Dinner
This multi-course feast is served alongside Pinot Noir, Chardonnay, Syrah, Zinfandel and Sauvignon Blanc, poured by more than two-dozen Russian River Valley wineries.
Wine Country Distillery Festival
Get a taste of Sonoma's exploding craft distillery scene all in one, outdoor location. There will be spirits, food and more. The event benefits the Robert Ferguson Observatory.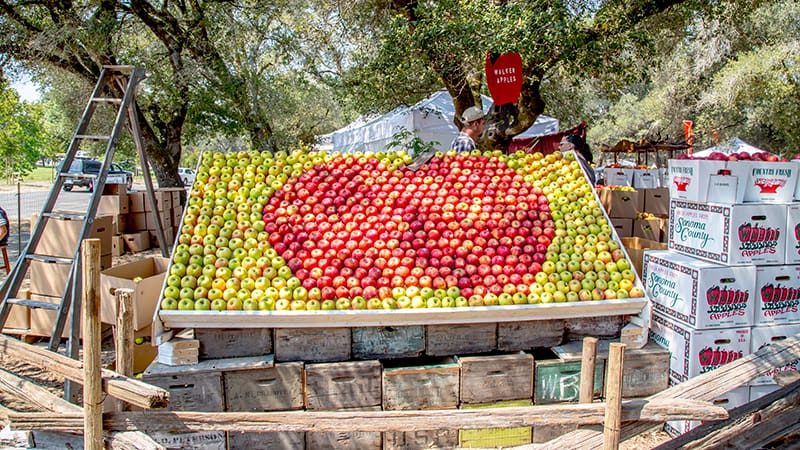 Gravenstein Apple Festival
This year marks the 50th anniversary of the Gravenstein Apple Festival. Think crafts, music, food, wine, kids' activities and of course apples!
Cotati Accordion Festival
Two stages, food, wine, beer, crafts, and lots of accordions. The Cotati Accordion Festival is a non-profit organization; proceeds benefit local youth service organizations.
Organized by Sonoma County vintner Clay Mauritson and chef Charlie Palmer, this fundraiser pairs Zinfandel with dishes prepared by some of Sonoma County's favorite chefs. Proceeds benefit the Down Syndrome Association North Bay.
Bodega Seafood Art & Wine Festival
Now in its 27th year, there will be art, wine, beer, food, live music and fun for the kids. A portion of the proceeds benefit the Bodega Volunteer Fire Department and non-profit Stewards of the Coast & Redwoods.
Looking to see what's happening right now in Sonoma County? Our comprehensive list of venues across the city below will help you find what you need to know what's going on.