Good for the mind, body and soul, wellness retreats can make you feel as though you have a new lease on life. Whether you're the type that would relish spending a few days being pampered in an award-winning spa or you prefer to spend time in the great outdoors, these San Francisco Bay Area hotels can help you focus on your overall well-being, so when vacation ends you can re-enter the hustle bustle of day-to-day life restored and refreshed.
Featured Photo: Rosewood Sandhill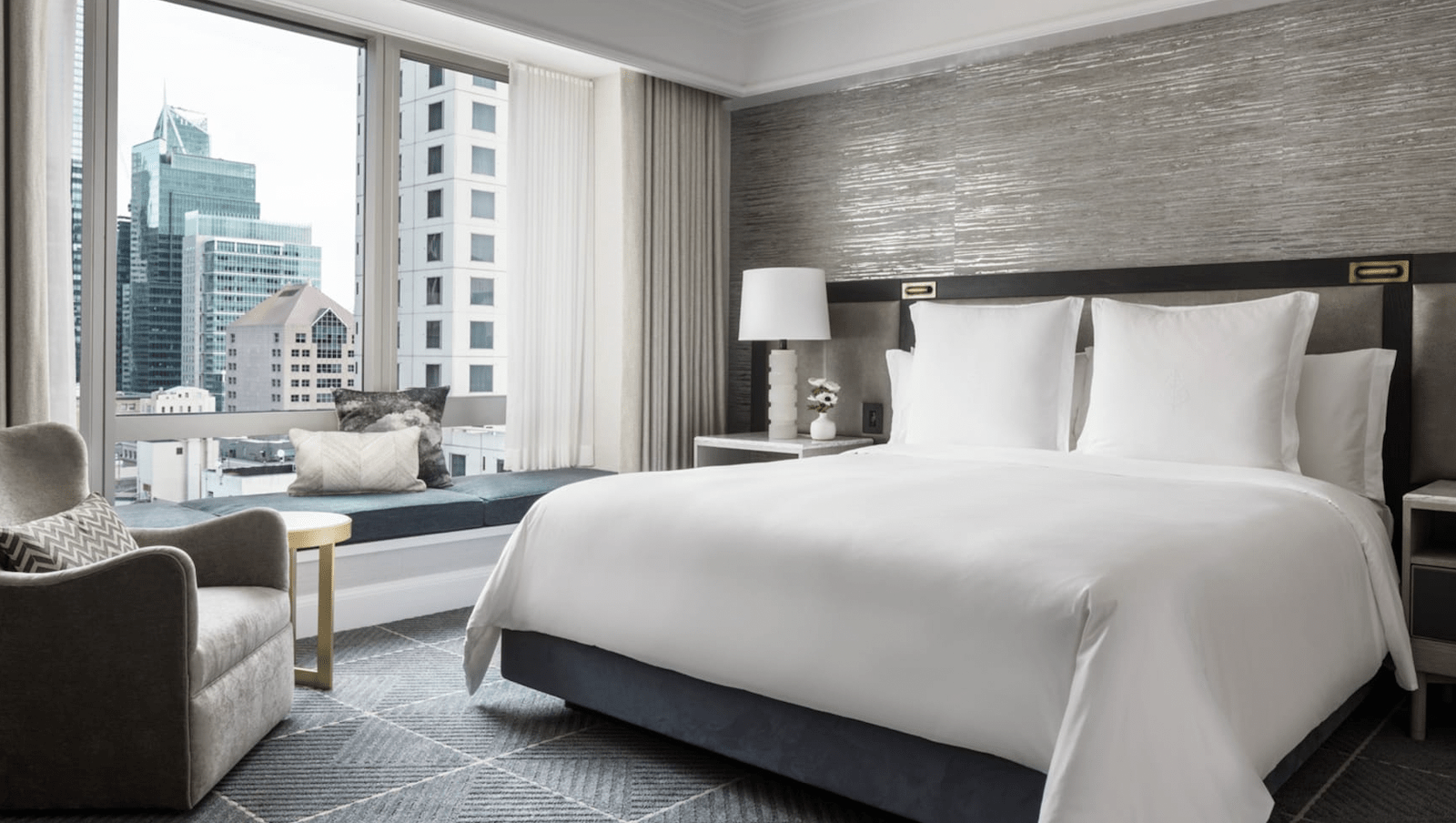 Never miss a workout while on the road. With complimentary access for hotel guests and under the same roof as the hotel on Market Street, the Equinox Sports Club is one of the city's best. The basketball court, full-service spa, unlimited fitness classes, and veranda terrace are favorites. The junior Olympic-sized lap pool answers the question of "where?" for even the most avid swimmers looking for a place to go.
TIP: For traveling parents, the hotel has a babysitting service to make that personal time possible.
Splurge on the Bathing Ritual on the rooftop of this Embarcadero hotel. It's not everywhere one finds an outdoor lavender-scented bathtub sprinkled with rose petals. Slip into the water with a glass of sparkling to gaze at the sky while coddled within the confines of a bamboo surround. Step out on the terrace in a plush robe for fresh air, bridge and bay views. Following a soak, what better than a massage?
TIP: The hotel rebranded as 1 Hotel San Francisco to offer a heightened emphasis on sustainability and eco-consciousness, so watch for expanded new amenities and services.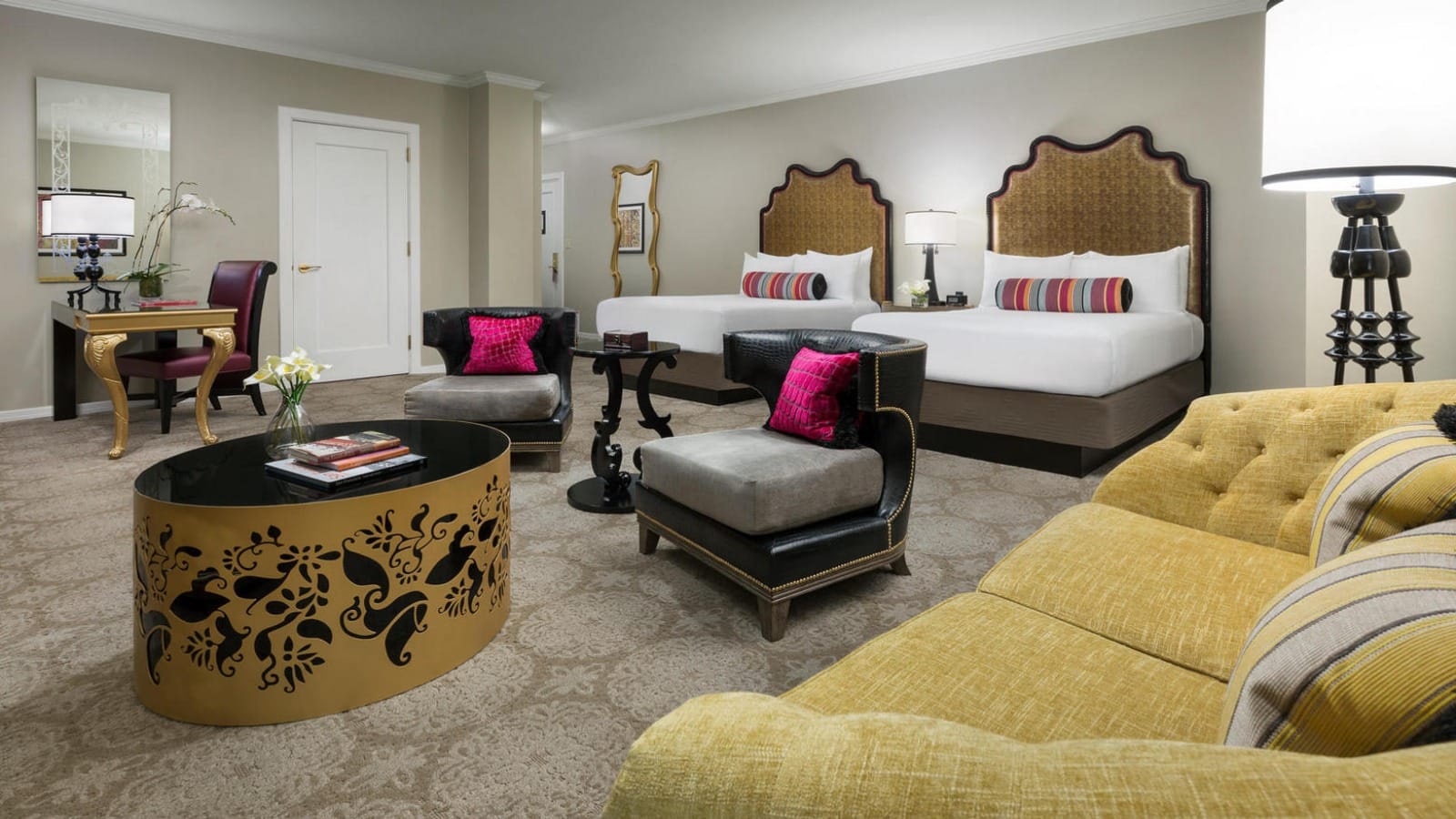 This is a favorite sanctuary for San Francisco residents who know the Nob Hill Spa is divine — did we mention the fireplace lounge? Guests wrap themselves in plush robes to enjoy refreshments, healthy snacks, and menu items served at poolside chaise lounges where floor-to-ceiling windows enhance an infinity pool and city views. There are 10 treatment rooms, couples massages, facial and nail services, beauty treatments for gentlemen, a Zen relaxation room, saunas, steam rooms, and a whirlpool across three levels.
TIP: Hotel guests have complimentary access to the spa facilities.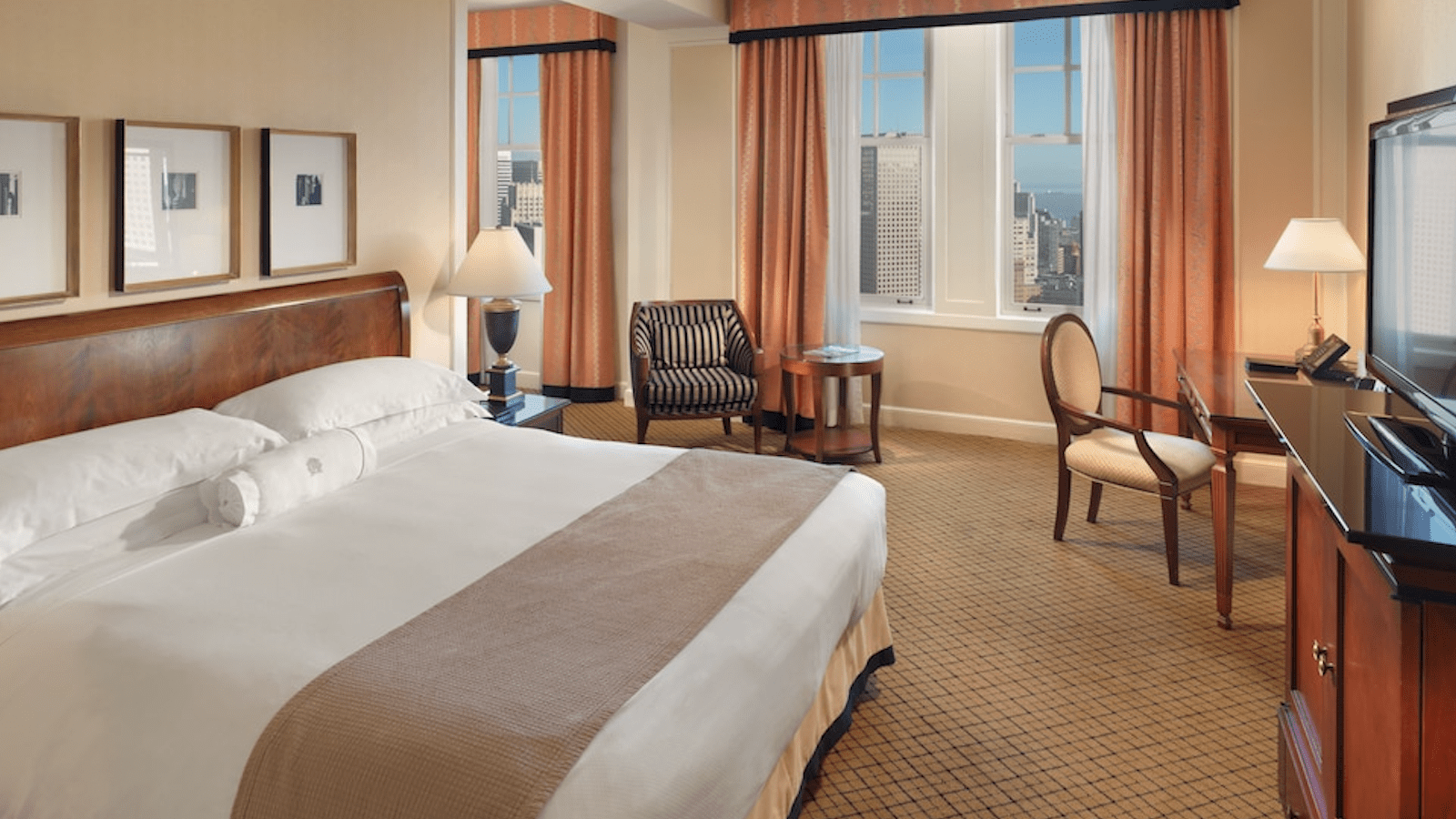 InterContinental San Francisco
Some properties earn the nickname "suits and suits," and this is one such place. An indoor swimming pool for laps and a hot tub are built-in benefits for hotel guests, primarily a business-oriented crowd for the proximity to the Moscone Center that's within a five-minute walk. There's a selection of treatments, from Ayurvedic and Swedish massage to body wraps, scrubs, manicures, pedicures, and waxing.
TIP: Dine at the on-site Michelin-starred restaurant, Luce, and work off the calories after at the fitness center.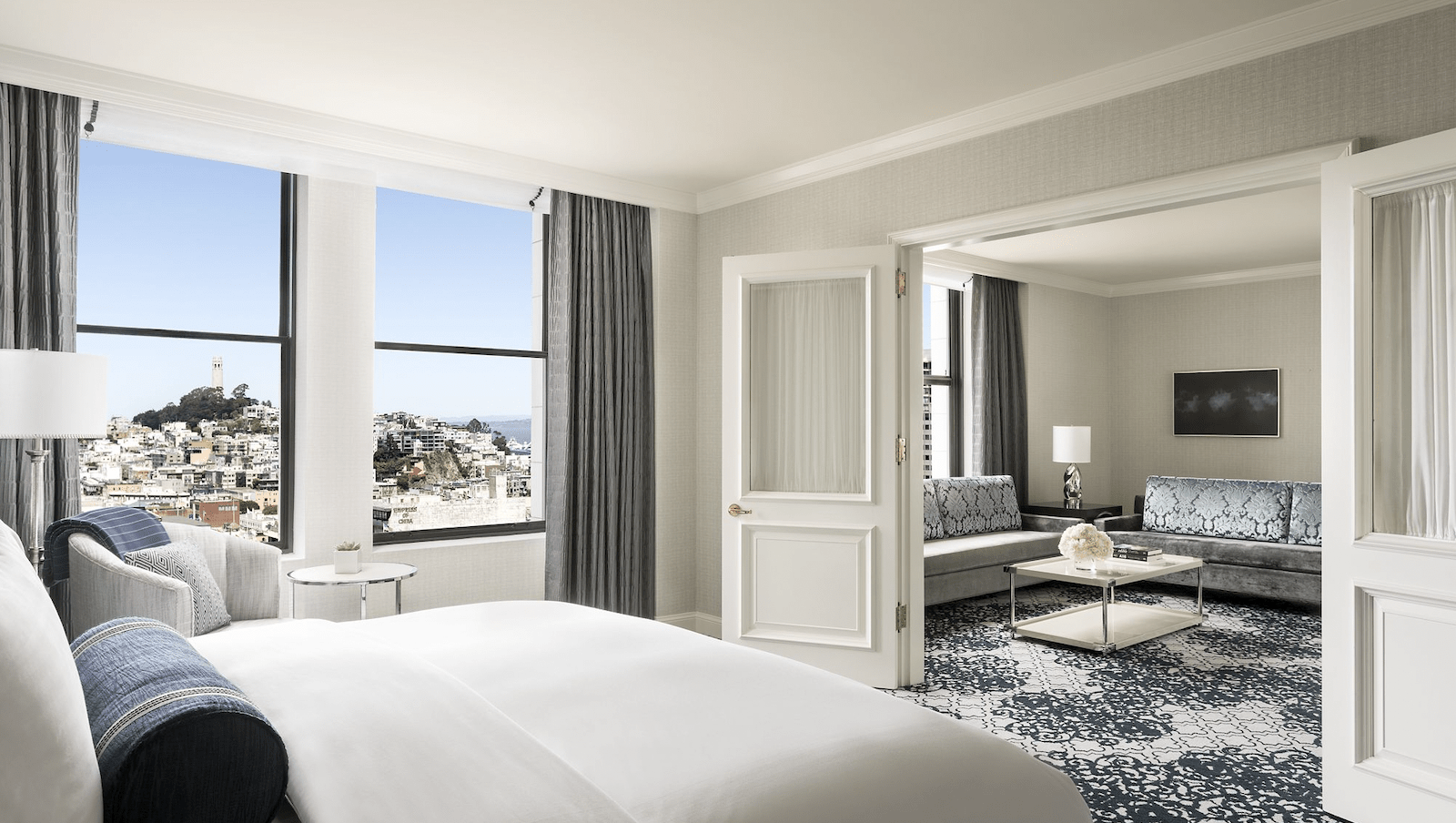 The Ritz-Carlton San Francisco
L'OCCITANE en Provence is a Mediterranean-inspired spa located on the lower level inside this luxury hotel where professional therapists provide 33 treatments. Fans of the brand will recognize those sunny pops of yellow, citrus tea, lavender scents, and lovely aromas. Special spa treatments include those to minimize the effects of jet lag and others to maximize anti-aging strategy. Keep up a workout regime at the fitness center where state-of-the-art cardio machines and strength-training equipment are available 24/7.
TIP: The focus is on treatments; there's no pool here.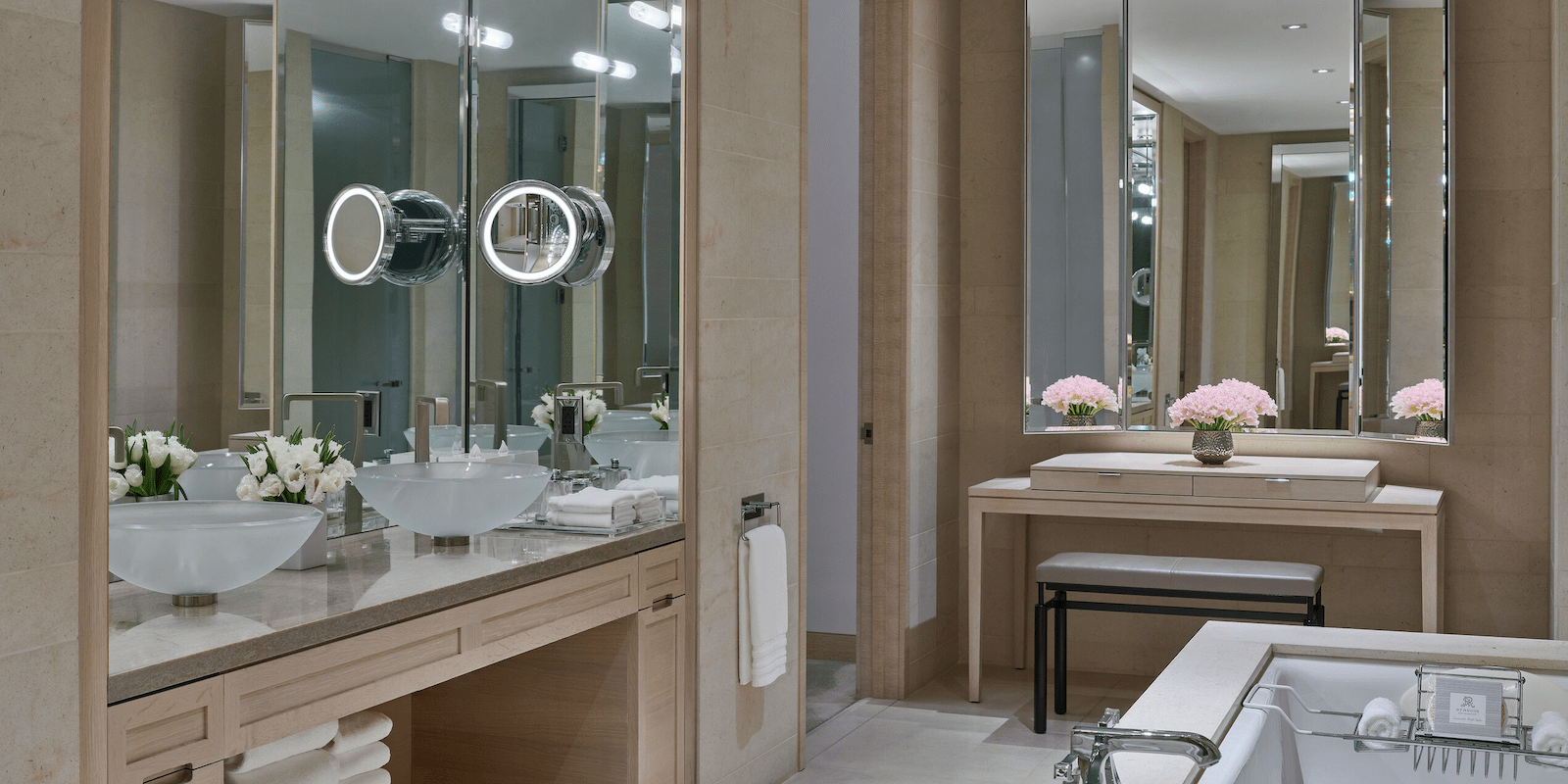 Is it a hotel with a spa, or is it a spa with hotel rooms? Either way, head for the treat of a heated, indoor infinity pool. The ultimate relaxation and renewal provided by sensory treatments and services at Remède Spa make this one of the city's top-rated hotel spas. No basement workouts here: The 5,700-square-foot fitness center benefits from natural light and city views. Check out the private yoga/pilates studio.
TIP: Guests have free access to the wellness facilities.
Nestled in the redwoods, Canyon Ranch describes itself as an immersive wellness retreat. One of four immersive destination resorts across the United States, the Woodside location features a multitude of outdoor experiences to reset your spirit including hiking, mountain biking, and morning yoga.
The spa is an integral part of the wellness experience at Canyon Ranch. Traditional, modern and alternative therapies from around the world are offered. Everything from Eastern massages like shiatsu, and energy therapies like reiki, to Ayurvedic treatments like abhyanga-shirodhara are available.
*Readers' Choice Best Spa and Wellness Hotel in the Bay Area
TIP: Stays can be fully customized to include activities such as forest bathing, bird watching, and Tai Chi. Guestrooms are actually one-of-a-kind, glass-clad treehouses perched in the redwoods. It doesn't get much more immersed in nature than that.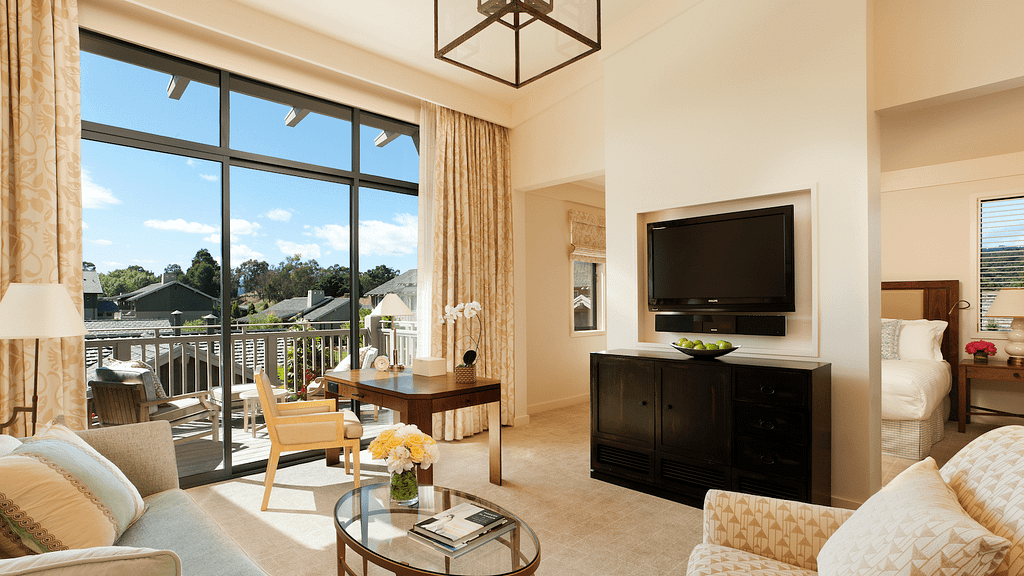 Wake up to striking views of the Santa Cruz Mountains. Stretching 16 acres, this Menlo Park resort knows how to take advantage of its beautiful backyard. Outdoor spaces abound; from lush gardens to quiet courtyards, secluded spots to relax are plentiful. However, all 121 guestrooms offer private balconies or terraces with views that make it easy to simply enjoy staying put in your relaxing home away from home. 
Take time for yourself and unwind at the property's award-winning Sense Spa. Boasting 13 treatment rooms, along with rejuvenating facials and massages, manicure and pedicure services are available. Separate men's and women's locker rooms and relaxation areas are available, but at the center of the spa is a co-ed lounge that extends into a courtyard complete with gurgling fountain. The fitness center features garden views and sought-after Peloton bikes.
TIP: The cozy lounge chairs and bright yellow umbrellas that surround the pool and hot tub make it hard not to smile or snap a photo — so don't forget your swimsuit. Madera, the property's Michelin-starred restaurant, welcomes guests with both indoor and outdoor dining.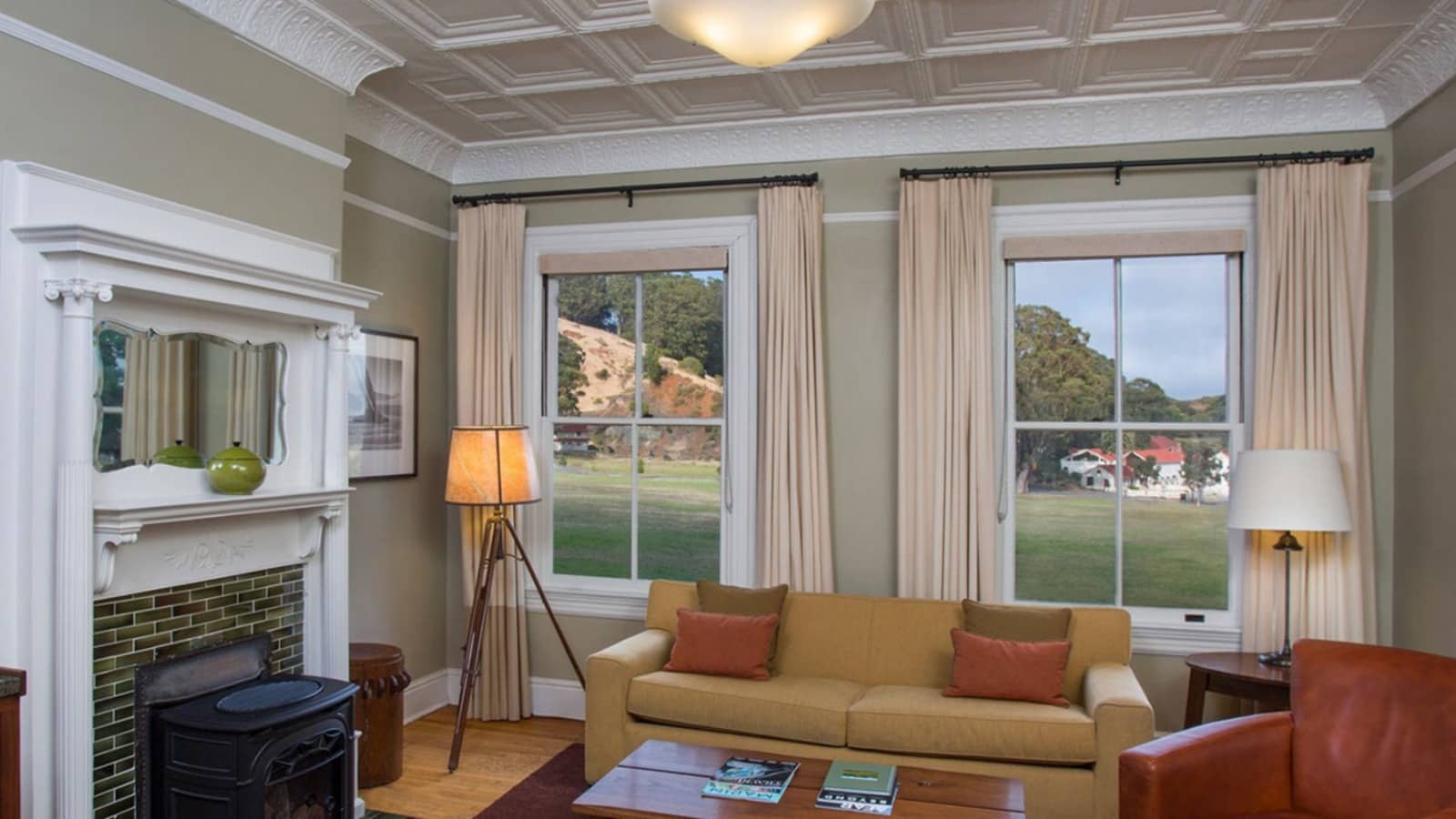 Known affectionately by locals as the Lodge at the Golden Gate, Cavallo Point is tucked into a sheltered nook in the Marin Headlands that faces south for views of the Golden Gate Bridge and San Francisco. A broad meadow, once a 10-acre parade grounds for the U.S. Army troops who were stationed here, fronts the property. A large main lodge hosts a full-service restaurant, Murray Circle, and adjoining Farley Bar, complete with a large fireplace to keep the fog's chill at bay on many a summer's day. 
Lodging is divided into two styles. Contemporary Lodging, which is built into the hills behind the main lodge, features floor-to-ceiling windows, fireplaces in every room and suite, and radiant heat floors. Historic Lodging is built into the property's landmark Colonial Revival buildings, the room and suites' unique details preserved with grace. French doors, Ben Franklin stoves and pressed tin ceilings are some of the details you might find in your room that reflect architectural styles popular in the area as early as 1877.
TIP: Peer through the cypress trees on the hill to find the holistic spa. Integrative medicine programs, including acupuncture and martial arts, complement spa treatments, yoga, and a Tea Bar. An outdoor meditation pool, indoor and outdoor showers, and an outdoor fire pit and Zen garden provide ample opportunities for lounging and deeply inhaling the pine-scented aromas.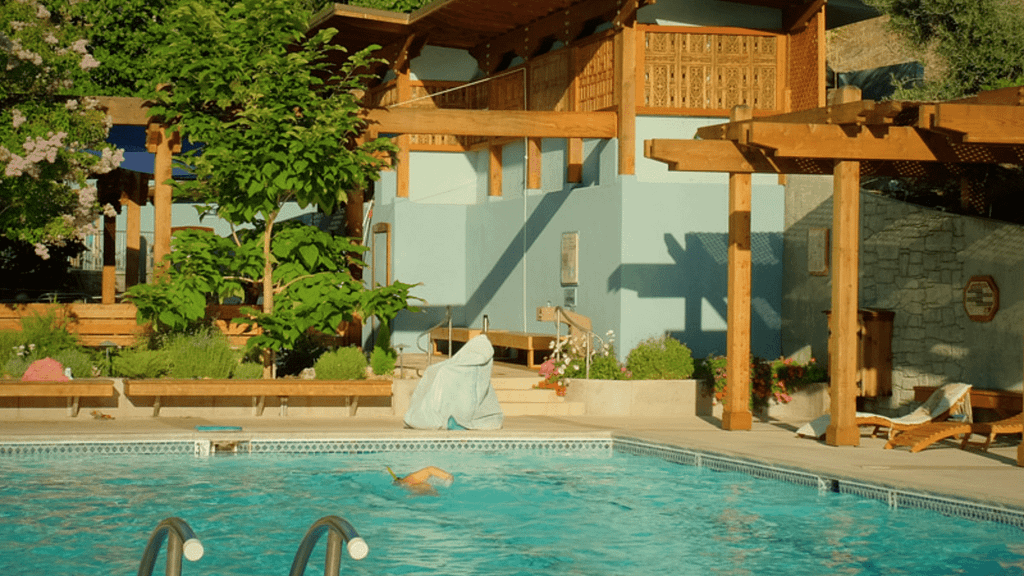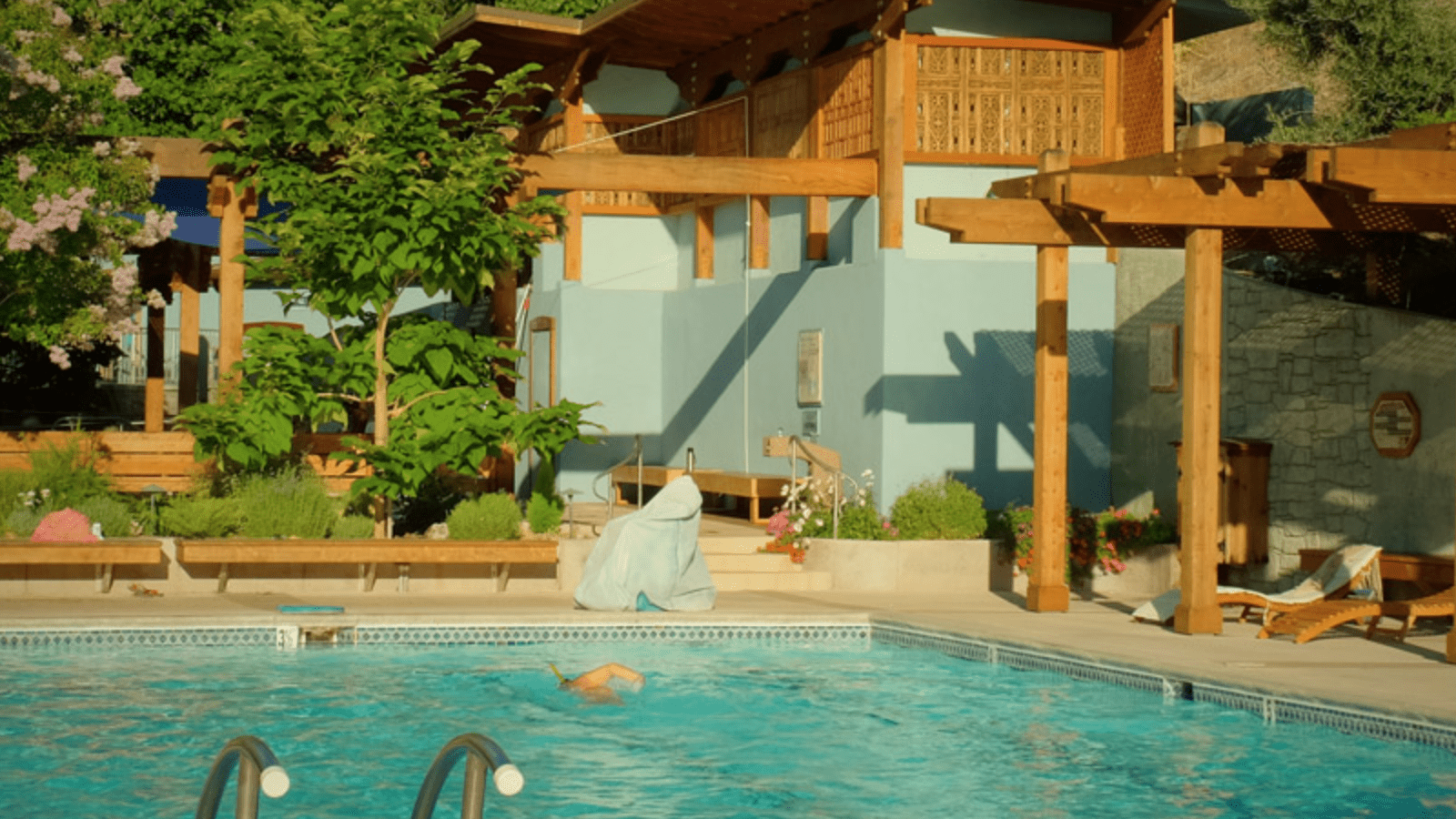 Set into the hills midway between Calistoga and Clear Lake, Harbin Hot Springs is a health spa inspired in equal measure by European and Native American hot spring traditions and Japanese onsen. Watsu, a type of water massage inspired by shiatsu, was started here and the many thermal pools are used for aquatic healing modalities — if that's your jam. Warm, hot and cold plunge pools are just the beginning — Harbin has six additional pools at varying temperatures for relaxing, sweating, socializing, swimming and experiencing Watsu or other water-bound body work.
Significantly impacted by fire in 2015, Harbin Hot Springs is an on-going work in progress. Many former structures have been rebuilt and spaces reimagined to be a more integral part the natural world. The Dancing Bear Café ably stands in for a full-service restaurant and the Yoga Room remains a sacred space. Hiking trails have been restored and new trails have emerged.
TIP: Though you can visit just for the day to experience the pools, staying overnight in the Domes, Caravans or Cottages, each group set a 10-minute walk from the main pools, means exposure to even more pool time. The Domes even have two private pools exclusively for Dome dwellers. Caravans have built-in kitchens and Cottages welcome groups greater than two.
Heritage House Resort & Spa
This former farmhouse is set in a sweep of 37 acres perched at the cliff's edge overlooking the Pacific Ocean. Panoramic views from every room offer an opportunity to watch whales migrating and abalone divers searching for treasure off the resort's own beach. Rooms are set into blocks behind the resort's main rooms, all with individual entrances and rainfall showers and some with fireplaces (gas or wood-burning) and kitchens. 
Enjoy a drink and a meal at the onsite 5200 Restaurant & Lounge. The bar's comfy chairs face the sea and the French-accented American menu features locally-sourced seafood and many foraged foods. Martinis, such as a Lemon Gin Collision, are modern riffs on classic cocktails and suit the updated hotel's time-honored spirit.
There's a full slate of spa services and yoga on the Deerfield Meadow or get your sweat on in the fitness room or on one of the many onsite hiking trails. Heritage House Resort and Spa offers Tesla and generic electric vehicle charging for all resort guests. You may even spot a couple saying "I do" at the oceanfront gazebo.
TIP: The hotel's concierge makes a visit here as relaxed as you like. Ask about programs to roast s'mores over a fire pit and picnics at the beach. Or how to watch Same Time, Next Year, the 1978 romantic comedy with Alan Alda and Ellen Burstyn, on your in-room flat screen TV. The exteriors for the movie were shot here.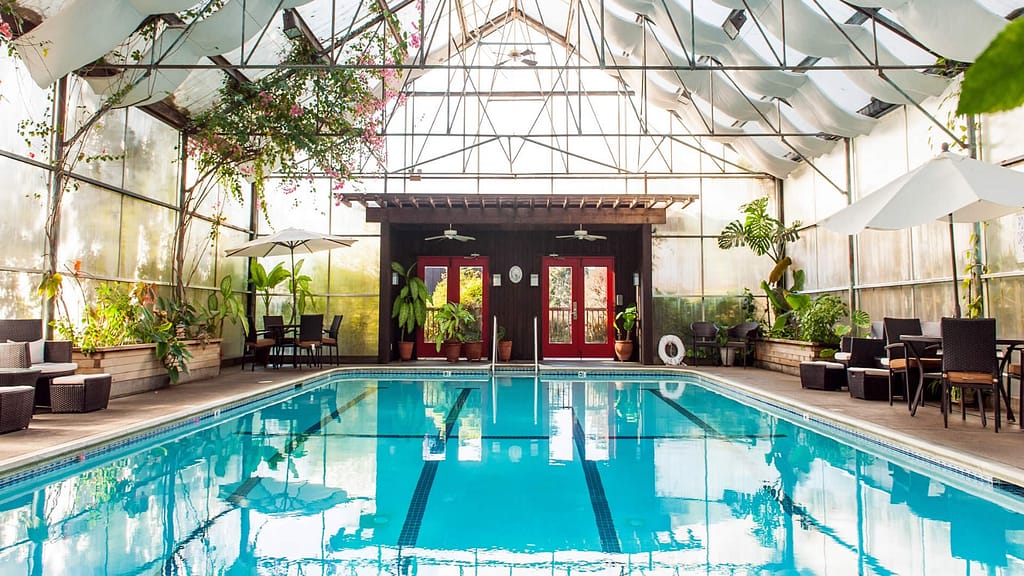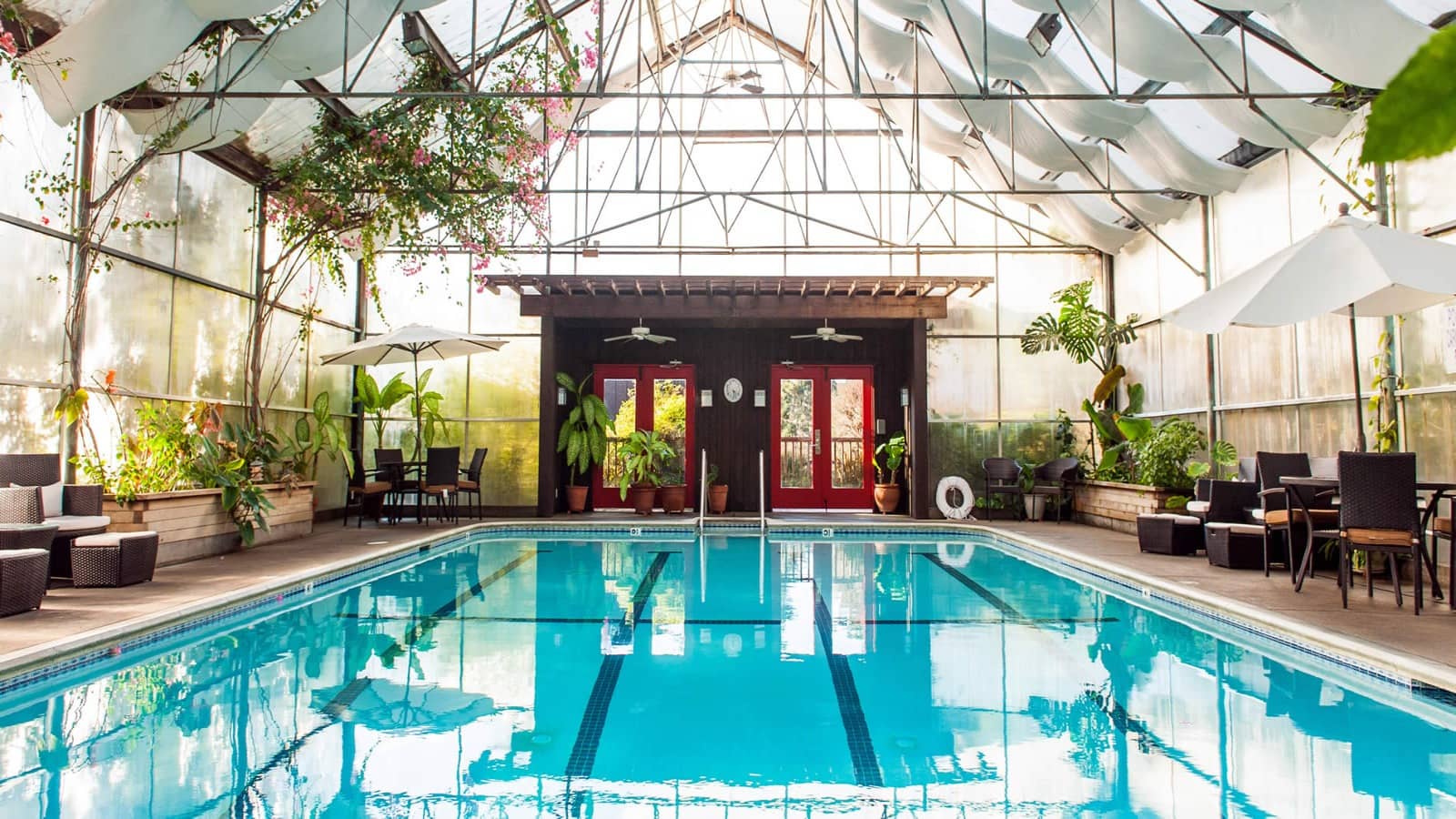 Beloved for its prime position right on Big River and close to downtown Mendocino, Stanford Inn is an integrated resort, with numerous programs to experience Mendocino offered onsite. Gardening and cooking classes, nature walks and tai chi, there's even a creative play shop for adults to let their inner Stan Lee or Georgia O'Keeffe out. If you have to pick just one, why not try a ride in a locally handcrafted outrigger canoe? Known as Mendolea, they are perfectly suited for a ride up the never-developed Big River Estuary, a part of the Mendocino Headlands State Park.
Rooms are gathered into two main buildings and most face organic gardens, an orchard, a barn and pasture with horses, donkeys and llamas, and a boathouse with dock. Five King rooms can be combined to form suites and feature pine walls with redwood accents and wood-burning fireplaces. Two large suites, both in stand-alone cottages, feature a kitchen nook, dining area and separate bedroom and river views. All rooms enjoy complimentary breakfast and onsite Ravens Restaurant is so well-regarded for its conscientious sourcing and personalized attention, reservations are recommended at the same time as you book your room.
TIP: Many guests visit Stanford Inn just for its pool. Situated inside a greenhouse, the pool's salt waters and extended lounge seating makes it easy to while away a chilly afternoon or evening — it stays open to 11pm, late for Mendocino.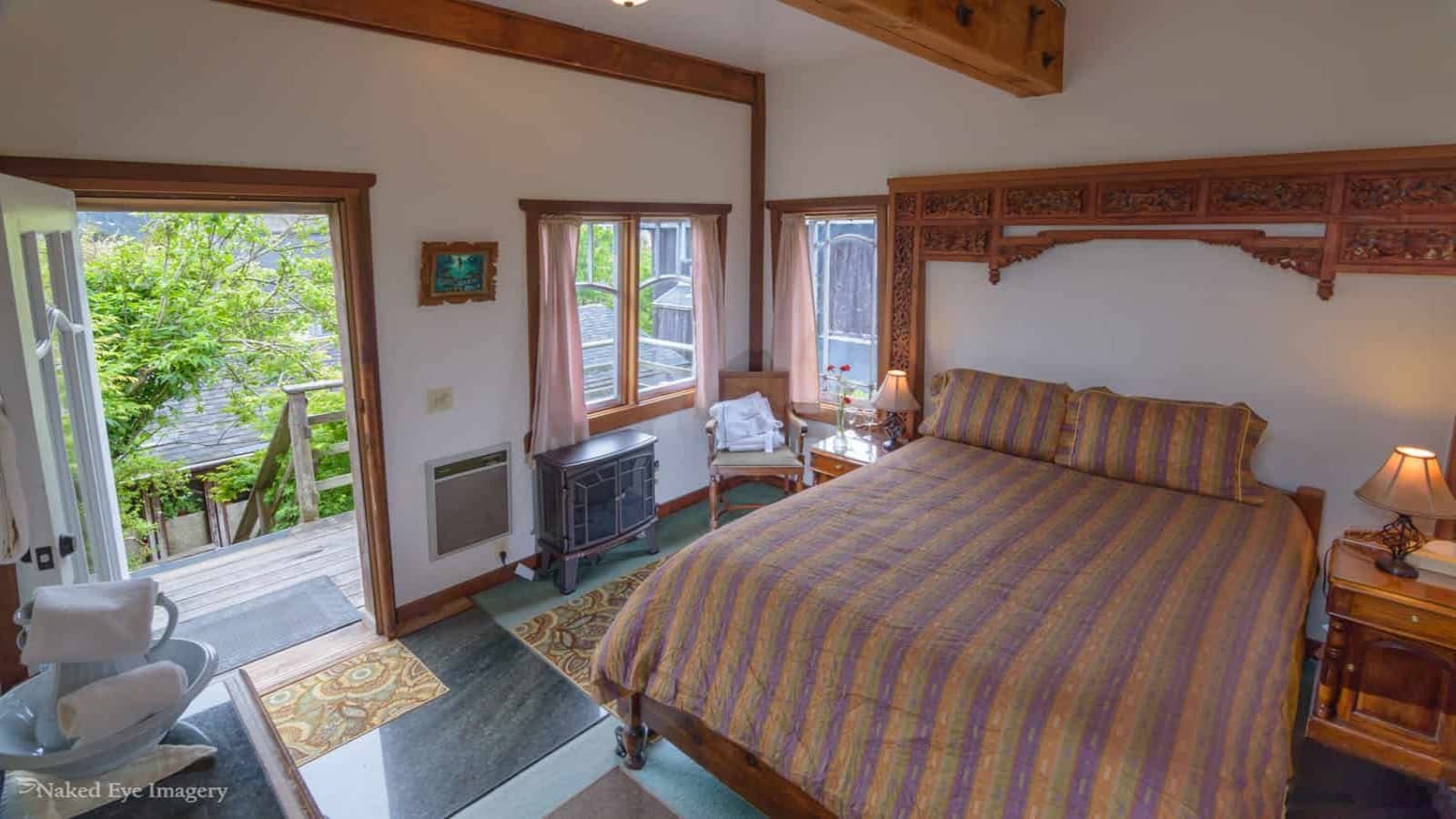 Downtown Mendocino is the region's hub of hospitality and Sweetwater Inn & Spa is in the midst of it all. Within easy walking distance are restaurants, coffee shops, yoga studios and access to the Mendocino Trail which runs along the coast. The sunny yellow Victorian hosts three upstairs rooms. Individual "towers" — the Redwood Tower initially functioned as a water tower — are unique and homey. Sears Tower has a sunken living room, Redwood Tower's deck has 360º views of Mendocino and Sweetwater Tower has a shared downstairs bath and spa area. Truly, this is a one-of-a-kind inn.
TIP: If Mendocino was once a hippie paradise, the outdoor redwood hot tubs at Sweetwater Inn and Spa would be their Shangri-La. One private tub claims a sunning deck and infrared sauna, another has access to the cedar wood sauna and a third, designed to be communal has access to a communal sauna. Both are clothing optional.
Claremont Club & Spa, A Fairmont Hotel
The eye-catching white property set in the Berkeley hills looks like a castle. Set upon 22 acres of lush landscaped grounds, it offers a relaxing escape from the hustle and bustle of San Francisco, while still delivering magical views of the City By the Bay. 
The Fairmont Spa — a 2021 Forbes 4-Star Award Winner — offers natural healing treatments like massages with full-spectrum CBD and ginger massage oil designed to relieve both mental and physical stress. Beyond the spa, guests can relax and unwind at one of three heated, saline pools or perfect their swing at the onsite tennis courts. Saturday guided hikes are also offered seasonally.
TIP: The hotel's 276 newly renovated rooms have a relaxing feel that make it hard to believe the property has been a Bay Area icon since 1915. It's worth the upgrade for a room with views of the San Francisco Bay and skyline. (The Claremont Club & Spa is also the perfect hopping off point to explore the quirky city of Berkeley, home to the oldest campus of the University of California system.)
Lafayette Park Hotel & Spa
A French Country inspired retreat in the East Bay, it's hard not to feel relaxed from the moment you arrive. With a unique blend of European charm and California flair, guestrooms offer an ideal place to relax, with intimate courtyard views or Lafayette's rolling hills. Just peeking out the window can make you feel energized.
The Spa at The Park has been rated a AAA Four Diamond winner for 25 consecutive years. Along with customized massages and anti-aging facials, body wraps, and exfoliation treatments will make you feel pampered. For those that prefer to get their blood pumping, there's always the hot tub, 24-hour fitness center, or the countless nearby hiking and biking trails.
TIP: Surrounded by greenery and trees, the pool area is a tranquil spot that makes you want to linger longer, possible with a cocktail or good book. And just like a grand French chateau, there's plenty of nooks and crannies — think fountains and outdoor fireplaces — to simply sit and enjoy doing nothing.