A cool girls' weekend, maybe? Just chilling out with college pals? Perhaps a family reunion, a retreat with colleagues, or a sports-filled escape for the guys. Group getaways are more fun when the hotel is well-suited to the camaraderie of these special occasions and provides amenities such as an in-room mini-fridge, coffee maker, and blackout blinds for the morning after.
Featured Photo: 1 Hotel San Francisco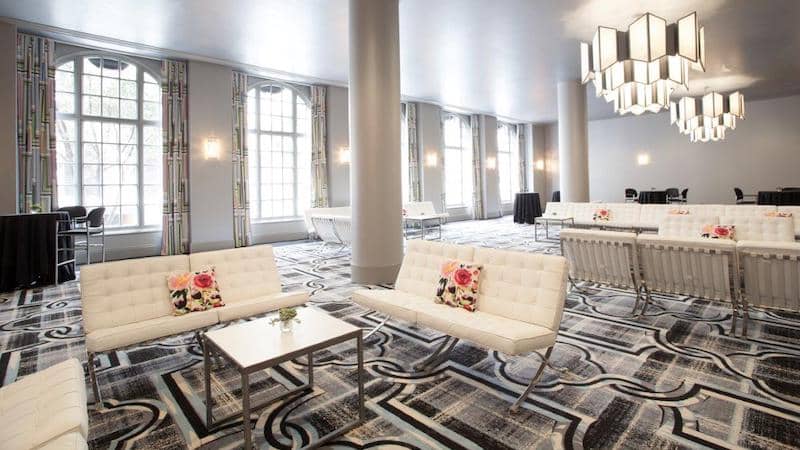 Built in 1910, The Marker Hotel has long been a San Francisco treasure. The recently reimagined and renovated lobby and event spaces were created to blend the property's storied past with the future, creating a pitch perfect harmony. Offering over 12,000 square feet of event space, with up to 9 breakout rooms, The Marker Hotel is the perfect setting for corporate events and social gatherings for 10-300 attendees. With 20-foot ceilings and the natural light of oversized windows, The Bellevue Ballroom easily transforms from meetings that mean business to the social gathering of the year. The hotel's team of experienced professionals is both flexible and creative, and brings your event to life.
TIP: The Marker Hotel's 12 event spaces are named after classic film noir characters inspired by Dashiell Hammett's The Maltese Falcon, including Spade, Bogart, Falcon and Hammett.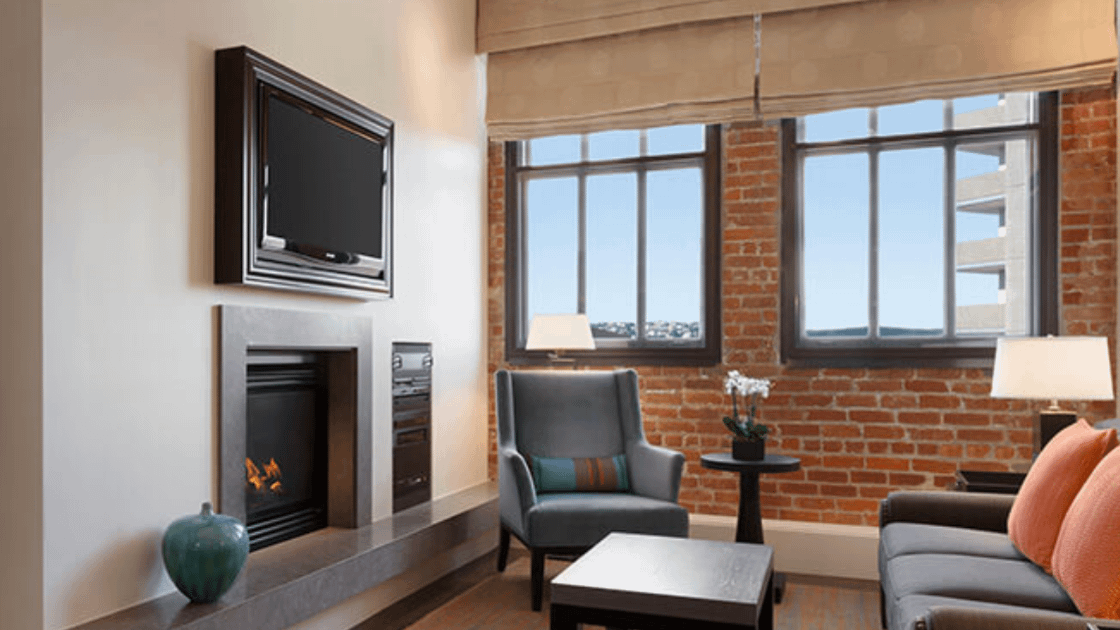 Fairmont Heritage Place Ghirardelli Square​
Friends and family traveling together can comfortably spread out in the Fairmont Heritage Place Ghirardelli Square's spacious one-, two- and three-bedroom suites and residences, all with ensuite bathrooms, full kitchens and in-suite washers and dryers. Many of the accommodations at the pet-friendly hotel feature fireplaces and share the original brick wall from the neighboring Ghirardelli Chocolate factory as well. With Ghirardelli Square at your doorstep, there's no shortage of restaurants, bars and shops located just steps away.
TIP: If your group would rather stay in to eat, the hotel can arrange pre-arrival grocery shopping and delivery to your room.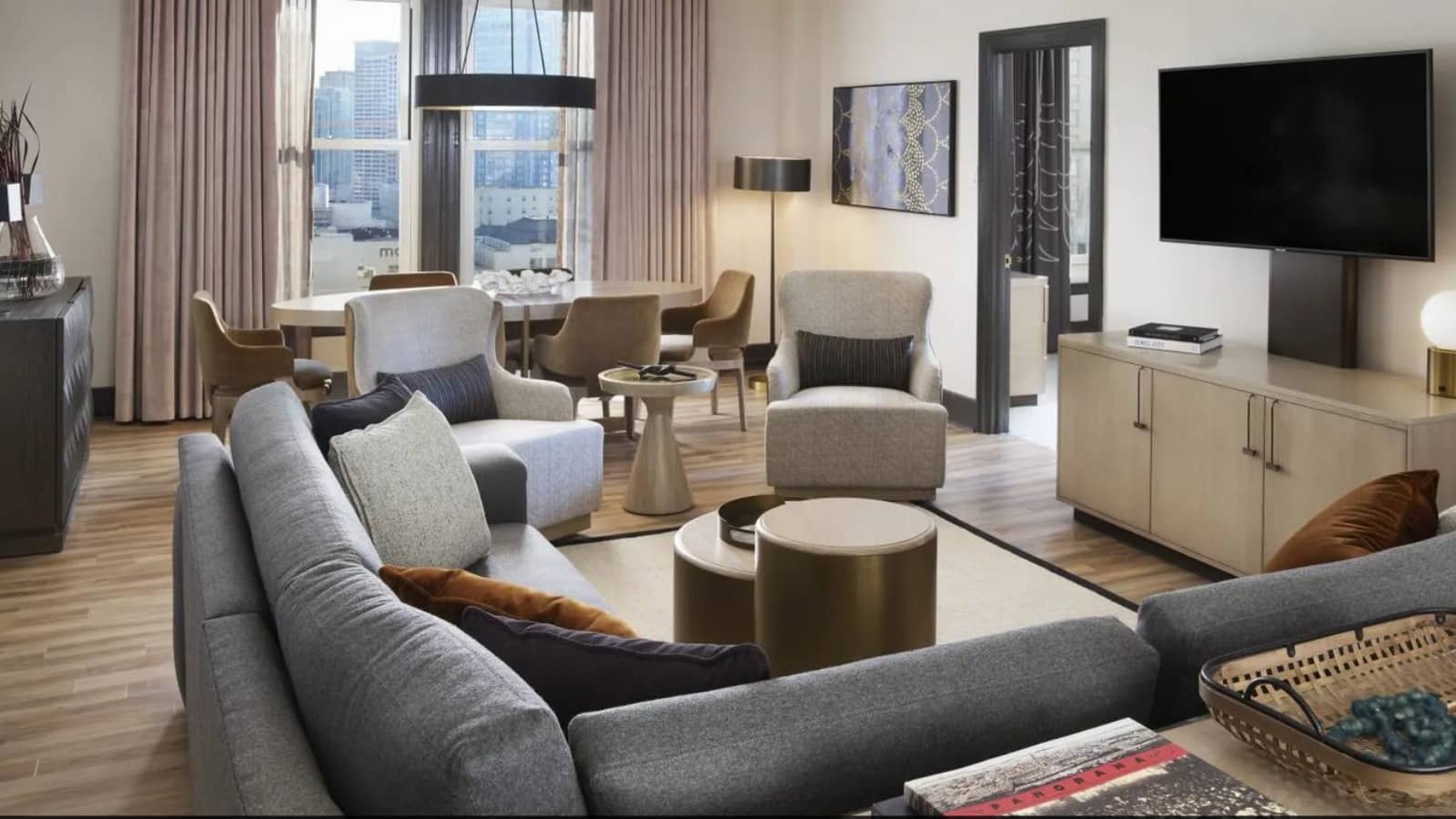 A down-to-the-studs makeover in 2020 brings contemporary finishes to 372 rooms and public spaces that belie the age of this century-old landmark two blocks from Union Square. The Redwood Room is a famous gathering place, named for the single tree that's said to decorate the walls and bar. Home of the famous "Big Chair," a group selfie-magnet in the lobby. Dog friendly, with a rooftop bee sanctuary and complimentary bicycles (first-come, first-served).
TIP:  Wi-Fi and 24-hour gym access are provided but there is a $31 daily fee.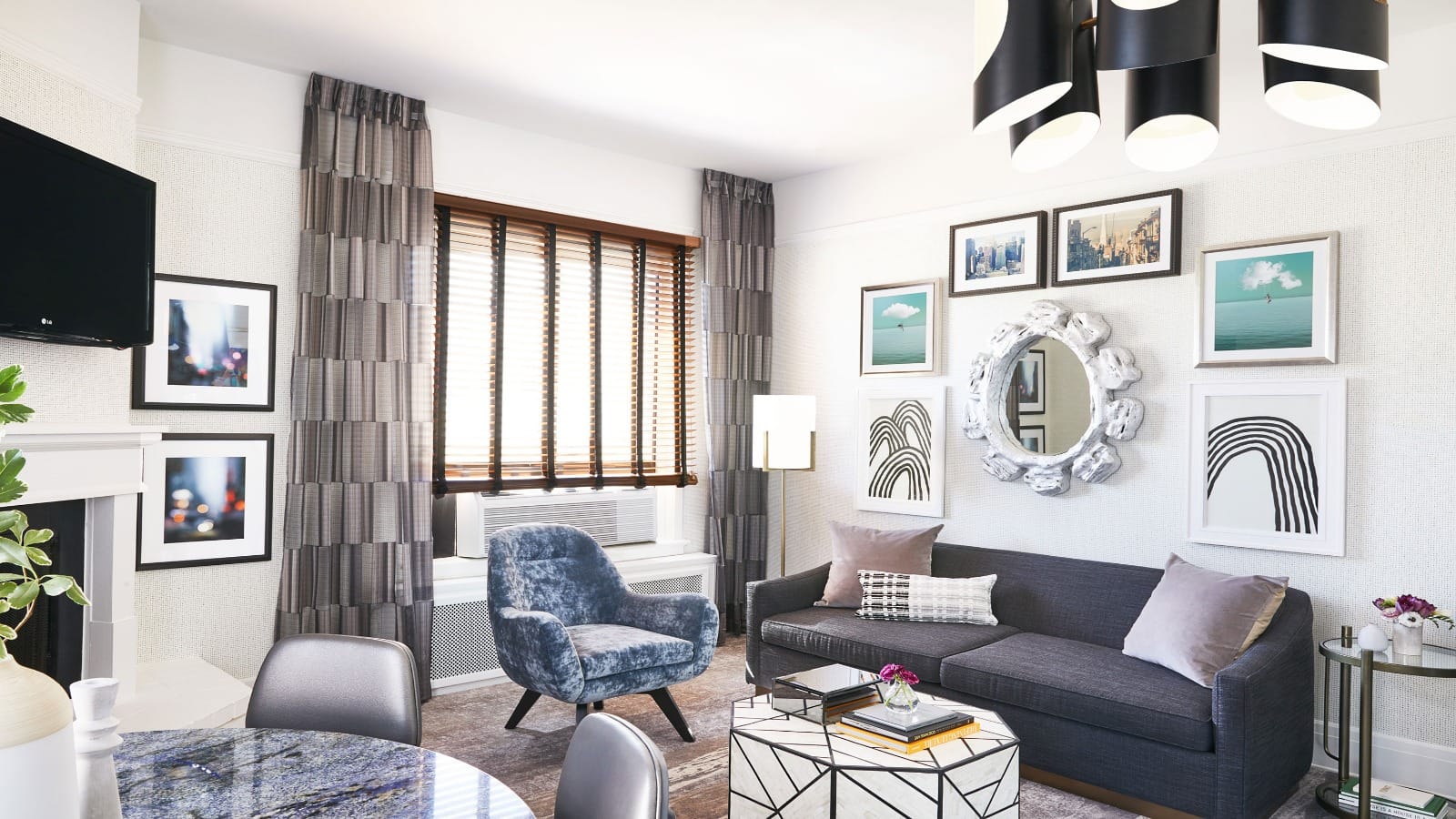 Steeped in history and a favorite since 1911, the property's attractive Art Deco bones remain evident after a top-to-bottom refurbishment. The lobby "living room" has a two-story tall ceiling, where small groups gather around a handsome fireplace. Adjacent, the French-inspired Gaspar Brasserie is a duplex space for dining and intimate cocktails upstairs. This central location is where the Financial District meets Union Square, for maximum walkability.
TIP: Prior to the 1906 earthquake, The Occidental Hotel stood on this spot where the first Martini was shaken and stirred in the 1860s.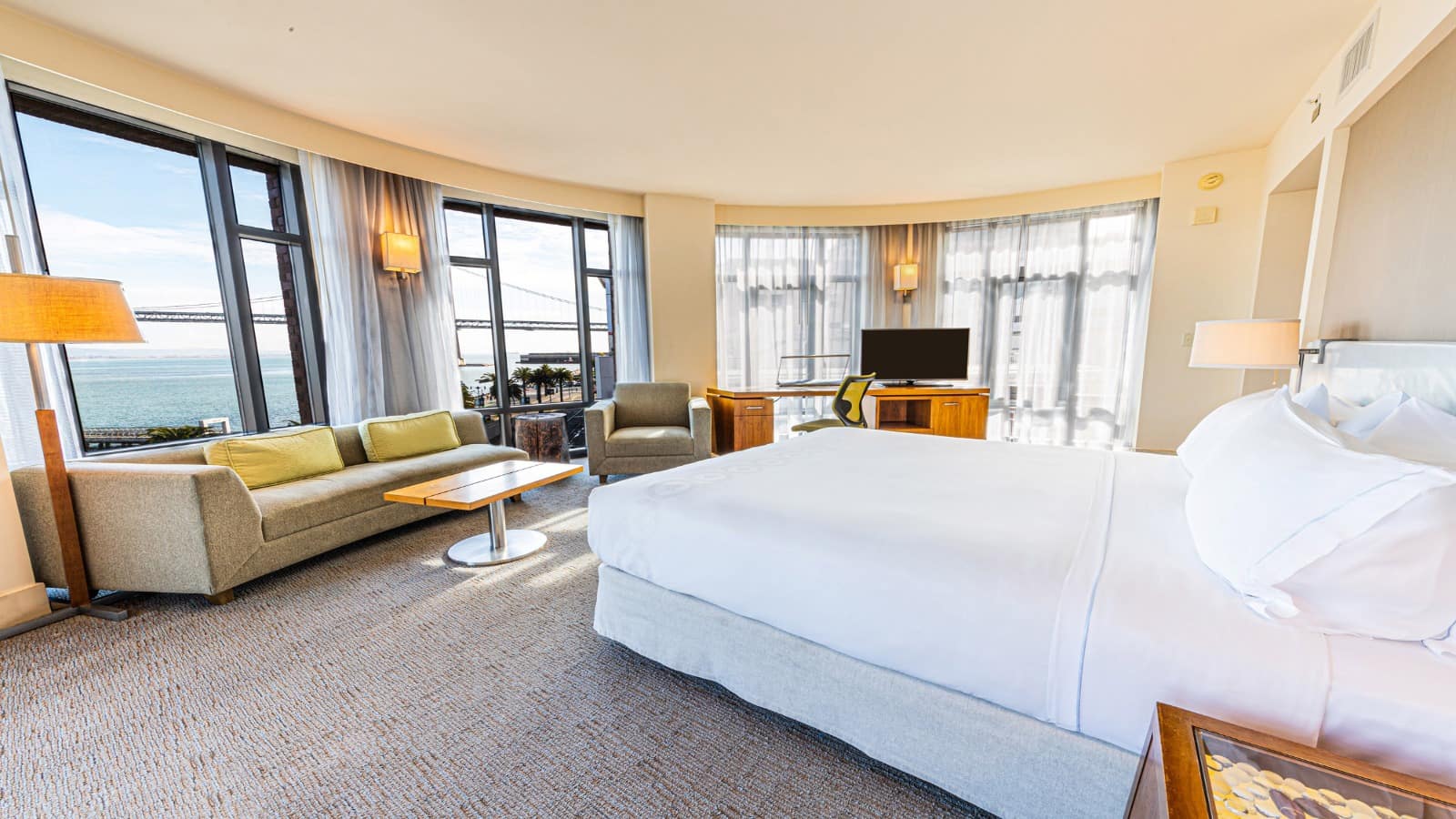 This 200-room hotel overlooking San Francisco Bay provides a popular "front row seat" for events like Blue Angels, America's Cup, Super Bowl 50 celebrations, and fireworks displays. Even the curb factor says "party" because Americano Restaurant & Bar spills out onto its own patio. For families or friends traveling together, the oversized Family Studio room is a plus. All rooms have a mini-fridge, blackout blinds, plush robes, in-room safe and coffee maker. Spa? Dog-friendly? Absolutely.
*Readers' Choice Best Group Getaway Hotel in San Francisco
TIP:  Start your morning off with a HIIT bootcamp class on the rooftop, programmed in partnership with LuxFit SF. With challenging bodyweight exercises and targeted strength training, you'll set the tone for the weekend ahead.
There's plenty of space for everyone. This historic boutique hotel (yes, there's a fireplace and a front porch with rocking chairs) is a former military officers' barracks. Inside San Francisco's largest green space, which also happens to be a National Park, there's peace and quiet, nature hikes, and superb views. Hotel guests are in the city yet in the forest and steps from the golf course. Make it a group getaway, hanging out with friends and family around the cozy fire-pit beneath the cypress pines and eucalyptus grove.
TIP:  Golden Gate Bridge vistas provide the "wow" factor.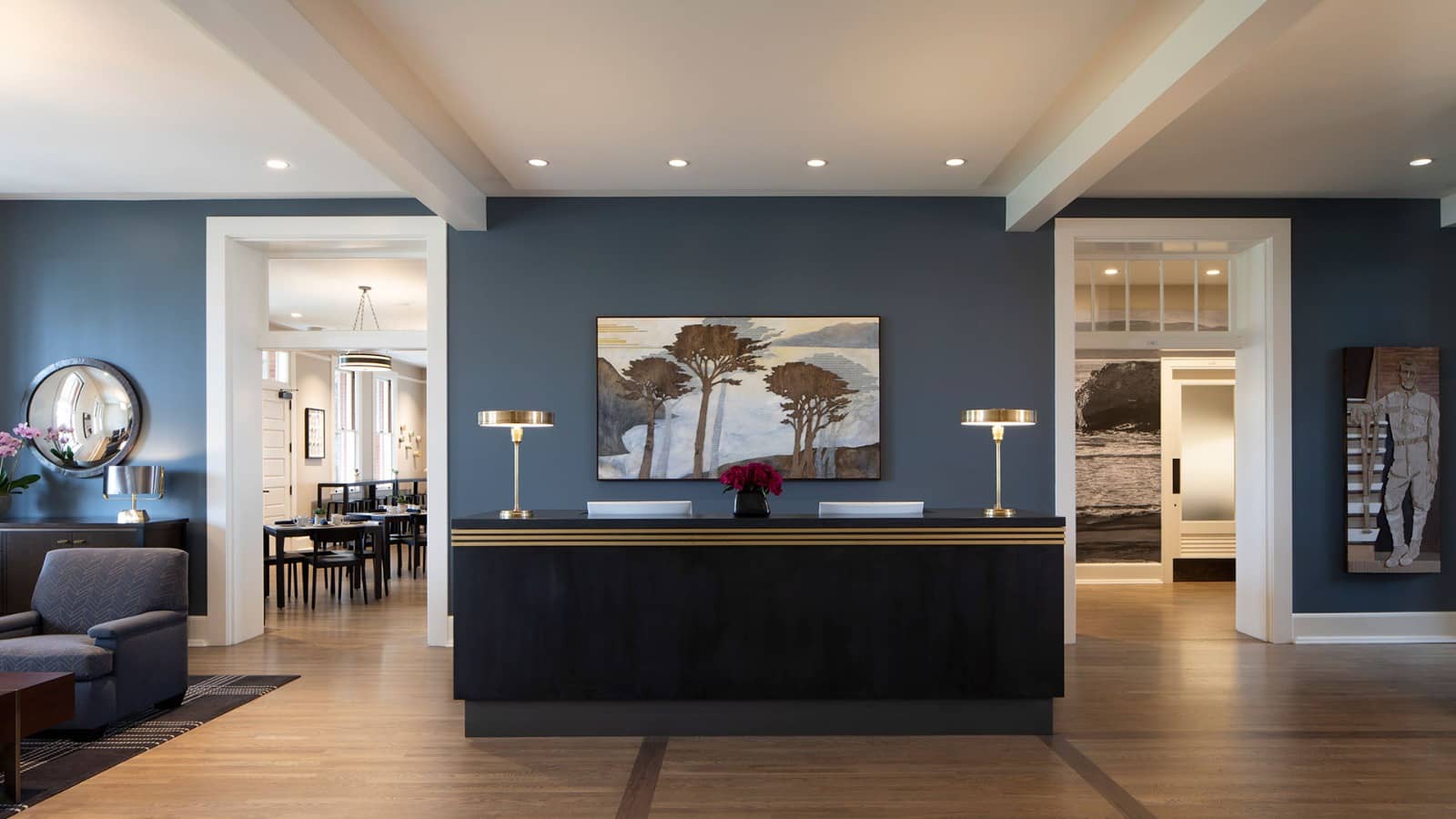 The Lodge at the Presidio
If a larger group needs more accommodation, this is a sister hotel to the Inn at the Presidio, just a two-minute walk away. The hotel is set amidst 1,500 acres of restorative nature with a giant front lawn, stunning bay views, and a direct overlook to the Golden Gate Bridge. The attractive 19th century red brick building, beautifully restored, is a refurbished military barracks. A cozy outdoor fire pit is the perfect spot for a few friends to enjoy the complimentary evening wine and cheese reception.
TIP:  Breakfast is also complimentary.
San Francisco Marriott Marquis
When a "contemporary prime downtown location" is on the must-have list, this hotel tower delivers. Steps from SFMOMA, Yerba Buena Gardens, and Moscone Center and Union Square, the hotel suites with separate living rooms are the answer for traveling families. Groups like to gather at The View Lounge, an art deco-inspired space known to locals and visitors for its sweeping city skyline and bay views of San Francisco. Check out the 24-hour modern fitness center, too.
TIP: Bonvoy members' bonus is the 24/7 M Club Lounge.
More Local Favorites in San Francisco