The San Francisco Bay Area is known for its epic cool factor, so it's no surprise that when that it comes to lodging, there's plenty of hip hotels to make your stay a memorable one. From lobbies loaded with vibrant art and waterfront cabins oozing coastal chic, to an entire floor dedicated to a Ryokan guest experience, prepared to be wowed by your home away from home options in this iconic stretch of Northern California.
Featured Photo: Hotel Citrine by Michael Kleinberg
Kimpton Alton Hotel: Fisherman's Wharf
Locals and visitors alike flock to this chic hotel's sun-drenched lobby with 1970s-inspired lounge furniture for a cocktail with friends. Rooms, many with views of the bay, are designed for rest and rejuvenation after a day spent exploring the city's many nearby attractions, with a relaxing color scheme, luxurious robes, Frette linens and soft lighting. Perks abound at the pet-friendly hotel, including in-room yoga mats and record players, complimentary bikes and kids' scooters, a nightly "wine hour," retro board games and even a local scavenger hunt highlighting the hotel's favorite secret spots in San Francisco.
TIP: Don't miss eating at award-winning Filipino-influenced Abacá during your stay.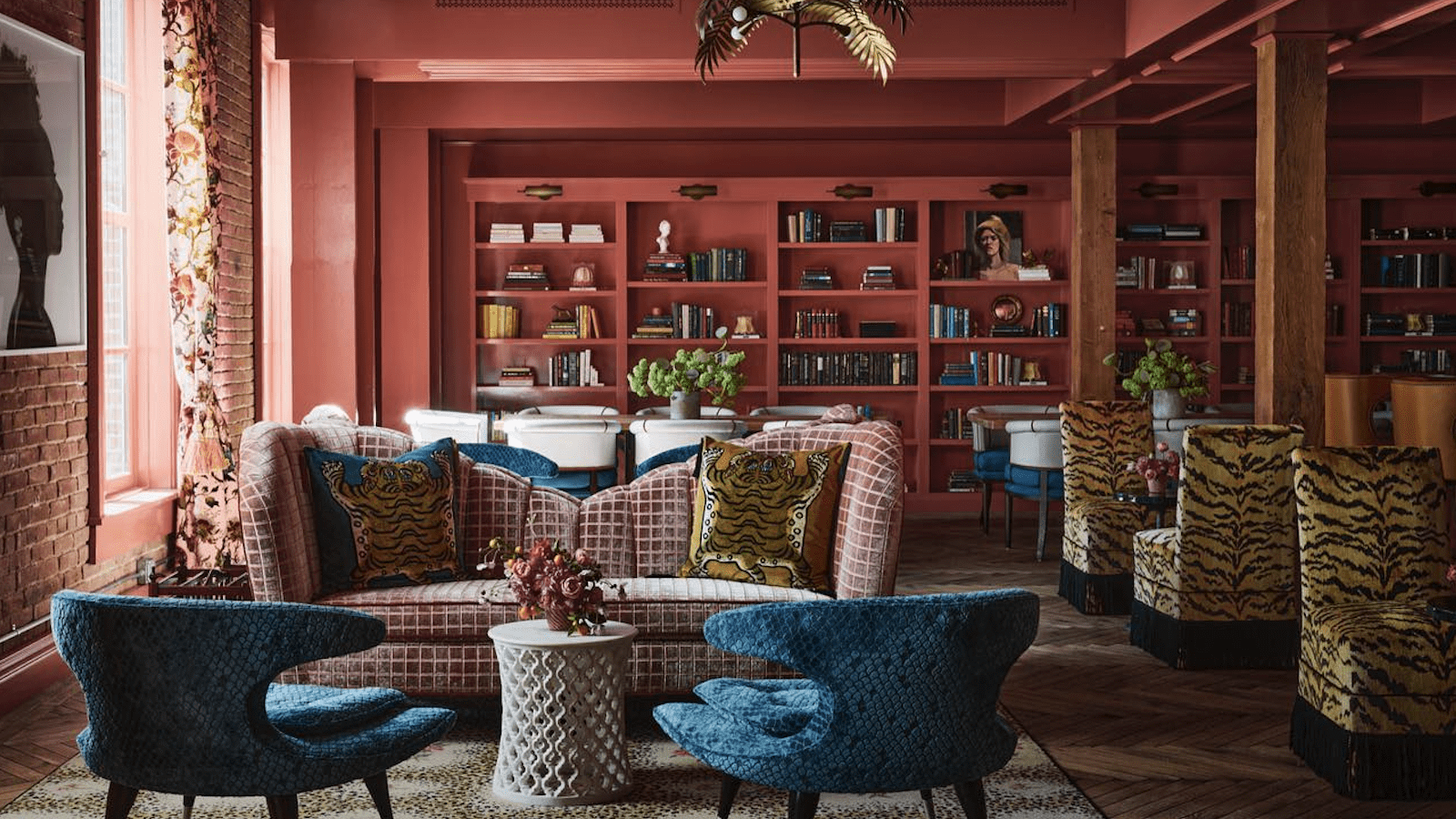 A "well-kept secret" sounds cliché, but The Battery in historic Jackson Square certainly qualifies as a private club. This invitation-only membership club is sought after by San Franciscans and has just 14 spacious suites decorated by Ken Fulk. The accommodation has exposed brick walls, period features, vintage furnishings, and original artwork. Courtyard rooms overlook the club's garden, others have knock out views of the Transamerica Pyramid landmark. Best of all, resident membership is bestowed upon hotel guests for the duration of their stay.
TIP:If you're looking for a hideaway urban spa, this is hands-down the spot.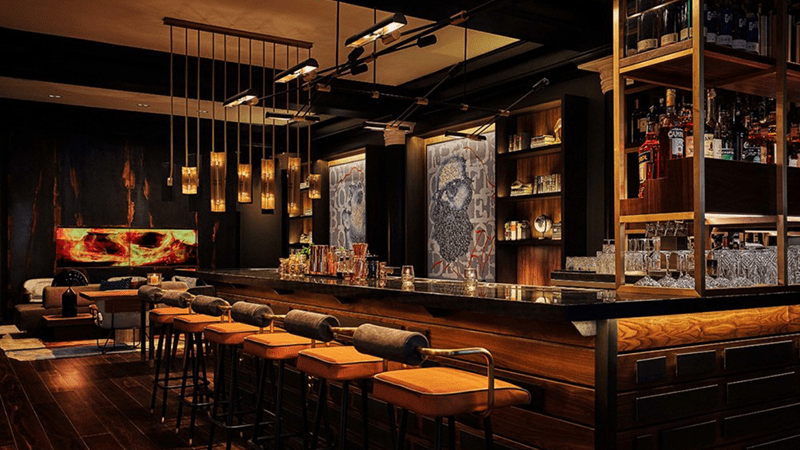 Inspired by the Beat Generation — think eclectic, creative, rebellious design, plus book-lined walls and typewriters. Located in downtown San Francisco, a few blocks from Union Square, Nob Hill and the Theatre District, this Urban Retreat by the Viceroy is a haven for creative thinkers and doers. Come to relax and be inspired. And if you choose to venture out into the unknown, their concierge is equipped to give you personalized, under-the-radar recommendations to make your trip to San Francisco truly memorable.
TIP: There is a book butler for those who'd rather stay in and read.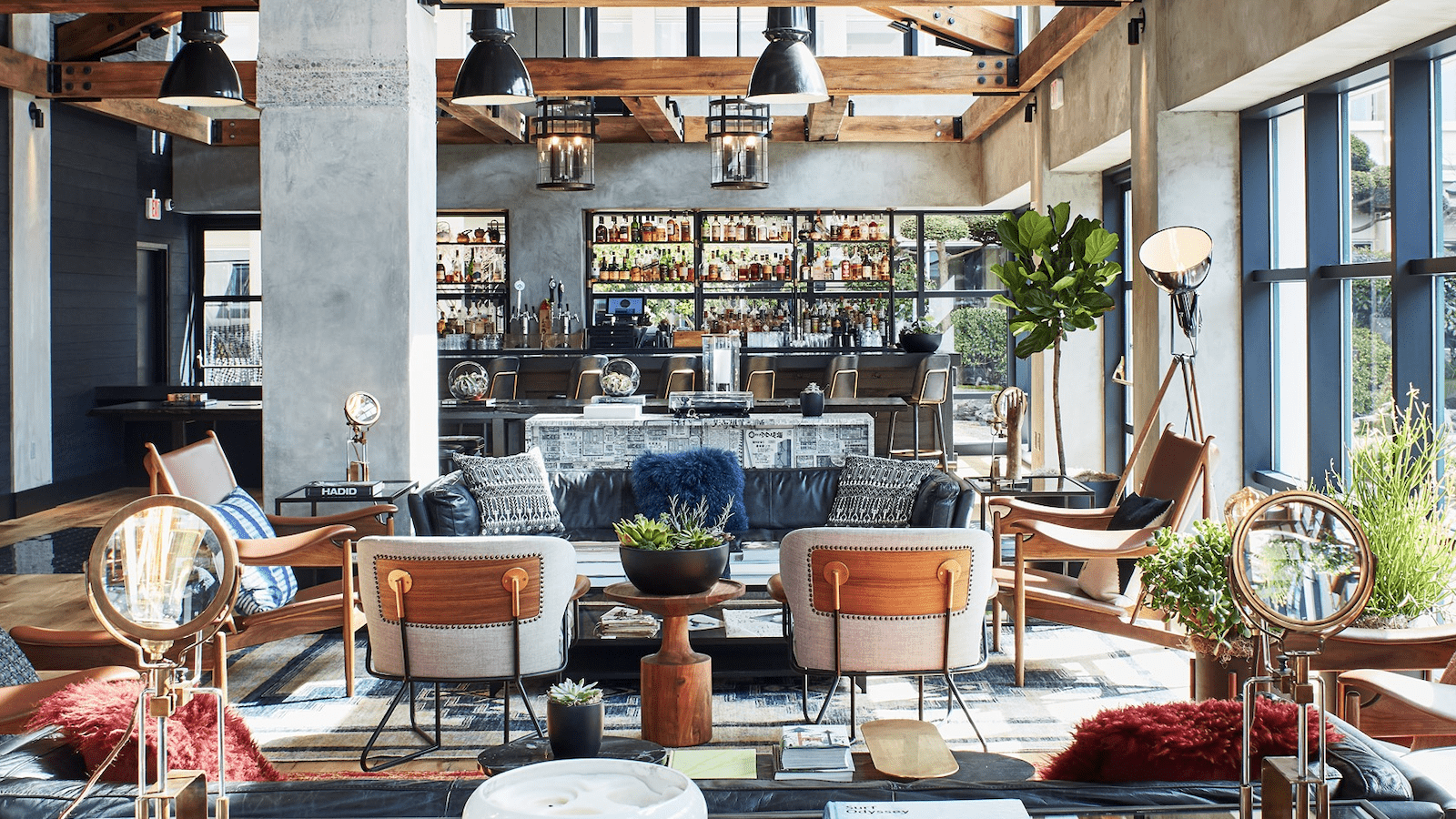 Authenticity is drawn from San Francisco's Japantown where the Hotel Kabuki greets guests with minimalist style surrounding an interior Zen garden. Tall picture windows allow natural light throughout the living room, a.k.a. common areas. A cool lobby bar overlooking the garden serves Japanese whisky, saké, and beer. The hotel's new Thai restaurant, Nari, earned top-notch national awards among America's best in 2020.
TIP: One wouldn't guess this is a Hyatt, but that's a fact since Joie de Vivre (JdV) joined the family.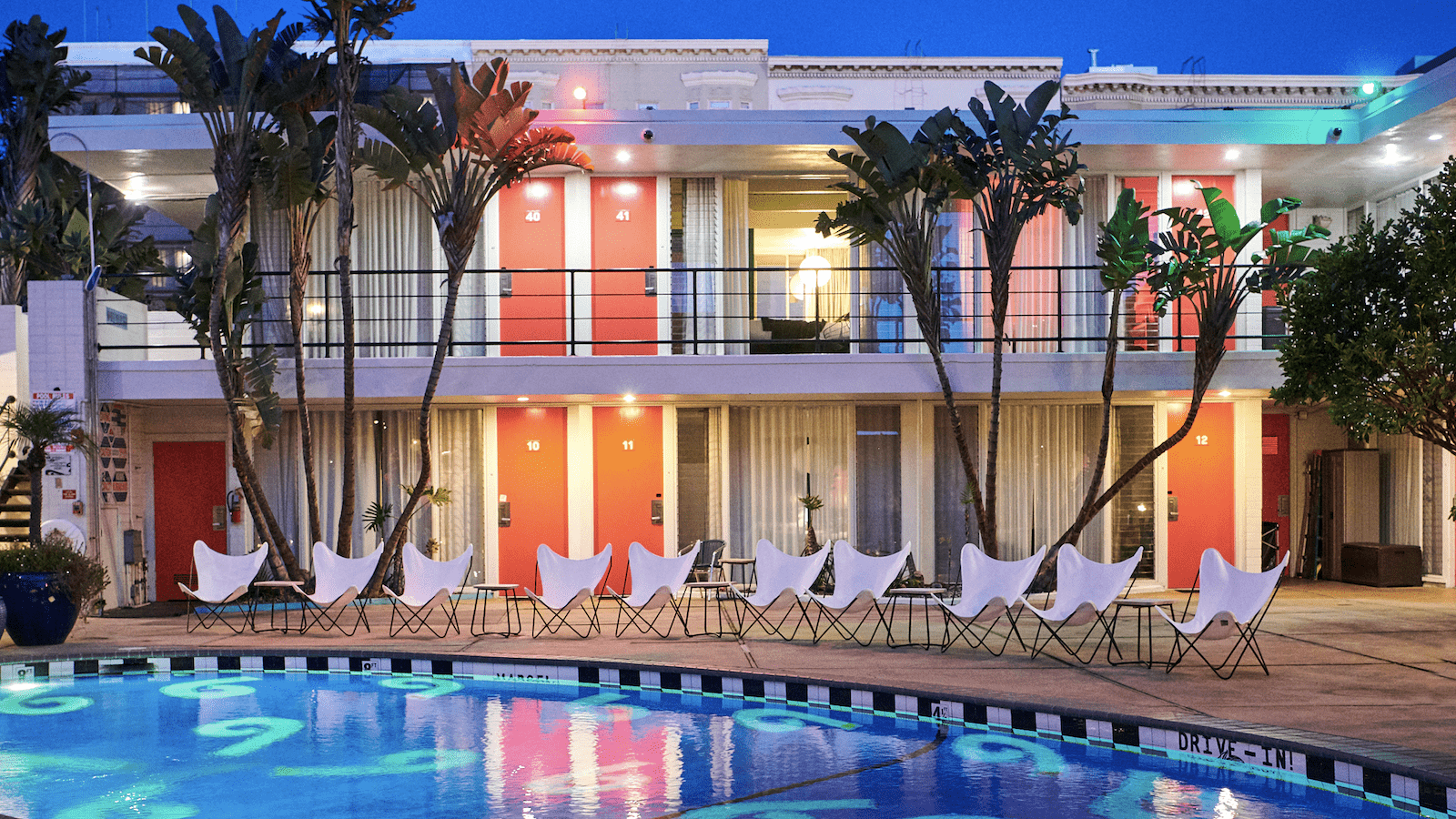 Once a motor lodge, then a touring rock band pitstop magnet, now a timeless hip hotel, this property has had several incarnations since its 1950s beginnings. Quirky best describes the vibe. Forty-four rooms are laid out to surround the centerpiece, a heated outdoor pool maintained at 85 degrees with an eye-catching mosaic tiled design. Complimentary Wi-Fi, coffee and tea, and no resort fee. The neighborhood is borderline to both the Tenderloin and Civic Center.
TIP: Chambers, the on-site restaurant and bar, is worth checking out for the food and drinks on its own.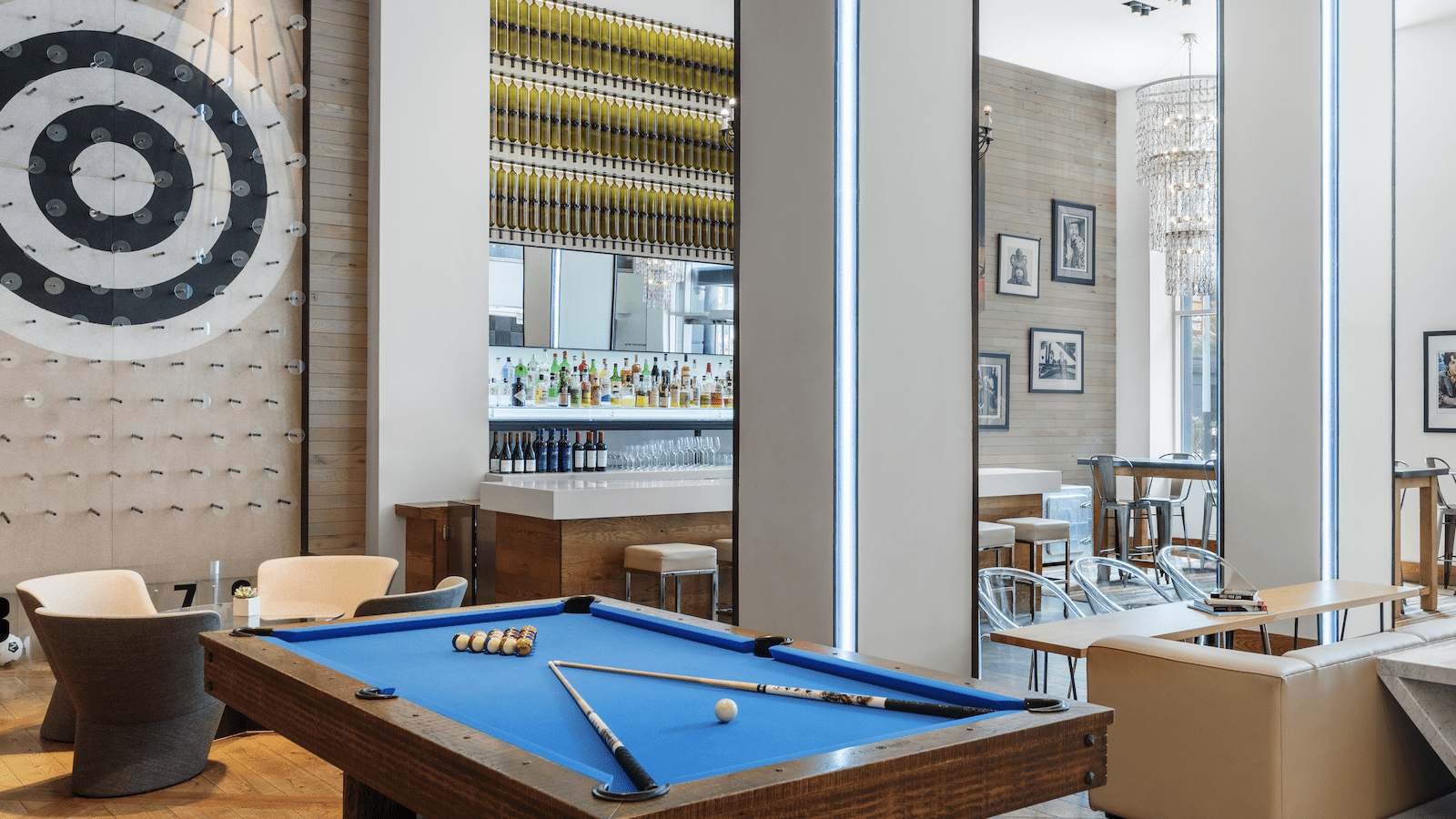 Step in and look up at a one-of-a-kind chandelier made from glasses. Recycled and upcycled art installations are in the hip DNA at Hotel Zetta. The lobby lounge is called Salvage & Rescue and the playroom is inspired by startup culture. Just off Market Street in the heart of SoMa, this 121-room Viceroy Hotel is known as home of the Cavalier for British-inspired classics at breakfast, lunch, and dinner. Those in the know head for Marianne's, an intimate club and salon for cocktails by candlelight.
TIP: Pack your training shoes and ask for a room with a Peloton bike.
Artsy-cool, design-forward interiors by Kelly Wearstler ensure that every square inch makes a statement. Guest rooms are kitted out for the tech savvy and Wi-Fi is included, of course. Off the lobby, "pre-Modernist" Villon Restaurant & Bar serves California cuisine and cocktails. The crown jewel of San Francisco Proper Hotel is Charmaine's, the swank lounge-y rooftop bar where cocktails and fire pits compete with views 120 feet above Market Street.
TIP: In the middle of mid-Market Street means the location is iffy, but that could also qualify as edgy and hip.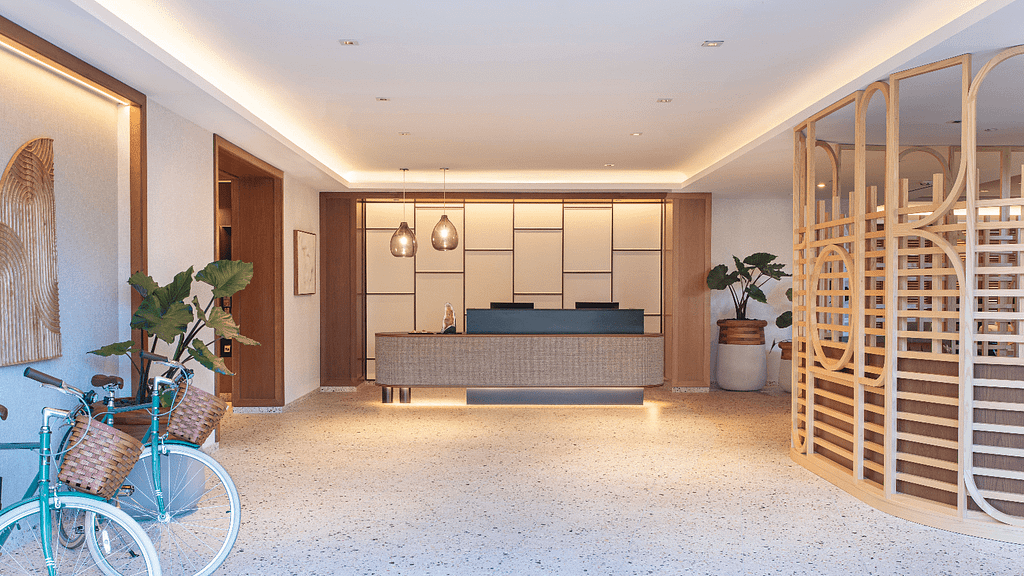 It's hard not to smile when you step into the lobby at Hotel Citrine in Palo Alto. High ceilings, a brilliant amount of natural light and oodles of lush green plants make it a space that's inviting and easy to relax in. (A large piece of the yellow, crystalline mineral citrine sits atop the front desk.)
A private dining room off of the lobby features sustainable cork flooring and can do double duty as a boardroom or space for a yoga class.
TIP: The pool area is cozy and intimate with comfy loungers and cabana-esque seating layouts that make you want to linger as long as possible. For those wanting to keep up with their workout routine while on the road, Hotel Citrine boasts a pair of Public Bikes that are complimentary for guests to use. The 24-hour fitness center includes Peloton spin bikes.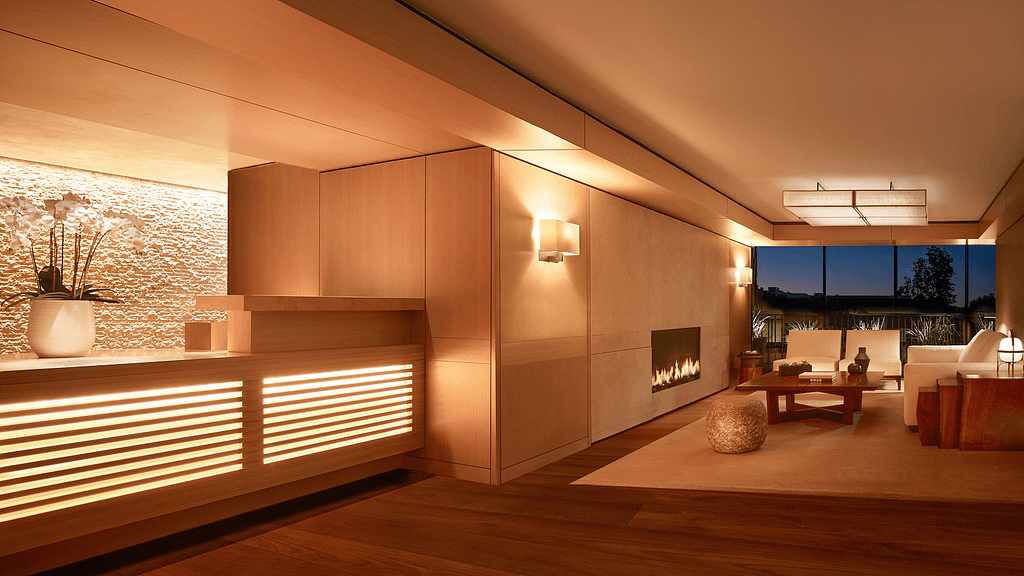 The 73-room boutique hotel in the heart of Silicon Valley offers an alluring blend of Japanese and Californian influences. Ryokan-inspired guest rooms located on the 7th and 8th floors feature natural materials including white oak paneling, teak accents, and views of the Santa Cruz Mountains. (Other perks include 24-hour butler service, priority seating in Nobu restaurant, and a 24-hour in-room Nobu dining menu.)
TIP: Nobu Palo Alto is fresh off of a multi-million dollar renovation. Guests also have access to sophisticated offerings they won't find elsewhere — think sushi making classes with Nobu's Executive Sushi Chef, whiskey pairings, and cycling adventures.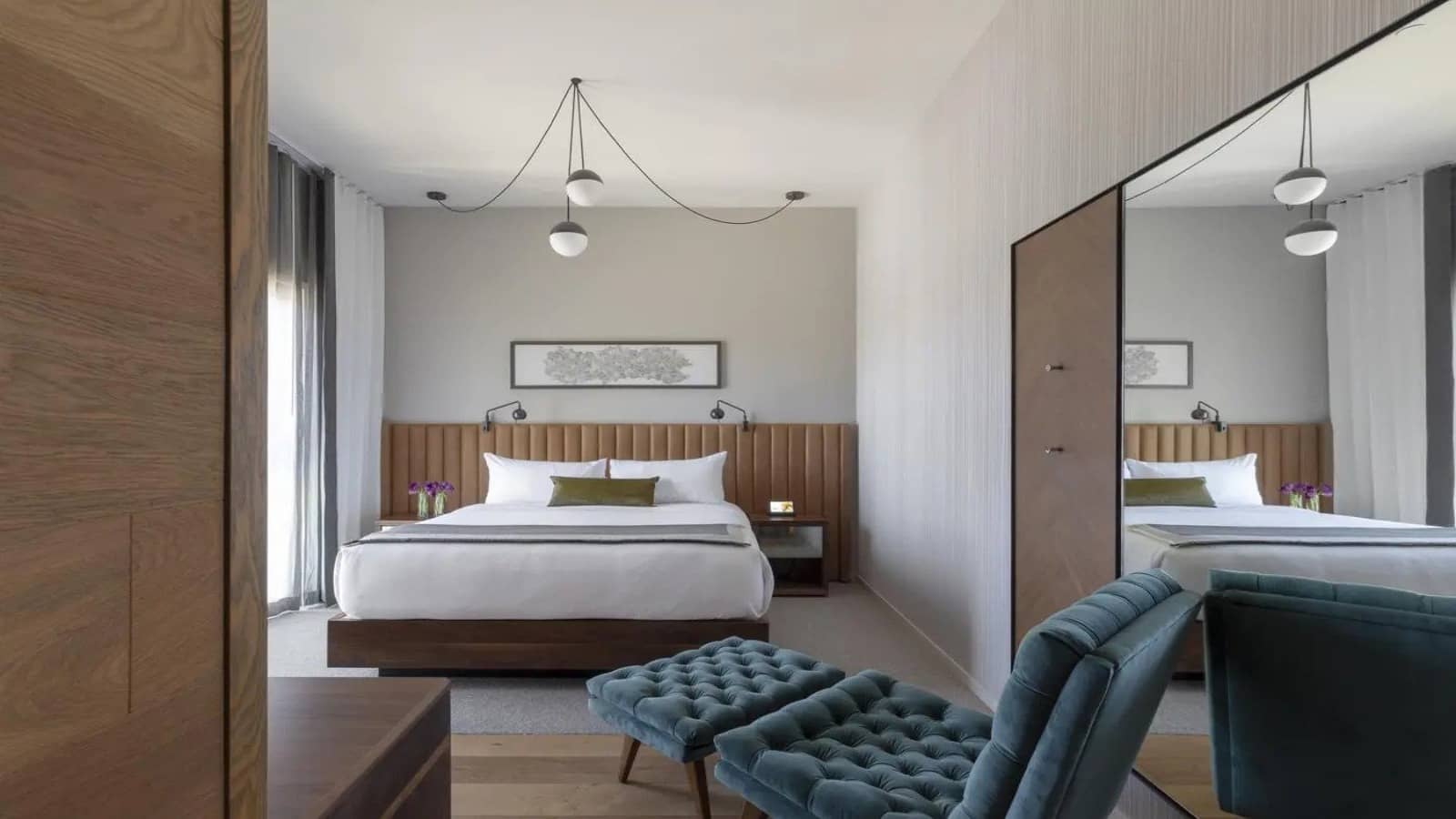 Expect the comforts of home and more in the heart of Menlo Park. There's an emphasis on tasteful, peaceful, and comfortable — well-appointed with luxury Frette linens, plush robes, in-room pour over coffee from local roasters, a safe. A suite turns into a meeting space when the bed folds into the wall. There's a patio for drinks and bites, a fitness studio, and a pet-friendly policy. Free Wi-Fi, of course. Honor bar and room service from Oak + Violet, a California craft kitchen.
TIP:  There's an electric vehicle charging station.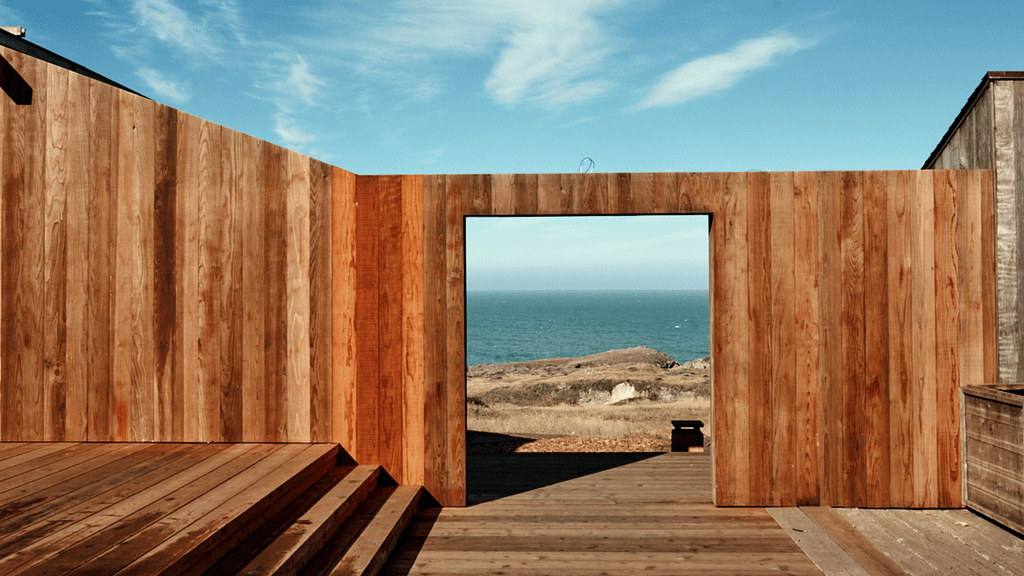 Naturally hip, The Sea Ranch Lodge seems to wisely invite in its beautiful backyard whenever possible. Situated on 53 acres of Northern California's rugged Sonoma Coast, the property is nearing completion of a multi-million-dollar revitalization project.
Open spaces with comfortable furniture and panoramic views takes center stage here; all are designed to live in harmony with the natural elements of the Sonoma coast. The restaurant, café, bar & lounge, solarium, and general store are complete. The property's guest rooms are still undergoing renovation.
TIP: There's no reason to be in a rush at The Sea Ranch Lodge. Sit back. Enjoy the view and then get outside. Ocean views, sweeping meadows, miles of hiking trails, and seemingly endless stretches of beaches are waiting just out the door.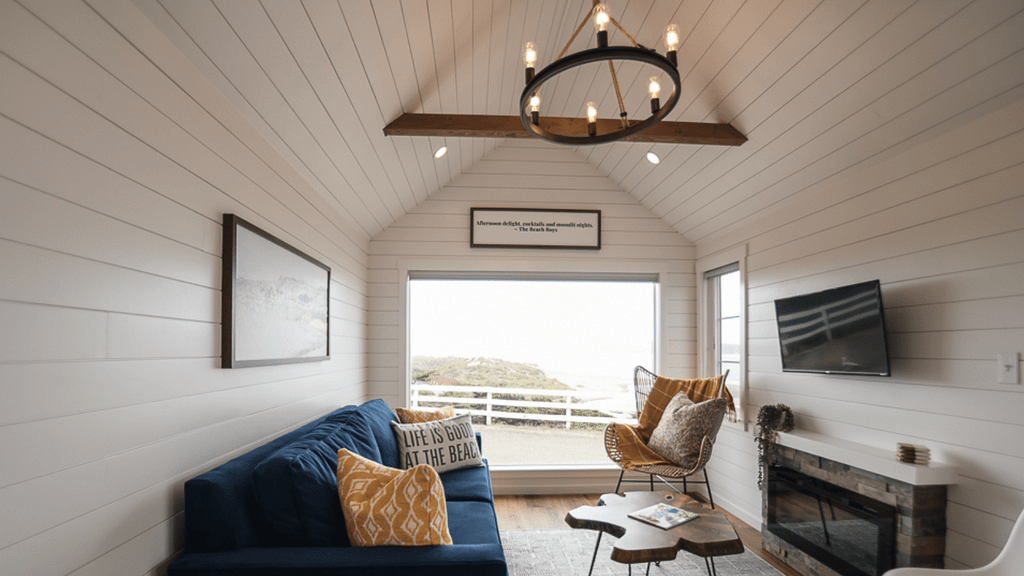 After a long, beautiful day at the beach, it doesn't get much better than Dillion Beach Resort. There are a dozen cottages (Tiny Homes custom made by Tru Form Tiny in Eugene, Oregon) and three cabins. All have a clean and simple design that overflow with coastal charm. Every unit is also dog-friendly. Cabins include fully stocked kitchens with retro appliances; cottages have kitchenettes.
A path leads the way to a private beach. The onsite surf shop is stocked with everything you'll need for a day on the waves or with your toes in the sand. Along with pouring Equator Coffee, the general store serves baked goodies, and soft serve ice cream.
TIP: The stellar seaside views. The Pacific Ocean knows how to show off. Offering a seasonal menu, onsite Coastal Kitchen highlights produce, meats, and seafood from Northern California's Marin and Sonoma Counties. Vibrant dishes, often studded with colorful vegetables or edible flowers, are almost too pretty to eat.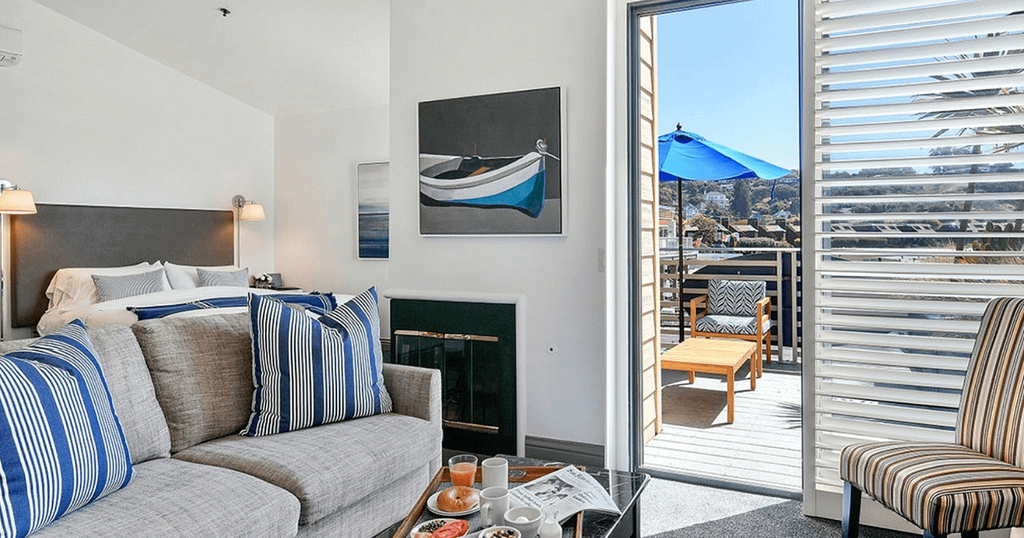 The Instagrammable water views, coveted downtown Tiburon address, and stylish rooms with fireplaces make this 23-room boutique hotel set on a historic dock a sure bet for a memorable stay. Adding to the appeal are the complimentary breakfasts delivered to each room and free nightly wine receptions, best enjoyed on the grand waterfront deck. With so many restaurants and shops to choose from just steps outside the door, it's also easy to ditch the car for a relaxing weekend. 
TIP: It's only a one-minute walk to the Tiburon Ferry Landing, for easy — and scenic — access to San Francisco, Angel Island and Oakland by boat.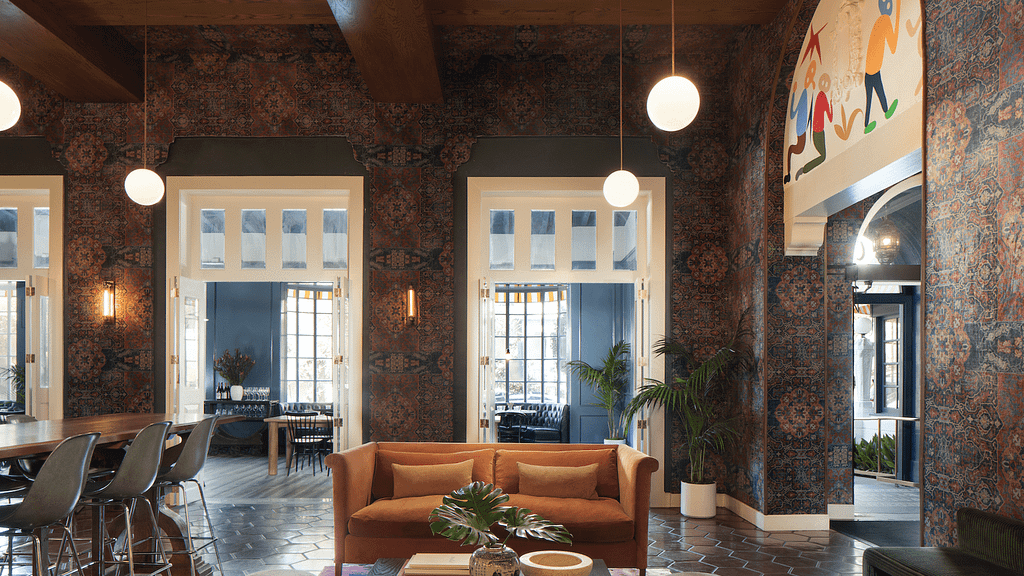 Who knew? National Geographic's trademark yellow is the same yellow used by UC Berkeley. So it makes complete sense — and looks pretty incredible — to have more than eight-thousand magazines along the back wall of the front desk at the Graduate Berkeley hotel.
Guests are also treated to more modern artistic touches; along with colorful murals that portray dance scenes, there's a fun piece of art that depicts Cal alumni and retired NFL player, Marshawn Lynch. There's also sketches by Oscar-winning movie costume designer and Berkeley alum, Edith Head. 
Keycards for the Graduate Berkeley's 143 rooms are replicas of student IDs of famous graduates including actors Gregory Peck and Jeff Cohen (from The Goonies fame) and professional football player Jared Goff. 
TIP: You don't have to be a Cal Golden Bear to appreciate the coolness factor of the Graduate Berkeley. Formerly Hotel Durant, the property opened in 1928. Velvet sofas, hand-woven rugs, and fun modern art mix with original details like millwork and moldings.
The first cocktail is on the house when you check-in to the Moxy Oakland Downtown. Placing your order is easy — Bar Moxy does double duty as the check-in desk. Along with colorful murals and custom furniture, the lobby boasts a stage for performances from a range of artists including musicians, dancers, and poets. Floor-to-ceiling garage-style doors can be rolled up to create an al fresco experience.
A majority of the Moxy Oakland Downtown's 172 rooms bring the outside in thanks to windows that span nearly floor to ceiling. Six rooms feature a loft-style bunk bed with a queen bed underneath and an extra-long twin above.
TIP: The hotel's façade showcases a six-story art installation titled, Shapeshift, created by Oakland artist Thom Faulders. On the wall of every room is a work of art featuring an Oakland-inspired poem that guests can take home to remember their stay. 60-second Moxy Bedtime Stories can be accessed from guestroom phones. And, did we mention the hotel is dog-friendly?
More Local Favorites in the Bay Area