Scenic hikes are easy to find around Tahoe. That's what you get when you have alpine lakes surrounded by mountains. It also makes the lengthier, more strenuous hikes worthwhile. Remember: Tahoe is at altitude (6,000 to 9,000 feet). Be sure to bring enough water and nourishing snacks to prevent symptoms of altitude sickness. We promise the landscape, wildlife and views will outweigh the toll elevation can take on your lungs and/or legs.
We're proponents of hikes that offer spectacular views — and a good workout — without a crowd. In this list, you'll find both the popular and the lesser known hikes, some with water features for a refreshing dip mid-hike. That said, let's get to it! Here is our list of the best hikes in the Tahoe area, from Truckee to West Lake, Emerald Bay, and one on the Nevada side.
*Wildfires happen, snow happens, things change — be sure to check the status of the trail before you go.
Photo Credit: Debbie Zhao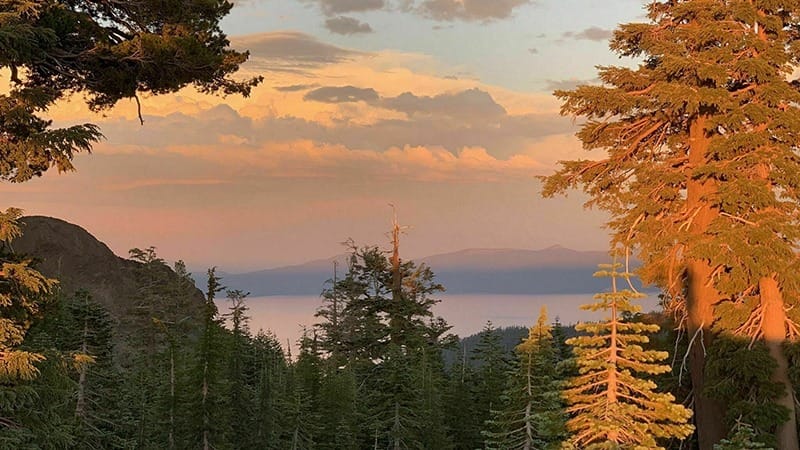 Barker Pass to Twin Peaks
Level: Moderate — 11.2 miles
Wander among wildflowers and crest ridges between peaks while on this out-and-back trail in the Granite Chief Wilderness. Strategically located halfway between the north and south ends of Lake Tahoe, this moderately-trafficked trail offers sweeping views of the lake and forests below. Tip: this is also a great trail for backpacking and dispersed camping — there aren't usually too many folks cramping your style.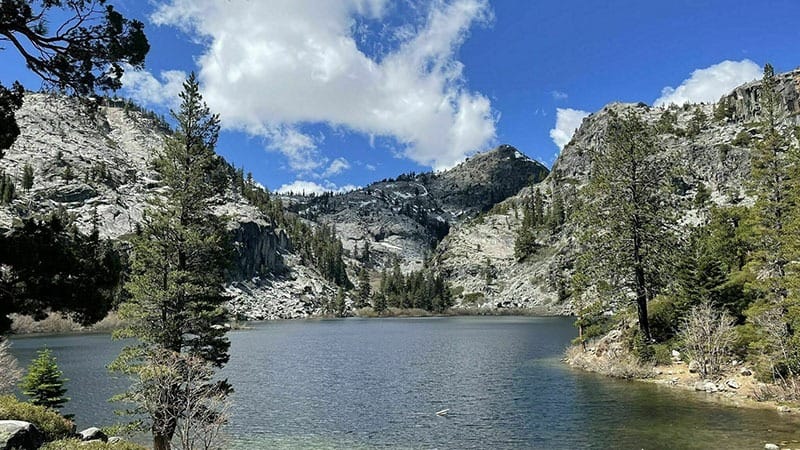 Maggie's Peak, Eagle Lake, Granite Lake Loop
Level: Moderate to strenuous — 7.5 miles
This is one of your new favorite sunrise hikes. Full stop. Not only because the early morning light and views are spectacular, but because the parking lot is small and spots can be hard to come by. The hike covers a variety of terrain, gaining just over 2,000 feet of elevation in the first half. Highlights include panoramic views of Lake Tahoe and Emerald Bay, short detours to Eagle Lake and Granite Lake, and plenty of staggering craggy peaks. Fuel well the night before so you can pump up the nearly 4-mile continuous climb up to Maggie's Peak. All downhill (in a good way) after that!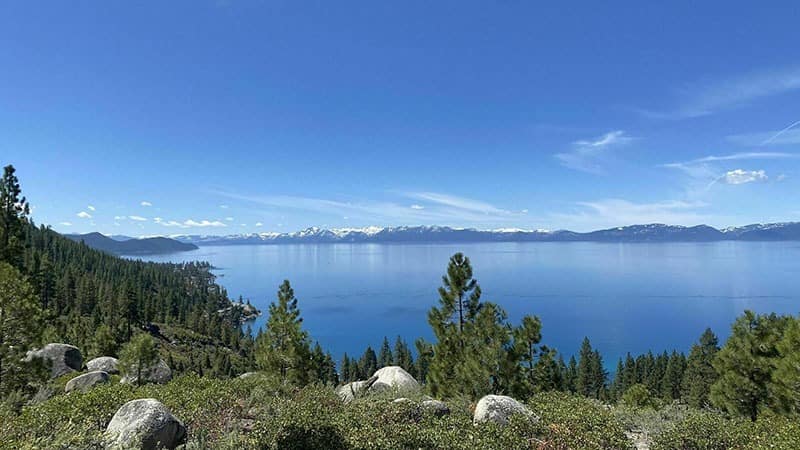 INCLINE VILLAGE/EAST LAKE
Want breathtaking views without all the extra — breathtaking — effort and mileage? Look no further. Monkey Rock is an all-levels hike featuring views of Lake Tahoe's glittering turquoise water from its northeastern rim in Nevada. Needless to say, when the vista requires less than 500 feet of elevation gain, it's a no-brainer. Kids will love the trail's namesake — a rock that, quite honestly, looks like a very zen ape. Bring cash for entrance.
Level: Moderate — 4.8 miles
Channel your inner Wild on this hike, as it begins heading south on the historic Pacific Crest Trail. Along the way, you'll traverse vast fields of wildflowers interspersed with single-track, shaded paths weaving through an abundance of mossy trees. Once you crest the ridge between Mount Judah and Donner Peak, enjoy 360-degree views with Donner Lake and Lake Tahoe to the east. Some scrambling terrain is available at the top of Donner Peak. Parking is plentiful, but many hikes take off from this area which can make parking tricky, so make sure to plan ahead.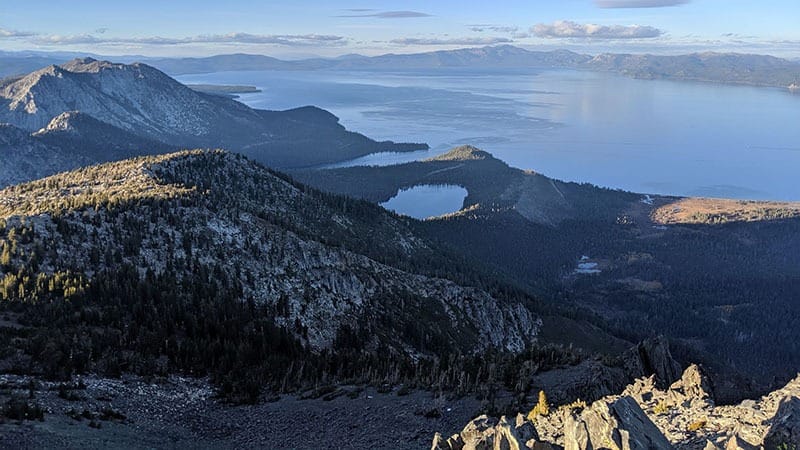 SOUTH LAKE/DESOLATION WILDERNESS
Level: Strenuous — 10.1 miles
One of the most popular trails in Tahoe, this 10-mile, 3,200-foot elevation gain hike promises you unparalleled views of South Lake Tahoe. The trail is studded with alpine lakes — perfect for rest stops — and terrain changes throughout, gaining elevation and rockier, more challenging surfaces closer to the summit. Bring plenty of water as most people complete this out-and-back in 5 to 7 hours. This summit is also a favorite among backcountry skiers looking for fresh tracks and those who want a challenging snowshoe ascent. A Desolation Wilderness permit may be required.
Point Mariah and Sterling's Canyon Trail
Level: Moderate — 5 miles
Seeking solitude? A tree swing with a view? This lightly- to moderately-trafficked out-and-back trail will provide. Wildflowers bloom along the five mile jaunt, with only 600 feet of elevation gain. The picturesque tree swing sits atop Point Mariah, with views to the east of the Sierra crest; Snow Mountain and the North Fork of the American River to the west. Ideal for a sunrise hike, get up early knowing you'll get some fresh air without a challenging climb.
Looking for more things to do in the area?
Visit our Tahoe page for more ideas on where to eat, stay and things to do.