San Francisco is known for many things: cable cars, foggy weather, its vast array of museums. However, most people don't think of it as a great hiking spot. And why should they? The city's sometimes notoriously steep 48 hills and Golden Gate Park are the most commonly cited "hikes" + "nature," but there's plenty more where that came from in this 7-by-7-mile parcel of land. Here are some of the best San Francisco hikes.
*Wildfires happen, things change — be sure to check the trail status before you go.
Featured Photo: @piratecatinc
California Coastal Trail: Lands End to Golden Gate Bridge
Level: Moderate — 4.4 miles
You'll tick off a bunch of boxes on this beloved trail that's part of a system that spans from Mexico to Oregon. Starting at the now-defunct Cliff House, it will take you past the historic Sutro Baths and old military batteries, as well as the well-heeled Seacliff neighborhood. You'll see dramatic coastal cliffs, lush forests and postcard views of both the Marin Headlands and the Golden Gate Bridge. In summation, a hike you'll remember for the rest of your life.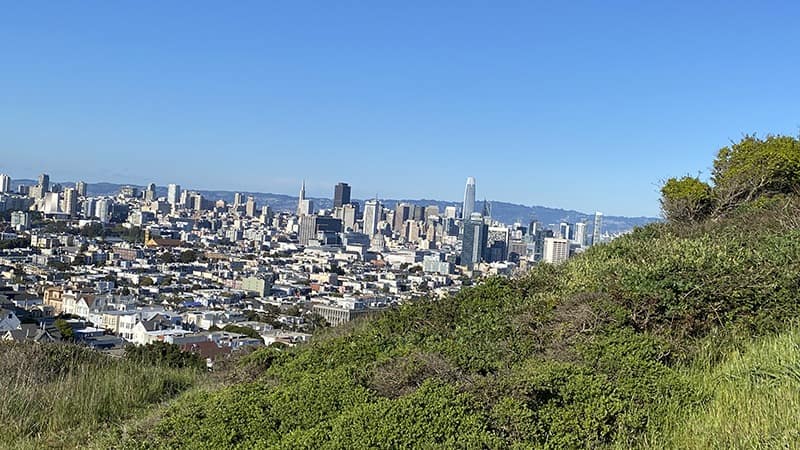 Level: Moderate — .6 miles
Don't let the name deter you, this hike was a lifesaver for homebound San Franciscans especially during the peak of the pandemic. Never too crowded, this loop will take you past the Randall Museum and up an unlikely outcropping of chert. At the summit you'll get some of the best views of the city, but be careful with hats — it's almost always super windy. Dogs on leashes are permitted and for extra calorie burn, start in the Castro and tack on Buena Vista Park to your trip — you'll end up on Haight and Baker.
Ecology Trail and Lovers' Lane Loop
If you're making a stop at the Walt Disney Family Museum or elsewhere in the Presidio, this is an ideal hike to add to your day. A great option for most ages and skill levels, this trail gets high marks for its accessibility (parking is generally plentiful), for being dog-friendly, for the wildflowers, and for the sense of calm it provides. When you're under the towering pine, cypress and eucalyptus trees you'll see for yourself.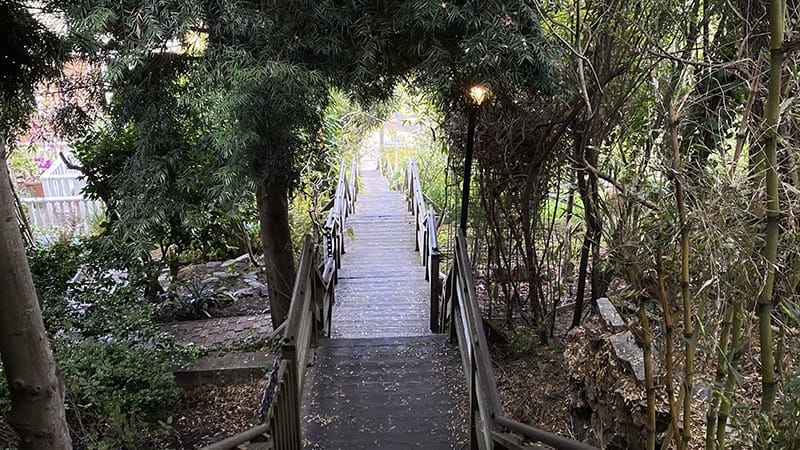 Filbert Steps to Telegraph Hill
Level: Moderate — .5 miles
A hidden passageway between some of the city's most notable landmarks, you'll feel like an insider huffing up these steps. Not for the faint of heart — people will be taking breaks along the way — this trail will take you from Levi's Plaza up to Coit Tower. If you're at the Embarcadero and want to go to North Beach the adventurous way, this is the ticket. Steep steps pave a way past storybook homes with gorgeous, overflowing gardens — a stunning urban hike.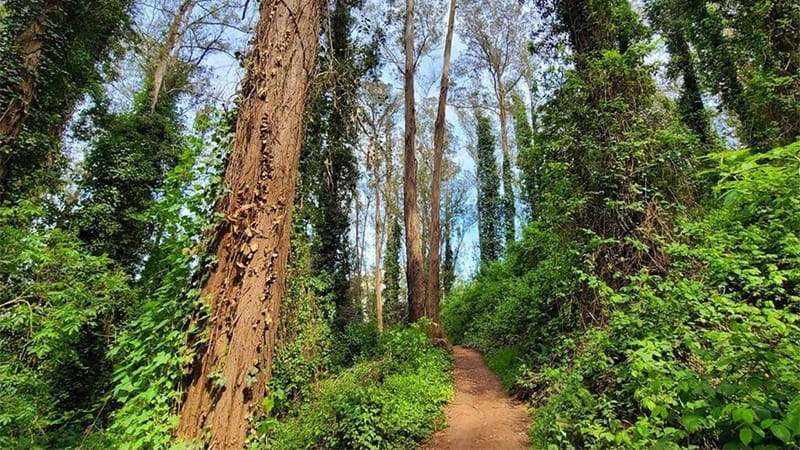 Mount Sutro to Twin Peaks
Level: Moderate — 3.8 miles
Fun fact: Sutro Tower is now one of San Francisco's most emblematic landmarks, but it was not a welcomed addition when it was built in 1973. The hike up to this massive pitchfork is varied and somewhat challenging — hiking boots are highly advised, especially for some of the steeper parts. You'll experience both sweeping vistas and wooded hillsides and a dazzling array of wildlife, all in the middle of the city. Bring a jacket! Wind is a constant.
Stow Lake and Strawberry Hill Loop
This hike is as magical as the name of it implies. A very popular spot given its location smack dab in the middle of Golden Gate Park, this little manmade lake is an absolute charmer for several reasons. Not only is there an abundance of turtles and ducks, but also a Chinese pavilion and waterfall. Wheelchair-friendly, you can cross the bridge and venture to the top of the hill. If you want to explore by water, you can also rent pedal boats.